March Madness 2012: North Carolina and Teams Best Equipped to Stop Kentucky
March 5, 2012

Joe Robbins/Getty Images
Is there any stopping Kentucky, or should we just hand the NCAA Tournament title to John Calipari's Wildcats before March Madness tips off?
Yes, Big Blue is great, with a smattering of NBA Draft lottery picks (Anthony Davis, Michael Kidd-Gilchrist, Terrence Jones and Marquis Teague) and experienced scorers (Doron Lamb, Darius Miller) that could give the Charlotte Bobcats a serious run for their money.
That being said, there's a reason they'll play the games anyway—because nothing is set in stone.
And, because there are a number of other teams in college basketball that are capable of taking down UK on a neutral court, including these three tourney-bound powerhouses.
North Carolina
North Carolina came into the season as one of the favorites to win the national title, went through something of a lull amidst injuries and inconsistencies in the schedule, and now, with the regular-season ACC title in its back pocket, appears prepared to deliver on its considerable promise.
The Tar Heels gave the Wildcats their toughest test of the season, aside from the loss to Indiana in Bloomington. UNC came within one John Henson jump shot of pulling out a victory in Lexington, but ultimately succumbed to Anthony Davis' long arm of the law in a 73-72 defeat.
The Heels are a much better team now than they were then, thanks to the continued dominance of Henson and Tyler Zeller on the inside and the maturation of Harrison Barnes and Kendall Marshall on the perimeter.
That quartet of NBA talent could very well topple the 'Cats in a rematch, particularly if Saturday's thrashing of Duke at Cameron Indoor Stadium is any indication.
Duke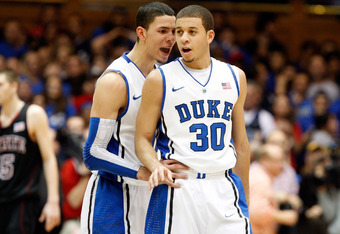 Streeter Lecka/Getty Images
Speaking of Duke, the Blue Devils might actually be able to give Kentucky a run for its money should their paths cross in the Big Dance.
Mike Krzyzewski doesn't quite have the interior talent to stop a beast like Anthony Davis, though the Plumlee brothers certainly have the bulk to slow him down to an extent.
More importantly, though, the Blue Devils don't necessarily need to concern themselves with Davis' length and strength in the paint. Rather, Duke's success or failure is predicated on its perimeter play, with the likes of Seth Curry, Austin Rivers, Ryan Kelly and Andre Dawkins able to knock down outside shots consistently.
Not that UK's defense isn't good enough all around to hamper the Devils, or that they won't die by the sword of the three-point shot on their own.
Still, if Duke is able to do its thing from behind the three-point line and fluster Coach Cal's guards with Coach K's signature press, it could have Kentucky out of the tourney in yet another classic between these two college basketball blue bloods.
Missouri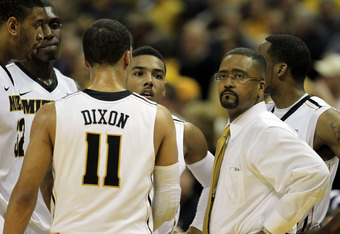 Jamie Squire/Getty Images
The same goes for Missouri, which employs a full-court style and focus on guard play that's remarkably similar to Duke's. The four-guard combo of Marcus Denmon, Kim English, Phil Pressey and Michael Dixon boasts the experience, the speed and the shooting ability to give Kentucky fits from the perimeter and a big body in the middle (Ricardo Ratliffe) who's capable of disrupting the thinly-framed Davis in the middle.
The question, as with Duke, is one of proficiency from the three-point line, as in whether or not the shots are falling on that particular day. Of course, with guys like English and Denmon, who both shoot better than 41 percent from deep, that shouldn't be too much of a problem.
If Mizzou can bother Marquis Teague up top, it should be able to upend the Wildcats and give Mike Anderson, who left Columbia for his "dream job" at Arkansas, something else to stew over in the spring.