SEC Tournament 2012 Bracket and Schedule: Complete Guide and Preview
March 6, 2012
Andy Lyons/Getty Images
The Southeastern Conference basketball tournament tips off on Thursday at noon with two classic SEC teams opening the action with LSU taking on Arkansas. 
The SEC has a potential overall No. 1 seed in the upcoming NCAA tournament, Kentucky, and a few bubble-bursting teams, Alabama and Vanderbilt, potentially sneaking into the tournament. 
However, tournaments like this could see a surprise team like Tennessee or Mississippi State catch fire and go on a run to win the conference tournament. If that happens, then the SEC could get an impressive five teams into the NCAA tournament. 
Where: New Orleans Arena
When: March 8-10
Watch: SEC Network (March 8-9), ABC (March10-11)
Live Streaming: ESPN3.com
Bracket Info
With 12 teams in the conference the top four teams are receiving byes. The standings is as follows:
1. Kentucky Wildcats (16-0) 30-1
2. Tennessee Volunteers (10-6) 18-13
3. Vanderbilt Commodores (10-6) 21-10
4. Florida Gators (10-6) 22-9
5. Alabama Crimson Tide (9-7) 20-10
6. Mississippi State Bulldogs (8-8) 21-10
7. Ole Miss Rebels (8-8) 18-12
8. LSU Tigers (7-9) 17-13
9. Arkansas Razorbacks (6-10) 18-13
10. Auburn Tigers (5-11) 15-15
11. Georgia Bulldogs (5-11) 14-1
12. South Carolina Gamecocks (2-14) 10-20
Schedule (All Times EST) 
First Round: No. 8 LSU vs. No. 9 Arkansas (noon); No 5 Alabama vs. No. 12 South Carolina (2:30 p.m.); No. 7 Ole Miss vs. No. 10 Auburn (6:30 p.m.); No. 6 Mississippi State vs. No. 11 Georgia (9 p.m.) 
Second Round: No. 1 Kentucky vs. No. 8/9 winner (noon); No. 4 Florida vs. No. 5/12 winner (2:30 p.m.); No. 2 Tennessee vs. No. 7/10 winner (6:30 p.m.); No. 3 Vanderbilt vs. No. 6/11 winner (9 p.m.)
Third Round: No. 1/8/9 winner vs. No. 4/5/12 winner (noon); No. 2/7/10 winner vs. No. 3/6/11 winner (2:30 p.m.) 
Championship Game: Noon
Surprise Team to Win: Tennessee Volunteers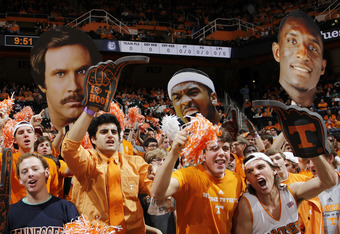 Joe Robbins/Getty Images
Tennessee has a great draw by being the second seed. The Vols do not have to see Florida or Kentucky until the final, should Tennessee make it that far in the tournament. Against some of their potential competition, they had a winning record of 4-3. 
If Tennessee runs into No. 3 seed Vanderbilt, it will be coming into the game fresh off of beating the Commodores, 68-61, in Tennessee's season finale. 
If Florida can upset Kentucky, it would work out perfectly for the Volunteers in the championship game as Tennessee defeated Florida twice this year by a combined score of 142-126. 
First Favorite to Fall: Vanderbilt Commodores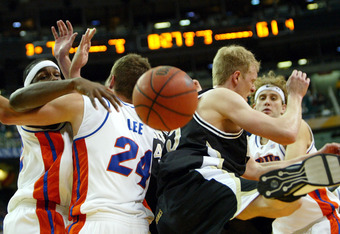 Doug Pensinger/Getty Images
Vanderbilt built a strong record when it ran off nine wins in 10 games in the middle of the season. However, since that strong winning streak, it has fallen on hard times, only winning six of their final 11 games. 
The Commodores could open against Mississippi State, who was their lone loss during that impressive 10-game span.