Sports Hook-Ups Wish-List: Athlete Relationships We Want to Happen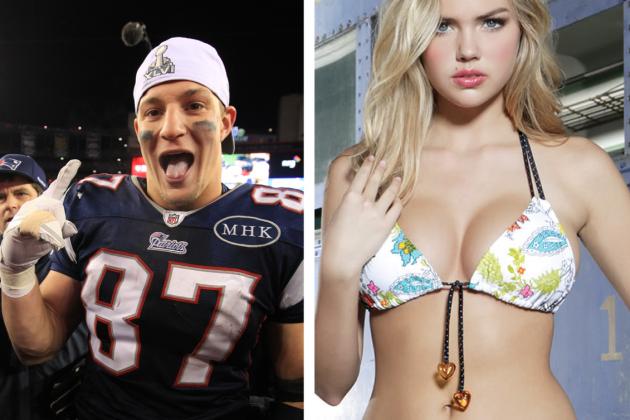 Every time there's a high profile new coupling in the sports world, the media goes absolutely crazy for it.
Be it a new romance between a superstar athlete and a stunning bikini model, or a big time free-agent who's looking to sign with a different team for the first time in his career.
Nothing sells like sex, drama and money.
Obviously some couples are more interesting than others.
Nobody cares what Eli Manning and the wife are up to this weekend, but everybody wants to know all the details of the free-agent saga involving his big brother Peyton—especially where he's going to end up if the Colts release him.
The best couples in sports are the ones where both parties are newsworthy on their own—think Tom Brady and Gisele Bundchen.
Here are some newsworthy hook-up we'd love to see.
Begin Slideshow

»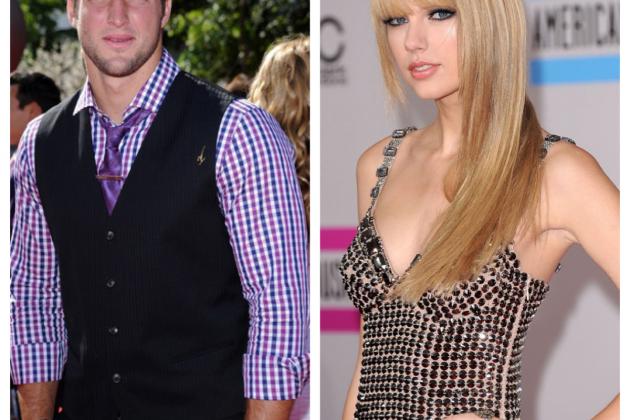 Not to brag or anything, but I actually called this coupling months before it happened in my very first fictional celebrity-matchmaking piece.
Except for the fact that Taylor Swift once shared a bed with icky singer John Mayer, everything about her with Tim Tebow makes sense.
Yes, the Mayer thing is disgusting, but doesn't everyone deserve a second chance?
Swift is a country crooning Christian cutie who has had her heart broken by a couple of major d-bags—Timmy Terrific is just what the doctor ordered.
Tebow is wholesome and adorable, and Swift is probably just about as edgy as the young man could handle.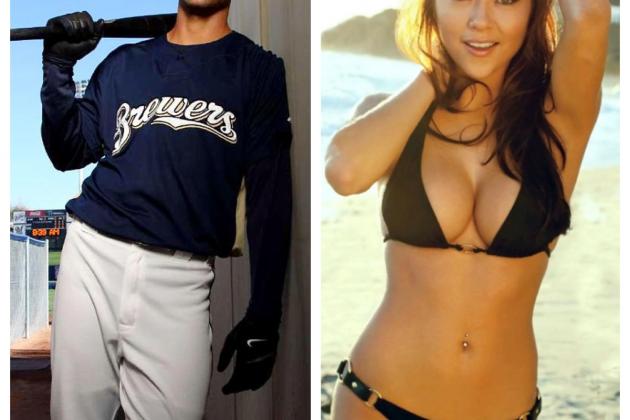 Brewers slugger Ryan Braun has been in the news for all the wrong reasons lately.
The drama surrounding his positive test for PEDs was definitely ugly, but it seems that the matter is officially closed at this point—which means it's time to repair his image and play some ball.
Playing ball will take care of itself, but the quickest way for Braun to put the scandal behind him is to get everybody talking about something else.
And it just so happens that people love to talk about UFC's finest ring girl Arianny Celeste.
Not only would these two look great together, but it's actually a very practical match too.
They're close in age, they both live in California and they're both used to the spotlight.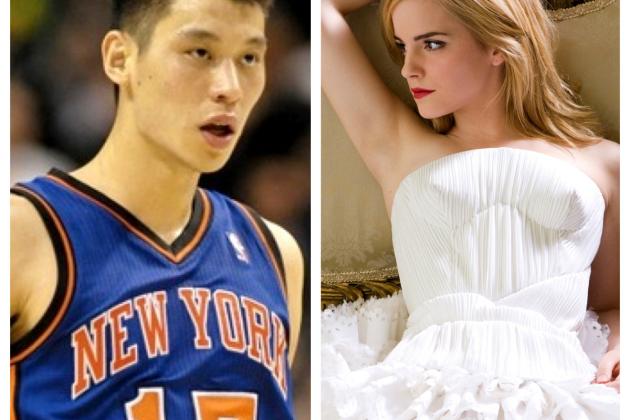 There are some awful people out there that would like to see Knicks point guard Jeremy Lin matched up with tabloid trash like Kim Kardashian—disgruntled Nets fans probably.
I was never really gripped by "Linsanity," but that doesn't mean I don't want what's best for the kid.
Someone like English actress, and star of the many Harry Potter films, Emma Watson is best for the kid.
They're both international stars, they both attended Ivy League universities and they're both just a shade over the legal-drinking age in America.
People would go crazy for these two.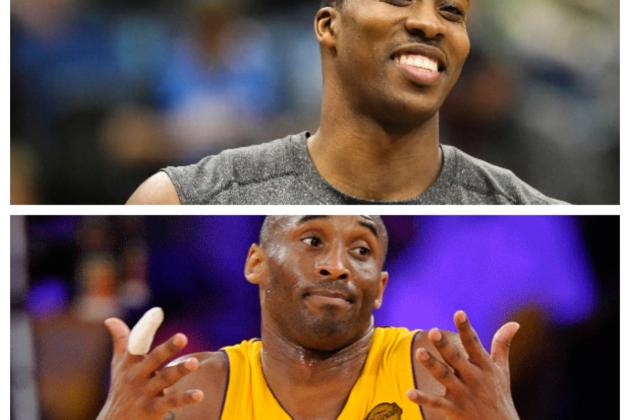 I think it's safe to say that most people are tired of the Dwight Howard trade talks, but that doesn't mean we don't want to see him traded.
Howard has made it (mostly) clear that he wants out of Orlando, so if the Magic don't trade him soon, they are going to be in very bad shape next season.
Much like every free-agent in the NBA, Howard wants to go to a large market team—the most intriguing potential landing spot being with the Lakers.
It's intriguing because of the questions it raises—can Kobe and Howard coexist? Would acquiring Howard put the Lakers in title contention immediately? If it doesn't work, then what?
As a casual, but enthusiastic, NBA fan, I can't think of anything I'd like to see more this season.
It'd be like an awesome science project that I don't have to personally do any work on.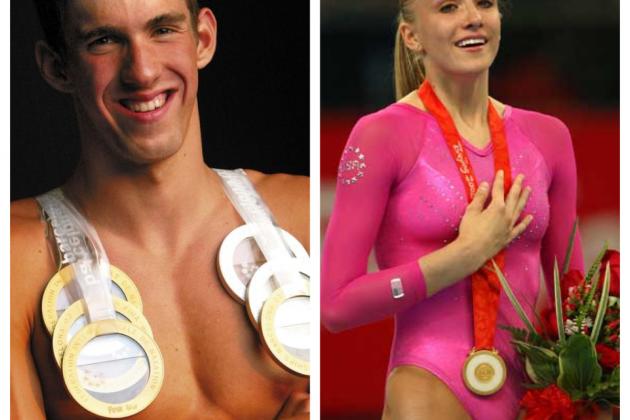 The 2010 Summer Olympics in London are just around the corner, so it's time to get prepared for a heavy dose of superstar swimmer Michael Phelps.
Same goes for gorgeous gymnastics goodness Nastia Liukin.
Honestly, the two of them aren't entirely interesting or headline grabbing on their own—put them together in an Olympic year and that all changes.
If Phelps and Liukin got together before the games, all summer there would pictures of them on the front pages of websites, magazines and newspapers from around the globe.
U.S.A! U.S.A! U.S.A!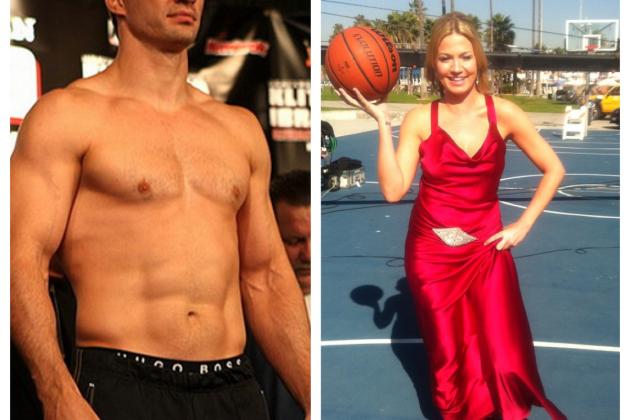 If you've ever seen ESPN's Michelle Beadle on SportsNation, you probably know that she likes tough guys.
Beadle is twice the man Colin Cowherd is, and there is nothing that makes her smile like hockey fights, MMA knockouts and other various displays of excessive machismo.
Well it doesn't get much tougher than Dr. Steelhammer himself, Ukrainian heavyweight boxer Wladimir Klitschko.
The pair are less than a year apart in age and we all know that Klitschko has a way with the ladies—he's dated actress Hayden Panettiere and models Alena Gerber and Karolina Kurkova.
They would make a great couple and (bonus!) you know Colin Cowherd would be really uncomfortable every time Beadle brought him around...which means she'd do it all the time.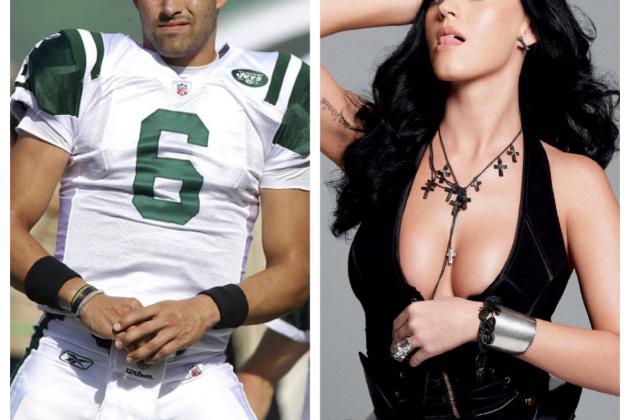 By now we've all heard the rumors that Jets quarterback Mark Sanchez is dating Sports Illustrated Swimsuit Issue cover girl Kate Upton.
There's a decent enough chance they are actually dating, but it's been over four months and the pair have yet to be seen in public together.
Even if they are dating, there's absolutely no chance that the relationship will last.
Upton is still a teenager, she's beautiful—but not that bright—and she (much like NY) will get bored with Sanchez.
Singer Katy Perry has similarly ample assets and, while she may not be Tim Tebow's cup of tea, she and Sanchez have a lot in common.
They are both mildly talented in their chosen professions and have both over achieved plenty in love and life based almost solely on their very good looks.
She'll never be Whitney Houston and he'll never be Joe Montana—but they sure would be pretty to look at.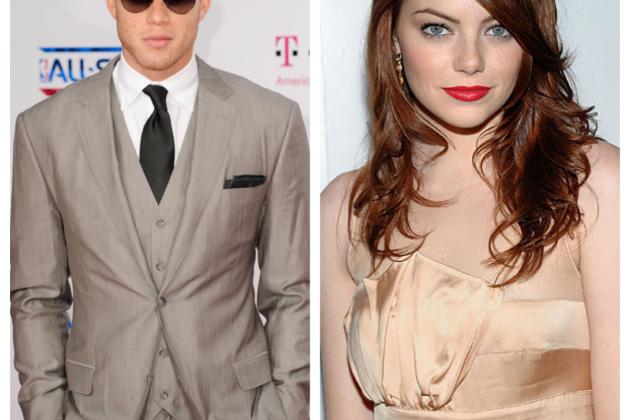 Clippers superstar Blake Griffin is a man of many talents.
Beyond his obvious skill on the basketball court, Griffin is actually a pretty good actor and completely hilarious. You are really missing out if you haven't seen him on Funny or Die.
Actress Emma Stone is one of the biggest up-and-comers in Hollywood right now and has comedic chops of her own.
The two of them are both in L.A., they're less than one year apart in age and they both know how to work it on the red carpet.
A couple of sassy, comically inclined redheads rocking the red carpet together and painting the town red. Too much red?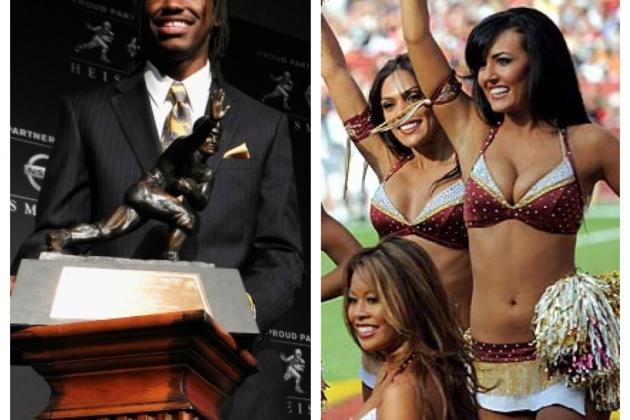 According to Rams officials, there are plenty of teams hoping to land Baylor's Heisman Trophy winning quarterback Robert Griffin III.
Presumably the Browns, Dolphins and the Redskins are among the teams competing to see who's willing to give up the most for this prized prospect.
RGIII will be a great addition wherever he goes, but the most intriguing potential landing spot is Washington.
The quarterback players and the overall competition in the NFC East offer a more compelling story line—RGIII would be facing off with the likes of Tony Romo, Eli Manning and Michael Vick on a regular basis.
With the Bengals improving, the AFC North would be a decent option, and the Browns adding RGIII could make it the most competitive division in football.
Let's just hope it's not Miami because the last decade has proven there's only room for one quarterback in that division.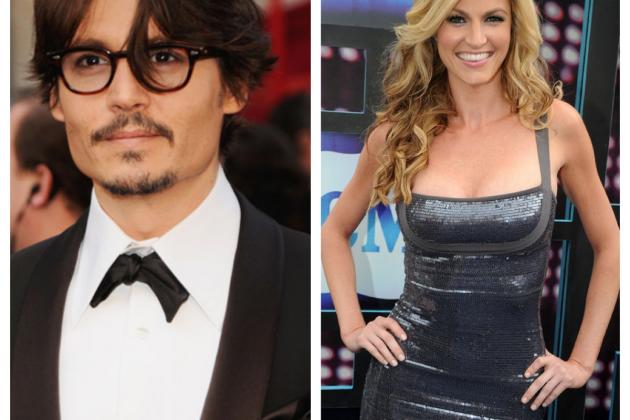 This one is probably a bit of a long shot, but if a former WWE diva can score second row seats at the Oscars on the arm of movie star George Clooney, anything can happen.
When the sports world and Hollywood mix, it's always a pretty big deal—especially when two A-listers are involved.
ESPN's Erin Andrews and recently single actor Johnny Depp are both major A-listers in their respective worlds and they'd be a perfect balance.
Andrews is a wholesome all-America girl who could use a little edge, and Depp is an eccentric and talented superstar who could use a reason to spend more time in the states.
Maybe it wouldn't work out in the long term, but it would certainly be amazing while it lasted.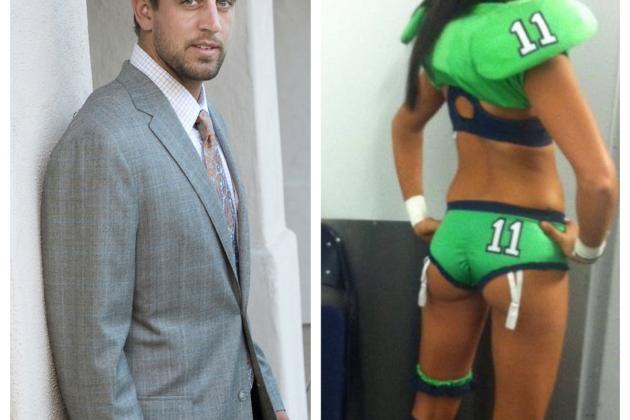 Packers quarterback Aaron Rodgers has been dating Destiny Newton, an old friend from Chico, for about a year.
Who knows how serious their relationship is, but "Destiny" sounds like the name of the girl you have fun with, not the name of the girl you marry.
"Angela" sounds like the name of the girl you marry, right?
Angela Rypien played quarterback in the Lingerie Football League this past season, following in the footsteps of her father Mark Rypien, the Super Bowl winning (former) quarterback of the Redskins.
Obviously Rypien has more to offer than a wholesome first name—she's gorgeous, talented and athletically gifted.
This quarterbacking duo would cause quite a stir.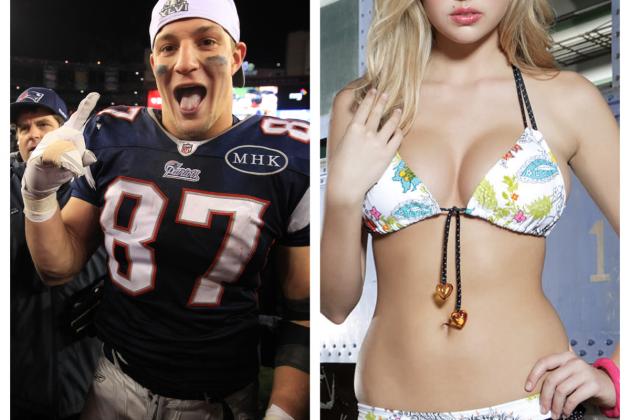 Since I've already broke Kate Upton and Mark Sanchez up by (fictionally) match-making the latter with Katy Perry, It's only right to find a more suitable match for Ms. Upton.
Patriots superstar tight end Rob Gronkowski is a natural choice because he's already publicly declared his adoration.
Gronk is a simple man (in the best possible way). He likes porn stars, catching footballs, winning games and bustin' a move on the dance floor.
If you've seen an interview with Upton, you know that she too is a simple girl. She likes wearing bikinis, giggling, staring seductively and bustin' a move at an NBA game.
Sounds like a match made in heaven, doesn't it?
In the words of the great Gronk: Yo soy fiesta.
Yo soy fiesta, indeed.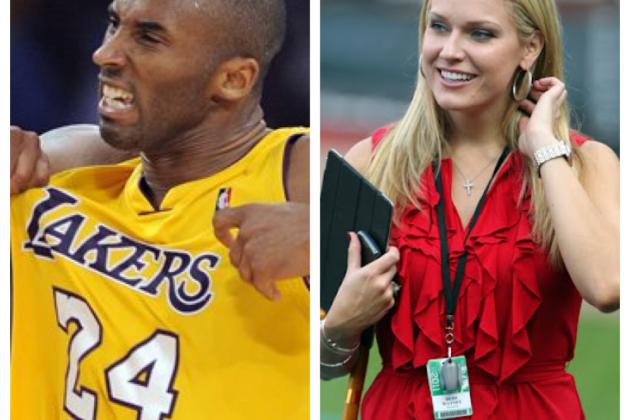 In late 2011, Vanessa Bryant filed for divorce from Lakers superstar Kobe Bryant, her husband of over 10 years.
There have been rumors of a reconciliation, but Vanessa's reported apartment hunting in New York proves it's probably time for both of them to move on.
Vanessa may be moving east, but thankfully former NESN reporter Heidi Watney has moved west.
Watney hasn't moved just anywhere either, she and Kobe actually share an office now—the Staples Center.
Watney covers the Lakers for Time Warner Cable and dating L.A.'s preeminent sports superstar would give her a leg up on the competition.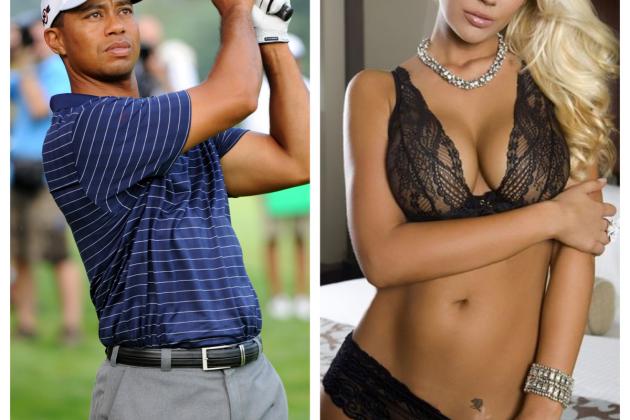 Recently Tiger Woods has been getting his game back on the course—at the 2012 Honda Classic, Woods shot the best final round of his entire career and came up just short of a win.
Now he needs to get his game back off the course.
In early 2011, Woods started dating 22-year-old drunk-driving nobody Alyse Lahti.
Maybe she's got a good personality or something, but (scandal be dammed) Woods is still one of the biggest sports stars on the planet and that broad just doesn't cut it.
What is Tiger doing with a little girl anyway, when he obviously needs a woman.
Stunning Playboy Playmate Jessa Hinton cuts it.
She's a huge sports fan, unspeakably hot and at 28-years-old, Hinton is a successful age-appropriate match who has a bank account of her own.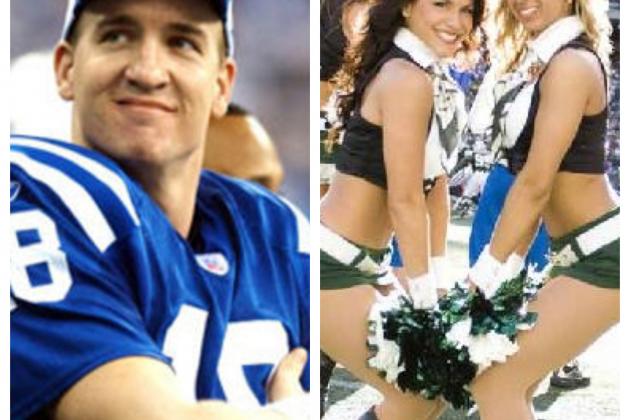 Everyone knows that Peyton Manning is on his way out of Indianapolis, but where he's going to land is still anybody's guess.
The general consensus is that Manning is likely to sign with a dome team, like the Cardinals, or a warm weather team, like the Dolphins.
No offense to the people of Arizona, but the thought of Peyton Manning in a Cardinal uniform pains me—having flashbacks of Emmit Smith and Edgerrin James.
The only team with quarterback issues out there that can provide a big enough stage for Manning is the New York Jets. Aside from the weather, everything about the move would be great for Manning, NFL fans and for the league in general.
With the Jets, Manning would be sharing a home stadium with brother Eli, he'd be paired with a defensive-minded players' coach who would allow him to run the show (sorry Tony Sparano).
And how about the ratings two to three times a season when Peyton and Gang Green do battle with Manning's nemesis Tom Brady and his Pats?
I think we know where everyone at the network offices of ESPN and NBC are hoping he'll end up.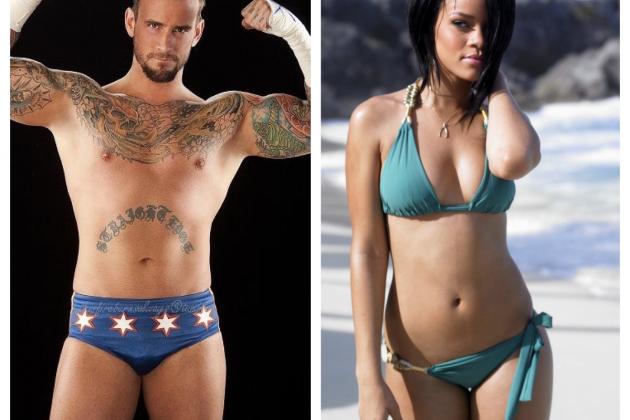 WWE superstar CM Punk has made headlines recently for throwing down outside the ring on Twitter.
Recently he's been the target of Bills linebacker Shawne Merriman's roid rage, but before that he was involved with a much more entertaining feud with singer Chris Brown.
Obviously CM Punk doesn't like men who beat on women.
How fantastic would this drama be if, instead of reconciling with Brown, sexy singer Rihanna hooked up with CM Punk instead?
Brown would absolutely lose his sh*t, as he routinely does.
CM Punk would have the last laugh on that psycho.
Rihanna could rest easy knowing she's not sharing a bed with a man who has beat the hell out of her.
Seriously, everybody except for Chris Brown wins in that scenario—which is exactly how it should be.