NBA Trade Rumors: Jamal Crawford Would Lead Minnesota Timberwolves to Playoffs
March 6, 2012

Harry How/Getty Images
Adding the Portland Trail Blazers' Jamal Crawford would be the missing piece that would push the Minnesota Timberwolves into the playoffs. 
According to Hoopsworld.com, the Timberwolves are among a number of teams that are interested in the shooting guard, saying: 
Sources confirm to HOOPSWORLD that Crawford, who was signed as an unrestricted free agent this offseason to be retired shooting guard Brandon Roy's replacement, is on several team's radar. The Los Angeles Clippers and Minnesota Timberwolves are pursuing him the strongest, but the Sacramento Kings, Toronto Raptors and Milwaukee Bucks have also expressed interest.

Crawford has a very reasonable contract that is paying him $5 million this year with a player option for the same amount next season. Sources also revealed that the Blazers are concerned that he will not exercise that option this summer and that they'll lose him in free agency. His recent move into the starting lineup directly coincides with that fear.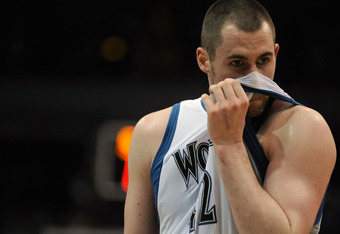 Hannah Foslien/Getty Images
If Minnesota could land Crawford, he would be a shot in the arm to a team that needs a shooting guard. The Timberwolves already have a very good young point guard, Ricky Rubio, and one of the best players in the NBA, Kevin Love. 
However, where they are in need is a solid No. 2 scoring option behind Love. 
After Love's 25 points per game, there is a drastic drop off with center Nikola Pekovic ranking second in points per game with 12.3. If they could add Crawford, they would get someone who is averaging 14.8 points per game and a shooting percentage of 40.7 percent all while coming off of the bench.
Giving Crawford more minutes should give him a chance to see his points per game and shooting percentage spike. 
Currently, the Timberwolves are relying on a combination of Luke Ridnour, Wayne Ellington and Malcolm Lee at shooting guard. All three of those players are averaging under 11.5 points per game. 
The Timberwolves sit in the ninth spot in the Western Conference just two and a half games behind the Denver Nuggets for the final playoff position. They have the talent to make a late season push for their first playoff appearance since 2004. 
They have to do whatever it takes to land Crawford to fill their one glaring weakness.