NBA Rumors: LA Lakers Foolish to Put off Potential Lamar Odom Return
March 5, 2012

Kevork Djansezian/Getty Images
After the Los Angeles Lakers sent off forward Lamar Odom to the Dallas Mavericks for virtually nothing, the team has shown that they could really use the depth that he provided. The only problem is, the Lakers apparently don't want anything to do with him.
According to ESPN's Ric Bucher, Odom is desperate for a return to LA. The feeling isn't mutual though.
I'm told that Lamar Odom is desperate to go back to L.A. The Lakers will not take him. The Clippers would love to make that deal, but they don't have the pieces that Dallas would want right now because Dallas wants expiring contracts to be a free-agent player. But don't be surprised if Lamar Odom makes his way back to L.A. It just won't be this season.
As Bucher mentions, the Lakers have all their eggs in one basket. That being the one for Orlando Magic center Dwight Howard, who still hasn't had a clear path for his future as the trade deadline quickly approaches.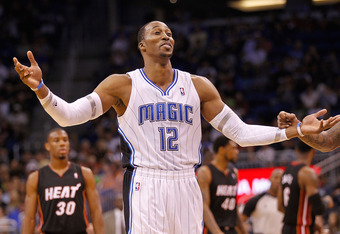 Mike Ehrmann/Getty Images
The thing is, the Lakers cannot even trade for Odom since teams cannot reacquire players that they trade during the same season. The only way they could acquire him is if the Mavericks were to waive him.
According to Sportingnews.com, the team last week continued to deny reports that they are dropping Odom, as he was dealing with family matters.
According to the source, Mavericks owner Mark Cuban also denied the talk, stating to ESPN Dallas:
"We haven't discussed a buyout and we wouldn't do a buyout," Cuban wrote in an email to ESPN Dallas. "No chance that happens at all. We want to help Lamar work through any personal issues and expect him to be a valuable contributor to the Mavs this season. Players go through challenges from time to time and we try to be (an) organization that fully supports our players when things are challenging for them. We will do the same for Lamar."
While everyone understands Cuban's desire to keep Odom around, would he be open to moving or even dropping the player as he continues to display distress in playing in Dallas?
Who knows, but if he were to be waived, the Lakers would be foolish to continue to put off a possible re-teaming between the two parties.
Since joining the Mavs, things have been shaky for Odom. He hasn't seen as much playing time, and while playing alongside Dirk Nowitzki has made that more difficult, short stints in the D-League isn't exactly where the 32-year-old forward wants to spend these late seasons into his career.
The Lakers could find much greater use for him.
The team could use some depth going into the postseason, not to mention some players with some serious experience.
With guys like Josh McRoberts, Troy Murphy and Devin Ebanks, the team is currently rolling the dice on their potential playoff results.
It is understandable why the Lakers want nothing to do with the situation right now, as they have their eyes set on the bigger prize, but as Buchar states, expect to see Odom back in LA next year. If he is waived, they should bring him back now.
Jeff Chase is a Featured Columnist for the Chicago Cubs and Arizona State football.
Follow @Real_Jeff_Chase