Dwyane Wade: Miami Heat Star Unfairly Getting a Pass from the Media
March 6, 2012

Ronald Martinez/Getty Images
Normally, a writer would start this piece with something positive.
"Dwyane Wade is an exceptional basketball player, but..."
"D-Wade has ignited the Miami Heat for years, but..."
Insert that positive cliche here because I don't plan on being very positive in this article. Dwyane Wade's play as of late simply doesn't warrant it.
Wade is a perennial All-Star and has jockeyed with Kobe Bryant over who is the best shooting guard in the NBA for the last few years. Why he has received a pass for his play during the Heat's last two losses is unfair. 
After winning nine games in a row, the Miami Heat are in the middle of a two-game losing streak thanks to the Utah Jazz and Los Angeles Lakers.
Are we so obsessed with his teammate LeBron James that we ignore Wade's faults completely?
Looking at the headlines, it seems it is totally LeBron James' fault and that James has failed his team once again in big moments.
Let's be a little objective and assess the Heat's key moments in their last two losses.
3/2/12—@Utah Jazz: Fourth Quarter
1:08 : Down 94-92, James pulls up for three-pointer and drains it...95-94 Heat.
0:26: 95-94 Heat...James pulls up just inside the arc...drains it...97-94 Heat.
0:13: 97-96 after Utah make; Wade fouled and sent to the line where he makes only one of two...98-96 Heat.
0:04: Down by two, Utah's Devin Harris makes floater over Wade, who also fouls Harris on play. Harris converts free throw for 99-98 lead.
0:04: James' infamous pass to Udonis Haslem, which Haslem clanks.
0:00: Heat lose.
LeBron James was blamed for this loss for not taking the last-second shot. That's fine if you want to give him blame, but Wade walked unscathed.
Wade makes a free throw, the Heat win. (Or, worst-case scenario, force overtime.)
Wade still had a chance to redeem himself with a stop. Unfortunately, he was scored on and committed the foul for the game-winning free throw.
3/4/12—@ L.A. Lakers:
No need to break down any aspect of this game. Wade was abused by Kobe Bryant the whole game. Wade fouled out with plenty of time left in the fourth quarter and his team was doomed. Miami was already without Chris Bosh, and Wade added to their woes.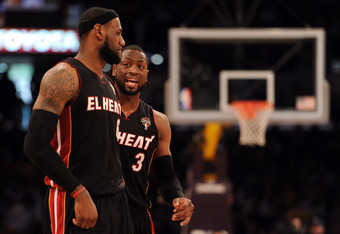 Harry How/Getty Images
After the game, most headlines still decreed "James loses to Bryant," or "Bryant crushes James and Heat."
LeBron had 25 points, 13 rebounds and seven assists.
Wade contributed only 16 points, five turnovers and six fouls. Not to mention allowing Bryant to get 18 first-quarter points.
James has always struggled in the clutch, but this time he gets all the credit: he set his team up for two wins of which both were lost at the hands of his teammate.
If the Miami Heat are indeed D-Wade's team, let's assess the blame fairly.
Wade will be better down the stretch. Sure, the Heat will figure it out.
However, we still have to be responsible in our writing and assessment of D-Wade.
Follow me @ www.twitter.com/jaysmithsports