March Madness 2012 Predictions: Big 12 Will Earn 2 No. 1 Seeds in Tournament
March 5, 2012

Jamie Squire/Getty Images
Kentucky and Syracuse have already earned No. 1 seeds in the NCAA Tournament. Even if they completely fall apart and lose in their opening games of their respective conference tournaments, they'll still be No. 1 seeds.
That is simply how good the Wildcats and Orange have been this season. 
But which two teams are good enough to earn the other No. 2 seeds?
The battle comes down to two ACC teams and two Big 12 teams: North Carolina, Duke, Kansas and Missouri.
Big Ten powers Ohio State and Michigan State have lost too many games and Marquette, the No. 9 team in the country, would need to win the Big East tournament and hope that none of the four ACC and Big 12 teams win their conference tournaments.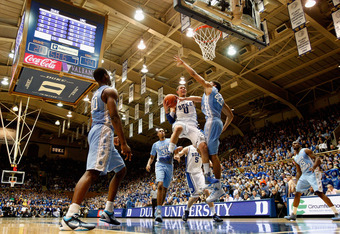 Streeter Lecka/Getty Images
The most likely scenario is the ACC team that goes the furthest and the Big 12 team that goes the furthest earning the No. 3 and No. 4 overall seeds.
But to be quite honest, neither Duke nor North Carolina deserve a top seed if Missouri and Kansas meet in the Big 12 title game.
The Blue Devils went 26-5 this season, but were pummeled by Ohio State in late November and UNC in the season finale. UNC, meanwhile, was 27-4 on the year but lost by 10 to UNLV and 33 to Florida State. While there other two losses were by one point a piece, their inconsistency with the amount of talent they possess is bothersome.
Kansas and Missouri traded blows the same way Duke and UNC did - the Jayhawks lost by three to the Tigers on the road and then avenged the loss with a one-point home win in overtime three weeks later.
Kansas lost to Kentucky, Duke, Davidson and Iowa State in addition to the Mizzou loss while the Tigers lost to Kansas State twice and Oklahoma State in addition to the Kansas loss.
Duke was beyond lucky to win the first matchup with the Tar Heels and that was easily visible this weekend. UNC is the better team and anything less than a conference title from the Tar Heels shouldn't earn them a No. 1 seed.
The same cannot be said of Kansas and Missouri.
The two Big 12 teams have been nearly inseparable this season. Should they meet for the third time at the Sprint Center in Kansas City, Missouri they'll have done so by going through a more difficult road than what Duke and UNC will have in Atlanta, Georgia.
If Kansas and Missouri meet for the Big 12 Tournament championship they both deserve a No. 1 seed this year regardless of outcome.