Big Ten Tournament 2012: Ohio State and Locks to Get Top Seed
March 5, 2012

Leon Halip/Getty Images
According to ESPN's Joe Lunardi, the Big Ten has seven total teams in the NCAA tournament, with three of those teams starting as a No. 2 or No. 3 seed. With these three teams projected this high the week before the tournament, it means that any one of them could make a run for a No. 1 seed next week. 
However, these three need to win the Big Ten conference tournament to be rewarded with a No. 1 seed. 
Ohio State Buckeyes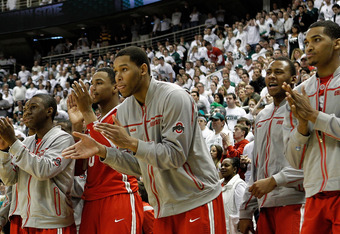 Leon Halip/Getty Images
Heading into their conference tournament, they are No. 8 in the Ratings Percentage Index (RPI) with a 25-6 overall record. Plus, the Buckeyes are No. 3 in non-conference RPI and are 9-3 in their last 12 games. 
If both Ohio State and Michigan can survive their first games in the Big Ten tournament, it will set up a marquee game that could help both schools. 
If Ohio State can get past a Michigan team that ranks 12th in RPI and then defeat Michigan State (RPI No. 5) in the championship game, it should lock in that No. 1 seed for the Buckeyes. 
Michigan State Spartans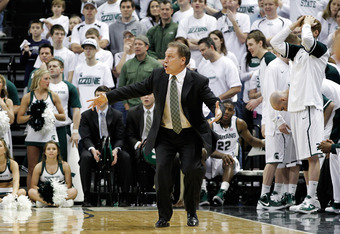 Leon Halip/Getty Images
Michigan State came out of nowhere this year to finish atop of the Big Ten conference standings. They open the tournament as the team to beat at the No. 1 seed. However, they still have some work to do if they want to lock down a No. 1 seed in the NCAA Tournament. 
Their RPI is solid, as they start conference tournament week at No. 5. However, just winning one or two games will not be enough for this team to grab the top spot in the East, West, South or Midwest. 
For the Spartans to be a lock for one of the top seeds in the tournament they will have to defeat either Ohio State or Michigan in the conference championship game. With that win, it will keep the Spartans in the top 5 of the RPI heading into Selection Sunday. 
Michigan Wolverines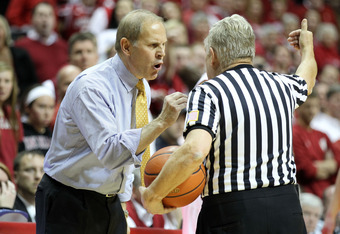 Andy Lyons/Getty Images
Michigan has the most work to do if they can sneak their way into a No. 1 seed. They currently are in the No. 3 spot according to Lunardi's mock bracket. However, if they can win big over Ohio State in the conference semifinals and then win impressively against Michigan State in the finals, they will have a great chance to be a No. 1 seed. 
They currently sit at No. 12 in the RPI with the seventh-best conference RPI and conference strength of schedule. 
If they can win the conference tournament and have some help with some of the teams that are ahead of them in the RPI, they could end up as the No. 1 seed in the West bracket. 
The Big Ten will get a No. 1 seed in this year's tournament, and it will be one of these three teams.