Jeremy Lin's Turnover Problems Mean More Run for Baron Davis
March 5, 2012

Elsa/Getty Images
The Linsanity of the past month has finally subsided. Now it's time for the New York Knicks to focus on how to win a playoff game for the first time since 2001.
Point guard Jeremy Lin is clearly worthy of being the starter after averaging 21 points and 8.4 assists in February, but that doesn't mean he should be playing every moment of every game. The time is now to fully incorporate Baron Davis into the rotation. 
In Sunday's crushing OT loss to the Boston Celtics, Lin missed 6-of-7 shots in overtime and continually let Rajon Rondo blow right by him. He played 16 minutes less than Rondo and was clearly not in the same shape physically. It was also another six turnover game for the 23-year-old. Fans keep expecting the turnover issue to improve, but nine games with six or more turnovers in less than a month is unacceptable.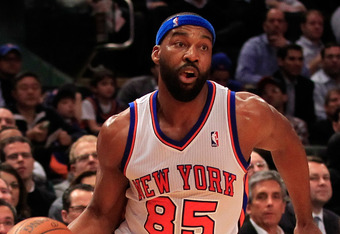 Chris Trotman/Getty Images
Lucky for the Knicks, they have a backup more than capable of filling in during crunch time. He also just so happens to have 46 games of postseason experience. While the 32-year-old Davis isn't going to win your team a championship as a starter, he is an outstanding backup at this point in his career.
Head coach Mike D'Antoni has slowly eased Davis back into the lineup after missing the first two months with a back injury. On Sunday he played a season-high 21 minutes and didn't disappoint, finishing with eight points and seven assists while drilling 2-of-3 shots from downtown.
When asked by Al Iannazzone of Newsday.com about potentially closing the game with Davis, D'Antoni gave a very open-ended answer:
Mike D'Antoni said he's sticking with Lin, but he didn't rule out using Baron Davis at the end of games when Lin struggles like that. "Maybe," he said. "We'll see. I'm comfortable going with Jeremy. I think at the end of games, Jeremy finds a way to be positive, and he was."

"Jeremy's going to finish games right now. He's going to start games. And then we'll see what happens as we go forward. But I'm comfortable with him."
Sounds like he has entertained the idea, which is a positive sign for Knicks fans. It may feel like Lin has been around forever, but he has still only been the starter for 13 games in his career. The room for error on an 18-19 team is small and they don't have time to endure the growing pains of Lin.
Solution: Keep Lin as the starter, while lowering his minutes to around 28 minutes a game. Play Davis for 20-to-25 minutes including crunch time in the fourth to make sure the turnovers are minimal and Carmelo Anthony can receive the ball in a position to score with the game on the line.
The Knicks are loaded with talent—almost to a fault now—and don't need a heroic performance from Lin every night.
It's time to give B-Diddy a chance.