WWE: Jim Ross's Best Calls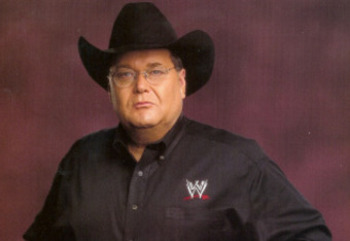 WrestleMania XXVIII, for all its potential to be a fantastic show, just won't be the same without Jim Ross calling the action. With Mr. Ross behind the mic, a good match can be great, and a great match can be stellar.
What follows are some of my favorite Jim Ross calls. Feel free to add your favorites in the comments, and provide a link if you can.
Let's get this slobberknocker started!
WrestleMania XX Main Event
JR's call of this entire match is excellent, but what really stands out is the end of the match and the post-match commentary. His voice is shot to hell, but it doesn't matter. Even in the "sports entertainment" era, JR made you believe that what was happening in that ring was 100 percent real.
The emotion of his post-match monologue is matched only by the sadness one feels when looking at Chris Benoit and Eddie Guerrero in the ring, knowing what fate would have in store for both of them.
JR Gives Eric Bischoff a Piece of His Mind
One of the few times I've seen an announcer cut a promo on someone. JR rips into Eric Bischoff for keeping Stone Cold from wrestling.
This clip further proves that JR does the job of selling angles and putting over talent better than anyone. Period.
JR Loves His Skittles
It doesn't have to be a wrestling match. JR can even make Skittles appealing!
"You Talk About an Ass-Whippin'!!!"
At No Way Out in 2003, Eric Bischoff took on Stone Cold.
Yeah, not much in the way of competition.
But what makes this clip great is JR going crazy when Bischoff gets hit with the Stunner. He cracks Jerry Lawler and Jonathan Coachman up, and I couldn't help but laugh, too. Sometimes it's OK to not take yourself too seriously.
Favorite quote from this clip (it happens at 7:10): "There's 16,000 standing!! Why in the hell can't I stand?"
"Stone Cold! Stone Cold! Stone Cold!!!"
You had to know this one would be included...
From WrestleMania XIV.
Hell in a Cell
While we all know about the "as God is my witness" quote, JR's call of the entire match is absolute gold.
To this day, I still get chills when I hear him begging to stop the match after Mick Foley gets choke slammed through the top of the cell.
Keep Reading