Big East Tournament 2012: Bold Predictions for This Weeks Tournament
March 5, 2012

Chris Chambers/Getty Images
The Big East Conference Tournament is always one of the most exciting in college basketball.
Each season, the winner is a true threat to make some noise in the NCAA Tourney.
Last year, the No. 9 seeded UConn Huskies made a run through the Big East and ended up with a No. 3 seed in the NCAA tournament, eventually winning it all to cap an epic journey.
You never know if something that crazy will happen again this year, but it is likely.
Here are a few bold predictions for the 2012 Big East Tournament.
St. John's Uses Home Court Advantage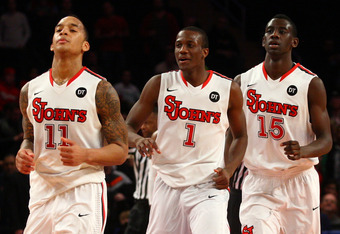 Chris Chambers/Getty Images
The Johnnies are fortunate that this competition takes place in Madison Square Garden, where they play their home games during the season.
They had an extremely frustrating campaign, going just 13-18, but showed a lot of promise at points, and this young group has flashed the ability to turn it on and play great basketball.
Despite the fact that they lost by 20 just last week to their first-round opponent, Pittsburgh, you can expect the Red Storm to surge back and deliver a knockout blow to the Panthers.
They'll have the home crowd on their side this time and knowledge that a loss means their season is definitely over.
Overrated Notre Dame Falls Early
The Fighting Irish have the distinction of being the only team to beat Syracuse in 2011-12.
However, they also have lost to St. John's, Cincinnati, Maryland and Rutgers.
For every big win, they have one or two terrible losses.
They will be playing USF, Villanova or Rutgers after their bye games and have a good chance of being sent packing early by any of those three squads.
Seton Hall Stuns
The Pirates are the surprise of the Big East this year and have a nice 19-11 record and a probable place in the Big Dance already locked up.
However, they only received the No. 10 seed in the tournament and have to get past Providence on Day 1.
This should be no problem for the squad, and eventually they should find themselves matched up with Marquette in an epic battle for the right to go to the semi-finals.
Win there, and it's not outside the realm of possibility that this group goes sailing right through the tournament finals. 
A huge Cinderella run could be in the making if the Pirates can win their first couple of games.