Boston Celtics: 4 Things Doc Rivers Must Address Going into NBA Playoffs
Chris Graythen/Getty Images

As the NBA postseason approaches, Boston Celtics coach Doc Rivers must buckle down to address outstanding issues on his team.
While the Celtics are still just playoff hopefuls, they are currently ranked seventh in the Eastern Conference.
Despite the C's being poised for the playoffs, they face lingering setbacks that could hurt their chances at a legitimate run.
Here is what Doc Rivers must tend to in order for the Celtics to have a shot at another NBA title.
Begin Slideshow

»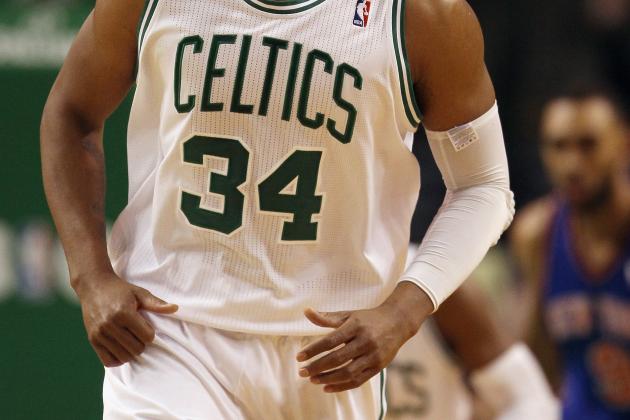 Elsa/Getty Images

With the Celtics on a four-game win streak and Paul Pierce still reigning as the go-to guy in the clutch (a la his drained three as time expired to tie the game against the New York Knicks), it's easy to forget that Pierce has struggled shooting all season.
His pre-All-Star game numbers are lackluster at best.
In February, he shot 0.395 from the field and 0.292 from behind the arc, frightening for a player who boasts a 44.8 field goal percentage over a career that has spanned three decades.
This season's cramped calendar has been cruel to the aging captain.
As the year has dragged on, a demanding schedule continues to fatigue the Celtics' leader.
Further, a heel injury extinguished No. 34's training camp opportunity, putting him behind the eight ball fitness-wise to start the season.
Boston's star is still contending with that injury on some level.
Add these factors together, and Pierce's shooting struggles begin to make some sense.
So despite Pierce's recent hot streak, Rivers will have to figure out whether the Truth has enough gas left in the tank to bring another one home to Boston.
It's possible that Pierce still has what it takes, and it's believable that Act I of his 2011 season has been nothing more than a slump.
But Rivers must honestly evaluate Pierce's situation going into this year's playoffs and address it accordingly.
Elsa/Getty Images

If Doc can address the Celtics' problems on offense, everything should fall into place for Rajon Rondo.
But if the C's fail to make the proper adjustments, Rivers will have to iron out the kinks limiting No. 9.
Though Rondo is a top NBA point guard, he excels at passing, not shooting.
So while he can create opportunities time after time for the team around him, Boston will still struggle if its shooters fail to execute—no matter how many opportunities Rondo gives them.
If the season concludes and Boston's leading scorers continue to struggle on the offensive front, Rivers should count on Rondo to make the proper adjustments.
This may even mean asking the point guard to take more shots (and working on his shooting).
Essentially, if the Big Three fall through, the Celtics will lean heavily on Rondo to tear up the court like he he did against New York last weekend, when he produced a triple-double with an incredible 18 points, 17 rebounds and 20 assists.
Obviously, that game is outstanding, but if Rivers can figure out how to get Rondo to play even a few notches below that level on a more consistent basis, the Celtics will be set headed into the playoffs.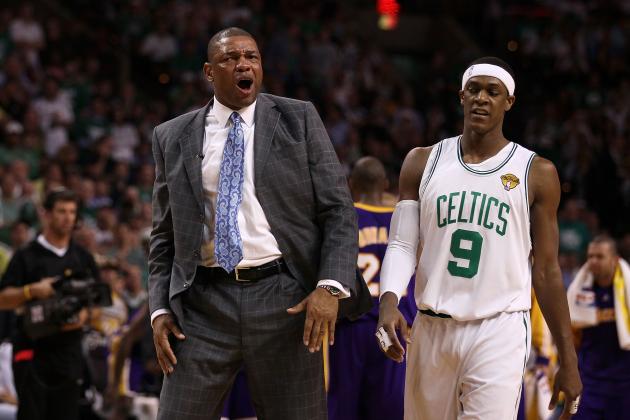 Elsa/Getty Images

How much of Boston's core will remain intact after the March 15 trade deadline is a mystery.
But most of this Celtics team will still be around after the Ides, meaning that the rumors of locker room discord will continue to swirl.
Rumblings that the C's faced off-the-court problems have followed them throughout the season.
The collective whispers roared loudly enough that Rivers was forced to publicly address them, denying that tension existed between himself and Rondo.
But despite the denials, the chatter continues.
Bill Simmons even chimed in with a cryptic tweet on the matter, exclaiming, "Understatement alert! 'If there is any friction regarding Rondo, it well could be between him & his veteran teammates.'"
Though the Celtics have publicly denied a locker room rift, embers must be burning somewhere within the organization to have created all this smoke.
Doc Rivers will absolutely have to address these locker room issues going into the playoffs. The high-intensity of the postseason could heat the pot enough to bring clashing personalities to a boil.
And though doubtful, if the locker room issues are actually baseless and false, Rivers will still need to address the rumors headed into the postseason. Otherwise, the rumblings could crack relations among players on good terms.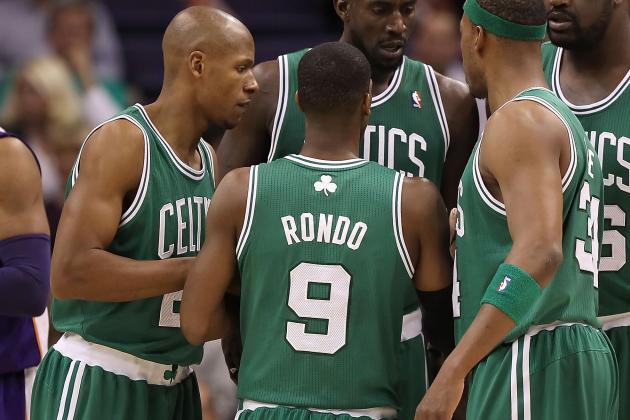 Christian Petersen/Getty Images

Other rumors that have followed the Celtics this season surround trade scenarios of Rajon Rondo and the Big Three.
And while the C's will be able to breathe more deeply and play with clearer heads post the mid-March deadline, there will be repercussions in the wake of a trade if one goes down.
The Big Three are in their fifth season playing together.
If one of them is shipped out, Rivers faces an unpredictable result.
Boston could struggle to make adjustments and regain their footing after a shakeup trade in the back half of a crammed season.
But if the Celtics remain playoff contenders, Rivers must be able to groom whatever new players come his way for postseason play in Boston.