Big 12 Tournament 2012 Bracket: Seeds, Odds, Matchups and More
March 5, 2012

Jamie Squire/Getty Images
The 2012 Big 12 Tournament is one of the most intriguing postseason tournaments in the country. The league lacks the deep talent of a Big East, but they have three top 10 teams in Kansas, Missouri and Baylor that can beat anybody on any given night.
But as things go in conference play, they've each had their troubles with one another as well as the likes of Kansas State and Iowa State.
Kansas and Missouri are the odds on favorites and the likely participants in the 2012 Phillips 66 Big 12 Men's Basketball Championship, but anything is still possible.
Seeds and odds (Las Vegas numbers not yet available)
No. 1 Kansas: 2-to-1
They haven't lost a game since February 4 and have the overall talent to be a No. 1 seed in the big dance.
If the Jayhawks can keep their head on straight they'll be in the championship game come Saturday night.
No. 2 Missouri: 3-to-1
The Tigers beat Kansas at home and then lost to the Jayhawks by one on the road in overtime. They're also battling for a potential No. 1 seed.
No. 3 Iowa State: 20-to-1
The Cyclones are far from consistent, but they have knocked off both Kansas and Baylor this year.
No. 4 Baylor: 15-to-1
The Bears stumbled in the final month of the season and have yet to beat the Jayhawks or Tigers this year. 
No. 5 Kansas State: 20-to-1
They've shown they can upset the big boys this year with wins over Kansas and Baylor, but they lack the consistency to make a real run.
No. 6 Texas: 35-to-1
Super inconsistent, the Longhorns are no better than a one-and-done.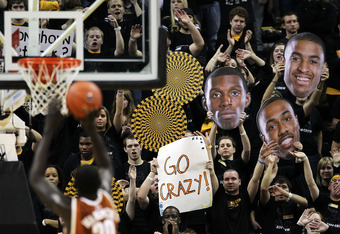 Jamie Squire/Getty Images
No. 7 Oklahoma State, No. 8 Oklahoma, No. 9 Texas A&M and No. 10 Texas Tech: 50-to-1
These four teams would need a miracle to make it happen this week at the Sprint Center.
All games played at Sprint Center in Kansas City, Missouri
Wednesday, March 7 - 1st Round
G1 - No. 8 Oklahoma vs. No. 9 Texas A&M - 7 p.m. EST - Big 12 Network
G2 - No. 11 Oklahoma State vs. No. 10 Texas Tech - 9:30 p.m. EST - Big 12 Network
Thursday, March 8 - Quarterfinals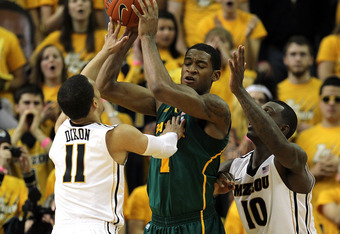 Jamie Squire/Getty Images
G3 - No. 4 Baylor vs. No. 5 Kansas State - 12:30 p.m. EST - ESPN 2
G4 - No. 1 Kansas vs. G1 Winner - 3 p.m. EST - ESPN 2
G5 - No. 2 Missouri vs. G2 Winner - 7 p.m. EST - Big 12 Network
G6 - No. 3 Iowa State vs. No. 6 Texas - 9:30 p.m. EST - Big 12 Network
Friday, March 9 - Semifinals
G7 - G3 Winner vs. G4 Winner - 7:30 p.m. EST - Big 12 Network/ESPNU
G8 - G5 Winner vs. G6 Winner - 10 p.m. EST - Big 12 Network/ESPNU
Saturday, March 10 - Championship Game
G9 - G7 Winner vs. G8 Winner - 6 p.m. EST - ESPN
Prediction: Kansas over Missouri