WrestleMania 28: 7 Reasons Why Triple H vs. Undertaker III Will Be a Great Match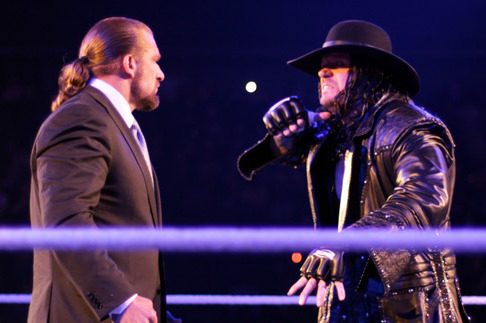 Wrestlemania 28 is one of the most stacked cards we've had in quite awhile.
We have Punk vs. Jericho for the WWE Championship, Daniel Bryan vs. Sheamus for the World Heavyweight Championship and, of course, a battle between two icons, John Cena vs. The Rock.
However, there's another match between two icons that's set to take place: Triple H vs. The Undertaker.
Even though these two will be facing off in their third WrestleMania match, it will also be the best match on the entire card.
Here are seven reason as to why.
Begin Slideshow

»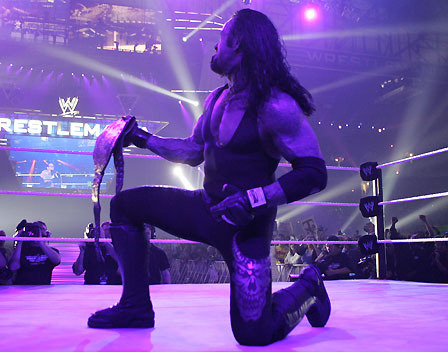 Undertaker, 46, has suffered injuries in recent years. And yet, despite this, he's still one of the better wrestlers in the industry. Every time you hear the gong sound and the arena goes dark, a chill goes up your spine and you can't help but feel excited as he makes his way towards the ring.
And even though Undertaker is only fighting on an annual basis nowadays, his last three WrestleManias have been nothing short of fantastic (though, my personal favorite goes to the first HBK-'Taker match at WrestleMania 25). Actually, the last time I can remember Undertaker even having a bad match at WrestleMania was that Casket match against Mark Henry at WrestleMania 22 (and I'll give you one guess as to why).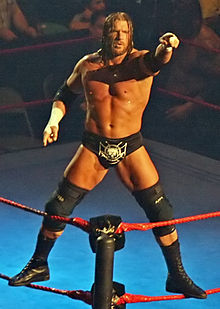 At 42, Triple H is also getting old. Yet since his days as the "Connecticut Blueblood," he's also been one of the most charismatic and entertaining superstars of the past 15 years.
He's been in two of the biggest stables in wrestling history, D-Generation-X and Evolution. He's a multi-time World Champion and he's main-evented against the likes of The Rock, Stone Cold, Shawn Michaels, Kurt Angle and John Cena, just to name a few.
Face or heel, he has a persona like no other in this business.
Yes, some of us make fun/berate him because of his ego or because of the fact he married Stephanie McMahon to make sure he had some power within the company and keep his status as a main-eventer forever. However, even if this wasn't the case, the way he has performed in this business is nothing short of greatness.
Will his already legendary status reach new heights by defeating Undertaker at WrestleMania?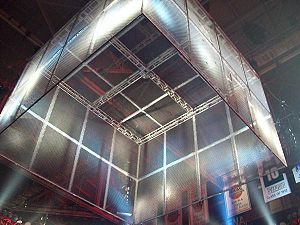 Having Triple H and the Undertaker square off is already a main event match. But to make it a Hell in a Cell match just makes this even bigger.
Both of them have been involved in Hell in a Cell matches over the years. Undertaker was one of the first to partake in this match type when he was feuding with Shawn Michaels in the mid-1990s.
Ever since then, the Cell has had great moments and matches.
There's the 1998 King of the Ring, when Mankind (a.k.a. Mick Foley) fell from the top of the cell and into the announce table...and later fell through the roof of the cell. Then, two years later, there was Triple H fighting Mick Foley in a Title vs. Career match. Or what about SummerSlam 2008, when Undertaker slammed Edge off the top of a ladder in the Cell match, sending him to the depths of Hell?
What kind of special moment(s) will we see in this match? Who knows, but I'm looking forward to it.
For years, Undertaker's streak has been a topic that people love to talk about.
Who will beat the Undertaker at WrestleMania? Can anyone ever beat the Undertaker at WrestleMania?
Since beating Jimmy "Superfly" Snuka at WrestleMania 7, wrestlers have tried beating him but to no avail.
Jake "The Snake" Roberts. Kevin Nash. King Kong Bundy. Ric Flair. Kane (twice). Randy Orton. Shawn Michaels (twice). And of course, Triple H (twice). Just a few names who are part of the streak.
Will Triple H's third loss be the 20th WrestleMania victory for the Phenom?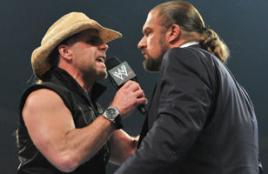 For weeks, Undertaker challenged Triple H to fight him one more time at WrestleMania, but Triple H refused to.
However, with some "persuasion," Triple H finally accepted.
It's been an interesting storyline with its share of twists and turns.
First of all, it was Undertaker who challenged Triple H to the match and not the other way around. Usually, a superstar comes out and challenges him to a match at WrestleMania, only to lose.
Secondly, there's the whole vengeance angle after last year's WrestleMania match, where Triple H said, "Undertaker won the battle, but I won the war."
And now, in recent weeks, we have HBK in there as well. Is Triple H better than HBK, or is it the other away around?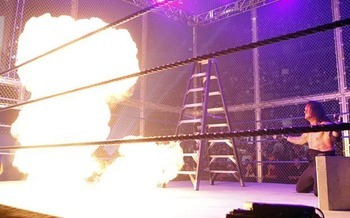 Yes, at times we make fun of how WWE is scripted or how its matches can be so unpredictable.
But Triple H vs. Undertaker is something that can honestly go either way.
Undertaker can go 20-0 and move on to the next challenger next year.
Or we could see Triple H finally end the streak ("third time's the charm," as some people say) as another act of his ego (another thing we make fun of/berate) getting the best of the business.
Not to mention the fact that it's in a cell, so we have no idea what spots will occur. And with HBK added into the storyline, could we possibly see some interference in this match?
It's that bit of unpredictability that makes some matches better than others, and this one is no exception.
As Triple H has said on RAW, it will be "the end of an era."
Could this be true? Triple H and the Undertaker are in fact the last two active members of the old generation, the ever-popular Attitude Era.
But after this match, could this be the curtain call for both superstars? (And by that I mean, will this be the last time we see either superstar wrestle in a match for a long time? Because, let's be honest, these are two huge moneymakers; you honestly think it's just going to end right then and there?)
What else could they mean by that? The end of their style—the old-school, aggressive, bloody and sometimes raunchy brawling that we've come to know and love from these two over the years? (This is the PG era, after all; speaking of which, will either of them even bleed in this match?)
The era of imaginative characters? After all, in an era where everyone's more realistic and the industry has nearly stopped using fantasy-like characters and gimmicks, Undertaker and Kane are really the only two left, and Triple H is one of the few multidimensional guys you see in the company.