2012 NFL Draft: Andrew Luck vs. Robert Griffin III
March 5, 2012

Joe Robbins/Getty Images
First off, these are two of the best athletes in the upcoming NFL draft; not just quarterbacks. If you don't believe me, just check out one of the videos published in this post for further evidence.
Before this season Andrew Luck was the consensus No.1 draft prospect going into the 2012 draft and, with that said, he still may be. It is clear however, that Robert Griffin III has made it a much closer race than some may have thought, and deservedly so.
Robert Griffin Highlights                      Andrew Luck 2012 Draft
To back up our belief in the possibility of RG3 going #1 overall in the 2012 draft over Andrew Luck, we have some comparisons for you to entertain.
Robert Griffin III       |       Andrew Luck   
TD Passes                                 36                                35
–Career                                      77                                80
Passing Yards                         3998                              3170
–Career                                  10071                              9083
Rating                                      192.3                              167.5
Rush Yards                                644                               153
–Career                                     2202                               960
Rushing TDs                                 9                                 2
–Career                                       32                                  7
Total TDs 2011                            45                                 37
–Career                                       109                               87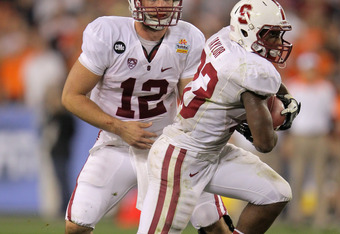 Doug Pensinger/Getty Images
Stepfan Taylor may have had an impact on Luck's Heisman chances and, possibly, for Luck's future as the potential No.1 pick in the draft.
After looking at these numbers, and specifically the 2011 numbers, I believe Griffin was the better overall college player. That said, there are several variables to take into consideration when digesting these statistics.
Griffin played 4 years compared to Luck's 3.
Luck is a pure passer, whereas Griffin is a track star and runs far more often.
One could argue that Baylor had better play-makers, whereas Luck (with Jim Harbaugh anyway) probably had the better coaching.
Luck has had the pleasure of being able to hand off to guys such as Toby Gerhart and Stepfan Taylor, whereas Griffin's tailbacks have been less effective.
While Griffin's teammate and starting tailback, Terrance Ganaway was electrifying at times while on his way to rushing for over 1,300 yards and 17 TDs, Stanford's Stepfan Taylor had a special ability to slow down the game and take it over while his defense rested.
Taylor had nearly the same amount of touches (229) as Ganaway (235) but had far less yardage, and not in a bad way.
Arguably, Taylor's ability to move the chains with his bruising ability and high-percentage plays, preserved the defense but also contained Luck's numbers, to a degree.
If Luck were on a team similar to Baylor's with the 109th-overall scoring defense (Stanford finished ranked 23rd) he would have far greater passing numbers than he displayed in 2011.
With the stats presented and arguments made, we still need to decide who we would take with the No.1-overall pick. To preface our selection, we would like to mention a person who has been performing at a greater level than anyone could imagine at this point in his NFL career: Cam Newton.
Robert Griffin has a lot of similarities to Cam Newton. He can run, he can throw the deep ball, and he should be able to come right in and add some dynamic to just about any team. Andrew Luck could turn out to be great in his own right, but with Griffin, a team as poor as the Rams could be exciting immediately.