Andre Villas-Boas: The Mistake That Cost Chelsea £50 Million
March 5, 2012

Laurence Griffiths/Getty Images
The Andre Villas-Boas saga finally ended today, but I don't think anyone was too shocked—we all saw it coming.
A run of bad results has left Chelsea languishing in fifth place, which is no spot to contend for the title. If their run of poor form continued, they would not be in contention for a Champions League place either.
Villa-Boas was sacked after the 1-0 loss to relegation candidates West Brom, whose recent run of form have seen them climb up the league table.
This result followed a poor outing against Napoli, where Frank Lampard and Ashley Cole were left to warm the bench while the rest of the team looked cold as they slumped to a 3-1 defeat.
With the amount of things that has gone on with AVB in charge of Chelsea, it is hard to believe he was only appointed manager of the London-based side back in June.
It took a reported £13.3 million in compensation to bring the ex-Porto manager to Stamford Bridge, and this was just after Abramovich has forked out roughly £10 million to pay off former manager and now PSG manager Carlo Ancelotti.
The Portuguese manager was only 36 weeks into his mega bucks contract with Chelsea netting an estimated £90,000 a week.
Abramovich will now be left writing another big check just to get rid of Villas-Boas, as the fee is reportedly somewhere around £11 million.
Then they will need to put money into the search for their new star manager, someone who can guide them out of the mess they are in. This puts the price of bringing Villas-Boas in and letting him go at way over £50 million.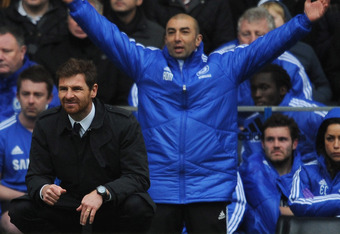 Christopher Lee/Getty Images
The statement released from the club was one of regret that the relationship has ended so soon with Villas-Boas, but one also disclosing his time as Chelsea manager.
Andre Villas-Boas has parted company with Chelsea FC. The board would like to record our gratitude for his work and express our disappointment that the relationship has ended so early. Unfortunately, the results and performances of the team have not been good enough and were showing no signs of improving at a key time in the season.
Roberto Di Matteo—who was Villas-Boas' assistant during his tenure as boss—has become interim manager. He will look to get off to a good start against Birmingham City in the F.A cup fifth-round replay.
Was it too soon for Villas-Boas to be fired? Or was it one loss too many?