Rajon Rondo Is the Most Underrated PG in NBA History
March 5, 2012

Elsa/Getty Images
Rajon Rondo is a special point guard in a league where there is growing talent at the position.
The 26-year-old star of the Boston Celtics has taken unbelievable strides in his game, and there weren't many who were forecasting this type of success for him when he initially came into the league in 2006.
Rondo was the No. 21 overall draft pick by the Phoenix Suns out of Kentucky before his rights were traded to Boston (along with veteran big man Brian Grant) in exchange for a future first-round pick.
It's safe to say that the Suns might like to have a do-over on that particular deal.
Although his career got off to a mediocre start with a rookie season that left many wondering what type of player he could become, Rondo has taken off since his sophomore year and has not looked back.
Currently one of the more prolific players in the game due to his ability to contribute across the stat sheet, Rondo is already a three-time All-Star, two-time member of the All-Defensive First Team and an NBA champion.
Signed for another three years (through 2014-15) beyond this season for a value price of $36 million, Rondo's contract is arguably the most valuable in the entire league.
Despite all of the accomplishments to date, there seems to be a great deal of criticism surrounding Rondo on a perpetual basis.
Although he's not a great foul shooter nor does he have the prettiest looking jumper, Rondo does more than enough in other facets of the game at both ends of the floor.
He's been the subject of consistent trade rumors, there have been concerns about his attitude and there is legitimate belief that his long-term future is not in Boston.
But why?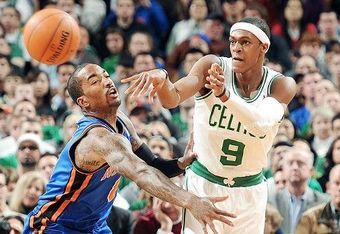 Rondo ranks right up there with the best-ever point guards to ever wear the green and white.
The performances he's capable of delivering should not be taken for granted.
We're watching one of the more well-rounded point guards regulate multiple areas of the game on a nightly basis.
Rondo has four triple-doubles during the 2011-12 season. Given that he missed eight games due to injury and another two due to suspension, that is nothing short of incredible.
With 18 points, 17 rebounds and 20 assists in an overtime thriller against the New York Knicks, Rondo joined some rather impressive company.
Rondo was just the third player in league history (per Elias Sports Bureau) to record at least 15 points, 15 rebounds and 20 assists in a single game, joining Oscar Robertson and Wilt Chamberlain in an elite club.
In the last 25 years, only two players (before Rondo) had delivered 15-15-15 lines: Magic Johnson and Jason Kidd.
An insane rebounder for someone of his size, Rondo is the piece that makes everything go on the court.
His court vision and ability to anticipate where his teammates are on the floor is uncanny.
Rondo's ability to penetrate to the lane and find the open man is not something that just any point guard is capable of doing.
The speed and athleticism he has is a competitive advantage over several of his peers.
A solid on-ball defender and a real floor general, Rondo is cementing his status as one of the most talented players in the entire NBA.
It's time to stop concentrating so emphatically on his shortcomings and appreciate his game for what he brings to the table.
From his name to his game, everything about No. 9 and what he does is unique.
There just aren't many players around like Rondo, and there won't be many coming through the draft door.