Michael N. Todaro/Getty Images
March 5, 2012
With just four weeks until the biggest show in the WWE's history, the road to WrestleMania is bound to be a bumpy ride. And it all continues tonight on Raw.
Keep it here for all the latest updates, rumors and a full preview on what could be a vastly important show for the company. If the WWE knocks this show out of the park, WrestleMania will be the greatest show in wrestling history.
Where: TD Garden, Boston, MA
When: Monday, March 5, 9:00 p.m. ET
Watch: USA Network
How Will The Rock Respond?
After The Rock clearly lost the edge in the verbal battle with John Cena, the People's Champion travels to Cena's hometown where the true crowd reaction will be incredibly interesting to see.
Whether you believe that last week's promo talking about The Rock's notes on his wrist was a work or a shoot, it was amazing. Now that Rock is returning to Boston, things could get wild.
Last week's bit was so successful that the WWE shouldn't try to force this as much this time around. While everyone in the Garden wants another epic promo, the WWE will play it safe and this segment could be boring.
The Return of HBK
As if the Road to WrestleMania needed more traffic, the Heartbreak Kid makes yet another return to Raw to address Triple H. I may be alone, but I'm over HBK returning again already.
Fans have really gotten behind this Undertaker vs. Triple match, especially with the Hell in a Cell stipulation, but the continued infusion of Michaels seems as forced as it possibly could be.
The WWE can use HBK for the cheap pop like they always do building up to the WrestleMania event, but they should not be trying to infuse him as a referee or a special enforcer. With the Hell in a Cell, HBK is just a distraction.
The GM Saga
With the saga between the Raw general manager John Laurinaitis and SmackDown GM Teddy Long spilling onto Raw, this storyline has gone on long enough to piss me off.
The news now is that the feud between GMs has caused the WWE Board of Directors to force the duo to switch jobs. That means Johnny Ace as SmackDown GM and Teddy Long as Raw's GM. Stupid, right?
Their first stupid act of business, put David Otunga in a match with great Khali and Long's girlfriend, Aksana, in a match with Kane. Yucky!
Alberto del Rio to Return?
The WWE is dying for more heels on the active roster, and the fans may be getting what they want as former WWE champion Alberto del Rio returned to live action at a house show in Georgia.
Del Rio is one of the best workers the WWE has and his impact on the product wasn't understood fully until he went missing from the card. The WWE needs del Rio.
With plenty of stars looking for something to do with no Money in the Bank ladder match, del Rio will almost certainly be starting his next major feud right before or even live at WrestleMania.
WWE Legend Al Snow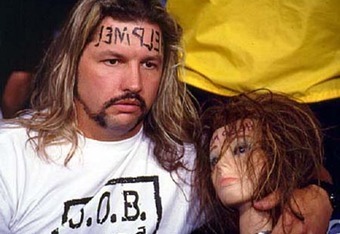 If you look at WWE.com, you would have seen the latest content about famous props over the history of the company. The second man on that list, just behind Macho Man Randy Savage, was ECW legend and WWF pin cushion AL Snow.
WWE must have known that the former WWE legend and current TNA bouncer would be on the popular radio show Ring Rust Radio this Tuesday at 7 p.m. ET, because their well-timed publicity has been amazing.
If you want to hear Al Snow tell funny stories about his time in the wrestling business and you want to get in on the conversation, tweet us @RingRustRadio or listen live here!
Check back for more on World Wrestling Entertainment as it comes, and check out Bleacher Report's WWE Page to get your fill of all things wrestling. For more on WWE/TNA, check out Ring Rust Radio for all of the hot topics.
Listen to internet radio with RingRustRadio on Blog Talk Radio
Like the new article format? Send us feedback!