Wrestlemania 28: Why Hasn't Daniel Bryan vs. Sheamus Gotten Much Hype Yet?
March 5, 2012
WrestleMania 28 is only a month away and, so far, it has quite the card.
There's The Rock vs. Cena, Triple H vs. Undertaker in a Hell in a Cell, CM Punk vs. Jericho for the WWE Championship, and Daniel Bryan vs. Sheamus for the World Heavyweight Championship.
Wait, what was that last one?
Yes, Daniel Bryan vs. Sheamus is a match that will be featured at WrestleMania, although the way things have played over the past couple of weeks, you wouldn't think that this match was even happening.
For those of you reading that haven't been watching WWE over the past two months, let me explain how this match came to be.
Back at the Royal Rumble, Sheamus, who at the time was muddled in the middle of mid-card land, won the 30-man battle royal to become the No.1 contender for either the WWE or World Heavyweight Championship.
Meanwhile, Bryan was the Champion who barely retained his title in a triple threat steel cage match against the "World's Largest Athlete," the Big Show and "The World's Strongest Man," Mark Henry.
Just two weeks ago, Bryan defended his title yet again, this time in an Elimination Chamber. Outlasting Big Show (again), The Great Khali, Wade Barrett, Cody Rhodes, and Santino Marella, Bryan was able to retain his title.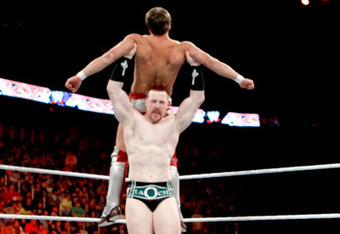 However, after the match, Sheamus came out and delivered his finisher, showing to the WWE Universe that his target was Bryan and the World Heavyweight Title at WrestleMania.
And since then.... nothing has really happened.
Bryan has been used as little more as a setup for other feuds.
He had two matches against CM Punk, but that was only used as fuel for the feud between general managers John Laurinaitis and Teddy Long (what a thrilling feud that is, right? Um... right?).
And just this past week, he had a match against Randy Orton (who he defeated by countout), only for Kane to come out and chokeslam him through a table (which likely means we're getting an Orton/Kane match at WrestleMania... guess they needed to have them somehow involved at the PPV, so let's just have a quick, throwaway feud).
Sheamus hasn't done a whole lot in development either. Two weeks ago, he beat Mark Henry (rather quickly, I might add) on RAW and The Miz on Super Smackdown, and last week he teamed up with Big Show and defeated Cody Rhodes and Mark Henry on RAW, and Dolph Ziggler on Smackdown.
He's looked very strong, which is good, but is there really any build?
We've seen very little interaction between Bryan and Sheamus since Elimination Chamber, outside of Bryan saying he's going to ruin his "Wrestlemania moment" on the Super Smackdown show.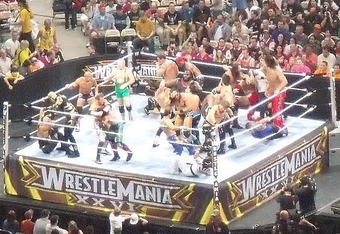 Why hasn't there been as much hype for this match as the others on the WrestleMania card?
Now, one could normally say this is because the WWE is focusing so much of their time and effort on the other main-event matches (Punk/Jericho, HHH/'Taker, and Cena/Rock) to not pay attention to any other feuds going on.
But here's the problem: Those are all feuds on RAW. All of the superstars are on the RAW, any segments they have are on RAW, and any time and development these feuds are given are on RAW.
And aside from Punk wrestling Bryan on Super SmackDown two weeks ago, none of them are ever utilized on the blue brand.
So, to me, there's no excuse. You have two hours each week between Elimination Chamber and WrestleMania to put some time and development into this feud. Surely, you could do something within that time frame?
Outside of Bryan/Sheamus, there's really only two feuds going on with SmackDown: Orton vs. Kane and Big Show vs. Cody Rhodes.
I can't say much about Orton/Kane, mainly because it just started, and also because it's a throwaway feud.
Orton is a top star and needs someone to feud with, especially since Wade Barrett—the last guy he was feuding with—is out with an injury for several months, and Kane needs a top-level star to continue his monster persona with because he's done with Cena, who is busy facing The Rock.
As for Big Show/Rhodes, I've liked how they've gone with the feud, with Rhodes making fun of Show's horrific WrestleMania record and dubbing him as the "anti-Undertaker." It's been a good feud so far, and they've been giving meaning to the Intercontinental Championship.
Yeah, there's something we haven't seen in a long time; the creative team has given more time and development to the Intercontinental Title than to one of the company's two main titles!
While it's nice to see the company actually caring about one of their secondary belts, it also begs the question: If the company can put some thought and effort towards an Intercontinental Title match, why can't they do the same for the World Title match?
In fact, the way things are going, it reminds me of last year's WrestleMania with the United States Championship between... well, lookee here... Daniel Bryan vs. Sheamus.
Yes, to those who didn't pay attention to wrestling at all last year, Bryan and Sheamus had a feud over the United States belt that was supposed to culminate at WrestleMania. However, there were several problems with their match:
1.) Instead of putting it on PPV, it instead became a dark match on the card.
2.) The match was a lumberjack match, but then the lumberjacks brawled, resulting in a no contest.
3.) Because of the no contest, the match was rescheduled as a non-title, 23-man battle royal.
4.) The Great Khali won the battle royal (I dislike Khali with great intensity).
Personally, I just don't understand why they don't put more hype and thought into this match.
Daniel Bryan is a world-class wrestler. While small, he is one of the top performers in the wrestling industry, and has put on great matches, whether heel or face.
In addition, his heel persona, though not as great as it was in Ring of Honor (but hey, like they say, "beggars can't be choosers"), has a bit of that old-school heel charm, where the superstar eeks out a win or capitalizes on an opportunity to get the victory.
Sheamus is currently a beloved face. A pure mix of both strength and agility with a unique look and decent mic-skills to boot. He also gets very good pops, even on the RAW shows. He's also "Triple H's workout buddy," which will give him a long tenure, so long as he stays on the COO's good side.
If given enough time, the match should be very good to watch. It may not be the quality that Punk/Jericho will have, but I think it will be one of the better matches on the card.
Perhaps the reason as to why there's been a lack of hype is that Sheamus won't actually win the title at WrestleMania.
Many of the other writers here on Bleacher Report believe that Bryan is just a transitional champion and will quickly lose to Sheamus in their upcoming battle. I initially thought that as well. However, as time has passed, and little development has happened between the two superstars, maybe that's not the case.
After all, you don't often see the Royal Rumble winner losing their match at WrestleMania (although it did happen to Alberto Del Rio just last year). 
Perhaps Bryan will barely get the victory in the match and the feud stretches to Extreme Rules or even beyond that.
Or maybe the creative team does not believe Sheamus can be a quality champion. Or hey, maybe it's just another throwaway feud, so that we could have Bryan feud against someone like Orton as soon as WrestleMania ends (although I don't think the writers are that incompetent to just do that).
At this point, it's difficult to see what will happen. Hopefully, with less than a month left until WrestleMania, there will be some more development involved between the two.
So, fellow Bleachers, what are your thoughts on this?