Seattle Seahawks 2012 Mock Draft: The Latest 7-Round Predictions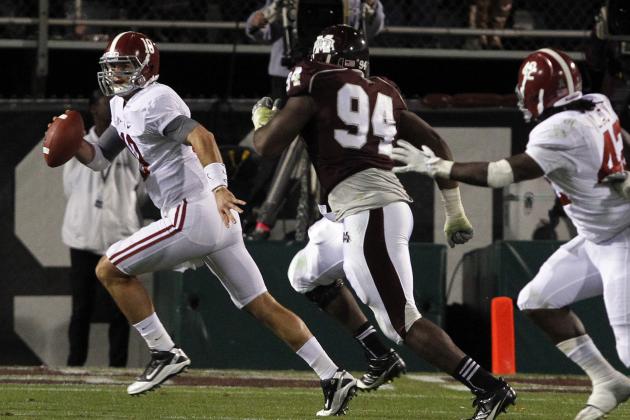 Butch Dill/Getty Images
Fletcher Cox is the answer to the Seahawks' interior pass rush woes.
For the Seattle Seahawks, the 2012 NFL draft will focus on improving the speed in the defensive front seven and adding "touchdown-makers" on the offensive side of the ball.
This draft will be the third orchestrated by Pete Carroll and John Schneider. They took over a team that was old, injury prone and almost entirely devoid of talent. And in only two offseasons, they have transformed it into one of the youngest, toughest, most aggressive teams in the league. They will smash you in the mouth on both sides of the ball, then they'll do it again.
As a defensive-minded coach, Carroll predictably made revamping the defense his first priority. In 2009, the Seahawks fielded one of the worst defenses in the NFL. However, many systems rated their defensive among the top 10 in the league in 2011, due in large part to a huge, aggressive secondary led by safeties Earl Thomas and Kam Chancellor, and a massive, imposing defensive line fronted by Brandon Mebane, Red Bryant and underrated free agent acquisition Alan Branch. That huge line performed to expectations and clogged running lanes, but at the expense of rushing the passer. Only dedicated pass-rusher Chris Clemons provided any sort of consistent pressure. This will need to change.
During his end-of-season press conference, Carroll was asked about offseason priorities. He said a lot—because he's Pete Carroll—but his response included two money quotes.
First quote: "You're always looking for touchdown-makers on offense. You always want to get guys that can score. So if there's a wide receiver in the draft that would be cool, if there's a big-time running back that would be cool."
Second quote: "We need to get faster on D, more speed from LB corps, speedy inside and outside rushers. We'd like to add more competitive guys in our secondary."
I think this is the last time Seattle will dip heavily into free agency, and I think the most obvious fit is Mario Williams. He vastly improves the speed of the front seven and provides the desperately needed pass rush. Seattle has the cap space and he fits a massive need (and I need a baseline for this mock), so I'm going to assume the Seahawks sign him as a free agent. I think Red Bryant will seek more money than Seattle is willing to offer, and it will enter the draft in need of talent at defensive tackle. Finally, given a number of statements made by both Carroll and Schneider, I'm going to assume they don't plan to draft a QB in the first few rounds.
Now that the stage is set, here is the Seahawks' latest seven-round mock draft prediction.
Begin Slideshow

»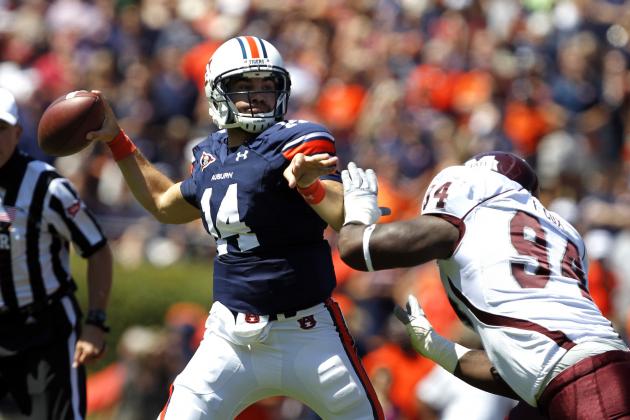 Butch Dill/Getty Images
Fletcher Cox is an explosive athlete with a relentless motor.
The Seahawks run a hybrid defense that is technically a 4-3 but often resembles a 3-4, with three huge down linemen and four smaller, quicker linebacker types. This scheme will stonewall any running game, but relies on one small defensive end (known as a LEO) to generate the majority of the pass rush. This defense will be most successful with an explosive, penetrating interior pass-rusher. Enter Fletcher Cox.
This 6'4", 298-pound junior prospect is widely considered the most well-rounded defensive lineman in the draft, but he drops to the Seahawks at 12 due to the intersection of teams needing defensive ends and the glut of DE prospects at the top of this class. He is a perfect fit for Seattle's defense.
He can line up inside at 3-tech, where his job is to put his head down and plow through the gap between the guard and tackle. Or he can play Red Bryant's role as the 5-tech, containing the gaps on either side of the tackle, much like a 3-4 DE. His versatility will make him one of Pete Carroll's supreme assets on the defensive side of the ball.
As a 2011 All-SEC first-teamer, he racked up 56 total tackles, including 14.5 tackles for loss, and five sacks. He was named Southeastern Conference Defensive Lineman of the Week four times. He blocked five kicks in his career at Mississippi, including four throughout 2011, and polished off his junior campaign with a blocked field goal in a bowl game against Wake Forest.
He lit up the combine with a 4.79 40-yard dash, seventh among defensive linemen, and only 0.01 of a second slower than the elite physical freak defensive end Quinton Coples. However, even more impressive than his 20 time was his 10-yard split of 1.63, which better demonstrates how explosive he is. For reference, that's faster than Coples and Melvin Ingram, another highly touted defensive end prospect.
With Brandon Mebane and Alan Branch occupying double-teams and Clemons terrorizing the QB from the edge, Cox could have an immediate and significant impact on an already borderline elite defense.
Alternates: DE/OLB Nick Perry, USC; DE/OLB Melvin Ingram, South Carolina; LB Luke Kuechly, Boston College.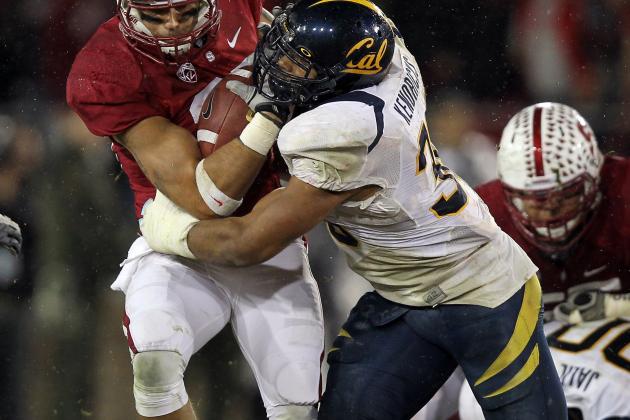 Ezra Shaw/Getty Images
Mychal Kendricks could start day one at weakside or middle linebacker.
With David Hawthorne and Leroy Hill hitting free agency this year, linebacker is definitely a need for the Seahawks. Hill's continued troubles with the law make his return very unlikely, and Hawthorne has struggled with some injuries and could be upgraded from.
At 5'11" and 239 pounds, Kendricks is a fast, hard-hitting, disciplined, natural leader who says he molds his game after Patrick Willis. His leadership and talent was rewarded when he was named the Pac-12 Defensive Player of the Year in 2011.
He ran the fastest 40-yard dash of all linebackers (4.47) and displayed tremendous explosiveness with a 39.5" vertical leap and a 10'7" broad jump. His 20-yard shuttle time and bench press performance were in the top five and top 10 among linebackers, respectively.
But most importantly, his measurables translate well to his game play. He has excellent sideline-to-sideline range, and can hold his own in pass coverage. His stout, compact frame helps him fill running lanes, maintain leverage, lower his shoulder and wrap for the tackle. He has a real nose for the ball, as evidenced by his 105 total tackles in 2011, including 14 for a loss. He shows some potential as a pass-rusher with 2.5 sacks during his senior campaign, though most of his pass rush is a result of his never-ending motor.
His size and speed enable him to step in as the day one starter at weakside linebacker if Hawthorne is re-signed, but he could even start at middle linebacker and form a terrific tandem with current strongside starter K.J. Wright.
Alternates: LB Lavonte David, Nebraska; DT Kendall Reyes, Connecticut; DE Whitney Mercilus, Illinois.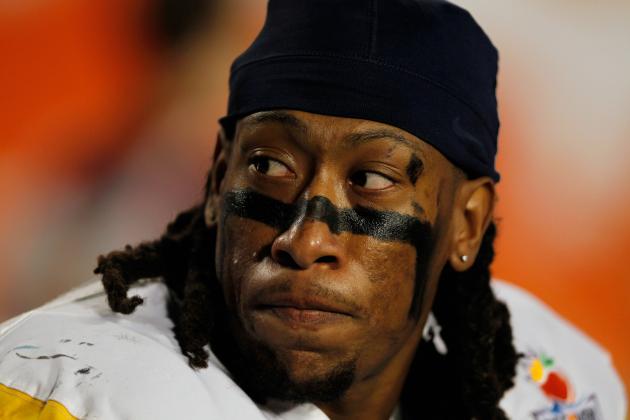 Streeter Lecka/Getty Images
Bruce Irvin is one of the best pure pass-rushers in the 2012 draft.
For the last two years, Seattle's best (some would say "only") pass-rusher has been Chris Clemons. He has brought consistent pressure from the edge, racking up 22 sacks in two years, while proving himself at least adequate in run support. However, he'll turn 31 at the beginning of the 2012 season and is only under contract for one more year. It's time for the Seahawks to start looking for his replacement.
Look no further than Bruce Irvin, who is perhaps the best pure pass-rusher in the entire 2012 draft class. At 6'3" and 245 pounds, his speed and explosiveness are eye-popping. He ran a first unofficial 40-yard dash of a ridiculous 4.50, then followed that up with an even more absurd 4.43. He really profiles as a 3-4 outside rush linebacker but was miscast in college as a defensive end. His coaches even inexplicably lined him up at defensive tackle for many plays.
While he is a bit of a one-trick pony in that he's a just a pure edge-rusher, he will be an absolute terror as a situational pass-rusher in the NFL. He's still young and raw, as he was a junior college transfer for his junior year. In his first year starting against Division I competition, he compiled 14 sacks, good for second in the nation and a second-team All-Big East nomination, then followed that up with 7.5 sacks and 14 tackles for a loss in 2011, on his way to a first-team selection.
He will need to learn a wider variety of pass-rush moves to have a long NFL career, but his freakish athleticism will provide enough of a foundation for him to produce immediately as a situational rusher. Frankly, he could be a steal in the third round.
As he grows and adds some bulk, he can study under Chris Clemons (and potentially Mario Williams) and one day take over as the premier pass-rusher Seattle needs.
Alternates: OLB Shea McClellin, Boise State; OLB Demario Davis, Arkansas State; S/CB George Iloka, Boise State.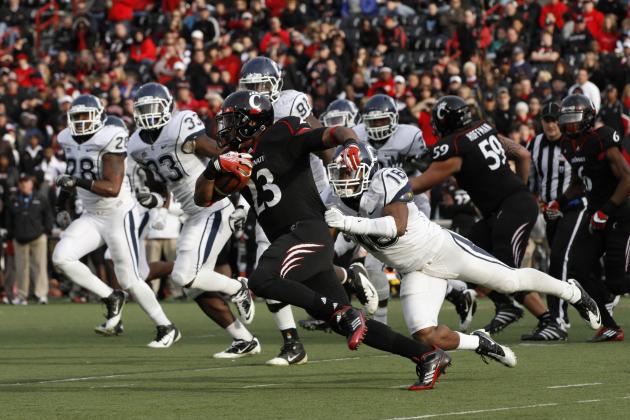 Tyler Barrick/Getty Images
Isaiah Pead is a shifty back who is always looking for the home run.
Now that the Seahawks have re-signed running back Marshawn Lynch to a four-year, $31 million deal, they need to provide him a more effective backfield buddy to split carries with. Justin Forsett has filled this role for the majority of the time since he was drafted by the Seahawks in 2008, but he has proved entirely ineffective in Tom Cable's scheme and could use a change of scenery. Leon Washington is the other major running back still under contract, but he primarily returns kicks and shouldn't be relied upon to consistently wear both hats as a returner and a change-of-pace back.
I was torn on this pick. Will they add a back who profiles like Lynch—a burly bruiser who staggers and stiff-arms his way through tackles and creates earthquakes? Or a quick slasher, the lightning to Beast Mode's thunder? I settled on a compromise.
Isaiah Pead is an electrifying speedy one-cut-and-go back who would excel in a zone running scheme like the one employed by the Seahawks. He's about the size of every other running back the 'Hawks have signed (5'10", 197 lbs.), but he profiles like the "touchdown-maker" Pete Carroll gushed about. He ran a 4.47 40, with a 33" vertical and a 9'8" broad jump.
Pead has decent vision once he hits the hole, and he has the home-run speed to take it to the house. He can catch the ball out of the backfield and will pick up a blitz occasionally, though it isn't his strong suit. He isn't a prototypical between-the-tackles runner, as he excels in space, but he can run tough and break his fair share of arm tackles.
Some might say this is too low for him, that he'll be taken higher. That's possible, but I think there will be enough questions about scheme fit and whether he can handle a full load that he'll drop to this point. The Seahawks will snatch him up, as he will complement Lynch perfectly as a third-down change-of-pace back.
Alternates: RB Robert Turbin, Utah State; DE Jake Bequette, Arkansas; WR Nick Toon, Wisconsin.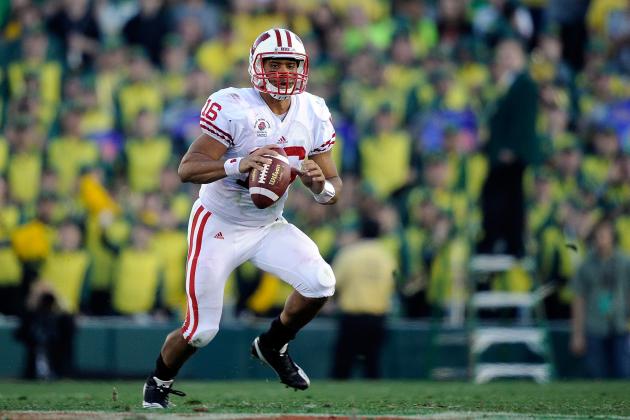 Kevork Djansezian/Getty Images
Russell Wilson has NFL potential despite his possible limitations.
Seattle has no fifth-round pick, as they surrendered it to Buffalo as part of the Marshawn Lynch deal. So that brings us to the sixth round and perhaps the most controversial pick.
John Schneider and Pete Carroll have said numerous times this offseason that they "won't panic" at the quarterback position. It certainly is a need, and they are aware it needs to be addressed, but they don't think it's as gaping as some people believe, and I happen to agree with them.
Tarvaris Jackson isn't the quarterback of the future, but he's a perfectly adequate stopgap who came in last year and performed admirably, in spite of a torn pec and biceps, a terrible offensive line, limited experience with all of his wide receivers (except the one who couldn't stay healthy) and only half a season of a decent running game.
Carroll and Schneider aren't going to let a perceived desperate situation force them into spending big on a temporary or only adequate solution in this rebuild. When they spend big, they're going to nail it with their guy. None of the QBs they could reasonably have in this draft is worth the draft capital necessary to obtain him, particularly when they have other needs to fill. When the quarterback of the future steps to the helm of this team, he's going to have a complete team to manage and won't "Blaine Gabbert" away his rookie season.
This was the long way of saying that the Seahawks will take a late-round QB who fits their profile. Russell Wilson is that guy. The only real knock on him is his height—and yes, that's a pretty big knock, as he's just barely under 5'11". However, he has a howitzer for an arm and he's accurate and athletic. He also played behind a huge offensive line at Wisconsin, and that had little effect on him, other than teaching him to use subtle moves in the pocket to find throwing lanes (much like his idol, Drew Brees).
Nobody seemed to notice, but he ran the second fastest 40 time for QBs (4.55), and he's an experienced and proficient pocket-passer. He has experience in the West Coast timing-based offense he ran at North Carolina State, and he's experienced in the possession-based, smash-mouth running game, deep-shots-down-the-field offense he ran at Wisconsin.
His frame looks pretty maxed out at 204 pounds, so he may not be able to physically withstand the punishment of a 16-game season. However, he would be a very capable backup who could potentially draw future trade offers, much like Matt Flynn has for the Packers this season.
Alternates: QB Chandler Harnish, Northern Illinois; QB Austin Davis, Southern Mississippi; QB Kellen Moore, Boise State.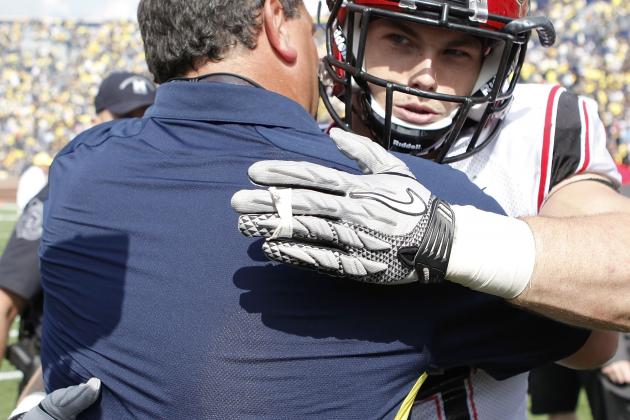 Leon Halip/Getty Images
Miles Burris is a nasty, instinctive, hard-working athlete with potential.
The seventh round of the NFL draft is typically reserved for either freak athletes with little technique or freak technicians with little athleticism. Miles Burris might be a bit in between those two profiles.
He's a stout, strong, aggressive linebacker whose floor could be standout special teams ace and whose ceiling could be a starting-caliber NFL player. He's a hard worker with a great motor who shows the ability to both hold his own in coverage and blitz almost naturally. He has the technique and explosion to be a terrific run defender, and he uses his hands and body type to create leverage as a pass-rusher (he had 9.5 sacks as a junior at San Diego State).
At 6'3" and 235 pounds, he's almost the perfect size for a 3-4 linebacker and would fit nicely in Seattle's hybrid scheme. His work ethic and mean streak give him the ideal personality, in Pete Carroll's eyes, and his speed (~4.5-4.6), explosiveness (37.5" vertical and 10'1" broad jump), and strength (31 reps) make him an ideal candidate for the Seahawks defense.