Virginia Basketball: Mike Scott Is ACC Player of Year Despite What Coach K Says
March 5, 2012

After the University of Virginia ended their regular season on Sunday with an overtime victory over Maryland, this much is certain: Mike Scott should be ACC Player of the Year. Scott led the Cavaliers with a career-high 35 points and 11 rebounds when it mattered the most.
The Cavaliers finished the season with their best regular-season record (22-8, 9-7) in 29 years.
Coach Tony Bennett, in his third season at Virginia, got the Cavaliers off to a great start. But things started changing around the Christmas break. Two promising players, sophomore guard K.T. Harrell and redshirt freshman forward James Johnson, announced their intentions to transfer.
While neither player was playing big minutes, especially Johnson, the transfers put a dent in UVa's depth. Paul Jesperson, a freshman guard from Wisconsin, cancelled his redshirt season to give the Cavaliers more depth.
The hits kept coming for Virginia, as senior center Assane Sene was lost for an extended period in January with an ankle injury. He has yet to return. Promising freshman guard Malcolm Brogdon also injured his ankle, and his return is doubtful.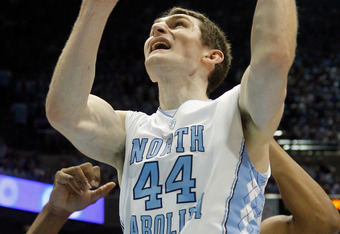 Streeter Lecka/Getty Images
But instead of falling apart, the Cavaliers turned to Scott.
After the Cavaliers lost a heartbreaker last week to Florida State, Scott knew he needed to take over Sunday to ensure the Cavaliers a first-round bye in the ACC Tournament. 
Much like Sunday, the stingy Florida State defense couldn't contain Scott, but for some reason the Cavaliers went away from Scott and blew an 11-point lead late in the loss to the Seminoles. Despite Scott finishing with 28 points and 10 rebounds, the Cavaliers could not finish.
Scott's play guaranteed the same would not happen against the Terrapins.
While the ACC Player of the Year generally doesn't reside on a fourth-place team, 2012 should be the exception.
Scott, a 6'8" senior from Chesapeake, finished the season averaging 17.9 points, (second in the ACC), 8.3 rebounds (fifth), shot 57 percent from the field (first ) and 81 percent from the free-throw line (fifth).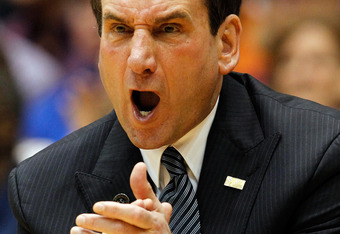 Streeter Lecka/Getty Images
Scott's primary competition for top honors in the ACC is North Carolina senior center Tyler Zeller. Zeller's numbers are remarkably similar to Scott's. Scott topped Zeller in each of the aforementioned categories with the exception of rebounds.
But which player is more valuable to his team?
Taking nothing away from Zeller, but North Carolina would still be a major contender if Zeller were not on the roster. Take Scott away from Virginia, and the Cavaliers would be lucky to win 10 games.
Usually when a player leads his league in field-goal percentage, it is a big man who gets a lot of dunks. That isn't the case with Scott.
Some of Scott's most impressive work is away from the basket. Scott hitting an 18-foot jumper or a 10-foot fade away is routine.
While Zeller has a nice shot for a big man, many of his points come from close range.
After Saturday's win versus Duke, Blue Devils' coach Mike Krzyzewski said Zeller deserved to be ACC Player of the Year. Consider that the proverbial kiss of death for Scott in his chances of receiving the league's top individual honor.
When the omniscient Coach K speaks, people generally listen. If he publicly stated his belief that Zeller is the ACC's top player, that will carry a lot of weight. It shouldn't, though.
The ACC's top team usually resides on Tobacco Road. This year is no different. But, the ACC's best player is in Charlottesville. It is unfortunate he will not be recognized as such.