Green Bay Packers Free Agency: Gauging the Flight Risk for Packers' Free Agents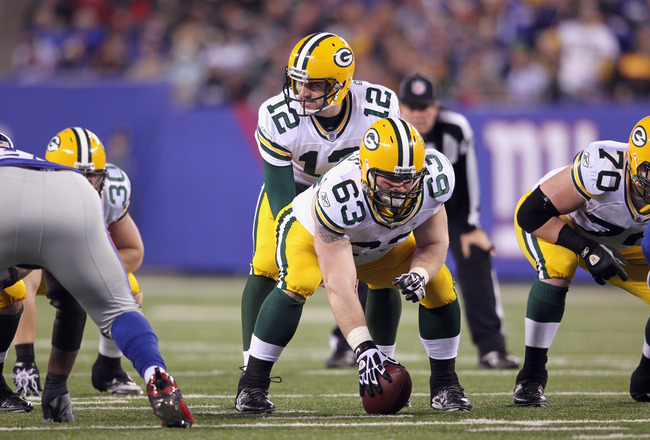 Nick Laham/Getty Images
Matt Flynn, Scott Wells and Ryan Grant highlight the Green Bay Packers list of free agents this offseason that the team must soon make decisions about. With Jermichael Finley freshly re-signed to a two-year deal, the Packers have already gotten started with free agency.
The Packers success in 2012 could depend on what the team does in free agency. As of this morning, the franchise tag is still a possibility, but the deadline falls today (March 5) at 4:00 p.m. EST.
With free agency set to begin March 13th, it is time to start thinking about which free agents will be back with the Pack in 2012.
Scott Wells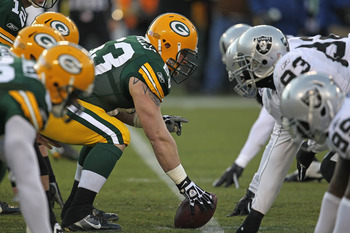 Jonathan Daniel/Getty Images
Flight Risk: Medium
With Jermichael Finley having re-signed with the Packers for two more season, Scott Wells becomes the teams biggest priority in free agency. The 31-year-old center is likely looking to get paid as a top center in the league, but at his age, the Packers are unlikely to pay Wells top-teir money.
Likely to test the market, Wells may in fact get the type of offer he is seeking somewhere outside of Green Bay, but if the market isn't up to Wells' expectations, there is still a good chance he ends up re-signing with the Packers.
Matt Flynn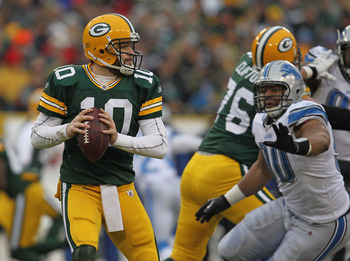 Jonathan Daniel/Getty Images
Flight Risk: Extremely High
There is absolutely no way Matt Flynn will be back in Green Bay next season, unless he lands with a team that has a trip to Green Bay on the schedule.
Erik Walden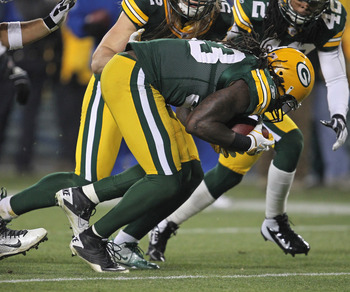 Jonathan Daniel/Getty Images
Flight Risk: High
Walden was one of the weak spots on the Packers roster and will be gone next season. Add in Walden's legal troubles and the Packers are even more likely to look elsewhere to solve their issues at right outside linebacker.
Howard Green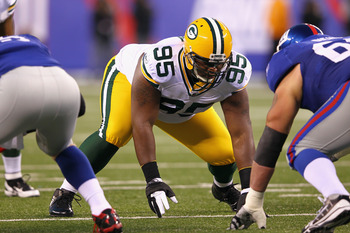 Al Bello/Getty Images
Flight Risk: High
Howard Green was a great midseason addition to the Packers in 2010 and helped the team get to, and win the Super Bowl. He will be remembered for hitting Ben Roethlisberger's arm in the first quarter of Super Bowl XLV, which led to Nick Collins' interception and return for a touchdown. Following his disappearance in 2011, Green may be back on the street this offseason.
The Packers desperately need to improve their defensive line and will most likely do so in the draft. Green's roster spot will most likely be taken by a younger and bigger threat on the line.
Jarrett Bush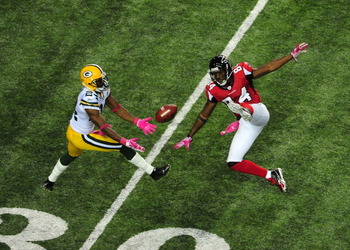 Scott Cunningham/Getty Images
Flight Risk: Medium
One of the most criticized players on the Packers, Jarrett Bush has been an underappreciated piece of the Packers success. He has been extremely productive as the Packers best player on special teams despite struggling at times when having to be called into action as a cover corner.
If the price isn't too high, the Packers should re-sign Bush. If a team offers Bush a significant amount of money, like the Tennessee Titans did previously, the Packers should be fine letting Bush walk. It all depends on if there is a market for the talented special-teamer, and serviceable cornerback.
Ryan Grant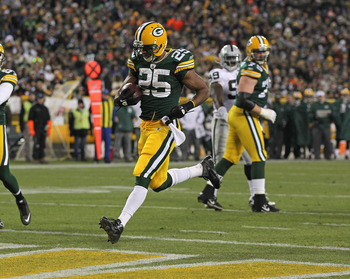 Jonathan Daniel/Getty Images
Flight Risk: High
With a stable of young running backs, the older Ryan Grant has probably played his last game for the Packers. Grant was able to come back from a season-ending ankle injury in 2010, but at age 29, Grant is closing in on old-age for NFL running backs.
The Packers will likely let Grant walk and go with a backfield featuring James Starks, Brandon Saine and Alex Green. With so many players looking for contract extensions in the near-future, the Packers can't re-sign everybody, and Grant will be a victim of that.
Pat Lee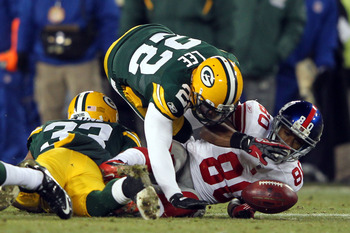 Jamie Squire/Getty Images
Flight Risk: High
With up-and-comers Brandian Ross and Devon House on the roster, Pat Lee is most likely as good as gone this offseason. Lee hasn't developed into a viable option at corner and his production on special teams can likely be replaced by one of the younger players.
Keep Reading

Green Bay Packers: Like this team?