2012 NFL Free Agents: Should Cleveland Browns Consider Signing Mike Wallace?
March 5, 2012

Jared Wickerham/Getty Images
Note: This article is pure speculation and is not based on any rumors or any other information that I'm aware of. This is purely hypothetical.
Last week the Pittsburgh Steelers elected not to use the franchise tag on star receiver Mike Wallace, opting instead to put a first-round tender on the restricted free agent.
Wallace, who is one of the fastest players in the league, is coming off his second straight 1,000-yard season after only being in the league for three years.
The Steelers made this decision mostly because it is very rare in the NFL for teams to sign restricted free agents mostly because it costs them draft picks, which are, of course, very valuable.
In this instance, I think it might not be too far-fetched that a team could see Wallace as being worth giving up a first-round pick.
Wide receivers usually take three seasons to develop in the league, and in Wallace you have a player who is still very young but has already shown that he is a very dangerous weapon.
One team that is very much in need of help at wide receiver is the Cleveland Browns. The Browns are starving for playmakers in the passing game and it is highly likely they might be spending a first-round choice on a wide receiver in the next couple of drafts anyway.
The Browns are also rumored to be trying to move up in the draft to select Robert Griffin III, which would cost them several other draft picks, thus making it more difficult for them to acquire the weapons they would need to make him effective.
Now, it seems counterintuitive to ship off another first-round draft pick when you may already be trading two of them away, but if you look at the big picture it actually kind of makes sense.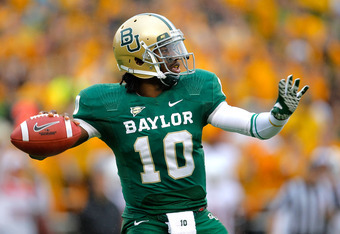 Sarah Glenn/Getty Images
Wallace is the kind of receiver that would work well with Griffin and one has to assume that chances are high that the Browns would be looking at wide receiver in the first round of next year's draft anyway, so this would be more like using that pick a year early and getting a player who is already proven.
It would also allow the Browns to use their other picks this year on some of the many other holes on the roster.
Wallace is scheduled to make $2.7 million next year, so I would assume it would probably cost the Browns about twice that much to try and lure him away. The problem here is that the Browns might be starting to cut the salary cap a little close themselves after re-signing linebacker D'Qwell Jackson.
They need enough space to sign rookies and any other free agents they may be interested in as well as trying to re-sign running back Peyton Hillis, although it is unclear whether or not that will happen.
Another perk in this move for the Browns would be the chance to stick it to their most hated division rival.
If the Steelers lose Wallace it would be a monster blow to their offense. Antonio Brown would be their No. 1 receiver.
If the Browns can find a way to make this work with the salary cap, it would be a very shrewd move, but it is, however, highly unlikely.
Even if the Browns were interested in making such a move, that doesn't mean Wallace would be interested in playing in Cleveland, but drafting Robert Griffin III could possibly go a long way toward piquing his interest.
Overall, I would say there's about a 2 percent chance of this happening, and that might be a little high.