Todd Bozeman and 12 Coaches Who Have Been Fired or Whose Jobs Are in Jeopardy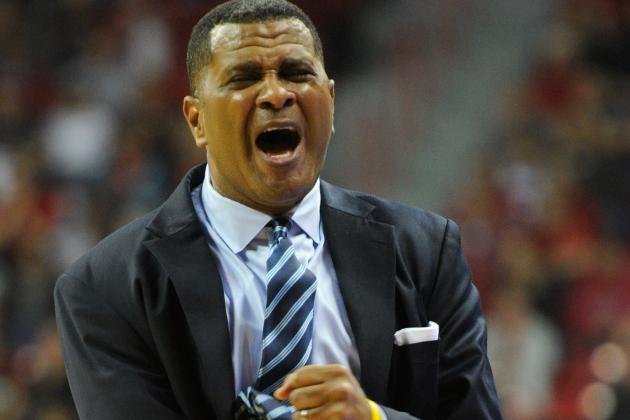 Ethan Miller/Getty Images
This isn't the first time Todd Bozeman is in trouble in his coaching career
This is the time of year college basketball fans live for. Selection Sunday is one of the most anticipated days on the American sports landscape and it has been estimated that the loss of income on "Bracket Monday" is over one billion dollars.
Many coaches have reached the pinnacle of college basketball, taken their school on incredible runs in the NCAA tournament or been a rising star in the coaching ranks.
All of the coaches on this list have fallen off after subpar 2012 seasons. A couple have already lost their jobs and the other 12 could soon be close behind.
Begin Slideshow

»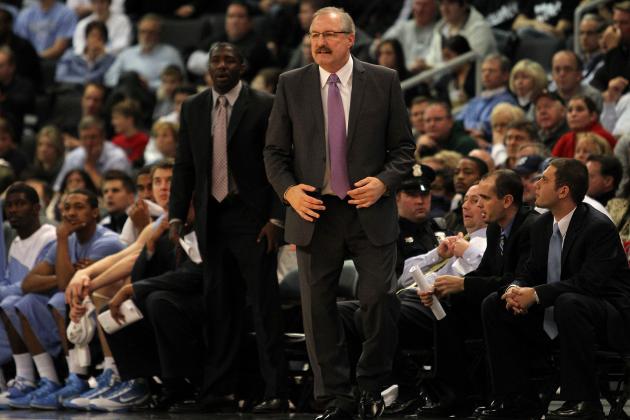 Chris Chambers/Getty Images
Jim Baron was unable to keep his job after failing to lead Rhode Island to an NCAA Tournament berth during his tenure
Jim Baron came to Rhode Island after successful runs at St. Francis and St. Bonaventure. He entered the 2012 season with four straight seasons of 20 wins or more and four consecutive postseason appearances.
After a 7-24 season, the Rams decided to go in a different direction. Baron was 184-165 in 12 seasons at URI, but just 83-93 in the Atlantic 10.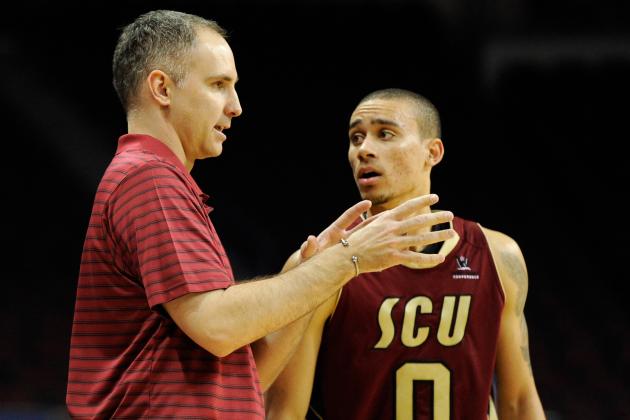 Ethan Miller/Getty Images
Can Kerry Keating survive Santa Clara's disastrous 2012 season?
Keating led the Broncos to a 24-14 record and the CollegeInsider.Com Tournament title. Disaster followed the loss of forward Marc Trasolini to an ACL injury before the season and leading scorer Kevin Foster during the season. The Broncos finished the season 8-21 and 0-17 (including the WCC tournament) in the West Coast Conference.
Losing your top two players would disrupt any team. Keating should return next season with a chance to rebuild on the 2011 season. If Santa Clara has another losing season, Keating's job will be in major jeopardy following the 2013 season.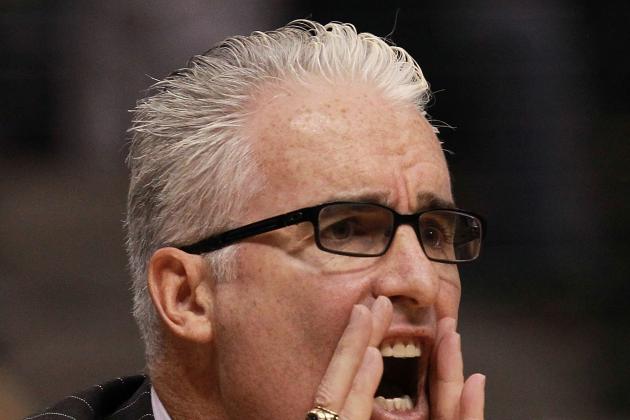 Ronald Martinez/Getty Images

Matt Doherty was a "name" coach that was supposed to elevate SMU's status in basketball. He had an NCAA appearance and an ACC title on his resume at North Carolina.
In six seasons at SMU, Doherty is just 79-107, including just 29-66 in the Conference USA. With the Mustangs headed to the Big East, their competition is going to get considerably harder. They finished just 13-18 overall and 4-12 in C-USA this season. They earned the 11th seed in Conference Tournament and will play Marshall in the first round.
Last season was Doherty's only winning one in his six years. Barring a miracle run in the C-USA Tournament, it's hard to imagine Doherty surviving the season.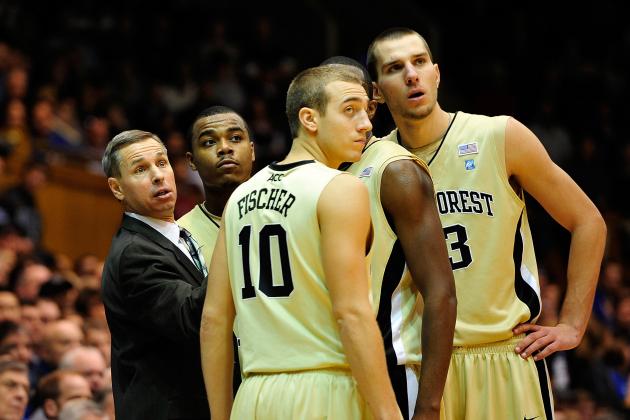 Grant Halverson/Getty Images

Bzdelik was a curious choice to replace Dino Gaudio at Wake. Gaudio was 61-31 in three years at Wake and made the NCAA Tournament in his last two seasons.
Bzdelik is 21-41, including 5-27 in the ACC in his two seasons in Winston-Salem. He was only 36-58 in three seasons at Colorado before coming to Wake. Bzdelik's only successful stop was at Air Force.
Wake athletic director Ron Wellman says Bzdelik will be back. It's hard to imagine him surviving beyond next year if the Demon Deacons continue to be an ACC bottom-feeder. Their only four wins in the conference this season were against Boston College, Virginia Tech and Georgia Tech—all poor teams.
Their average margin of defeat in ACC losses has been 18 points.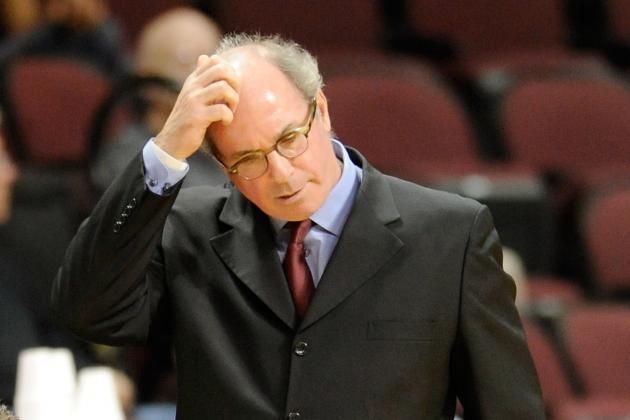 Ethan Miller/Getty Images

After back-to-back winning seasons, including an NCAA Tournament bid last season, O'Neill and the Trojans have fallen significantly in 2012. They have just one Pac-12 win and that was against 11th place Utah.
USC has lost five players to season-ending injuries and is down to just six scholarship players. It's a difficult situation for anyone.
O'Neill did a great job his first two seasons in saving a program that was in trouble following the O.J. Mayo era. Tim Floyd was fired and USC lost three recruits to Arizona.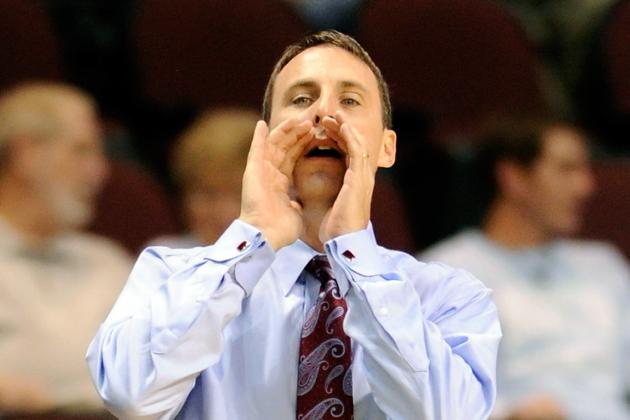 Ethan Miller/Getty Images

Horn's coaching career began quickly. After a 15-13 record in his first season at his alma mater Western Kentucky, Horn led the Hilltoppers to a 96-35 record in his last four years in Bowling Green.
They made three postseason appearances during his tenure there, including a trip to the NCAA Sweet 16 in his last season in 2008.
In his first season at South Carolina, Horn led the Gamecocks to a 21-10 record and an NIT bid. It seemed as if he was a great hire. He is just 60-63 in his four seasons and 23-41 in the SEC.
During Horn's tenure, South Carolina's record has gotten worse each year. There has been no indication either way whether Horn will retain his job or be fired. It's hard to see how he is going be there next season.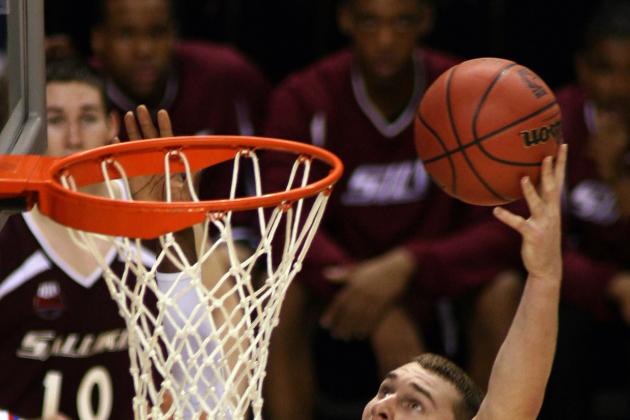 Christian Petersen/Getty Images

When Chris Lowery returned to Southern Illinois after assisting Bruce Weber in his first season at Illinois, it was viewed as the return of the prodigal son. He got off to a fast start, continuing the success began by Weber and current Purdue coach Matt Painter.
In his first three seasons, Lowery led the Salukis to a 78-25 record, three straight NCAA Tournament appearances and a Sweet 16 trip in 2007.
Since then, SIU has failed to make the NCAA's. They have had three losing seasons in the past four and a school-worst 8-23 record this season. Lowery was unable to survive and was let go by the Salukis.
Saluki athletic director Mario Moccia was quoted on Blue Jays Today, the Creighton Blog on Omaha.Com as saying, "Our fanbase has kind of turned, my gut tells me, from anger to a little apathy, and that's what concerns me."
That apathy is reflected in attendance. During the pinnacle of the Lowery era, the Salukis averaged a school record 7,743 in 2007, but that fell to 3,299, the second lowest since SIU Arena opened in 1964.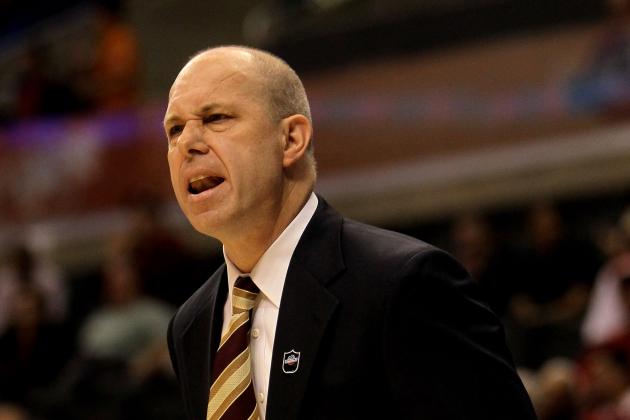 Stephen Dunn/Getty Images

After a promising start to his career in Tempe, Sendek's teams have stumbled to a 21-39 record the last two seasons. In six seasons in the Valley of the Sun, the Sun Devils have only made one NCAA Tournament appearance.
Sendek dismissed leading scorer Keala King earlier in the season and highly-ranked freshman point guard Jahii Carson was ruled ineligible for this season. Carson can regain the year of lost eligibility if he stays on pace to graduate.
Having Carson back along with the two-year extension that Sendek signed in December should give him at least another year. His contract now runs through 2016. At $1.2 million per year, it would be a lot for the Sun Devils to buy out.
I can't see how he would survive three straight losing seasons with Carson running the point in 2013.
Joe Robbins/Getty Images

Weber arrived after leading Southern Illinois to back-to-back Missouri Valley titles and NCAA Tournament appearances in 2002 and 2003. The 2002 Salukis made a memorable run to the Sweet 16.
His first two seasons at Illinois were very successful. The 2004 Fighting Illini advanced to the Sweet 16 and he led them to their best season in school history in 2005. They finished the year 37-2 and lost to North Carolina in the National Championship game. Illinois has not advanced past the second round since.
Critics would say that Weber has been unable to succeed with his own recruits. Those two NCAA runs occurred with Bill Self's players. Many Illini fans are upset that Weber has been unable to convince local talents like Derrick Rose and Jon Scheyer to stay home.
If Illinois missed the NCAA Tournament this season, it will be the third time in five years they've been left out. That fact and that Weber seems to be losing his players could ultimately be his undoing.
Last month, Weber said, "The sad thing about the whole thing I guess is it's my fault...Instead of creating toughness and developing a team, I coached not to lose all year. It's sad to be honest, but it is what is."
After starting 10-0 against a mostly easy schedule, the Illini now sit at 17-12. They had lost nine of 10 before defeating Iowa at the end of February.
With Southern Illinois also having a subpar season, it's possible Weber could wind up back at SIU.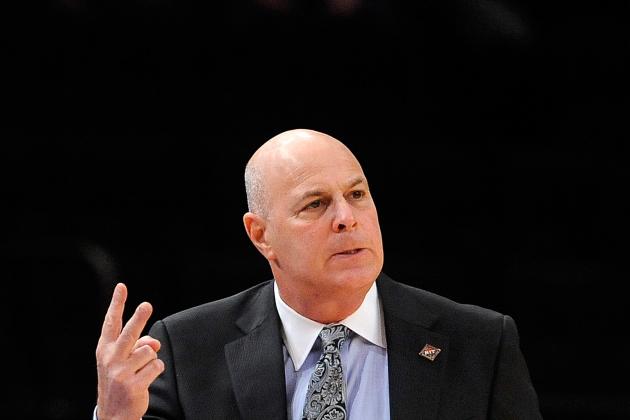 Patrick McDermott/Getty Images

The Hokies seem to be the perennial bubble team. The last two seasons, it seems as if they might have been "one of the last four teams out."
This season, VA Tech finished 15-15 overall, but just 4-12 and in a four-way tie for ninth in the ACC. They will open the ACC Tournament as the 10th seed and will play Clemson Thursday night.
In eight seasons in Blacksburg, Greenberg is 169-121. He is just 68-76 in the ACC, though. In his favor, in the last five seasons, only Duke and North Carolina have won more conference games. He also has four years and $5.89 million left on his contract, according to the Washington Post.
VT athletic director Jim Weaver was quoted in the same Post article as saying:
Yes, we're like everyone else. We want to go to the NCAA tournament, but I'm not gonna base everything on the NCAA tournament...when you look at the full body of work that Coach Greenberg has done since he's come, I think it's very solid.
He has just one losing season and one NCAA Tournament during his tenure. They have mostly been a mediocre team at Virginia Tech. Their worst season was just 14-16, in his second year. Conversely, their only NCAA Tournament win was in 2005.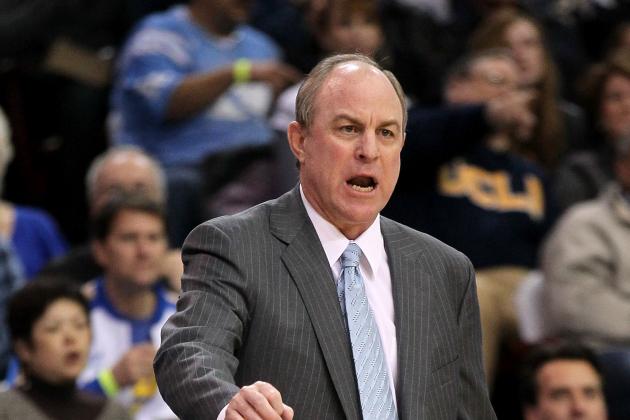 Stephen Dunn/Getty Images

Howland restored UCLA to elite status early in his tenure. In just his third season in Westwood, the Bruins advanced to the national championship game in 2006. They made it to the Final Four in the next two seasons.
By 2011, UCLA had played in six NCAA Tournaments in the past seven years.
Howland has sent 12 players to the NBA from UCLA. After a 16-13 season when the Bruins were ranked No. 17 to begin the season and a report in Sports Illustrated that Howland had lost his players, rumors persist that Howland is in trouble.
Unless UCLA wins the Pac-12 tournament, they will miss the NCAA's for the second time in three years.
Transfers, players leaving early for the NBA and player suspensions have plagued the Bruins. Reeves Nelson was UCLA's best player entering the season, but after a series of problems early in the season, Howland was left no choice but to dismiss Nelson. Mike Moser and Drew Gordon, former UCLA players, are now starring at UNLV and New Mexico.
Howland should be safe with a stellar recruiting class coming to Westwood next season. It's unlikely that Howland will be able to survive another subpar season in 2013 when the Bruins move back into a refurbished Pauley Pavilion.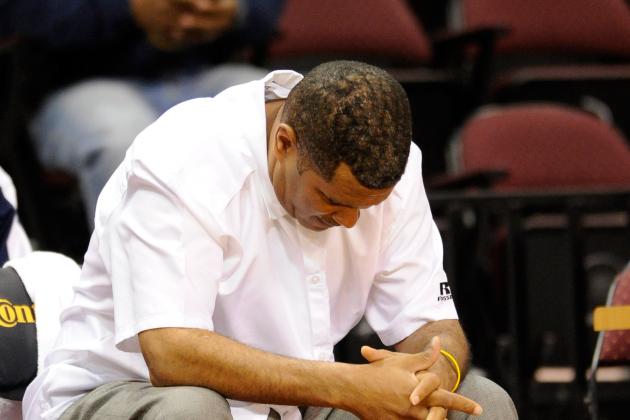 Ethan Miller/Getty Images

Before Todd Bozeman accepted the job at Morgan State, the Bears had not had a winning season since 1989. His hiring came with some major risks. He was the first coach to be rehired as a head coach after receiving a show cause penalty. This led to an eight-year suspension and if any school wanted to hire him, they could face sanctions.

Bozeman has a 111-84 record at Morgan State and has led the Bears to two NCAA Tournament bids.

Bozeman was suspended with pay in February after allegations arose that he punched his own player, Larry Bastfield, at the end of a win at South Carolina State.

In spite of Bozeman bringing unprecedented success, it's hard to see him surviving another scandal.