2012 NFL Draft: Do New England Patriots Need a Third Tight End?
March 5, 2012

Rich Schultz/Getty Images
If you asked 100 New England Patriots fans what positions the Patriots need to address in the draft, no more than 10 of them would say "tight end."
After all, in 2011, the Patriots' tandem of sophomore tight ends Rob Gronkowski (aka "Gronk") and Aaron Hernandez torched the league. The two of them set numerous NFL single-season records.
Hernandez had, in most years, what would have been a Pro Bowl résumé at tight end, with 79 catches for 910 yards and seven touchdowns—all in the top five for TEs in 2011. However, as most NFL fans know, Hernandez wasn't even the best tight end on his own team this year.
Gronkowski set records for receiving yards and receiving touchdowns by a single tight end. In fact, Gronkowski scored more touchdowns (17 receiving, one rushing) in 2011 than the entire St. Louis Rams offense (16). In fact, since the NFL merger, only one player has scored more receiving touchdowns in his first two seasons than Gronkowski: a wide receiver, Randy Moss.
Together, the two combined 169 yards for 2,237 yards and 24 touchdowns—all NFL records for tight ends on a single team. (In fact, the touchdown record broke the record set in 2010 by Gronkowski, Hernandez and their mentor, Alge Crumpler.)
And we haven't discussed Gronkowski's blocking skills or Hernandez's skills as a running back.
So, the Patriots don't need to spend another high pick on a tight end, right?
Not necessarily.
The reason the Patriots will undoubtedly look at tight ends this year is the sheer extent to which they utilize Gronkowski and Hernandez.
According to ESPNBoston.com's Mike Reiss, Gronkowski was on the field for 74.7 percent of the Patriots' snaps as a rookie. That spiked (pun intended) to 94.6 percent of snaps in 2011. For all practical purposes, Gronkowski never came off the field.
Moreover, the Patriots had Hernandez on the field for 77.1 percent of their offensive snaps in 2011, a big increase from the 48 percent he played as a rookie. That would almost certainly have been even higher had he not missed two games due to injuries.
In other words, the Patriots have built an offense around having two dual-threat tight ends.
However, they have no one on the active roster to back either of them up. This Achilles heel was demonstrated in the Super Bowl. The game would have been much different had the Patriots had Gronkowski at 100 percent effectiveness.
A third tight end would mean the Patriots wouldn't have to worry about revamping the offense as a result of a single injury.
Some have argued that drafting a third tight end is effectively "coaching scared." Looking at the roster, though, the Patriots have at least one backup at nearly every major position on offense, defense and even special teams. Why should tight end be different in that respect?
Moreover, even if Gronkowski and Hernandez were 100 percent healthy the entire season, the Patriots could still use the third tight end to either give Gronkowski or Hernandez a chance to rest or be an extra blocker on run plays. It would also likely take Gronkowski off special teams completely, which would be another plus.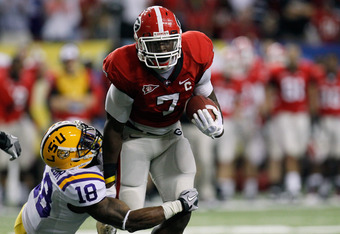 Kevin C. Cox/Getty Images
The Patriots used rookie OL Nate Solder on over 10 percent of their 2011 offensive snaps as a blocking tight end (making him a tackle eligible). That said, Tom Brady did not attempt a single pass to a tackle eligible—whether Solder or anyone else—in 2011. If they actually started using him (or another offensive lineman) as a receiver on such plays, that could solve the problem. Conversely, given the Patriots' uncertainty at tackle (Sebastian Vollmer was sidelined with injuries for much of the 2011 season, and Matt Light is apparently contemplating retirement), they may need Solder to play LT or RT full time in 2012.
In fact, the Patriots had two other tight ends—Lee Smith, drafted in the fifth round, and undrafted free agent Will Yeatman—that they released as part of the final cutdowns; unfortunately for the Patriots, both of them got claimed off waivers by other AFC East teams. So the Patriots at least saw the potential in having a third tight end on the team.
This isn't to say that the Patriots need to go out and draft Stanford's Coby Fleener with the No. 27 pick, but it wouldn't be surprising to see the Patriots draft another tight end this year.