San Francisco 49ers: Hardest Hitting Defense in the NFL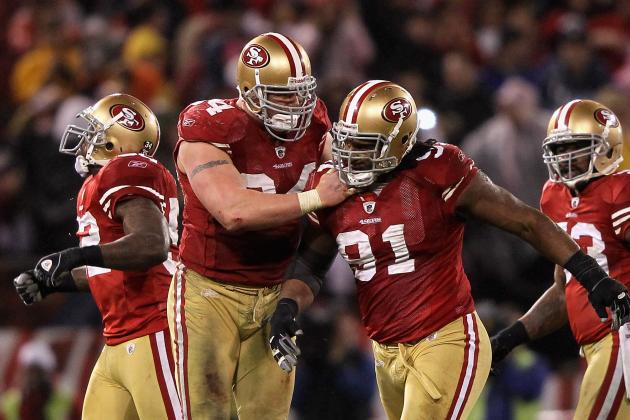 Jamie Squire/Getty Images

It's not a stretch to say that the San Francisco 49ers defense has asserted themselves as the best in the business. In recent time, it's been the Pittsburgh Steelers and Baltimore Ravens consistently reigning terror in the league, but San Francisco's stock has skyrocketed past them in that department.
San Francisco is younger, they hit harder, they get more takeaways, they're stiffer against the run and they are more sound tacklers. I also like the fact that they play a cleaner but meaner brand of football and make less mistakes overall.
I think what stands out to the general NFL fan population is the fact that all 11 starters can bring the wood, from the defensive line to the safeties.
It really says something about the organization and what they've accomplished when looking for that blue collar, do-it-all, smash mouth player that has no ego. It looks like a Hall of Fame defense in the making. And the players' individual resumes collectively provide evidence to support that theory.
But for the sake of this piece, I'd like to point out a few of the key players who really make this defense glow as a fierce, notoriously hard-hitting group of guys.
Begin Slideshow

»
Let's start off with a bang.
Patrick Willis has been putting guys' lights out since college, and has remained a consistent big-hitter each year he's been in the league. Most fans recall the hit on former Jet receiver Brad Smith in 2008 or burying Reggie Bush after he caught a pass in the flat from Drew Brees.
Not only might he be the hardest hitter on the 49ers, but he might be the hardest hitter in the league. He's capable of teeing guys up harder than anyone, but more often than not he extends his body for a quick, sure tackle.
However, when Willis has a free running lane at an offensive player, let's just say you'd be better off as Simba's dad in The Lion King—because there's a one-man stampede coming your way.
Ow.
What I love about Dashon Goldson is that you don't see him coming, and when you finally do, it's usually when you're coming to. Jeremy Maclin took a similar whack from Goldson in Week 4 in that dramatic comeback win that basically launched the 49ers 13-3 season.
Goldson seems to be a special safety in that he is establishing himself as a ball hawk but can hit as hard, if not harder than most linebackers. He reads routes well and picks up speed before a big collision.
He has been great against slants and other shallow routes, often sneaking up and taking a bite out of some poor receiver. Having that hard of a hitter at safety is an intangible benefit in that receivers are playing scared and typically look up field for what's about to hit them before they've established possession of the ball.
Boom, stopped him cold.
Niners faithful, we all saw this when it happened live and we all know the effect it had on the rest of the game. It was early, the Saints were driving and about to score a touchdown but instead, Whitner stepped up to deliver a huge hit to running back Pierre Thomas, knocking him out cold.
Between Goldson and Whitner, I couldn't think of a more terrifying place to be an offensive skill player than Candlestick Park. Any receivers or backs that somehow get past the linebackers will have to deal with a ferocious hit from one of the two safeties.
Whitner was a great offseason acquisition for the 49ers defense, and he truly fits what they are trying to do, and what they have been working to establish.
Oh, look who's learning the ropes.
Rookie sensation Aldon Smith had a phenomenal year, and will look to improve in year two. This guy will be getting numerous free shots at quarterbacks and running backs before his career is up. His ability to beat offensive linemen with his array of pass-rush techniques will result in big hits like this.
Most quarterbacks are right-handed, and Smith comes from that blind side with ferocity. He's flattened quarterbacks in the league already—14 times in fact. His uncanny ability to rush the passer is elite, and will separate him from the ordinary outside linebackers in the league.
As long as he continues to progress and bulk up for his second year, he could continue to deliver punishing hits to unsuspecting, limp-bodied quarterbacks.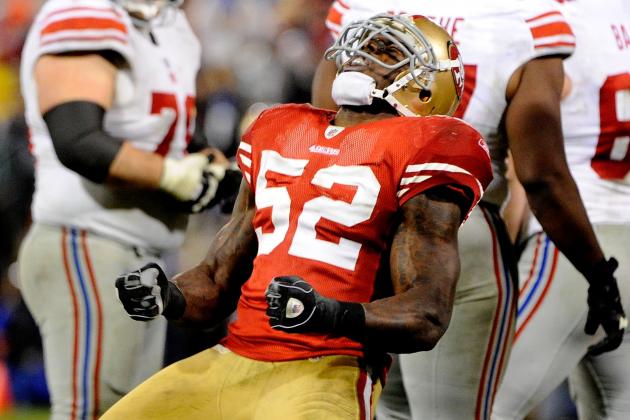 Thearon W. Henderson/Getty Images

I think some honorable mentions are in order, because not all of the guys have a decent YouTube highlight.
NaVorro Bowman, Carlos Rogers, Ahmad Brooks and Justin Smith in particular are hard-hitting guys as well. At every level of the 49ers defense, there are hard hitters and it's a beautiful thing. It is the staple of a great defense.
There is consistency throughout, and everyone is not only capable of making a sure tackle, but seriously laying an opponent out. With Ahmad Brooks re-signing on a five-year deal and Aldon Smith likely moving into the starting role, the four linebacker positions seem to be set for a while.
The Steelers and Ravens are coming to the end of the road in the next couple years, as age is an unavoidable factor, but the teams will surely reload. In the meantime, it seems that San Francisco has taken control and appears to be the best defense in the league, with a great supporting cast of punishing hitters.