NBA Rumors: Ray Allen Would Make Clippers Championship Contender
March 5, 2012

Stephen Dunn/Getty Images
The Boston Celtics are not going to win a championship as currently constructed and everybody including team management knows it.
Rajon Rondo has been the main target of trade rumors, but Sam Amick of Sports Illustrated is reporting that it's actually Ray Allen who is the main target for teams looking to bolster their roster:
Yet for all the talk of Boston point guard Rajon Rondo possibly being traded, some league executives have shooting guard and free-agent-to-be Ray Allen pegged as the most likely to be moved. Sources say the Clippers are interested, having lost Chauncey Billups to season-ending injury and lost out to New York in the J.R. Smith sweepstakes.
The Los Angeles Clippers are the perfect fit for Allen, who could be the difference between a first-round flameout and a shot at the NBA Finals.
Allen, 36, keeps himself in superb shape and still has two more years left in the tank after this season. He is a perfect late season edition because of his veteran leadership and skill set.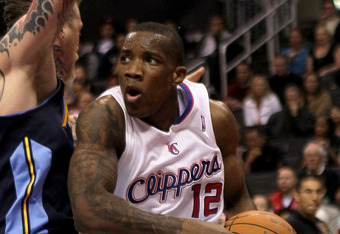 Stephen Dunn/Getty Images
There are plenty of teams that could use a player currently hitting 48.6 percent of his three-point attempts. Without Billups, the team needs veteran experience in the backcourt and a player that isn't afraid to take a shot when the game is on the line.
Right now, only Chris Paul is confident taking that shot.
However, the asking price may be a bit too high, according to Amick. He believes Boston wants a young player and a draft pick. The Clippers are short on picks. They gave up their 2012 first-round pick to Oklahoma City in exchange for Eric Bledsoe. Ironically, that pick was sent to Boston in the Kendrick Perkins trade.
The Celtics (18-17) are on a collision course with a date with either the Miami Heat or the Chicago Bulls in the opening round of the playoffs. The season is not going to end well. Therefore, the rebuilding process needs to begin now. There is no sense in keeping Allen when he is set to become an unrestricted free agent at the end of the season.
Adding a player that averages 14.8 points is exactly what Clipperland needs. Mo Williams is solid, but he's more of a point guard. The team needs a shooting guard to spread the floor and open up space for CP3 to drive.
Getting rid of Bledsoe would be just fine, but would the Celtics also require Randy Foye? As long as they keep the core intact, this team needs to do whatever it takes to make the trade happen. Toss in as many second-round picks as it takes.  
The window to win a championship is only open for so long and right now the Clippers must seize the moment and take advantage of a somewhat weak Western Conference.
Allen is the X-factor.