2012 NFL Draft: 3 Teams That Could Leap Ahead with a Solid Draft
March 5, 2012

Mike Ehrmann/Getty Images
The following three NFL teams are on the brink of greatness—all they need is a solid 2012 draft to push them to the preseason list of Super Bowl contenders.
These teams put up a mediocre showing in 2011 (all had 8-8 records), but could explode with the right additions.
Here are the teams with rising stocks that stand to benefit from this year's draft.
The New York Jets faded from back-to-back AFC Championship Game appearances to .500 in a mere season, but there's every reason to believe that a good draft could put them back into Super Bowl contention.
The Jets need to add a safety and a pass-rusher.
New York has struggled to cover tight ends over the last two seasons. The Jets are especially disadvantaged by having to play two of the league's best tight ends, Rob Gronkowski and Aaron Hernandez, twice in a season.
Gronkowski belongs to New York's AFC East rivals, the New England Patriots, and he exposed the Jets' weakness at safety last year. Gronk, who averaged 82.9 yards per game in 2011, scorched the Jets in their last meeting, grabbing 113 receiving yards.
Other tight ends have exposed the Jets' weakness at safety, burning New York over the middle.
The Jets also desperately need to add a pass-rusher to their squad. In 2011, their best rusher was Aaron Maybin. Maybin, who was released by the Buffalo Bills prior to last season, came up with a grand total of six sacks for the Gang Green.
As they stand currently, the Jets have no guy who can force a double team or put pressure on an opposing quarterback.
If the Jets use their first- and second-round picks (No. 16 and No. 47 overall) to bolster their secondary and pass rush, they are sure to be discussed as a preseason Super Bowl contender.
Options: Mark Barron (S), Courtney Upshaw (OLB)
While the Philadelphia Eagles have all of the talent and none of the chemistry, their NFC East rivals are just short of rounding out the talent on their roster.
The Dallas Cowboys finished 8-8 last season, enduring a Week 17 loss at the hands of the New York Giants that knocked them out of the playoffs.
But America's Team could go deep this year with a few pickups in the 2012 NFL draft.
The Cowboys' biggest needs are in their secondary and at the O-line.
The Dallas defense ranked among the bottom of the league for passing yards allowed last season, letting teams rack up an average of 244.1 yards in the air per game.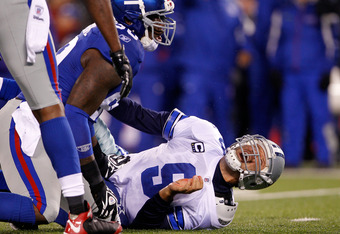 Rich Schultz/Getty Images
As expected, yards allowed translated into points. Tony Romo and company had to contend with four games last year in which opposing offenses put over 30 points on the board.
If the Cowboys can draft a playmaker in their secondary, it will relieve some pressure on the offense.
The Cowboys also need to beef up their O-line. A leaky protection corps failed to protect Romo this year.
Against San Francisco, the consequences of a thin offense line were severe—Romo took a hit that fractured his ribs and punctured a lung.
The Cowboys have one first round draft pick (No. 14 overall) and one second round draft pick (No. 45 overall). They must use these to pick up impact players in their secondary and offensive line.
Options: Mark Barron (S), Dre Kirkpatrick (CB), Ronnell Lewis (OLB)
The Bears are just a few players away from being considered on par with the Green Bay Packers and the New York Giants as a threatening NFC power.
Chicago has a solid base on which its first- and second-round draft picks (No. 19 and No. 50 overall) can stand firm.
Criticize Jay Cutler all you want, but in the 2010 season, his second with the Bears, he led them to an NFC championship.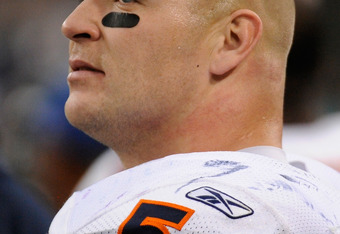 Hannah Foslien/Getty Images
The Bears have an incredible returner in Devin Hester and a Pro Bowl running back in Matt Forte, whom the Bears just placed the franchise tag on (and who will be healthy to start next season).
All the Bears need to complete their offense is a wideout. They ranked low in NFL passing this season, averaging just 188 yards in the air per game.
Adding a stunner at the wide receiver slot would allow the Bears to diversify their offense and expand the playbook. A two-pronged attack in the air and on the ground would turn the formerly 8-8 team into a dangerous playoff contender.
The Bears would also benefit on offense by bolstering their offensive line.
Chicago must protect Cutler from the pummeling he received last season. A stronger O-line will help the quarterback stay healthy.
On defense, the Bears could use a defensive end.
Despite boasting three defensive Pro Bowlers last year (linebackers Lance Briggs and Brian Urlacher and cornerback Charles Tillman) and DE Julius Peppers, who was a Pro Bowl snub, the Bears could use additions at DE to get some pressure on opposing quarterbacks.
If they fill their need at wideout and on defense, the Bears will be back in it in 2012.
Options: Michael Floyd (WR), Mohamed Sanu (WR), Whitney Mercilus (DE), Cam Johnson (DE)