Tom Haudricourt of the Milwaukee Journal Sentinel reported on Sunday, Major League Baseball Players Association (MLBPA) executive director Michael Weiner indicated that the leak of Milwaukee Brewer's star Ryan Braun's positive PED test was case-specific and maintained the program does not have an issue with confidentiality.
"The program has a bunch of different goals but confidentiality is critical. If we felt there was any system-wide problem with respect to confidentiality, we really would have a problem. And that's not the case," Weiner said.
Somewhere along the confidentiality path of MLB's drug-testing program the ball was dropped and a process that is supposed to guarantee the privacy of tested players failed miserably.
No one was supposed to find out that Braun, the National League's reigning MVP, was even tested, much less subsequently found by MLB to be positive for PED use—and even eventually appealing and winning an arbitrator's decision against MLB's set suspension of his first 50 games of 2012.
None of this was supposed to be public knowledge. Not until a private appeal wasn't granted, anyway.
"Everybody associated with the case is extremely disappointed that it leaked out," Weiner said. "I'm certain the leak was specific to this case. It does not threaten the confidentiality of the program and as I've said to players who have asked about that, confidentiality is as important as any aspect of this program."
The landscape of independent arbitrator Shyam Das' decision may come into clearer focus when his written opinion is shared with those involved in the case. Das is required to publish his written decision on the case within 30 days. However, Weiner said it would not be made public.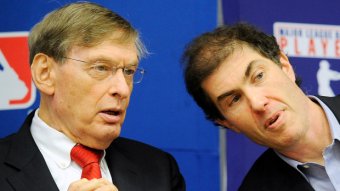 Das did share orally that the chain of custody of Braun's urine sample was in question because the collector kept it for 44 hours before shipping it to the lab in Montreal.
"There have already been discussions and reactions to the opinion," Weiner said. "All we have to this point is a decision from the arbitrator that says 'grievance sustained.' We don't have his reasoning; we don't have his opinion. When the parties have the benefit of that, I'm sure we will confer again and decide whether there are any other changes to be made."
Unfortunately, we, the general public, will most likely never know the detail of exactly what went wrong where. It probably is better we don't. It would only lead to further rhetoric about the questionable process that Weiner is defending as the representative of the players. It would seem if the player's own executive director is on board with the process that it is likely it was a case-specific scenario.
Haudricourt further reported:
Weiner said MLB and the players union agree on the collection agency for drug tests, and that company selects the collectors. He said it was unfortunate that the name of the collector in the Braun case, Dino Laurenzi Jr., was made public.

That was unfortunate as well that the name of the collector came out. That should not have happened. I would imagine in light of that having happened there will be discussions with the collector, the collection company, everybody else about what happens going forward.
Of course, Laurenzi might not be a household name either had Braun himself not pointed the suspicion of doubt on the the collection company following his positive arbitration outcome.
When Haudricourt questioned Weiner about Braun's statements, he offered these comments:
I'm not going to speculate about why something came out. First off, when was Ryan's news conference? Not this Friday, a week ago Friday. So, to be talking about what happened at a press conference nine days ago, Ryan sincerely and from his heart said what he felt needed to be said. It would be pure speculation to say that anything that Ryan said led to anything about the collector becoming public.
It would seem Weiner is comfortable as is the player's association without substantive change simply a tightening up of the collection process. "We do talk with that company regularly about the standards that they use to hire collectors. We talk with them regularly about their educational work and training but we don't actually select the individuals," he said.
Without an indication of much change in the testing process it would seem that it really comes down to the MLBPA and MLB agreeing to more significant oversight of the individuals involved in collection as well.
The outcome is more than embarrassing for the league office. Albeit on a questionable technicality, MLB must ensure the cat doesn't get out of the bag before the appeals process has been exhausted and the sentence final should a positive PED issue rear its ugly head again.