Nick Diaz and the 12 Best Brawlers in MMA History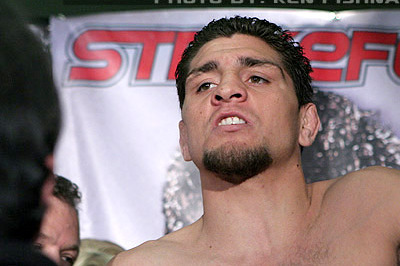 Nick Diaz/ Ken Pishna for MMAWeekly.com
In the world of mixed martial arts exists the purists, the perfectionists of the sport whom best exemplify how effective moves executed with proper technique can be.
And then, we have our brawlers: fighters who swing with reckless abandon, hoping that a looping hook or a wide riding kick will seal the emphatic finish.
Here, we will take a look at some of the best fighters in the history of the sport who have earned the moniker of "brawler," fighters who are willing to throw themselves in the fray in order to secure the knockout.
Nick Diaz/ Ken Pishna for MMAWeekly.com


Begin Slideshow

»
Least we forget about "The Korean Zombie's" memorable WEC debut, where he took on rival Leonard Garcia.
Though Jung lost a controversial split-decision, the heavy-hitting featherweight gained a plethora of fans thanks to his lunging hooks and aggressive style of fighting.
Jung has since emerged as a top contender in the UFC's 145-pound class.
The "Bad Boy" has gone from a relatively unknown Greg Jackson fighter to among one of the most fan friendly combatants in the UFC.
After his memorable war with Roger Huerta some years ago, Garcia has kept that same style that's endeared him to the public and doesn't look to be changing anytime soon.
Win or lose, Garcia is always a candidate for "Fight of the Night" each time out, just as his four such awards would indicate.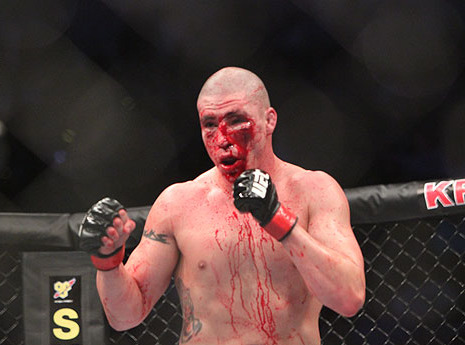 Sanchez/ Ken Pishna for MMAWeekly.com
The in-your-face approach of the fighter formerly known as "The Nightmare" has made him a bit more tattered and bloodier these days, but man, have his fights been exciting.
In his last three outings, Sanchez has earned "Fight of the Night" for his battles against Paulo Thiago, Martin Kampmann and most recently Jake Ellenberger.
Willing to eat a punch to give a punch, Sanchez is always up for a good scrap, no matter who, what, when and where.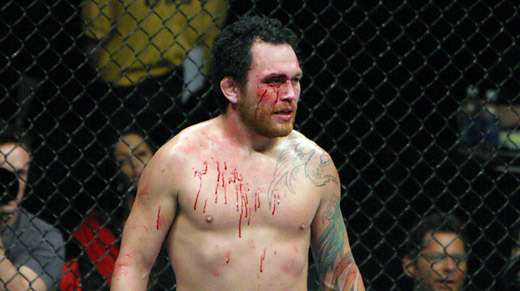 Leben/ Jeff Cain for MMAWeekly.com
"The Crippler," arguably the middleweight division's hardest puncher, goes straight zombie every time he's clocked on the "button."
In his battle against Terry Martin, Leben was reeling against the cage from a right hand before moving forward, connecting on his signature left to record the dramatic, come-from-behind knockout win.
Both Manhoef and "Cyborg" engaged in what has to be regarded as one of the most brawler-ific battles of all time.
The Cage Rage vets threw down, dropping bombs until both men were battered and noticeably fatigued. In the end, it was the Dutchman in Manhoef who was able to gut out the TKO victory.
One of the greatest fighters of all time just so happens to be one of the sport's most reckless.
The Brazilian banger in Silva has recorded a bevy of knockouts over the years by wading forward and winging wild hooks, to which UFC vet Guy Mezger can attest to.
Regarded as one of the best strikers in MMA today, Diaz got to his level of boxing acumen not by tons of sparring and drilling technique, but through trial and error.
The Stockton fighter first gained true notoriety in the sport by defeating former Pride champion Takanori Gomi, though he failed to capture gold.
That is, until Diaz entered Strikeforce, where he was pitted in a battle against the world renowned Marius Zaromskis. The Lithuanian made things dirty early, though Diaz came back and scored the first-round finish with a wide array of punches in bunches.
One of the truest knockout punchers in the sport, Daley made an emphatic debut in Strikeforce when he took on UFC vet Scott Smith.
"Hands of Steel" is always a threat with proven punching power. However, Daley used Smith's aggressive streak against him by leveling him with a counter left hook, leaving him planking on the canvas.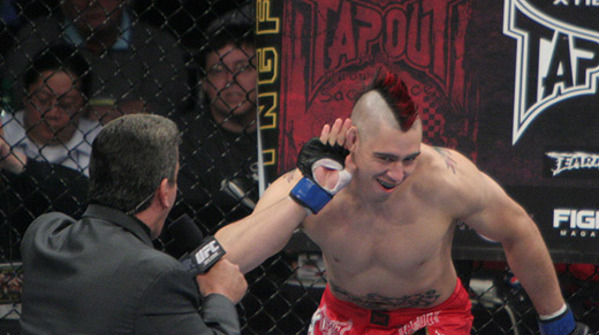 Hardy/ Jeff Cain for MMAWeekly.com
Former UFC title challenger Dan Hardy didn't get to the top of the welterweight ladder because of his good looks.
"The Outlaw," who trains alongside the aforementioned Paul Daley, is always gunning for the knockout every time he enters the cage.
His sophomore effort with the UFC proved that Hardy had some pop behind his punches, using a counter hook to finish off Rory Markham in the first round.
Lytle/ Jeff Cain for MMAWeekly.com
The recently retired Chris Lytle went from a middle-tier fighter to a top contender in the UFC, all thanks to the conscious decision to abandon safe strategy.
Instead, Lytle was embraced by fans for his constant pursuit for the finish, which elicited 10 Fight Night awards in the UFC—a record within the organization.
Lawler has been competitive in both the welterweight and middleweight divisions, and it's all thanks to his natural athleticism coupled with his ability to finish a fight at any given moment.
Among his many battles in the past, one thing remains the same, and that's Lawler's desire to knock his opponent's head off, which he nearly succeeded in doing when he savagely finished off the formidable Frank Trigg some years ago.
That last uppercut was just for good measure.