USC Football: 5 Reasons Matt Barkley Will Win 2012 Heisman Trophy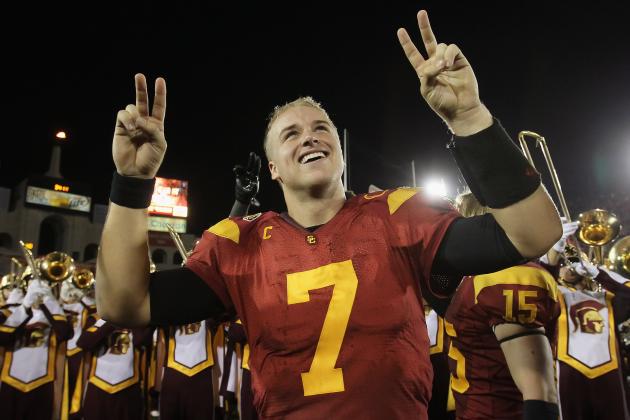 Jeff Gross/Getty Images

Turning down the opportunity to be a top pick in the NFL may have cost Matt Barkley a fat contract, but it will be well worth it when he wins the Heisman Trophy in 2012.
The Trojans were one of college football's hottest teams last season but NCAA-imposed sanctions prevented USC from earning a bowl bid. Barkley led USC to a 10-2 record, including an upset win over nationally ranked Pac-12 rival Oregon. The men of Troy would have been in line for a shot at Oregon in the Pac-12 championship game with a 7-2 conference record but, again, sanctions prevented their eligibility.
With the sanctions finally lifted, USC will be able to feed off success from last season and contend for a national title in 2012. Barkley's decision to stay in school had a lot to do with USC being bowl eligible this season and the lifted sanctions will only increase his chances at the Heisman trophy.
I had no problem with Robert Griffin III winning the award after a phenomenal 2011 campaign, but the fact Barkley wasn't even a finalist blew my mind. Something tells me the sanctions really hurt his candidacy for a finalist spot, but there should be no reason he misses out on the trip to New York City this time.
Here are five reasons Barkley will win the Heisman Trophy in 2012.
Begin Slideshow

»
Stephen Dunn/Getty Images

Since he took over the team in 2009, Barkley has grown as a quarterback as well as a leader and his numbers have been heating up year after year.
Among the nation's top quarterbacks, Barkley's 39 touchdown passes were third to Case Keenum (48) and Kellen Moore (43) and surpassed the 37 thrown by Heisman finalists Griffin and Andrew Luck. What was more impressive in his stats last season was how well Barkley took care of the ball, especially in scoring drives. In the red zone, Barkley completed 59.1 percent of his passes and threw just one pick.
The young quarterback has vastly improved statistically, accumulating 9,054 yards passing and 80 touchdowns in his three-year career at USC, and I wouldn't be surprised if he has an even better performance in 2012.
Barkley's numbers are bound to heat up again this season, and if that's the case I don't see why the Heisman won't be his.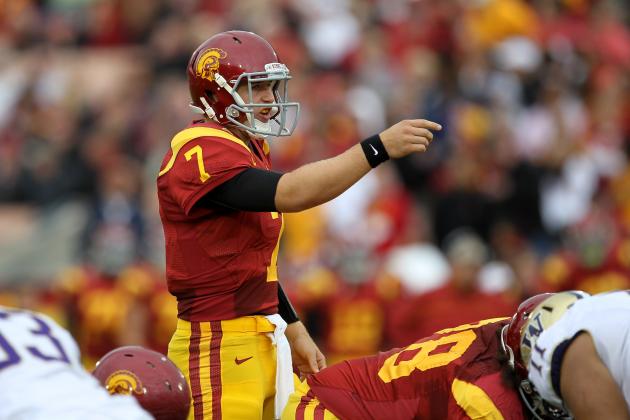 Stephen Dunn/Getty Images

The 21-year-old Barkley has quickly matured in three years at USC and his decision-making on the field will be a strong point in his 2012 Heisman campaign.
As a bright-eyed freshman in his first season, Barkley finished 2009 with 15 touchdown passes and 14 interceptions. A pretty typical start for a first-year quarterback but nonetheless a poor showing of keeping possession of the ball . The next season Barkley threw 26 touchdown passes but was still turnover prone with 12 interceptions. Then in 2011, things suddenly clicked when Barkley threw 39 touchdown passes and just seven interceptions.
If Barkley continues to mature and make good decisions with the ball, I don't see how he isn't a Heisman finalist in 2012.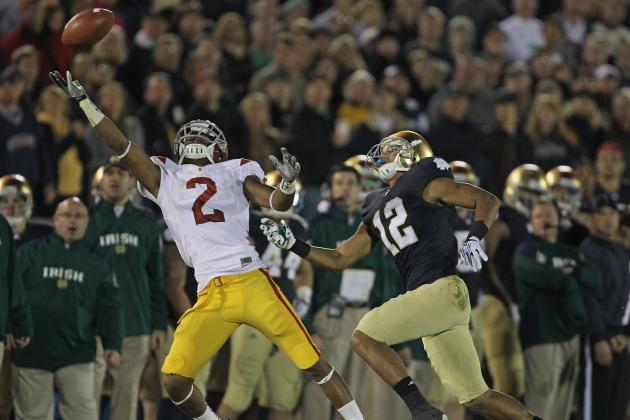 Jonathan Daniel/Getty Images

The emergence of talented receivers Robert Woods and Marqise Lee will continue to showcase Barkley's skills as a quarterback and help his Heisman hopes along the way.
Woods and Lee became Barkley's most favored targets last season, catching a combined total of 26 touchdown passes while racking up 2,435 yards receiving. Both guys have blistering speed and thrive as a short-yardage option and deep threat in the USC offense. Barkley was especially successful in utilizing Woods and Lee in screen plays. Both players are still developing as receivers and it should be exciting to see their progress as they continue to play with a stud quarterback.
Having this dangerous tandem among other weapons will make Barkley's effort at a Heisman that much stronger and boost his stats in 2012.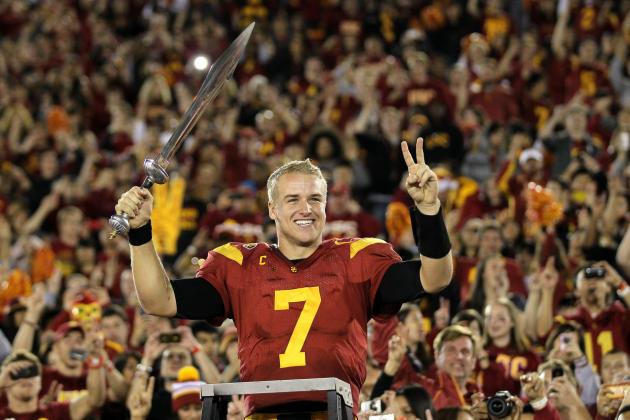 Stephen Dunn/Getty Images

Last season, Barkley and the Trojans were defeated at the hands of two Pac-12 teams, but the NFL draft has lured away top talent from those respective teams, thus returning USC to dominance over the rest of the conference.
USC was handed losses by Arizona State and Stanford in 2011 and of those two teams, both veteran quarterbacks Brock Osweiler and Luck have moved on to play at the next level.
The only true threat of stopping the Trojans from capturing a Pac-12 title in 2012 was Oregon. The Ducks, however, lost their potential Heisman quarterback Darron Thomas to the draft as well. I'm not saying the Pac-12 won't be competitive next season, but USC will come out on top.
Two players to keep a close eye on will definitely be Washington quarterback Keith Price and Oregon running back Kenjon Barner. These players have the potential to play for a Heisman, but it will be a tough challenge to overcome Barkley.
There were a handful of Heisman hopefuls set to compete in the Pac-12 next season, but the temptation to play in the NFL was just too much for those players. Shining as the top performer in the Pac-12 will help Barkley gain the added exposure he needs to win the Heisman in 2012.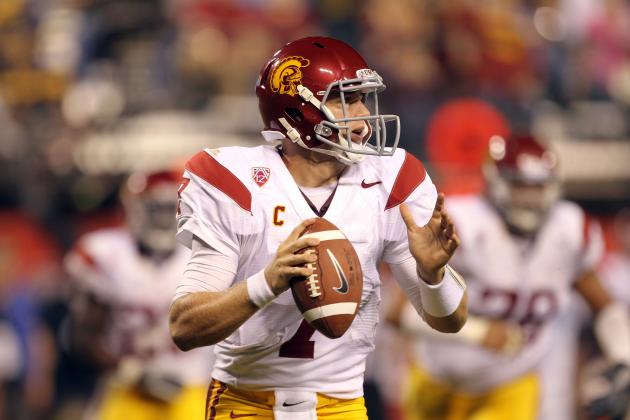 Ezra Shaw/Getty Images

I won't sit here and tell you Barkley is the greatest USC quarterback ever, but he's just playing on another level right now above the rest of the other potential Heisman candidates.
No, he wasn't better than Griffin, but competing with so many excelling quarterbacks really overshadowed Barkley's stellar season. Now that all those players have moved on I just don't see Barkley missing out on this shot to etch his name in college football history. The whole reason he made the decision to stay in school was to win a national championship with USC and make a run at the Heisman. Barkley won't publicly say he's in it to win the prestigious award, but you have to think that it's definitely on his mind for 2012. Entering the 2013 draft with a bowl win or national title and the Heisman would look awfully good on his resume and further his chances at being the No.1 pick.
The pressure to produce another amazing season will be immense, but Barkley's skills are enough to show the nation and Heisman voters why he's the best player in college football next season.