Michigan Basketball: Wolverines Win First Big Ten Title Since 1985-'86 Season
March 5, 2012

Streeter Lecka/Getty Images
There is no doubt that many Michigan basketball fans were painfully conflicted while watching the Ohio State Buckeyes play Michigan State Spartans. 
On the one hand, there is nothing that gives a Wolverine more pleasure than watching these teams lose.
But on the other hand, hearing "Michigan Wolverines" associated with a Big Ten Title completely overpowers any ill feelings towards these schools.
It has been a quarter of a century since Michigan last won a Big Ten title, and it is only fitting that Ohio State, a team that has recently kept them from winning the Big Ten in either basketball or football, were the ones who sealed their fate.
The Wolverines defeated Penn State 71-65 earlier on Sunday. Michigan dominated for a majority of the contest, but foul trouble combined with sloppy play allowed the Nittany Lions to creep back into the game.
Every time Penn State got too close for comfort, Michigan point guard Trey Burke had an answer. He has been absolutely outstanding all season long, and should be the favorite for the Big Ten Freshman of the Year Award.  
According to ESPN, the Wolverines returned to Ann Arbor after the game against Penn State and watched William Buford's shot end Michigan State's hopes for an outright Big Ten title.
Just last week, it seemed like a long shot for this situation to play out. The Wolverines needed to win two away conference games, which is no easy task. Next, Indiana had to defeat Michigan State. Finally, Ohio State had to upset the Spartans in East Lansing.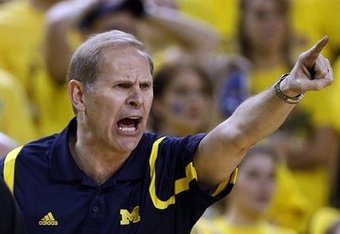 Burke said the entire team went crazy when the final buzzer sounded, and they had every right to. Considering all of the problems that Michigan basketball has experienced in the past few decades, a share of the Big Ten title means everything and more.
The Michigan Wolverines received the No. 2 seed in the Big Ten Tournament, and will play the winner of Northwestern vs. Minnesota on Friday at 6:30 PM.
The Wolverines are by no means satisfied with just a share of the Big Ten title, as they certainly have larger aspirations in the NCAA tournament. However, one cannot overstate how important this is for the program.
Enjoy this one Michigan basketball fans; you deserve it.