Detroit Tigers: Solid Defense and Long Ball Defeat Braves Twice over Weekend
March 5, 2012

The MLB season inched closer to opening day as Grapefruit League game action started this weekend in Florida. The Detroit Tigers and Atlanta Braves traded short 32-mile trips from Lake Buena Vista, where Detroit visited on Saturday, and Lakeland on Sunday when the Braves rolled into Winter Haven.
The result: a 2-0 spring training start that should please Tigers manager Jim Leyland. 
Saturday's game a 2-0 blanking by a group of Tigers pitchers that showed good command for early March and their first competitive outing on the hill this spring. Detroit's pitching rendered just one hit, and that didn't occur until the eighth when Chris Bootcheck allowed Jordan Parraz a single to right.
The Tigers actually flirted with a combined no-hitter in preseason game No. 1.
Detroit was led by Doug Fister, who walked one in two scoreless innings to start the game. David Pauley made his Tigers spring training debut interesting when he issued two consecutive walks after getting the first man he faced out. Pauley managed to escape unscathed, and Jacob Turner and Daniel Schlereth threw two excellent innings as well. 
Detroit's Jerad Head was dealt an Anthony Varvaro fastball in the third-inning and scored the Tigers' first run of the game with a leadoff homer. They added another run in the eighth when Audy Ciriaco scored on a sacrifice fly. It was enough and provided the opportunity to see Brandon Inge make two nice plays at second, although he went 0-for-2 with a walk at the plate, and Miguel Cabrera boot his first opportunity to make a play at third.
The second game of the weekend provided what Tigers fans will be looking for all season long at Comerica Park. The Tigers hit bombs Sunday afternoon in their first spring training home game at Joker Marchant Stadium.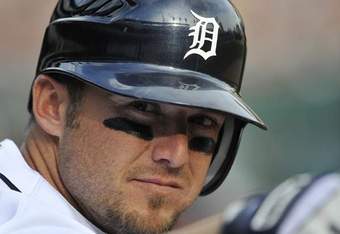 Nine of them to be exact. Seven in the first three innings.
Like a Gulf Coast hurricane, the Tigers bats made quick and scary damage of the Braves—the same kind of destruction that could wreck havoc on the American League for the next six months.
In the count were two, including a grand slam in the fifth, for notorious slow-starter Ryan Raburn, who is trying to prove he deserves to be the Tigers' everyday second baseman. Prince Fielder also got into the action, hitting his first preseason bomb, one of many Tigers fans will be looking forward to watching this summer in the Motor City.
Max Scherzer provided two scoreless innings to start the game, but it wasn't without work as he stranded three hits and a walk without getting hurt. Duane Below also hurled two scoreless innings for Detroit, giving up two hits and striking out one. Octavio Dotel, Matt Hoffman and Jose Valverde also threw clean innings for the Tigers on Sunday.
The 18-3 drubbing of the Braves on a long-ball-aided windy Sunday afternoon in Winter Haven-Lakeland also produced homers off the bats of Johnny Peralta, Austin Jackson, Brennan Boesch, Delmon Young and Alex Avila. Jackson nearly hit another as well.
That's a good sign for the Tigers indeed.
Six long shots came off a guy that MLB.com's top 100 ranks as its fourth-highest prospect. Julio Teheran's short two-inning outing on Sunday saw him give up more home runs than he gave up in 144.2 innings of Triple-A ball last year, where he rendered only five the entire season. 
Eight homers came from seven players Leyland said would be in his starting lineup a few days after the Tigers inked Fielder to his retirement nest egg. The only guys in the Tigers starting lineup that didn't drive the ball out of the park were Cabrera and Andy Dirks. 
The home runs are expected and will continue to come. The good pitching is a pleasant surprise early on, and more than likely could fall off par from time to time. Those things happen in late Florida winters.
Spring training or not, most important with all the expectation on this offensive juggernaut of a team is that they are 2-0 and not 0-2.  
The Tigers will be back in action Monday for MVP and Cy Young winner Justin Verlander's first spring training tune-up against a Toronto Blue Jays squad he no-hit last May. Joaquin Benoit has been cleared and will also see his first action this spring.