2012 NFL Mock Draft: Mocking the First Round with Analysis Post-Scouting Combine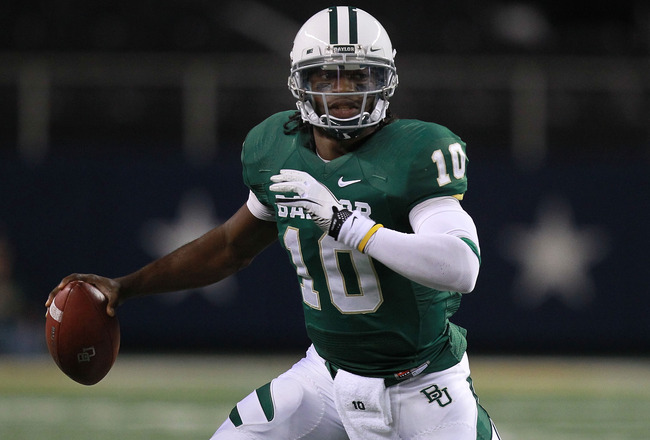 Ronald Martinez/Getty Images
After the 2012 NFL Scouting Combine, the draft picture is becoming a bit more clear. Players will start to settle into a certain range, and team priorities are being established.
We already knew Andrew Luck would be the first pick, but now we know who is going second as well. The first two picks are established. Thirty more first-round picks are up for grabs.
Free agency still remains in the way, but the main obstacle to the draft is past. Yes, free agency will change a lot of team needs, but here's the latest projection looking at current needs and player stocks.
1. Indianapolis Colts: Andrew Luck, QB, Stanford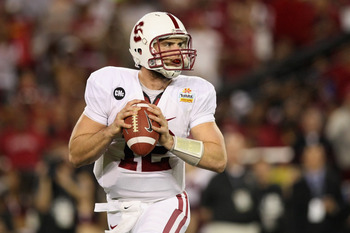 Donald Miralle/Getty Images
At this point, it is all but guaranteed Andrew Luck will go No. 1. The Colts appear to be moving on from Peyton Manning, and Andrew Luck is the best quarterback to enter the draft in a long time.
The 6'4", 234-pounder is a terrific athlete with impressive physical ability and mental prowess.
At Stanford, Luck was already running an NFL offense. Luck would choose between three plays at the line of scrimmage based on what he saw from the defense. Most NFL quarterbacks don't even do that.
It's almost impossible to imagine someone filling Manning's shoes in Indianapolis. He was the NFL's best for so long. How could anyone replace him?
Luck may be able to do it.
2. Washington Redskins (from St. Louis): Robert Griffin III, QB, Baylor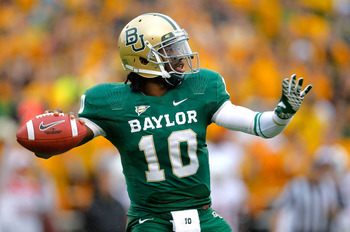 Sarah Glenn/Getty Images
It's not a question of who will be picked here, but who will be picking.
At this point, the main competitors are the Cleveland Browns and the Washington Redskins. Early signs suggest the Browns aren't as interested as the Redskins are, so I gave the pick to Washington.
It's obvious that neither Rex Grossman nor John Beck is the answer for the Redskins. Washington actually has talent, but the quarterback position is holding the team back.
If anyone can take advantage of RG3's talent, that person is probably Washington head coach Mike Shanahan. After weighing in at 6'2", 223 pounds, Griffin is no longer seen as such an injury concern.
Griffin is track-star fast and throws a terrific deep ball. Physically, Griffin is good enough to be a superstar, and he's incredibly smart as well.
3. Minnesota Vikings: Matt Kalil, OT, USC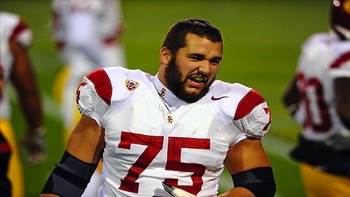 The Vikings went from a bad left tackle in Bryant McKinnie to a worse one in Charlie Johnson. The Vikings' offensive line is awful at almost every position, and the team needs someone to protect Christian Ponder.
Kalil is the best left-tackle prospect since Jake Long in 2008. The USC product is athletic and possesses the length to keep defenders at bay.
At 6'7", 306 pounds, Kalil could stand to gain weight, but he is a terrific athlete and has the frame to bulk up. Though there are some concerns about Kalil's motor, he is an outstanding talent worthy of the No. 3 pick.
The Vikings do need help at wide receiver, and Justin Blackmon could possibly be an option.
4. Cleveland Browns: Morris Claiborne, CB, LSU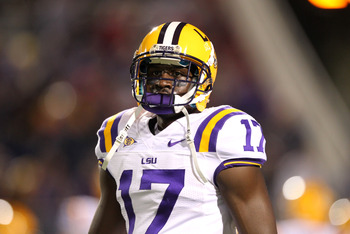 Joe Murphy/Getty Images
With Joe Haden on one side, the Cleveland Browns are set at cornerback, right?
Wrong.
Sheldon Brown is aging, and the Browns need a replacement. General Manager Tom Heckert loves cornerbacks, and Cleveland will be addressing the position early.
Fortunately, Morris Claiborne is worth of a top-five selection. The LSU star is a great athlete who exercises outstanding technique in coverage.
At 5'11", 188 pounds, Claiborne has good length but could stand to bulk up. Regardless, Claiborne is a terrific player who may actually be a better cornerback than former teammate Patrick Peterson was a year ago.
The Browns also desperately need offensive talent, and both Justin Blackmon and Trent Richardson are options.
5. Tampa Bay Buccaneers: Justin Blackmon, WR, Oklahoma State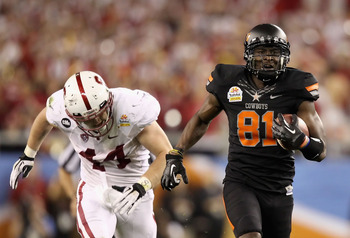 Christian Petersen/Getty Images
Tampa Bay has plenty of wide receivers, but none of them are all that good. After a disappointing season from Mike Williams, the Buccaneers are looking for a No. 1 option.
Justin Blackmon may be a questionable pick here in some analysts' eyes, but he will probably be picked in this range. The 6'1", 207-pound Oklahoma State star isn't especially fast, but he is quick and powerful after the catch.
Blackmon's lack of deep-threat ability is his biggest issue. Because he isn't overly tall or fast, Blackmon isn't great at stretching the field and is better utilized underneath.
Tampa Bay could opt for the better player in Trent Richardson, and if he's available, Morris Claiborne seems like an easy pick.
6. St. Louis Rams (from Washington): Michael Brockers, DT, LSU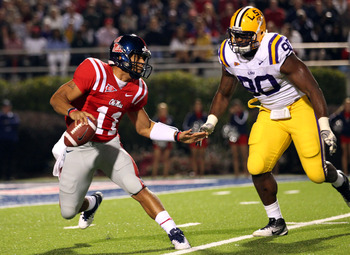 Joe Murphy/Getty Images
St. Louis would like Justin Blackmon or Morris Claiborne here, but the team does need a defensive tackle. In Tennessee, Jeff Fisher drafted Albert Haynesworth, and Michael Brockers possesses elite upside.
Brockers isn't an elite defensive tackle prospect, but he isn't really a reach here, either. The LSU star can do everything on the field—rush the passer, play the run and penetrate.
At 6'5", 322 pounds, Brockers has perfect size and possesses the athleticism to dominate in the NFL. Few defensive tackles have more potential.
The Rams could look for their left tackle in Riley Reiff, and the team could reach for Michael Floyd or a different wide receiver.
7. Jacksonville Jaguars: Nick Perry, DE, USC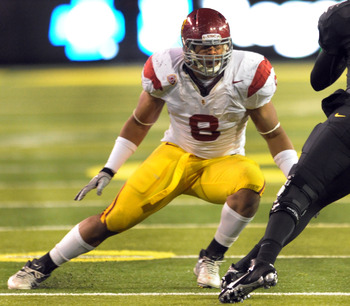 Steve Dykes/Getty Images
With Aaron Kampman's career seemingly over, the Jaguars need a defensive end. Kampman has recorded just 7.5 sacks in the past three years, and none of the other Jacksonville defensive ends inspire confidence.
After a terrific Combine, Nick Perry is on the rise. The 6'3", 271-pounder ran an unofficial 4.5 40-yard dash and benched 225 pounds 35 times.
Obviously, Perry is a terrific athlete, but he isn't as great of a player. Though the USC product has a good first step, he needs to improve his pass-rush moves, and he isn't overly flexible off the edge.
The Jaguars could definitely use a wide receiver here, and the team might prefer Quinton Coples at defensive end. Trent Richardson is a dark horse.
8. Miami Dolphins: Riley Reiff, OT, Iowa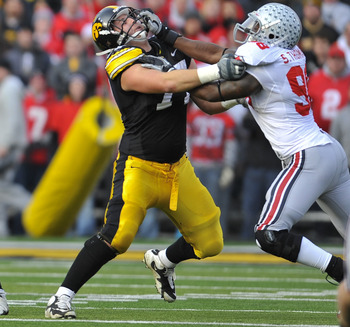 David Purdy/Getty Images
Vernon Carey moved inside to guard in 2011 and was replaced by the even-worse Marc Colombo. Miami's offensive line is a pressing issue, and Riley Reiff will be drafted in this range.
A former tight end, Riley Reiff is an excellent athlete and projects as a solid player in the NFL. At 6'6", 313 pounds, Reiff isn't particularly big, but he has the frame to add weight.
There are some concerns about whether Reiff can play left tackle, but Miami has this one guy named Jake Long. The Dolphins need a right tackle, and Reiff can almost certainly play there.
Miami is also looking for a pass-rusher as the team switches to a 4-3 scheme, and Quinton Coples is an intriguing option.
9. Carolina Panthers: Dontari Poe, DT, Memphis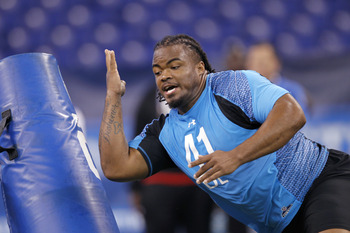 Joe Robbins/Getty Images
The Panthers actually have pretty good defensive ends, but their interior defensive line is simply atrocious. In fact, Carolina probably has the NFL's worst defensive tackles.
A 6'4", 346-pound freak, Dontari Poe ran the 40-yard dash in an unofficial 4.87 seconds. So yeah, he's pretty impressive physically. Poe was a bit of an underachiever in college, but he is talented enough to still be a top-10 pick.
Men with Poe's size simply should not move like he does. The Memphis star has the physical ability of Shaun Rogers and could develop into an elite player.
The Panthers may prefer a different defensive tackle, and wide receiver is an option on the offensive side of the ball.
10. Buffalo Bills: Quinton Coples, DE, North Carolina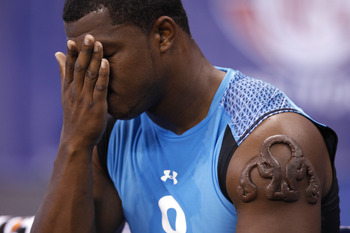 Joe Robbins/Getty Images
Buffalo's biggest problem remains its defense, and, more specifically, its pass rush. The Bills run a bit of a hybrid defense, so they are probably looking for a versatile player here.
Quinton Coples is a perfect fit. The 6'6", 284-pounder is an athletic freak with the size to dominate against the run. With Marcell Dareus and Kyle Williams at defensive tackle, Buffalo has a potentially-dominant defensive line.
Though he is an unbelievable athlete, Coples doesn't have a great first step. This, along with his hot-and-cold motor, limited his production in 2011, and he is not a sure bet as a pass rusher. However, his upside is alluring.
11. Kansas City Chiefs: Trent Richardson, RB, Alabama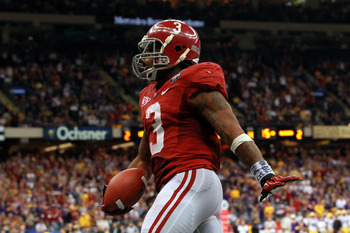 Ronald Martinez/Getty Images
Kansas City is looking to address right tackle or nose tackle here, but there isn't good enough value. The Chiefs don't know how well Jamaal Charles will return from his torn ACL, and he and Trent Richardson could make an unbelievable duo.
A power back with great speed, Trent Richardson is the best running back since Adrian Peterson, and he may be even better. Richardson is nearly impossible to tackle one-on-one, and he possesses good agility as well.
Unlike the typical power back, Richardson can also catch. The Alabama star has been featured out of the backfield and is a complete player. As crazy as it sounds, Richardson has literally zero flaws. He's the No. 2 player in this draft.
If Dontari Poe is available, he seems like a no-brainer. In this scenario, though, Mike Adams is an option to replace Barry Richardson at right tackle.
12. Seattle Seahawks: Ryan Tannehill, QB, Texas A&M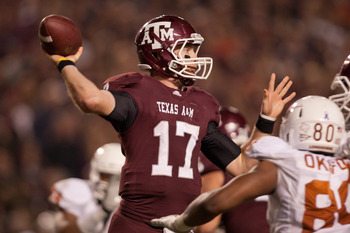 Darren Carroll/Getty Images
Like Washington, Seattle has a talented football team. Unfortunately, the Seahawks have Tarvaris Jackson and Charlie Whitehurst at quarterback. Those two offer Seattle no upside.
The Seahawks like a mobile quarterback, and Ryan Tannehill fits the bill perfectly. A former wide receiver, Tannehill weighs in at 6'4", 221 pounds and can run or throw.
The Texas A&M star possesses a rocket arm as well. He needs to work on his accuracy and decision-making, but that's to be expected given his lack of experience.
The Seahawks could reach for a pass-rusher or select Luke Kuechly here. Even Fletcher Cox could be an option.
13. Arizona Cardinals: Mike Adams, OT, Ohio State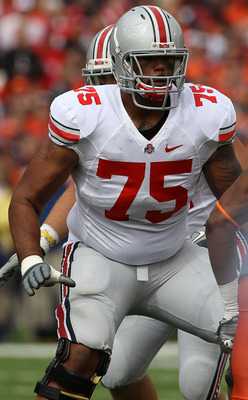 Jonathan Daniel/Getty Images
Arizona's offensive line has been awful for a while now, and Levi Brown is probably gone. The Cardinals need help at every offensive-line position, but left tackle is the most pressing.
Mike Adams was a top recruit out of high school and underachieved prior to his senior season. As a senior, however, Adams finally played up to his talent and dominated.
At 6'7", 323 pounds, Adams has terrific size and is a fantastic athlete. The Ohio State product definitely possesses the ability to protect the blind side, and he has the most upside of any draft-eligible tackle not named Matt Kalil.
The Cardinals are also in need of a pass rusher, and they could select Alabama's Courtney Upshaw to fill that void.
14. Dallas Cowboys: Fletcher Cox, DE, Mississippi State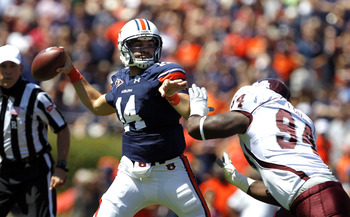 Butch Dill/Getty Images
Marcus Spears has been disappointing, and the Cowboys need to upgrade at defensive end. Anthony Spencer appears to be staying in Dallas, so the team will focus on either the defensive line or secondary.
Fletcher Cox's best fit is in a 3-4 defense playing 5-tech. The 6'4", 298-pounder is incredibly explosive and penetrates the backfield with ease.
At the Scouting Combine, Cox demonstrated just how athletic he is, running a 4.79 40-yard dash. He also put up 30 reps of 225 pounds in a dominating performance.
Dallas could easily opt for a cornerback by selecting Janoris Jenkins or Dre Kirkpatrick.
15. Philadelphia Eagles: Luke Kuechly, LB, Boston College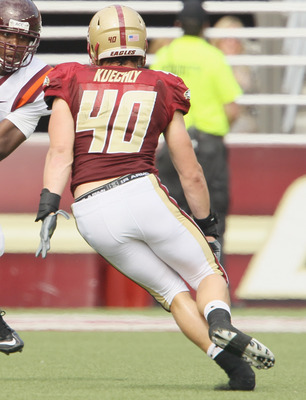 Elsa/Getty Images
Though the Eagles have historically ignored linebacker, they desperately need to add someone. Philadelphia's defense was putrid, and their only huge weakness is at linebacker.
Luke Kuechly isn't a fantastic athlete, but he has superb instincts and racks up tackles. Though he is just 6'3", 235 pounds, Kuechly does a nice job of disengaging from blocks and making plays in the backfield.
Kuechly may never be an elite linebacker, but he will be a well-above-average player. The winner of the Bronko Nagurski Trophy, Kuechly has been incredibly productive and has an extremely high floor.
It looks like DeSean Jackson may be leaving via trade, so the Eagles could try to find his replacement here.
16. New York Jets: Michael Floyd, WR, Notre Dame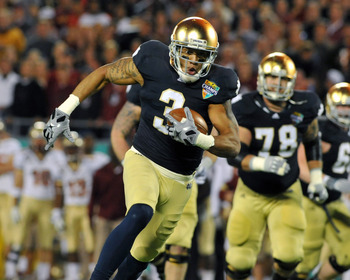 Al Messerschmidt/Getty Images
Mark Sanchez and Santonio Holmes don't exactly have a perfect relationship, and Plaxico Burress is on his way out. The Jets need weapons for Sanchez, and Michael Floyd is a potential steal here.
If it weren't for injury and off-the-field issues, Floyd may be a top-10 pick. The 6'3", 220-pounder possesses fantastic catching ability and is a well-above-average athlete.
On the field, Floyd doesn't offer many negatives. The problems are his multiple arrests and injuries. He's certainly a high-risk prospect, but like many risky players, he's also high-reward.
The Jets also need a pass rusher, and Courtney Upshaw is a good value here.
17. Cincinnati Bengals (from Oakland): David DeCastro, OG, Stanford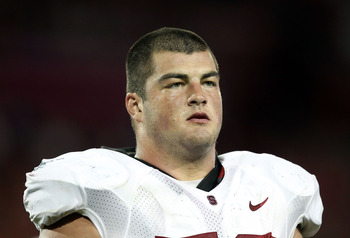 Christian Petersen/Getty Images
Cincinnati's offensive line isn't exactly awful, but the team could stand to upgrade the interior line. More importantly, though, is David DeCastro's value. He's a steal.
A junior guard, DeCastro is the best interior-line prospect to come along in years and could even be a top-10 selection. At 6'5", 316 pounds, DeCastro has perfect size and is a phenomenal athlete.
DeCastro is capable of power-blocking or pulling and picking up linebackers in space. Few offensive linemen are more versatile, and DeCastro is elite in literally every aspect of the game.
The Bengals could add another offensive playmaker here by selecting Kendall Wright, and the team desperately needs defensive backs.
18. San Diego Chargers: Courtney Upshaw, OLB, Alabama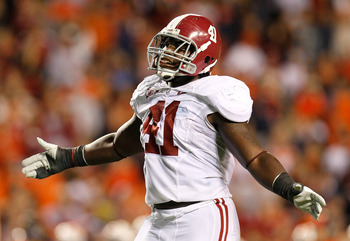 Kevin C. Cox/Getty Images
Shaun Phillips didn't produce at a high level in 2011 and struggled with injury, but he's still a good player. However, San Diego's other outside linebacker needs to be upgraded.
At 6'2", 272 pounds, Courtney Upshaw has the size to play inside or outside linebacker. Upshaw isn't a great threat off the edge; however, he's excellent against the run and can play in coverage, too.
Upshaw's skill-set is best utilized in a 3-4 scheme, and he should be able to contribute immediately. In fact, Upshaw could fill in at either inside or outside linebacker, but San Diego would use him off the edge.
The Chargers are looking to possibly replace two offensive tackles, and the team may be losing Vincent Jackson in free agency.
19. Chicago Bears: Alshon Jeffery, WR, South Carolina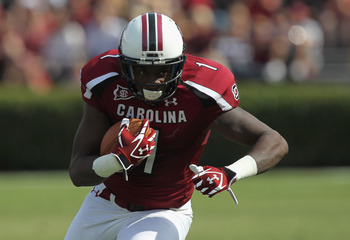 Streeter Lecka/Getty Images
Roy Williams didn't exactly tear things up in Chicago, and the Bears are still looking for a wide receiver. Chicago has Jay Cutler, Matt Forte and a whole lot of nothing on offense. That needs to change.
Prior to the 2011 season, Alshon Jeffery was seen as a top-five pick. Jeffery looked fat during the season, but he lost weight and weighed in at 6'3", 216 pounds during the Scouting Combine.
Jeffery's potential is still through the roof, though. The South Carolina star is incredibly smooth and actually has the most upside of any wide receiver in the draft. Jeffery is risky, but his NFL team could walk away with a steal.
Chicago could be looking at Cordy Glenn to upgrade the offensive line, and the team also needs a pass rusher to replace Israel Idonije.
20. Tennessee Titans: Whitney Mercilus, DE, Illinois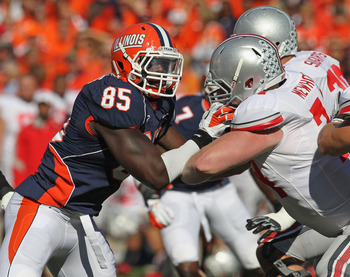 Jonathan Daniel/Getty Images
Tennessee's defense wasn't great in 2011, and its pass rush was the primary issue. Former first-round pick Derrick Morgan might develop into a solid player, but he will never be great.
Whitney Mercilus is a controversial prospect, but NFL teams seem to like him. His college production was unbelievable, and that seems to be boosting his stock more than it should.
The 6'4", 261-pounder is a good athlete with an excellent first step, but he doesn't have much for pass rush moves. He also needs to add strength and improve against the run.
The Titans still have a huge need along the interior offensive line, and the team could be looking for a cornerback if they lose Cortland Finnegan in free agency.
21. Cincinnati Bengals: Dre Kirkpatrick, CB, Alabama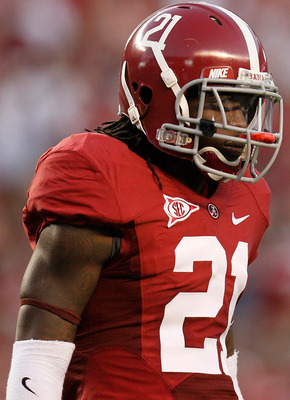 Kevin C. Cox/Getty Images
Leon Hall is recovering from a torn Achilles tendon, and the Bengals are looking to upgrade opposite the former first-round pick. Jonathan Joseph's absence was evident in 2011, and Cincinnati's secondary is weak as a whole.
Dre Kirkpatrick has the talent of a top-10 pick, and he could easily be gone by now. The 6'2", 186-pounder is a terrific athlete and could develop into a star.
Kirkpatrick's biggest problem is that he's rarely played in anything but press coverage. We know he can play physically at the line, but we don't know how well he can run downfield with wideouts.
The Bengals might prefer Janoris Jenkins at cornerback, and the team could look at Kendall Wright to play opposite A.J. Green. Lamar Miller is an option, too.
22. Cleveland Browns (from Atlanta): Kendall Wright, WR, Baylor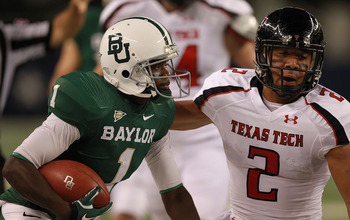 Ronald Martinez/Getty Images
Cleveland has Greg Little at wide receiver, but the second-round pick probably isn't a superstar. Even if he is, though, the Browns have no one to start alongside Little.
Kendall Wright is a fast, quick wideout with huge playmaking ability. Though he measures just 5'10", 196 pounds, Wright has great upside and could develop into a Jeremy Maclin-esque player.
Wright is a fantastic fit opposite of Little and could start immediately. It's not likely that Wright will ever be an elite player, but he can be a No. 1 wide receiver. There is no reason why Wright shouldn't develop into at least a solid player.
The Browns are also searching for a defensive end to replace Jayme Mitchell, and a running back or right tackle is possible.
23. Detroit Lions: Janoris Jenkins, CB, North Alabama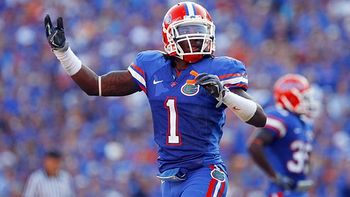 Even if Eric Wright doesn't leave in free agency, the Lions will be in the market for cornerbacks. Detroit has a potentially dominant defensive line, but its back seven isn't nearly as solid.
Janoris Jenkins was a great player at Florida prior to being kicked off the team for multiple off-the-field problems. At North Alabama, Jenkins continued to excel and is definitely a first-round value on the field.
The primary question here is how significant Jenkins' off-the-field issues are. Detroit took a chance on Nick Fairley in 2011, and the team could roll the dice yet again.
The Lions have needed offensive linemen for a while now, and their linebackers are less than stellar, as well.
24. Pittsburgh Steelers: Dont'a Hightower, LB, Alabama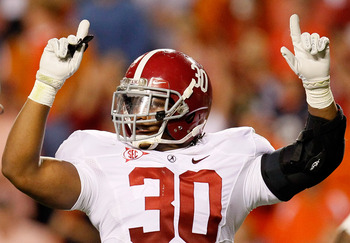 Kevin C. Cox/Getty Images
The Steelers released long-time linebacker James Farrior as part of their salary-dumping cuts, are trying to inject youth into an aging defense. Pittsburgh doesn't have a linebacker in line to replace Farrior, so the team will probably turn to the draft.
Dont'a Hightower is a versatile player capable of replacing either Farrior or James Harrison. The 6'2", 265-pounder is a good athlete with some pass-rushing ability.
Hightower played along the inside in Alabama's 3-4 defense but blitzed off the edge on passing downs. Dick LeBeau values versatility, and Hightower could excel at either linebacker position.
Pittsburgh's offensive line is always in need of help, and Cordy Glenn is an excellent schematic fit.
25. Denver Broncos: Devon Still, DT, Penn State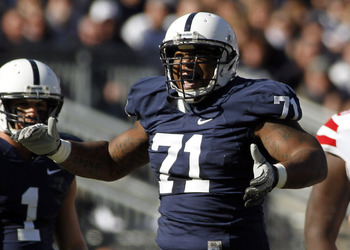 Justin K. Aller/Getty Images
Broncos 2011 acquisition Brodrick Bunkley played well last year, but his future in Denver and health are not guaranteed. Besides, the tackle position next to Bunkley is in need of an upgrade.
At 6'5", 303 pounds, Devon Still is a terrific athlete. The Penn State product entered college as a prized recruit but underachieved until his senior season.
Still is occasionally dynamic, but he is still inconsistent. With time, though, Still could develop into a star. The Broncos already have a couple excellent defenders, and Still could be another one.
Denver's cornerbacks aren't in great shape, either, so Stephon Gilmore is a possibility. Mark Barron and Coby Fleener shouldn't be ruled out, either.
26. Houston Texans: Stephen Hill, WR, Georgia Tech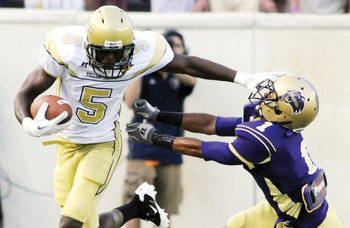 The Texans are frequently playing without Andre Johnson, so the team is basically looking for a second No. 1 wide receiver. Right now, Houston has the declining Kevin Walter starting, and that is a big problem.
Stephen Hill shocked everyone at the Scouting Combine by measuring in at 6'4", 215 pounds and running a 4.30 40-yard dash. These numbers make Hill one of the best combine performers ever.
The Georgia Tech wideout is definitely still raw, but his physical ability is rare. Houston can afford to wait and develop a potential star, and Hill is exactly that.
The Texans really don't have many needs, so they can afford to take a talented player like Hill and develop him. Houston could add another cornerback by taking Stephon Gilmore, though.
27. New England Patriots (from New Orleans): Stephon Gilmore, CB, South Carolina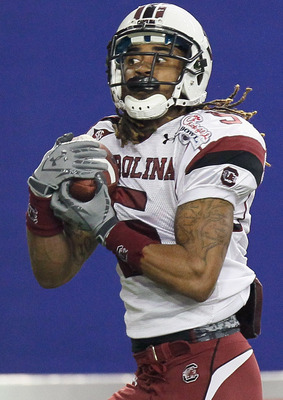 Kevin C. Cox/Getty Images
The Patriots spent much of 2011 with a wide receiver—Julian Edelman—at cornerback. That goes to show just how bad New England's secondary is.
Stephon Gilmore isn't exceptional at anything, but he's good at everything. The 6'0" 190-pounder is a good athlete capable of playing in zone coverage—a must in New England.
Gilmore has the talent to develop into an excellent player, but he was inconsistent throughout his college career. In one game, Gilmore would look like a star. In another, a mid-round pick.
New England can stand to upgrade along any defensive unit. They could add a pass-rusher here, and Mark Barron could be a fit at safety.
28. Green Bay Packers: Melvin Ingram, OLB, South Carolina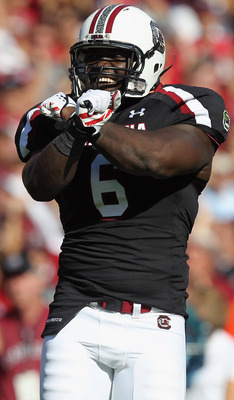 Streeter Lecka/Getty Images
Green Bay's defense clearly held the team back in 2011, and the Packers are looking to upgrade. Clay Matthews is the team's only productive pass rusher, so outside linebacker is probably the team's primary concern.
Melvin Ingram showed up at the Scouting Combine weighing 263 pounds, down from 275 at the Senior Bowl. Regardless, Ingram is a terrific athlete with the ability to play in coverage.
Ingram will probably never be a star, but he will contribute in many ways. He is solid against the run, and his ability to move around is immeasurable.
The Packers are also looking to add a 5-tech, and Jerel Worthy is a good schematic fit.
29. Baltimore Ravens: Peter Konz, C, Boston College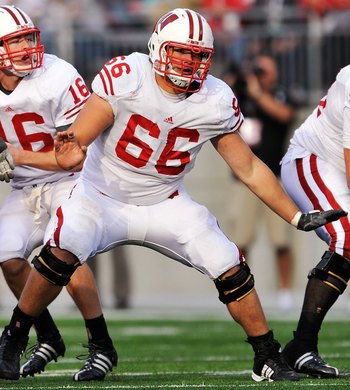 Jamie Sabau/Getty Images
If Matt Birk weren't a free agent, the Ravens would probably still be trying to upgrade at center. As it is, though, Baltimore really needs to replace the 35-year-old.
Peter Konz is a powerful, intelligent player who could play guard or center. The Wisconsin product may never become a Nick Mangold-esque player, but he should at least be solid for many years.
Over the years, Ozzie Newsome has shown a tendency to address the offensive line. Baltimore's line is a key aspect to its success, and they can't afford to let it fall apart in one offseason.
If Baltimore loses Ben Grubbs, they could easily select Cordy Glenn here. Zach Brown could be an interesting option at linebacker.
30. San Francisco 49ers: Cordy Glenn, OG, Georgia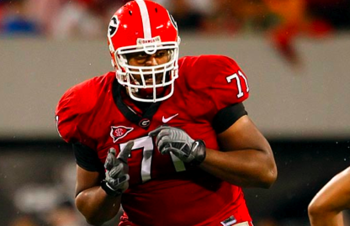 San Francisco's offensive line is not at all a weakness, but it could be improved upon. Ideally, the 49ers would draft a wide receiver here, but there simply isn't a good enough value there.
Cordy Glenn is as athletic of an offensive lineman as there is. The 6'6", 346-pounder ran a 4.96 40-yard dash and put up 31 reps of 225 pounds. Impressive, to say the least.
Though he played left tackle as a senior, Glenn will play guard in the NFL. The Georgia lineman is somewhat athletically limited there, but his power will make him a first-round pick.
San Francisco could still reach for a wide receiver by taking Mohamed Sanu or Rueben Randle. Coby Fleener is an interesting option in Jim Harbaugh's tight end-focused offense.
31. New England Patriots: Vinny Curry, DE, Marshall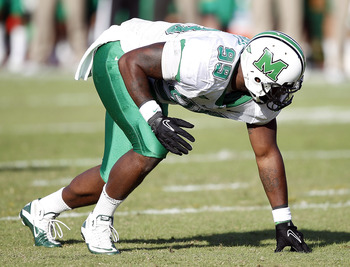 Bob Levey/Getty Images
For years, fans have been clamoring for the Patriots to draft a pass rusher. To date, Bill Belichick hasn't listened, but maybe he finally keeps two first-round picks in 2012, spending one on a defensive end.
At 6'3", 266 pounds, Vinny Curry possesses the size Belichick looks for in his pass rushers. The Marshall star is fluid and could play in either a 4-3 or 3-4 scheme.
Curry isn't a physical freak by any means, but the Patriots have a long history of ignoring the Scouting Combine. The fact is that Curry can play, and that's all New England cares about.
New England wants a vertical threat to go along with Wes Welker, and Rueben Randle could be that guy, though he would be a reach.
32. New York Giants: Jonathan Martin, OT, Stanford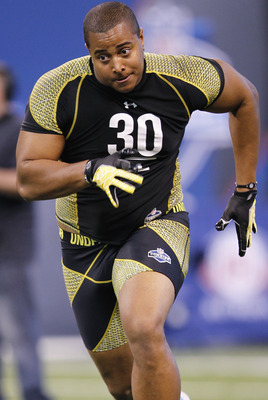 Joe Robbins/Getty Images
Kareem McKenzie is pretty bad, and it appears his time in New York is over. William Beatty hasn't shown that he is a viable replacement, and David Diehl isn't exactly an All-Pro, either.
At this point, Jonathan Martin is a steal, depending on who you ask. Some feel he is a top-15 pick, and Andrew Luck's left tackle can play four positions along the offensive line.
At 6'5", 310 pounds, Martin lacks power. His best attribute is his athletic ability, but he isn't great there, either. But at the end of the first round, Martin is an excellent addition.
With Aaron Ross probably leaving in free agency, the Giants might also look at cornerback. The team's injury-riddled 2011 season showed how important depth is there.
Keep Reading