Tampa Bay Rays: Is Matt Bush Ready to Be a Major Leaguer?
March 5, 2012

Ronald Martinez/Getty Images
To say that the baseball career of former #1 overall draft choice Matt Bush has been rough is quite the understatement.
It's been a roller coaster ride. 
Ever since Bush, as a shortstop, was drafted first overall by the San Diego Padres out of Mission Bay High School back in 2004, he has been stuck in the minor leagues.
First, he's a shortstop who can't get out of Single-A.
Then he breaks his ankle.
Then he finds out that he can't play shortstop because he can't hit, and converts to relief pitcher. He continues to flounder in the Padres minor league system, then in 2009, he is arrested for assaulting a high schooler.
Bush obviously can't cut it in San Diego, so before 2009 spring training, he's dealt to Toronto. Bush's stay in Toronto is short as he is released for violating the team's code of conduct.
In the summer, he is arrested for drunk driving and other charges, and has to be carried by the San Diego PD to the police car, screaming "I don't care!" and sobbing.
Bush manages to detox himself, but he is no longer the commodity that he was five years ago. 
Fortunately for him, the Tampa Bay Rays take him in. Since then, he's managed to rise a level in minor league ball, and is now playing for the Double-A affiliate in Montgomery.
Rays management is apparently trusting him enough, he is on the team's 40 man roster, and has been for the past two years.
Last year, in the pitcher's first full season, he went 5-3 with a 4.83 ERA and 77 strikeouts.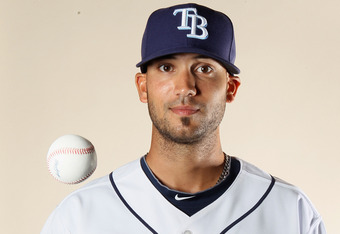 Elsa/Getty Images
What does this say about Bush?
In terms of his statistics, he's average, but in terms of maturity, he's getting there. Tampa was able to give Bush what he needed when he was back in San Diego: a support system which didn't place overwhelming expectations on him, and because of this, he's managed to flourish. 
In addition, since his demons have supposedly been conquered, he's been invited to mentor younger players.
So the question remains: Is Matt Bush ready to be a Major Leaguer?
In my opinion, if baseball relied almost exclusively on maturity, then yes, Bush would be on the team's 25 man roster.
But baseball is more than just maturity, it's also ability.
Given the fact that his highest level of competition is Double-A, it's obvious that rushing him up now would destroy the system that had put him back on track. He'd be like Billy "Downtown" Anderson in Major League 3, only not as elite an athlete.
And although expectations for Bush are probably still low, to subject him to this type of failure would be the kiss of death for him.
While Bush can stay on the 40 man roster. what would be advisable would be to stick him in Double-A at the beginning of the year, promote him to Triple-A by July, and then reward him, if he does well, by finally calling him up in September. Bush most certainly would prosper under this system of progression.
However, there is the chance that he impresses at spring training. If he does so, then stick him in Triple-A and promote him when he proves himself ready.
I have to say, I really have faith in this guy this year. If he can prove himself, maybe he can be a serviceable reliever, and not just another mark on a baseball fact book or a police blotter.
Here's to hope.