2012 NFL Draft: 3 First-Round Trade Options for the New England Patriots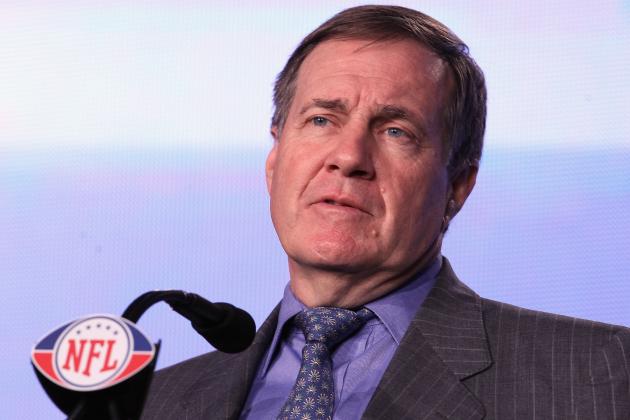 Elsa/Getty Images

Bill Belichick loves to wheel and deal at the NFL draft.
Many Patriot fans have felt disappointment after recent drafts in which the Patriots have a stockpile of higher-round picks, but chose to trade them away for future drafts.
This year the Patriots are in a similar situation.
They own the No. 27 and No. 31 picks in the first round, and history tells us Belichick will likely look to trade at least one of them away.
Here are some scenarios to look for come draft day.
Begin Slideshow

»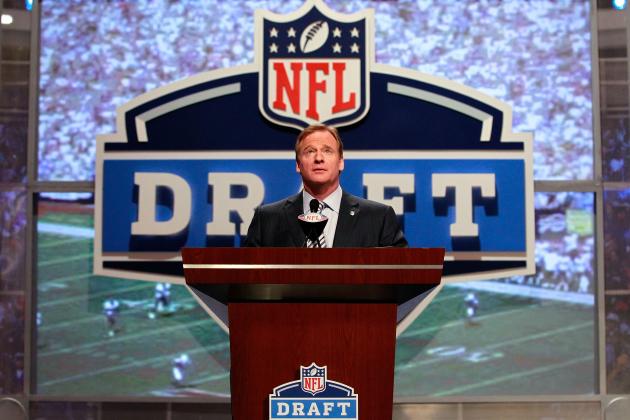 Chris Trotman/Getty Images

If history has shown us anything, Bill Belichick is always looking toward the future.
Although frustrating to some, Belichick loves to trade first- or second-round picks for draft picks in future drafts.
With the No. 27 and No. 31 picks, Belichick is likely to look for the most value he can get for one of the picks and deal them for a combination of late-round choices this draft as well as stocking up for next year's draft.
The Patriots don't have many picks this year outside of the first two rounds, something that probably doesn't sit well with Belichick.
This trade is the most likely deal to go down, with the Pats and fans not being surprised anymore if they trade out of the first round.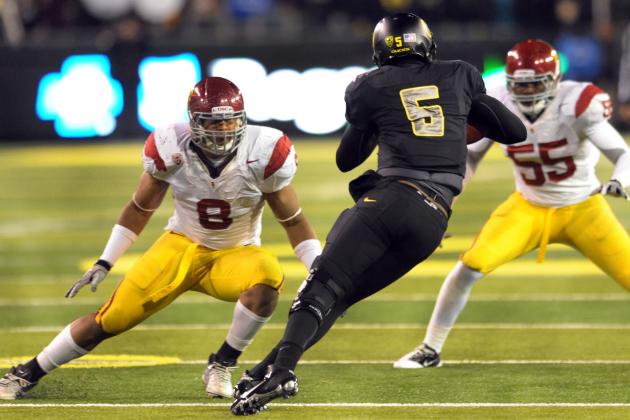 Steve Dykes/Getty Images
Nick Perry could be a target if the Pats decide to move up.
Although a bit of a stretch considering we are talking about the Patriots and Bill Belichick, the Patriots have the assets to move up the board on draft day.
By not including their second first-round pick, they would not be able to crack the top half of the draft more than likely, but they could still move up to get somebody that they covet.
They could be in the market for a pass-rusher like Nick Perry or Melvin Ingram or a big-play receiver like Michael Floyd or Kendall Wright.
They could potentially try to move up to the late-teens and early-20s to find a trade partner, perhaps with the Cincinnati Bengals, who own multiple picks in that range.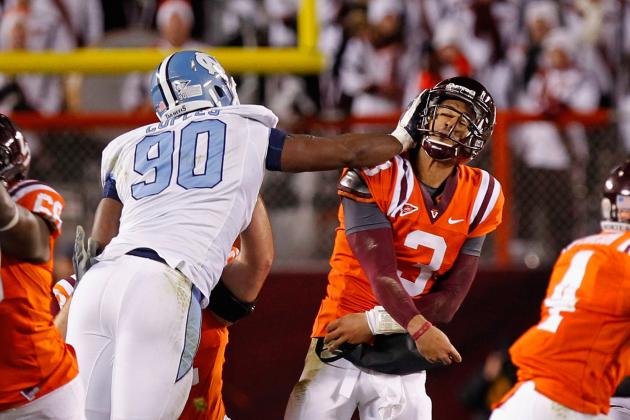 Geoff Burke/Getty Images
Quinton Coples could prove to be the most talented defensive lineman in the draft.
Bill Belichick wouldn't shock me in anything he did on draft day. However that being said, it is out of his nature to trade valuable draft picks in the hopes of landing a big-talent player high in the first round.
However Belichick and the Pats could be looking to score a top defensive player to shore up a weak defense last season. Quinton Coples and Morris Claiborne come to mind.
Unfortunately for the Patriots, we saw what it takes to move up in the top tier of the draft last season with the Atlanta Falcons giving Cleveland a haul in return for a top-10 pick.
The Patriots certainly have the assets to move up, but a deal of this magnitude would have to be done to get a sure-fire Pro Bowler.
There aren't many guys who fit that profile in this draft , but anything is possible with Bill Belichick.