Miami Dolphins: 7 Most Untouchable Players on the Roster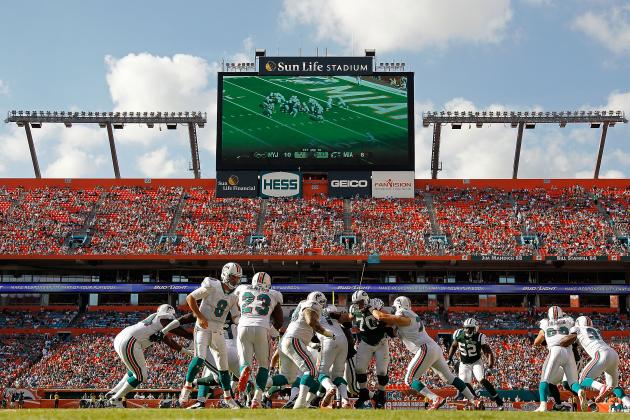 Mike Ehrmann/Getty Images
In 2012, the Miami Dolphins will seek a new look under an experienced staff, but many of the key players may already be on the team.
The Miami Dolphins of 2012 are aiming to be nothing like the team of 2011. Needless to say, the season was a relative disappoint for loyal Miami fans who wait season after season for a rebirth. With a new staff in place highlighted by former Green Bay Packer offensive coordinator Joe Philbin and ex-head coach Mike Sherman, I believe next year will finally be dawn of a new era.
A team can only suffer for so long; just ask the Detroit Lions who took a big step forward when making the playoffs this past season. But the team I think the Dolphins are more likely to emulate in terms of a turnaround is the San Francisco 49ers who broke serious ground under a new regime led by another offensive whiz in Jim Harbaugh.
In order to have success in this league, especially in a competitive AFC East division, a team must have the essential building blocks and undisputed marquee players to lead the way. Although Miami has seen better days, they have more pieces than one would think from first glance.
In this article, I'd like to identify some of the current players on the Dolphins roster that will be staples in the new era.
Begin Slideshow

»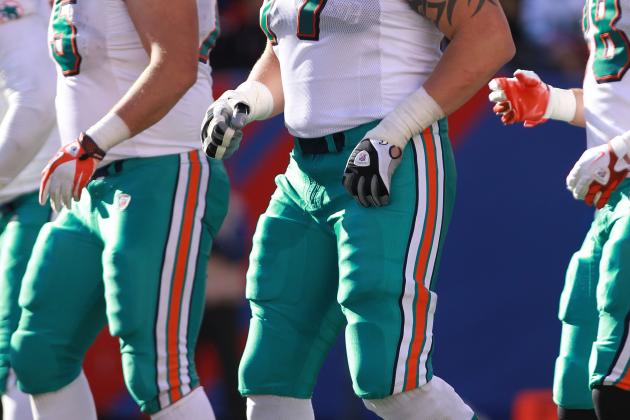 Nick Laham/Getty Images

An obvious place to start would be the offensive line where the Miami Dolphins have arguably the best blindside protector in the game in Jake Long. Philbin and company will look to make serious strides with the offense, and it all starts up front with the offensive line. It's safe to say Long is a Miami lifer, because offensive linemen of his caliber rarely hit the open market.
Long will factor into both the pass and run game, as he automatically makes the left side, the strong side. His pure strength and protective instincts are first class, and he is an irreplaceable piece to the Miami puzzle that Philbin is putting together.
Miami is also looking to add a quarterback(s), which makes Long terrific bait in that whole process. A player like Peyton Manning or any thrower really cares deeply about protection, and besides Browns tackle Joe Thomas, it doesn't get much better than Long.
Another terrific thing about Long is that he sets the bar high. Having a player who has performed at his level and with such consistency is a great example for newcomers and his fellow offensive line mates.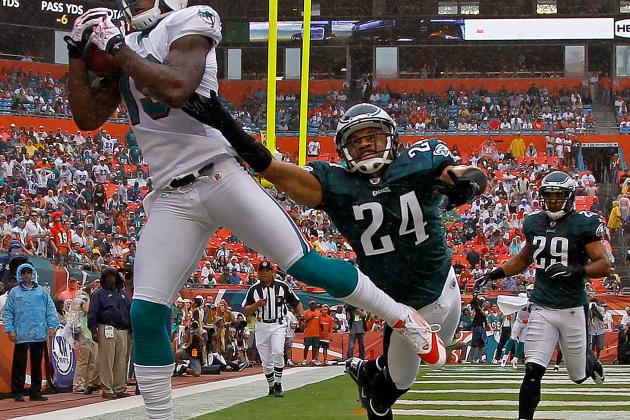 Mike Ehrmann/Getty Images

The Dolphins are also blessed with a top-flight receiver in Brandon Marshall, who is simply dominant. Unfortunately, he hasn't been lucky enough to have a consistent quarterback or offensive strategy to optimize his performance game to game, and thus equaling wins for Miami. Based on talent alone, Marshall is a commodity that would be difficult to let go.
And like Jake Long, Marshall proves to be prime bait for a quarterback looking for a fresh start or a rookie learning the ropes. Marshall can go up and get it; he runs all the routes and a dangerous deep threat with great size and concentration in terms of ball location.
To put it simply, Marshall is a legitimate playmaker who presents problems for all cornerbacks, including the AFC East's own Darelle Revis.
The Miami defense picked it up at the end of the year, but they need to be able to generate more plays downfield against high scoring AFC offenses like the New England Patriots. Marshall also serves a role in the run game in that he prevents defenses from really stacking up in the box.
His great hands will be a terrific asset for Philbin and Sherman's offensive plans going forward.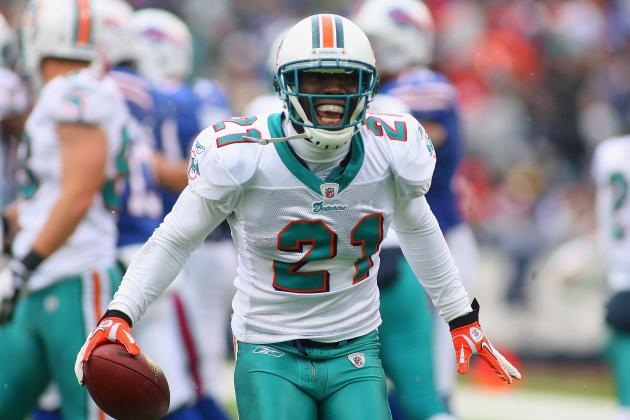 Rick Stewart/Getty Images

Vontae Davis is the best cornerback, if not the best defensive back the Dolphins have right now, and I believe the best of his career is ahead of him. Like his brother Vernon of the 49ers, Davis is a late bloomer and physical freak. The reason most of us have an objective view to the Miami secondary is due to how much they're on the field and the fact that they don't have a reliable safety.
Philbin will come in and improve the offense, giving the defense more breathing time and less opportunities to get clowned on. I also expect the Dolphins to add to their front seven in the draft, and pressure up front is key to the 3-4 defense.
I think Davis' play has also been hampered by the fact that Miami hasn't had the feel of a legitimate contender, and his inconsistency has been part of that. But in big games like when Miami and Dallas faced off on Thanksgiving this past season, the secondary looked sharp. I believe it was a brief preview of things to come.
They showed shades of excellence but consistency remained an issue, but that is likely to change under the new regime. Davis could easily emerge and have a breakout season that sends him to the Pro Bowl next year.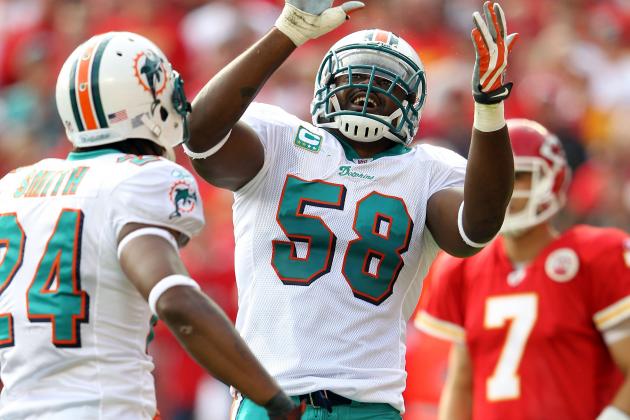 Jamie Squire/Getty Images

One of the Dolphins captains, Karlos Dansby, is a vital piece to the rebuilding year in Miami. Great teams are usually supported by great linebacking, and Dansby is a reliable big-time player that doesn't get enough recognition due to the team's performance.
Dansby is one of the few players with playoff experience, as he was a real leader for the Cardinals when they made their Super Bowl appearance against the Pittsburgh Steelers. He's a versatile guy, able to get to the quarterback, tackle fast guys and big guys, as well as snatch interceptions. If the Dolphins are looking to add a linebacker this offseason, Dansby will be the guy he follows.
It's a virtual certainty that he is one of the guys who is most excited about the fresh start Miami is expected to have next season. Dansby's career hasn't quite flourished since his departure from Arizona, but he as well could be punching a ticket to the Pro Bowl next year.
The Dolphins need to be strong at every level of their defensive infrastructure (DBs, LBs, DL), and Dansby certainly fills that role in spades. And that brings us to our next untouchable Dolphin...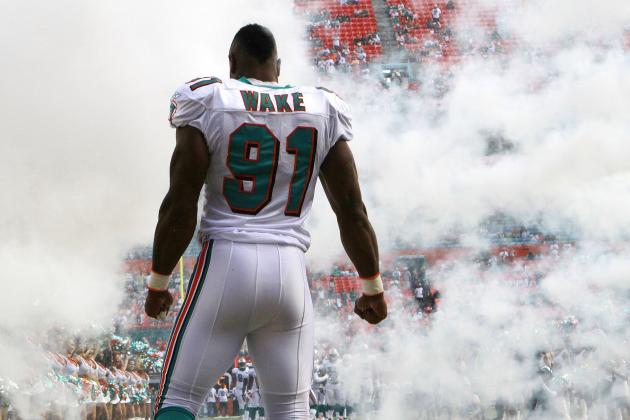 Marc Serota/Getty Images

Fearless. Dynamic. Explosive. Quick. Shifty. Wake.
Cameron Wake is a dynamite defender in the league right now, and carries with him a blue-collar attitude that will get you far in the NFL. He works hard, and it's paid off. Wake is a proven pass-rusher with double-digit sack capability.
In 2011, Wake registered 42 tackles that included 8.5 sacks, and all eyes were usually on him. The Dolphins intend to bring in another pass rush specialist to complement Wake, and in doing that, Wake could have a career year with 10, maybe 15-plus sacks.
Whether he is coming from the outside linebacker position, or has a hand in the ground, Wake can get there. Miami needs to beef up the defensive line though and add sure tackling linebackers to compete and for depth via the NFL Draft in April.
Coming from the CFL, Wake is 30 years old, and with only three years of NFL experience, but he could be entering the prime of his career. I love what he brings to the table and his attitude when doing it. He will be a marquee player for Miami for the next few years, easily.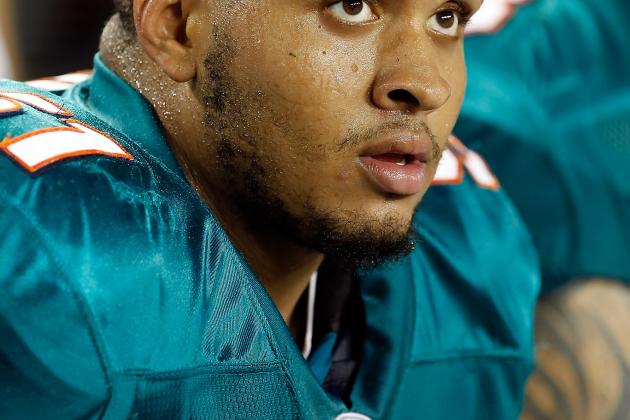 J. Meric/Getty Images

At 6'5", 303 pounds, Mike Pouncey is a beast of an offensive lineman. The Dolphin offensive line suffered backlash due to inconsistency and rotating players from tackle, to guard, to tackle, to center. As far as the offensive line goes, I think Pouncey and Long are the only safe ones in the future.
Miami needs to add a right tackle and possibly get stronger at the guard position, but Pouncey should be a staple going forward. Great center play from Pouncey will go a long way as the Dolphins rebuild in year one under a new staff brought in to intentionally make the offense a well-oiled machine.
His ability to get push will definitely assist the Miami run game as they look to get Daniel Thomas and Reggie Bush going. He's a got great strength and is highly capable of opening holes for the backs. And once again, Miami is looking to bring in a quarterback that will turn them into contenders, and a positive center-quarterback relationship is a strong foundation to most passing offenses.
Pouncey, 22, is sure keeper.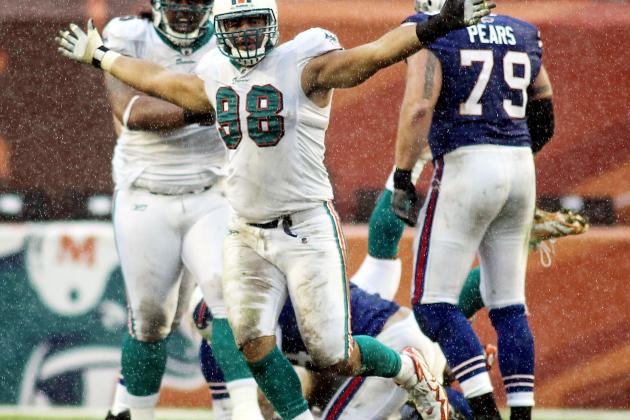 Marc Serota/Getty Images

A high draft pick a couple years ago out of Penn State, Jared Odrick recorded six sacks last season with Miami. At 6'5", 304 pounds and at such a young age, Odrick could become the Haloti Ngata or Justin Smith of the Miami Dolphins. He's a powerful, big-bodied guy that helped the Dolphins attain the title of the third best team against the run.
One thing the Dolphins need to do in their defensive scheme is be able to set the edge and occupy space for linebackers to make plays. The defensive linemen also need to be able to get pressure when only rushing three or four, considering the division they play in. I see Odrick as a guy who is capable of doing these things for years to come with the proper development.
Given the right opportunity, Odrick could grow into an established defensive lineman, although most might think it's early to make that assumption.
He certainly has the physical requirements for the job, and coming from 'Linebacker U,' Odrick knows how functional defenses operate, especially in the trenches. Look for a bigger role from Odrick next year, which means more stats. I also believe he has the versatility to come in on offense and be a power fullback on short-yardage situations.
Only time will tell, but it appears that the Miami Dolphins have collected a lot of talent over the years and are only really a couple guys away from year-to-year contention.