NBA Rumors: 5 Reasons Danny Ainge Would Be Wise to Keep Rajon Rondo in Boston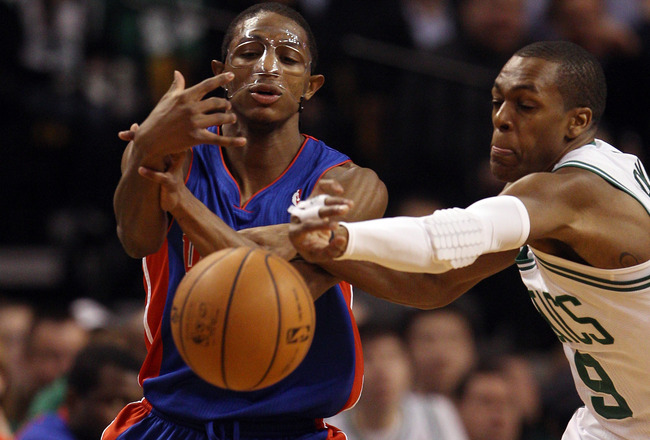 Elsa/Getty Images
If Danny Ainge is sincere that Rajon Rondo is not on the trading block, the Boston Celtics are well-served.
On Friday night, the director of basketball operations attempted to squash rumors swirling around the Boston point guard.
Ainge purported, "I haven't made a call mentioning Rondo's name since last summer. That was during all of the Chris Paul stuff."
With the Rondo rumor mill churning so frequently over the last several months, it's hard to decipher whether Ainge's words ring true.
But with the NBA trade deadline just 11 days away, Boston would benefit from keeping the All-Star point guard on their roster rather than trading him. Here's why.
1. The Celtics Are Not Going to Get What They Give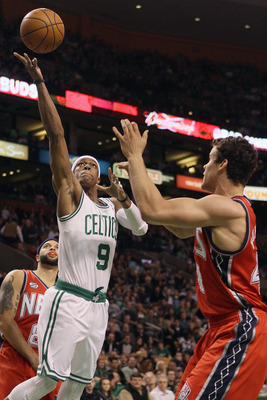 Elsa/Getty Images
If the Celtics are going to dump Rondo, they'd better receive an All-Star knockout player in return. But that scenario is unlikely.
As the clock ticks toward the trade deadline, point guards who remain on the trading block are too risky for the Celtics. Names that are floating around the Boston bench include Indiana Pacer Darren Collison, Golden State Warrior Stephen Curry and New Jersey Net Deron Williams.
Collison is an underdeveloped player. He has potential, but it is not worth putting Boston's future on the line until we know how well this guy can actually play.
Curry is poised to be one of the NBA's best—if he stays healthy. The Warriors may offer up Curry before March 15 if they remain concerned about his long-term health. With a bird in the hand in Rajon Rondo, the Celtics would be wise not to take a risk on Curry.
Deron Williams seems like the most viable option of the three, but he drags in attitude problems similar to those that worry Rondo skeptics. The disgruntled point guard has made it well known that he is not pleased in New Jersey.
Further, it seems less likely that Dwight Howard would be enticed to join Williams in Boston—a major upside for advocates of the Williams-for-Rondo trade. The Orlando Magic have been fighting harder than ever to keep their star center, including recruiting talent to prop up Howard.
With the trade deadline impending, the Celtics are at a loss for how to obtain adequate value for their star guard.
2. Rondo Is a Great Centerpiece to Build Around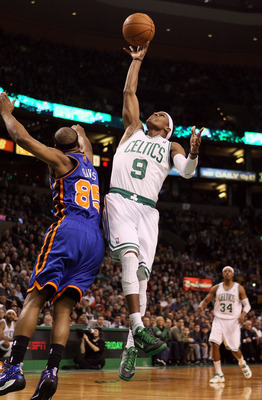 Elsa/Getty Images
Rajon Rondo would be a great centerpiece for the Boston Celtics to build around in upcoming years.
Rondo 's Achilles heel may be his shooting, but he excels elsewhere on the court. His defense and passing ability earn him a spot among the top five point guards in the league.
But a point guard is only as good as the players for whom he creates opportunities. And Boston's aging core is letting Rondo down.
Rondo is the guy the Celtics must build the team around if Boston intends to re-up in coming years.
If the C's can recruit big young shooters to the Garden, Rondo will work his magic creating opportunities for them—even if he has a horrible jumper.
3. Rondo Is Having an Outstanding Season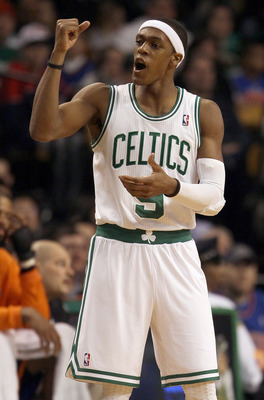 Elsa/Getty Images
Averaging 14.2 points, 9.8 assists and 4.9 rebounds per game, Rondo is having the best statistical season of his NBA career.
Recently, Rondo silenced Linsanity and his New York team with a triple-double against the Knicks.
This year, he was named to the Eastern Conference All-Star team, where he competed in the skills competition.
The Boston Celtics are in need of a makeover, and to do that, they must break up the core of the 2008 NBA Finals team. But it doesn't make much sense for Boston to trade away a player who is at the peak of his game and only looking to go up.
They would be better served to trade a player whose game is on the decline.
4. Rondo Is Young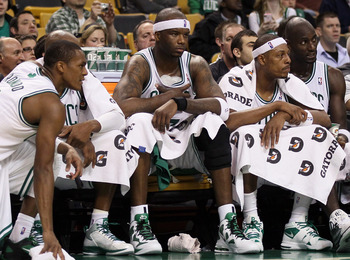 Elsa/Getty Images
Makeup can no longer hide Boston's wrinkles—the Celtics are an aging bunch.
And while collagen cannot save them, the team would stand to benefit from an injection of youth.
So why throw away a high-performing 26-year-old athlete in favor of someone like 31-year-old Pau Gasol? This deal was rumored in February. While Gasol is an incredible player, his age will inevitably catch up to him in several years.
There's no reason for the Celtics to increase the average age of their roster. Instead, they must focus on regenerating a championship-caliber team. Rondo's youth is an asset to the Celtics, and they should be wary of trading him.
5. Rondo Is Maturing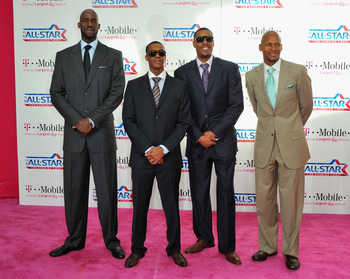 Alberto E. Rodriguez/Getty Images
While many cite Rondo's behavioral issues as a concern, the point guard is displaying signs of maturity.
Rondo is usually noted for his dramatic and emotional outbursts, but after recovering from the trauma of the Chris Paul trade rumors, the point guard has reacted kindly to the whispers that have pursued him all season. Rondo said of those rumors,
I'm doing all right. Like they say, it's part of the business. I'm happy just playing basketball. I'm happy with the guys they have surrounded me with, the coaching staff. Other than that, when I'm on the court I'm just focused on winning and just having fun while I'm doing it.
Rondo's attitude is a good sign that the point guard is maturing.
And as he continues to mature, he will have leadership potential on this Celtics team going forward.
Keep Reading

Boston Celtics: Like this team?