Jaromir Jagr Eyes Mario Lemieux on NHL's All-Time Points List
March 4, 2012

Jed Jacobsohn/Getty Images
At the age of 40, Jaromir Jagr still looks up to Mario Lemieux, both figuratively and literally.  With his 1,642nd point in the NHL, Jaromir Jagr recently moved past Joe Sakic and into eighth place on the NHL's all-time points list.
While passing Sakic is certainly noteworthy, passing the next guy on the list will mean much, much more to Jagr.  You see, the next player on the all-time points list is Mario Lemieux.  On several occasions Jagr has stated that Lemieux was his idol and that he wouldn't be the player he is today if it weren't for Lemieux. 
In one of the more bizarre statistics in NHL history, before Lemieux came out of retirement during the 2000-01 season, Jagr had assisted on exactly 66 of Lemieux's goals and Lemieux had assisted on exactly 68 of Jagr's goals: their respective uniform numbers.
Of course, once Lemieux came back, they went on to assist on many more of each others' tallies until Jagr was traded away to the Capitals.  Jagr and Lemieux certainly would not be as high on the all-time points list if it weren't for each other.
The big question now is, can Jagr catch Lemieux?  Jagr seems very interested in playing at least one more season, but he may need more than that to catch Lemieux.  Jagr is on pace to finish the season with somewhere around 55-60 points.  For the sake of argument, let's say he finishes the season with 60 points. That will leave him with 1,659 points, 64 behind Lemieux.
It would be very interesting to see, come March/April 2013, how close Jagr could get to Lemieux.
Health will be a major factor. Jagr has had a history of nagging groin injuries, yet he does keep himself in meticulous shape. He is often found skating on his own at the Flyers' practice facility, for which he has his own key. Additionally, he does not drink or have anything resembling an unhealthy diet.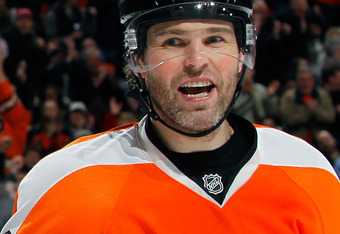 Paul Bereswill/Getty Images
In addition to catching Lemieux on the all-time points list, Jagr also has a realistic chance to catch Lemieux on the all-time goals list.  Again, it would probably come down to the wire at the end of next season, but Jagr could do it if he remains healthy.
Currently, Jagr sits at 663 goals, just five short of Luc Robitaille's  668 goals, which is good for No. 10 on the all-time goals list.  In ninth place sits Lemieux with 690 goals.
Jagr will likely catch Robitaille by season's end, which would leave him 22 goals shy of Lemieux.  That doesn't seem like much for a player like Jagr, but at the age of 41, it might be a lot to ask. 
Jagr would be the first to tell you that Lemieux was the better player of the two, and he would be correct from a strictly points-per-game perspective. While Jagr's milestones are certainly impressive given the fact that he left the NHL for three seasons, Lemieux's career was also riddled with injuries and a retirement that lasted three and a half seasons.
In fact, Lemieux is the only player in the top ten all-time points list that has less than 1,000 games played (915).  Compare that with Jagr, who has played 1,327.
The point of these statistics is not to diminish Jagr's accomplishments, but rather to drive home just how elite the company is that Jagr is now amongst.
So, will Jagr catch and then pass Lemieux in goals and/or total points?  Well, that remains to be seen, but the important thing right now is to just enjoy watching Jagr while there's still a chance.