Chicago White Sox: Is Chris Sale Ready to Break out in 2012?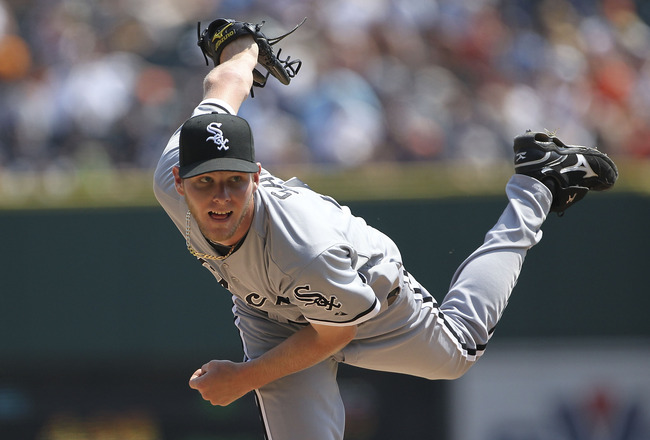 Leon Halip/Getty Images
Chris Sale was drafted 13th overall in the first round of the 2010 MLB Draft. Three months later in August, he was mowing down guys in the big leagues.
After his first full season in the majors, Sale has proved to be an elite left-handed arm out of the bullpen. Since breaking into the league, the southpaw has struck out 111 batters in 94.1 IP. Considering the fact that he's maintained a 2.58 ERA and a 1.10 WHIP, that's pretty unbelievable.
Regardless of his success in the pen, it remain to be seen if he can make the transition to the starting rotation.
To put it quite simply, he's a lanky beanpole with a herky-jerky delivery. This combination might not necessarily result in success as a starter.
For Sale to thrive for the duration of the 2012 season, several things need to happen.
Work on the Change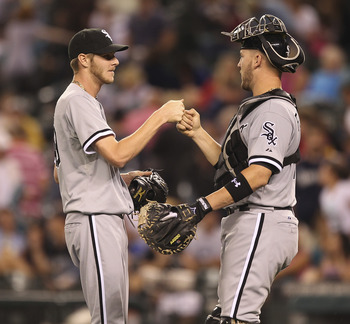 Otto Greule Jr/Getty Images
For a power pitcher, this might be the biggest adjustment transitioning from the pen. In order to limit his pitch count, throwing strikes and getting quick outs are essential.
Whereas relief pitching is a sprint, starting pitching is a marathon.
Usually, fastball/slider combo pitchers fall in love with swings and misses when they should be worrying about getting outs efficiently.
The answer to this dilemma: developing his changeup.
According to FanGraphs, Sale has only thrown changeups 10.6 percent of the time throughout his career. If that number goes up to 15 percent, his pitch count will likely go down as hitters will roll over and pull weak ground balls.
Those are good things for any pitchers. Let's hope Coop and Sale will make this their project for spring training.
Trust me, Sox fans. You'll be happy when Sale learns how to sell a changeup to the likes of Prince Fielder and Eric Hosmer.
Put on Some Weight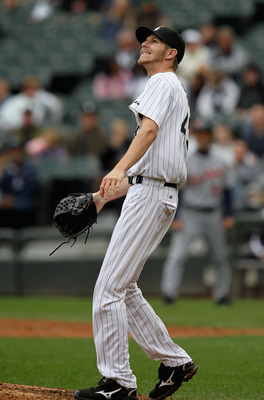 Jonathan Daniel/Getty Images
He's 6'6" and 180 lbs. Keep in mind, he's not a cartoon drawing.
Seriously, can Sale handle the rigors of 162-game season with that wiry of a frame?
I don't know how the White Sox training staff will do it, but the guy needs to put on some weight. By the time August rolls around, we'll be lucky if Sale doesn't blow away like a hotdog wrapper on a windy day.
The added weight will benefit the beanpole twofold.
1) Its presence will allow the hurler to physically make it through 25-30 starts.
2) Perhaps its addition will add a couple notches to his fastball? 95-96 mph could become 96-97 mph.
Scary.
Learn How to Fight Through a Game
Hannah Foslien/Getty Images
Sale is a power pitcher who usually is on his A-game.
Out of the pen, this is expected from a top talent roughly 90-95 percent of the time.
As a starter, there will be outings where Sale doesn't have his good stuff.
Will the 22-year-old be able to persevere and get by without his top arsenal? It remains to be seen.
The American League is loaded with hard-hitting teams that are extremely patient. The New York Yankees, Boston Red Sox, Detroit Tigers, Los Angeles Angels of Anaheim and Texas Rangers won't go down easily.
Those teams will take a ton of pitches and Sale will need to adjust. Given his youth, Sale might need some time to make that mental transition.
With low expectations, at least the Sox have it.
Pitch Around 180 Innings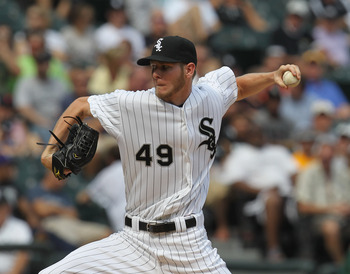 Jonathan Daniel/Getty Images
Chris Sale has the most upside of any White Sox starter. He's a young left-hander with top-of-the-line stuff. Hopefully, the organization doesn't push his number of innings.
Transitioning from the bullpen is a process that usually takes more than one season. The Sox can't bait themselves into making the youngster exceed 180 innings.
Recently, Sale has publicly said that he expects to throw 200 innings. In my estimation, that number is a bit lofty. If he throws 160 innings with a mid-three ERA and a 1.18 WHIP, I'll be more than pleased.
It's important that the White Sox front office doesn't mortgage its future for Sale's short-term success. In time, the lefty will be an ace if everything goes according to plan.
For now, let's get him acclimated to his new role and keep him healthy.
You don't think GM Mike Rizzo and the Washington Nationals are holding their breath after every pitch Stephen Strasburg throws?
Final Thoughts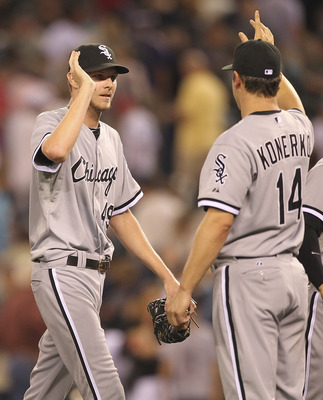 Otto Greule Jr/Getty Images
Chris Sale will be a phenomenal major league starting pitcher...in time.
He's got the arsenal and mindset to get people out for a long time.
For now, baby steps are instrumental for the youngster. He needs to get stronger, put on weight and learn tools of the trade. In time, he will hopefully accomplish all three of these essentials.
In 2012, Sox fans need to be realistic. There will be games that he dazzles and games that he falters.
At the end of the day, 2012 will be considered a success if Sale stays healthy and works on his changeup.
South Side of Chicago, maybe we've found our ace of the future?
Keep Reading

Chicago White Sox: Like this team?