Boston Red Sox: One Bold Prediction for Every Player on the 25-Man Roster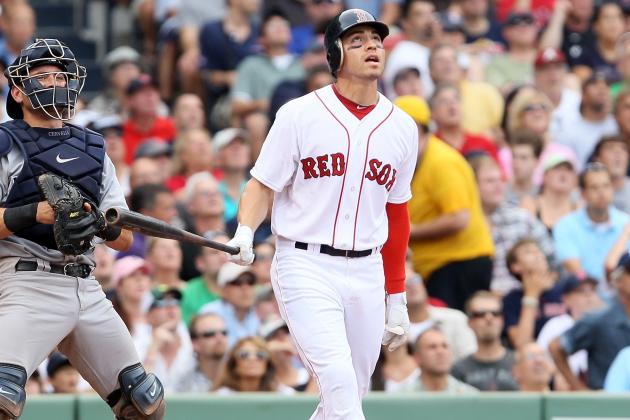 Elsa/Getty Images
Can Jacoby Ellsbury aim even higher this season?
Baseball is of course a team sport. No individual player can single handidly determine the outcome of every game.
The sports' 162 game regular season insures that a variety of players will make contributions throughout the season.
When the Red Sox eventually start to play games that count the individual players will start to write the story of the 2012 season. The 2012 Red Sox will eventually be known as "something". A "winner", a "loser". There will be numerous accolades and critiques hurled in their direction.
The individual players will get that treatment as well.
While no one on the 2011 Red Sox could have been happy about the way the season concluded it's a safe bet to assume that Jacoby Ellsbury entered the offseason feeling a little better about 2011 than John Lackey did.
What will the members of the 2012 Red Sox be remembered for?
Begin Slideshow

»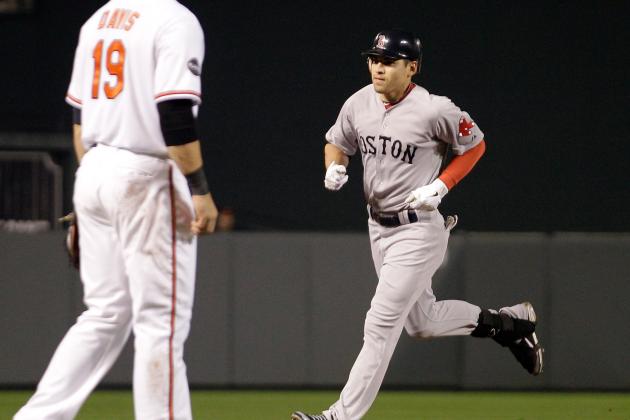 Rob Carr/Getty Images
2012 could see Jacoby Ellsbury engage in less home run trots.
Jacoby Ellsbury probably can't do much better than he did in 2011.
He finished second in the MVP voting. He had over 30 home run, over 100 RBI, he hit over .300, scored more than 100 runs and swiped 39 bases. Add in his gold glove and there can be no question that Jacoby Ellsbury had an amazing 2011 season.
The 2012 season probably won't be too bad either. Many aspects of his 2011 season seem quite attainable. Nonetheless a decline in his home runs and RBI numbers seems like a logical prediction for Ellsbury.
Look for his stolen bases to increase and possibly his runs scored as well.
Ellsbury should be a fairly safe bet to repeat as a gold glove winner too.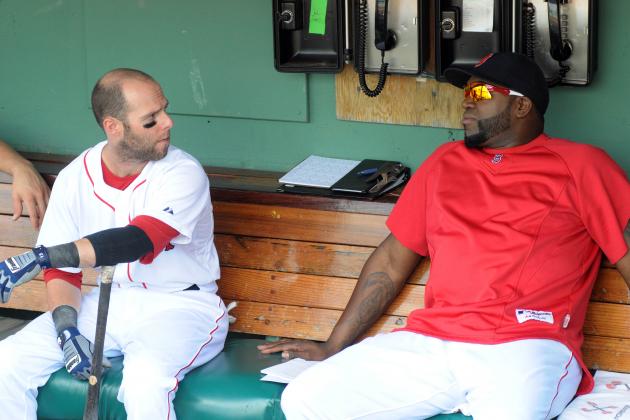 Darren McCollester/Getty Images
Pedroia already displays leadership. It could be more overt in 2012 though.
There's no question that on the field and in the dugout Dustin Pedroia is one of the Boston Red Sox true leaders.
He could take on an even greater role this coming season.
Jason Varitek has retired. Varitek was the "Team Captain". While there's no evidence to suggest that the team will officially name Pedroia " Captain" his role as leader now has room to expand.
Pedroia who displays plenty of passion on the field during games may take on a role in which his passion is allowed greater influence in the clubhouse, in the dugout and possibly in view of the media.
Whether or not it has a positive impact on the Red Sox remains to be seen but Pedroia is a more overtly intense person than Jason Varitek.
That's the theme of this team which has also replaced former manager Terry Francona with outspoken Bobby Valentine.
Varitek and Francona seemed to lead more by example. Pedroia and Valentine both wear their hearts on their sleeves. Only time will tell which combination will work better for the Red Sox.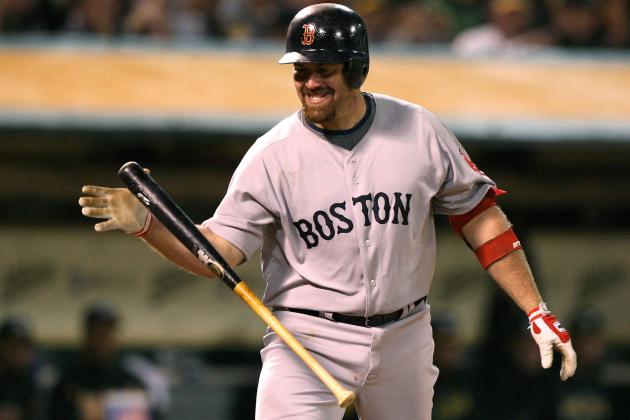 Jed Jacobsohn/Getty Images
2012 could be another tough one for Kevin Youklis.
It's not that Kevin Youklis isn't a good player. He's been great for the Red Sox for a number of seasons.
The problem is that Kevin Youklis isn't in a situation where one can realistically expect him to return to his past peak performance levels.
Youklis is an emotional player. His exuberance shows when he performs well and his frustration shows when his play is subpar. That frustration may hinder his ability to bounce back from frustrating errors in the field or a tough at bat.
Youklis is also getting older and has become increasingly injury prone.
His move to third base hasn't helped things at all. It's great that Youklis was so willing to take on the challenge of moving back to third base when the Red Sox acquired Adrian Gonzalez but at his advancing age he's not a great third baseman anymore and playing the position has only increased the likelihood of injury.
Youklis will have a better season than last year when he missed over 40 games but he's not going to be returning to the level of play he was at in 2008 and 2009 when he made two All Star teams and finished both seasons in the top six of MVP voting.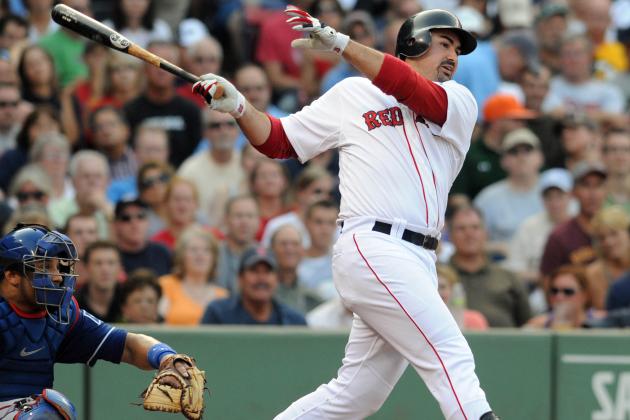 Darren McCollester/Getty Images
Gonzalez seems like a candidate for a great season.
Adrian Gonzalez truly seems poised for a monster season.
For those who thought last year was impressive you'd be right but if you think that's the best he can do in Boston then you may very well end up quite wrong.
A few things about Gonzalez and his 2011 season.
He started the season recovering from offseason shoulder surgery. It was his first season playing in the American League and he admittedly was unprepared for the rigors of playing in a playoff race as well as in the intense cauldron of Boston Sports.
"This has been my toughest season physically because of that. We play a lot of night games on Sunday for television and that those things take a lot out of you."- Boston Globe 9/29/11
This season Gonzalez will enter the season healthy, he'll know what to expect as far as the schedule and the intensity level goes as well. Hitting at the top of one of baseball's better lineups and in a very good hitters ballpark Gonzalez should reap even greater benefits.
His 27 home runs last season represented his lowest output since 2006. He still knocked the cover off the ball but this season look for more home runs and as a result increased RBI production as well.
It's going to be a very good season for Adrian Gonzalez.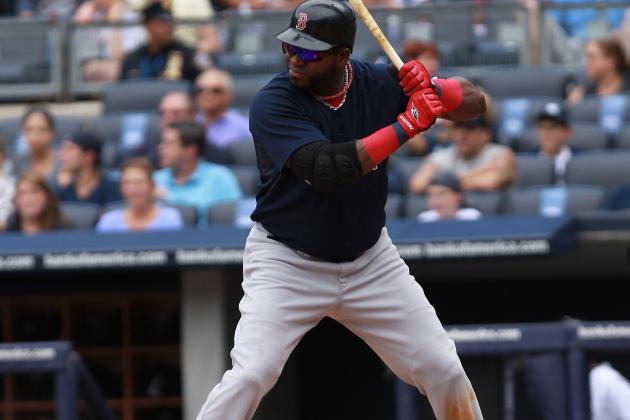 Nick Laham/Getty Images
Still a feared hitter. David Ortiz will continue to hit in 2012.
Unlike Kevin Youklis who is tasked with playing a grueling position as his body ages David Ortiz is a man who can focus on one thing and one thing only.
Hitting the ball.
Ortiz who endured a few injury plagued seasons of his own in 2009 and 2010 returned to his position as one of the American League's most feared hitters last season.
Even better Ortiz showed something that all baseball fans can appreciate. Ortiz improved his hitting against left handed pitchers in 2011. It was something that had always been a weakness but in 2011 Ortiz hit an astounding .329.
The .329 mark represented an increase of over 100 points from his paltry .222 in 2010. Ortiz may not hit at that level this season but he's not likely to return to the low levels he has experienced in his career.
Ortiz and his big bat will be a prominent part of the Sox offense this season.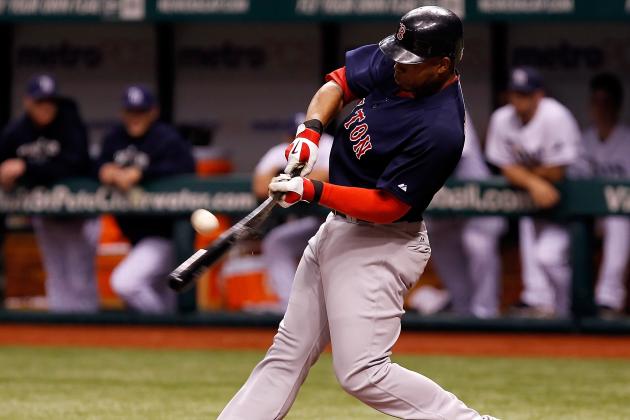 J. Meric/Getty Images
2012 should be better than 2011 but it won't be that great.
As a Red Sox fan it's nice to imagine a scenario in which Carl Crawford returns from his disappointing 2011 and tears up the American League.
It's nice but it's probably not going to happen.
When it comes to baseball if you're a hitter a wrist injury and wrist surgery are both things that can be very disruptive. That's what Carl Crawford is dealing with right now.
Crawford who recently suffered a setback in his recovery was already facing the prospect of missing one or two weeks at the beginning of the season.
That lost time combined with him missing spring training games is going to make slow return to the majors very possible.
Crawford should eventually bounce back and it's not a bad bet to think he'll improve from last year's dreadful production but for those targeting some sort of career year or an explosive second year similar to what Curtis Granderson experienced in New York it's probably not going to happen.
Elsa/Getty Images
Will 2012 be the season that Jarrod Saltalamacchia finally lives up to his billing?
Jarrod Saltalamacchia was once a top catching prospect.
Those days are in the past and now Saltalamacchia is the heir apparent to Jason Varitek as the Red Sox catcher.
Last season Saltalamacchia established himself as a decent defensive catcher and a fairly unimpressive offensive one.
With Ryan Lavarnaway and his big bat lurking in the minor leagues Saltalamacchia has to either increase his offense or make himself defensively indispensable to the team.
Look for Saltalamacchia to become better defensively as well as increase his offensive output this season. He might not ever be Jason Varitek but Red Sox fans will eventually grow quite fond of Jarrod Saltalamacchia.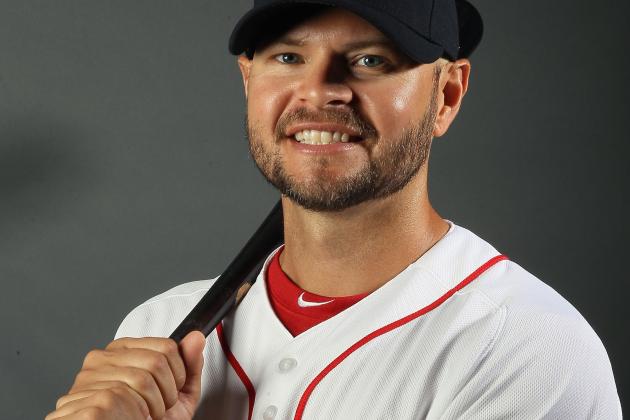 Elsa/Getty Images
Cody Ross will give Red Sox fans reason to smile in 2012.
Cody Ross is currently competing for the starting right field job on opening day 2012. He's got to beat out Ryan Sweeney, Darnell McDonald and possibly Mike Aviles.
Ross is going to win the job and on top of that he's going to be the bright spot in what most baseball experts considered an underwhelming class of new Red Sox players.
Ross is coming off a terrible year playing on a terrible offensive baseball team in San Francisco.
Ross will enjoy hitting in the Red Sox talented lineup. He'll also enjoy hitting in Fenway Park.
Look for Ross to hit around .280 with over 20 home runs and 75 RBI. He'll also nail down the right field job and eliminate the potential for a platoon at the position.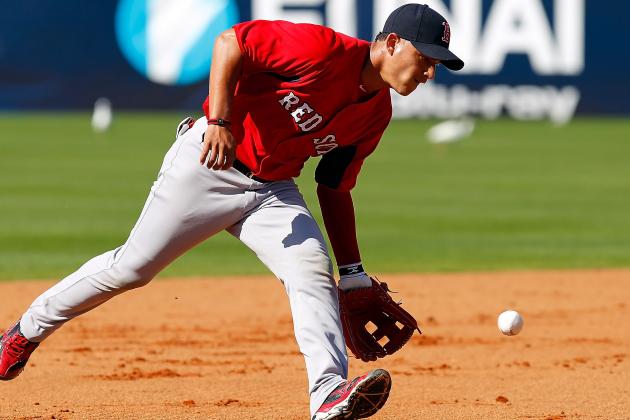 J. Meric/Getty Images
In spite of a great glove Jose Iglesias isn't ready to hit big league pitching.
Jose Iglesias has been one of the bright up-and-coming prospects in the Red Sox system for several years now. He could be the Red Sox shortstop of the future but that future is not now.
With new manager Bobby Valentine under enormous pressure to compete at the top of the American League he's not likely to hand over the starting shortstop job to a rookie with a weak bat and next-to-nothing in the way of big league experience.
He's going to have to though. With third baseman Kevin Youklis' limited range and potential for injury having great range and a great glove at the shortstop position has added importance.
Iglesias might become a serious offensive liability but the Red Sox weakness at the third base position is going to make his glove a near necessity.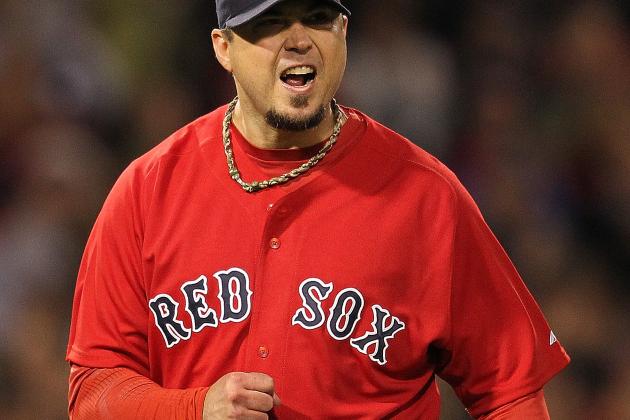 Jim Rogash/Getty Images
Josh Beckett will play with passion and some anger this season.
No player faced more scrutiny in the aftermath of last season's collapse than Josh Beckett.
Several bad starts in September turned what should have been a very good season for Beckett into one he'd just assume forget.
He can't forget it though.
Beckett enters the 2012 season as the team's number one starter. Even coming off a season in which Beckett finished with an earned run average under 3.00 he's got work to do with his image.
Bobby Valentine and his outspoken manner may provide an even greater dose of motivation as Beckett seeks to repair what had been a fairly good reputation among Red Sox fans.
Beckett is going to get it done this year. Barring injury Beckett will compete for the American League Cy Young Award. Throughout his career Beckett's heart has never once been questioned. At the same time Beckett has rarely been able to put together seasons in which he was at his best from wire-to-wire.
Perhaps the sting of last season is just what Beckett needs?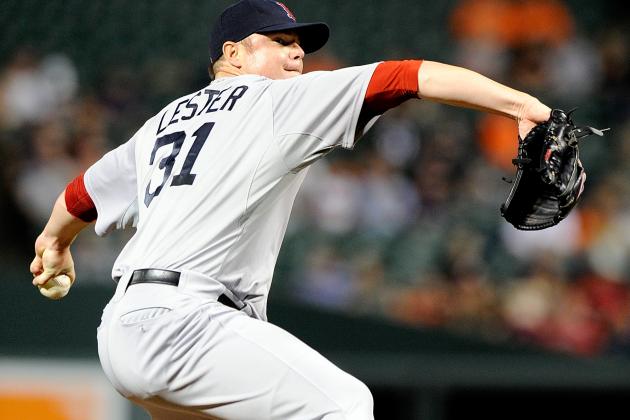 Greg Fiume/Getty Images
Jon Lester will eliminate some of those awful starts but still won't dominate.
Jon Lester has been a pitcher seemingly on the verge of becoming an ace for several years now. This season won't feature a Cy Young Award. It will be one in which Lester learns to finally avoid imploding when a few calls don't break his way.
That will be an improvement for Lester but and will also cement Lester as the Red Sox number two starter and one of the American League's better lefties.
Lester has always been prone to a few completely uninspiring outings but as with Josh Beckett Lester had a few memorably bad outings down the stretch last season.
In addition he appeared fatigued as the season wore on.
With Bobby Valentine's fondness for fitness as well as a philosophy that doesn't include rigid pitch counts for his starters Lester is going to work harder on and off the mound this season.
To no one's surprise that hard work will payoff.
Abelimages/Getty Images
Clay Buchholz will be healthy in 2012.
Two things two expect this season from Clay Buchholz.
He's going to be healthy.
He's not going to come close to matching his 2.33 earned run average from his stellar 2010 season.
Buchholz who has battled injuries throughout his career will finally have a healthy season but to expect a return to the low earned run average of 2010 seems unlikely. The numbers he produced in 2010 just aren't consistent with the rest of his body of work.
He can still be a very solid valuable pitcher but earned run averages under 2.50 aren't very commonplace and for Red Sox fans to expect that type of production is unrealistic.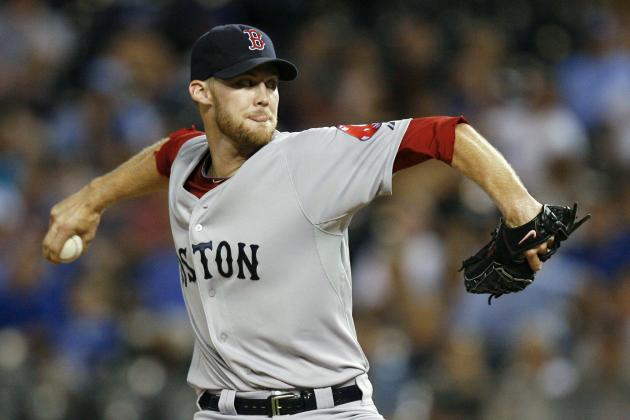 Ed Zurga/Getty Images
Daniel Bard will emerge from a crowded field to claim the fourth starting position.
Daniel Bard is going to emerge as the Red Sox number four starter.
He'll start the season looking good but by midseason he'll have his fair share of bad outings.
It's not going to be a great first season for Bard as a starter but given how much the Red Sox value his arm Bard will get lots of leeway and be given an inordinate amount of time to develop into a starting pitcher.
He's not going to establish himself in that role this season though.
Bard has such a limited body of experience as a starter at any level of professional baseball. That means he's going to have to conquer numerous issues that all starters encounter as they mature.
Overcoming bad calls or bad innings? Bard has to deal with that.
Overcoming a bad start? Bard has to deal with that too.
Facing batters more than once in the same game? Yep that's going to be fairly new to him as well.
Being removed from a game when you've pitched well only to have the bullpen blow the game? Yes, yet another in a long list of new challenges for Bard to conquer.
He'll get his starts in because he can't learn without experience but it's going to take time. Bard will emerge and a good starter. In 2013.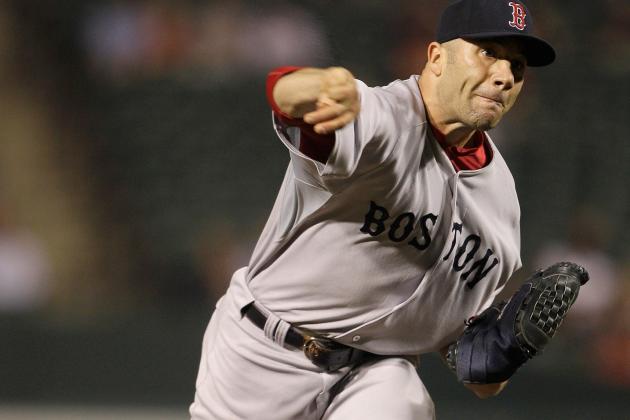 Rob Carr/Getty Images
Look for Aceves to do a little of everything in 2012.
Part of what made former Red Sox pitcher Tim Wakefield so valuable was his flexibility.
Wakefield could give you a month-and-a-half of solid starts and then go back to the bullpen and provide solid one or two inning relief stints for the remainder of the season.
Wakefield is gone but Alfredo Aceves will take on that role this season. He basically did that last season when he made spot starts and also shined out of the bullpen. This season will be similar.
Aceves will contribute whenever and wherever needed. That type of workmanlike role will further endear him to Red Sox fans.
Darren McCollester/Getty Images
Mike Aviles will be used frequently by Bobby Valentine.
Mike Aviles may end up playing a role similar to that of a valued sixth man in basketball this season. All the ingredients are there to make that happen.
The Red Sox have a new manager in Bobby Valentine who likes playing a more National League style of baseball. Bunts,pinch-running, pinch hitting, switches in the field all will play more prominent roles on this season's Red Sox.
For a versatile player such as Mike Aviles who can play both corner outfield positions, second base, shortstop, third base and even first base that's going to create a lot of opportunities.
Add to that the fact that Aviles can steal an occasional base and also hit with a touch of power and the likelihood of Aviles appearing in a ton of games even without a starting position are all in place.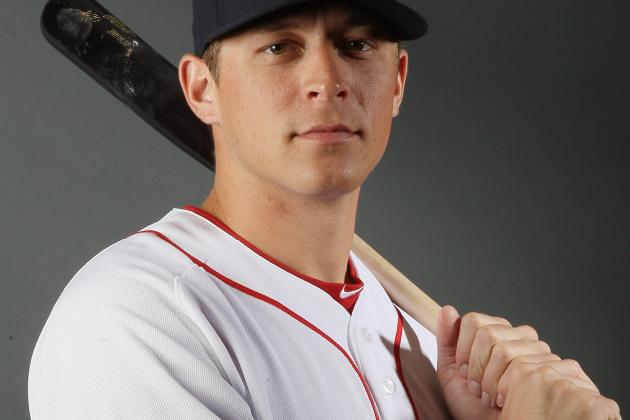 Elsa/Getty Images
New addition Ryan Sweeney won't rejuvenate his career in Boston.
Why Ryan Sweeney first arrived in Boston as part of the Josh Reddick-Andrew Bailey deal some saw him as an eventual starting outfielder.
That's not going to happen though. Sweeney may get some early season starts when Carl Crawford is injured but barring a slew of other injuries this could be a long season for Sweeney.
Sweeney doesn't run much and he doesn't hit for much power. He's not as versatile a player as Mike Aviles and his glove while adequate is not so good that he's got to be on the field.
Sweeney is a decent contact hitter who routinely hits for a decent average and to be sure if there are injuries then he'll end up playing plenty. If the outfield remains relatively healthy then there won't be too many chances for him. As a left handed hitter he could pinch hit for Ross in certain situations.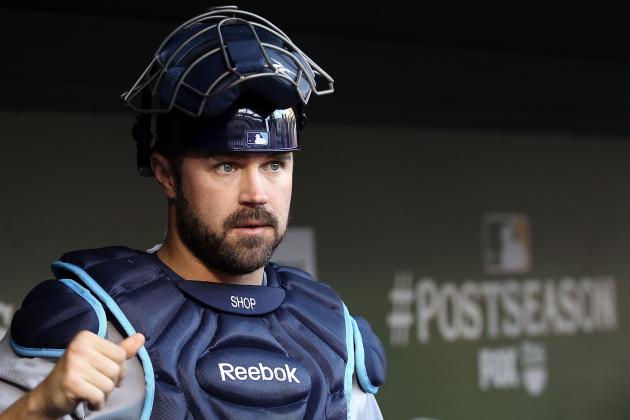 Ronald Martinez/Getty Images
Veteran Kelly Shoppach will be a solid backup catcher.
The handwriting for Jason Varitek really first appeared on the wall back on December 13th 2011. That was the day that the Red Sox inked Kelly Shoppach to a one year $1.14 million dollar contract.
From that point forth there really wasn't a spot for Varitek on the 2012 Red Sox. Shoppach will be a solid backup catcher in Boston. He'll start one or two games a week and with his above average power look for Shoppach to hit at least a few pinch hit home runs this season.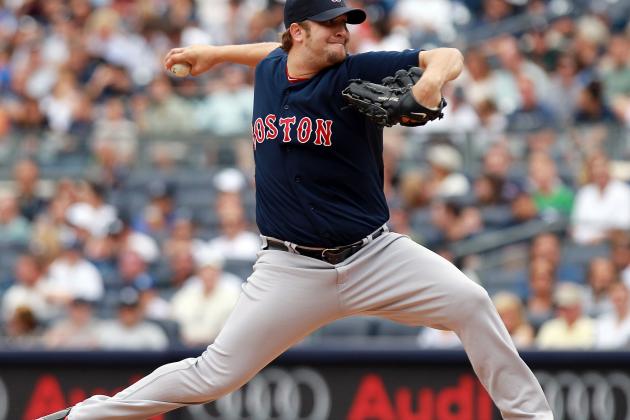 Nick Laham/Getty Images
Albers' unusually good first half last season will prove an aberration.
Matt Albers was on his way to a career season last year when something funny happened.
The halfway point. For whatever reason Matt Albers went from very good middle reliever in the first half to downright terrible in the second half.
Albers will start the season as a middle reliever in Boston but when it becomes apparent that his second half was more the rule than the exception Albers will find himself either waived or dealt. The Red Sox signed a number of pitchers who could potentially replace Albers in the bullpen.
It will be a frustrating process of trial and error as Valentine works to find a bullpen rotation that works but it's a safe bet that when he eventually does Matt Albers won't be part of it.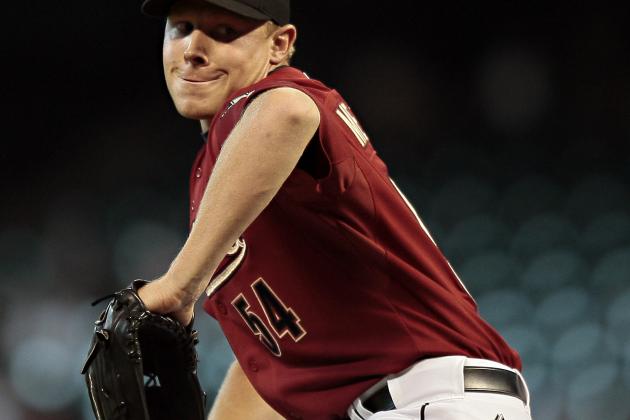 Bob Levey/Getty Images
Mark Melancon will take time to find his groove in the American League.
Unfortunately for fans of the Boston Red Sox their set-up man is highly likely to be their team's number four starter this season.
The replacement is named Mark Melancon. Melancon closed in Houston last year and put up decent numbers.
He's entering a whole new set of circumstances though. The National League Central is not the American League East. The Red Sox nation has a bit more passion than fans of the Houston Astros and the expectations are across the board higher.
Melancon is going to struggle. The bullpen will be an issue this season. Regardless of how poorly the Red Sox finished the season the performances of Bard and departed closer Jonathan Papelbon are not going to be easily replicated or replaced.
Melancon could even lose the eighth inning job if he stumbled consistently. He will, provided he's allowed the opportunity right the ship and improve as the season wears on but it's going to be a tough start and Red Sox fans who aren't known for their patience will need to employ some.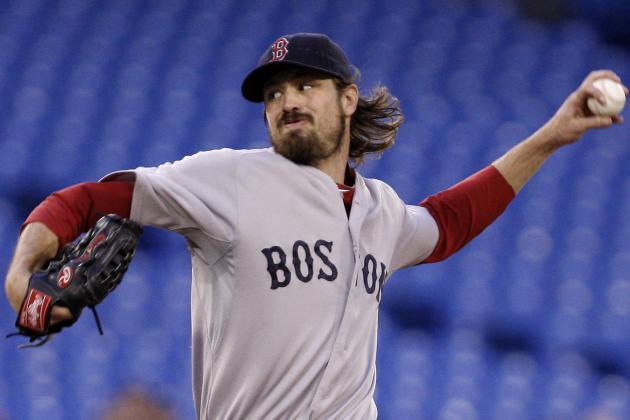 Abelimages/Getty Images
Andrew Miller will end up coming out of the pen.
At one point Andrew Miller was a highly touted starting pitcher. A key component of the Tigers minor league system Miller was shipped off to Florida as a key part of the trade that sent Miguel Cabrera to Detroit.
Miller had plenty of potential but things didn't pan out for Miller. He struggled in Florida and was eventually released. The Red Sox claimed him off waivers before the start of the 2011 season. Miller eventually made his way to the majors and earned some starts but it became apparent over the course of those starts that Miller was not the solution to the Sox starting pitching woes.
He's not going to solve any starting pitching woes this season either.
Andrew Miler may will end up having a decent season as a long or middle reliever. Miller won't appear in too many close games but he'll end up coming into some games and holding leads or stemming rallies. Andrew Miller won't be the pitcher that so many thought he would be but he'll end up as a productive member of the Red Sox bullpen.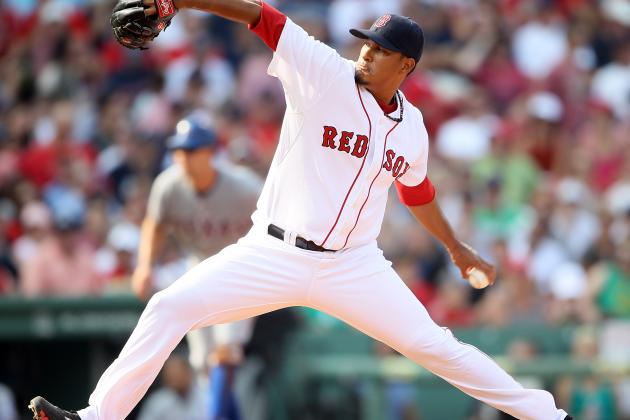 Elsa/Getty Images
Felix Doubront will shine out of the pen in 2012.
When the Red Sox were last seen playing in the World Series or ALCS the team featured a great late inning left handed pitcher named Hideki Okajima.
Okajima eventually faded into mediocrity but his role. That of a late inning left-handed pitcher is one all teams love to have filled.
As of now there's no certain pitcher to take on that role. By midseason it will be Felix Doubront's. Not only will it be his role but he'll excel at it.
Doubront may eventually be a starting pitcher in Boston but for this coming season he's going to be a valuable left handed late inning reliever and Red Sox fans will enjoy watching him come out of the bullpen.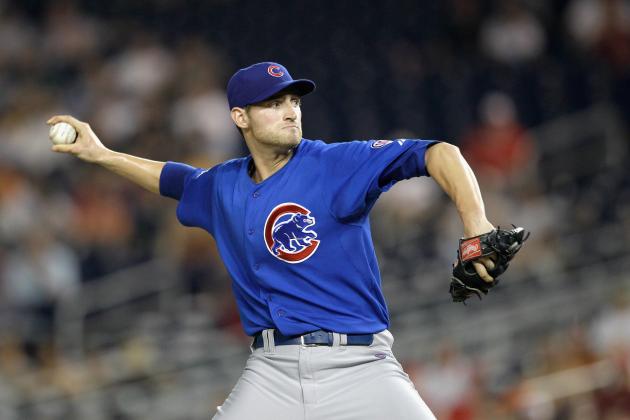 Rob Carr/Getty Images
Chris Carpenter will perform well out of the bullpen.
Some Red Sox fans were expecting a higher profile player than Chris Carpenter before the compensation for Theo Epstein was announced.
Carpenter might not become an All-Star but he's going to be a productive member of the Sox bullpen and he's going to pull it off this season too.
Carpenter won't be closing games but he'll be solid in a middle role. He may even make a spot start or two. He may at some point become a starting pitcher, probably not this season but he'll at the very least make Sox fans feel okay about what the Red Sox received in exchange for Theo Epstein.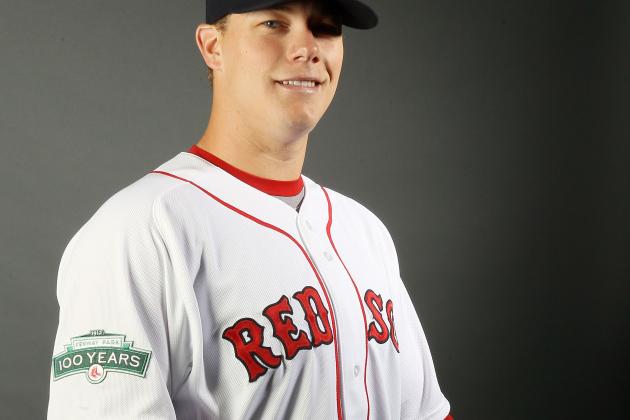 Elsa/Getty Images
Andrew Bailey will once again be one of the league's best closers.
Jonathan Papelbon is left town in the midst of a dominant six year run as a closer. He's likely to continue that roll in Philadelphia
Andrew Bailey arrives in Boston coming off an injury plagued 2011. Bailey is now healthy and will resume his place among the American League's elite closers.
The Red Sox were smart to pursue Bailey who may experience a few bumps adjusting to his new surroundings but will ultimately end up as one of the league's best closers. Bailey will eclipse 35 saves and maintain an earned run average under 3.00.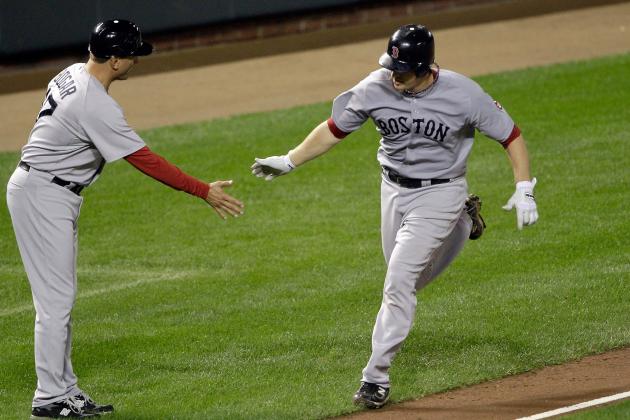 Rob Carr/Getty Images
Lavarnway circles the bases following a home run last September.
Ryan Lavarnway is going to get some at bats at DH this year. In fact if David Ortiz has any sort of injury look for Lavarway to reap the benefits.
That's because as good as Ortiz has been throughout his Boston Red Sox career he's only on a one year contract. Ortiz could possibly leave before the start of the 2013 season.
In Ryan Lavarnway the Red Sox think they may already have the heir apparent to Papi's DH legacy.
Lavarway won't get a ton of at bats this season but when he does he'll make an impression. Look for production out of Lavarway when he does get at bats and look for Valentine to find ways to insert his bat into the lineup in various pinch hitting situations as well.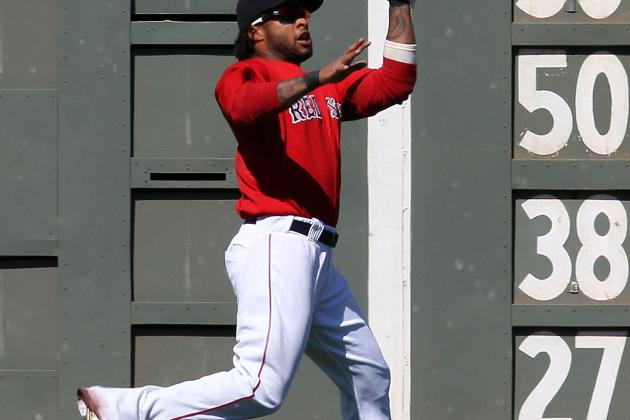 Jim Rogash/Getty Images
Darnell McDonald's speed on the bases and in the outfield will be utilized again.
Darnell McDonald first gained notoriety in 2010 when the Red Sox outfield was decimated by injuries. McDonald started frequently that season and produced enough to garner notice.
Last season McDonald played less than in 2010 but injuries to J.D. Drew and Carl Crawford provided opportunities for McDonald to get some starts.
This season with Cody Ross and Ryan Sweeney on board McDonald might not be used as frequently even in cases when a backup outfielder is needed.
McDonald will still get into games. He's very fast and that alone will provide him with opportunities other light hitting backup outfielders might never be afforded.
McDonald will basically become a "Dave Roberts" type of player. Red Sox fans won't complain about that.