SEC Tournament 2012: Full Game-by-Game Predictions Through Championship Game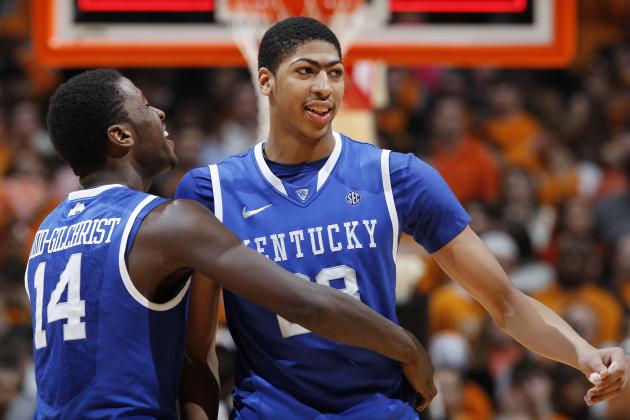 Joe Robbins/Getty Images

As expected, the No. 1 Kentucky Wildcats have beaten the No. 16 Florida Gators. Kentucky will obviously hold the No. 1 spot in the SEC tournament, but Florida took a huge hit by losing its last three games of the season and will get the No. 4 seed.
Kentucky is the huge favorite to win the SEC, which should come at no surprise.
There are no guarantees, but the Wildcats should and most likely will make it to the SEC Championship game. Who they will face is really the only question.
Before I predict the tourney game-by-game, let's take a look at the schedule for the SEC tournament.
Thursday, March 8
Game 1: No. 8 LSU vs. No. 9 Arkansas
Game 2: No. 5 Alabama vs. No. 12 South Carolina
Game 3: No. 7 Ole Miss vs. No. 10 Auburn
Game 4: No. 6 Mississippi State vs. No. 11 Georgia
Friday, March 9
Game 5: Winner of Game 1 vs. No. 1 Kentucky
Game 6: Winner of Game 2 vs. No. 4 Florida
Game 7: Winner of Game 3 vs. No. 2 Tennessee
Game 8: Winner of Game 4 vs. No. 3 Vanderbilt
Saturday, March 10
Game 9: Winner of Game 5 vs. Winner of Game 6
Game 10: Winner of Game 7 vs. Winner of Game 8
Sunday, March 11
Game 11: Winner of Game 9 vs. Winner of Game 10
Begin Slideshow

»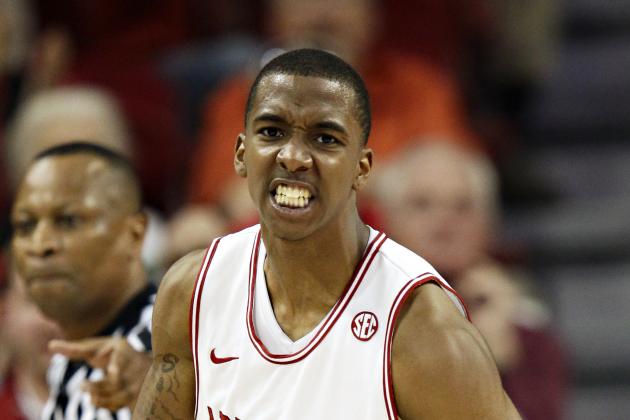 Wesley Hitt/Getty Images

LSU and Arkansas were both bubble teams at some point this season.
Unfortunately, both teams are struggling as of late, with LSU losing its last three games in a row and Arkansas losing its last two games in a row.
Both teams do not play well on the road, with a combined two wins on the year in SEC play.
However, Arkansas has much better wins on the season, which includes victories over No. 16 Mississippi State and No. 19 Michigan at the time.
Arkansas and LSU are both playing badly at the moment, so really either team can win this game. The Razorbacks and Tigers split the season series at one apiece.
Prediction: Arkansas wins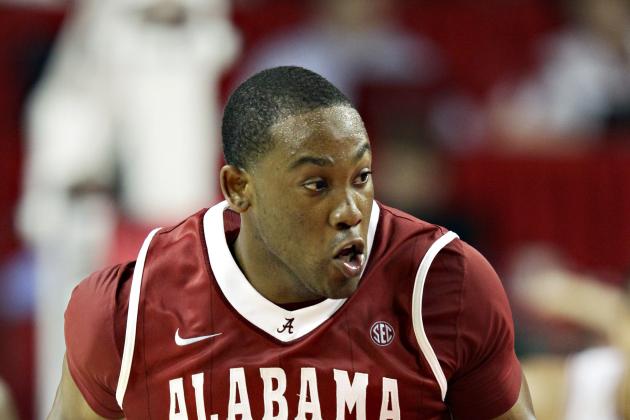 Wesley Hitt/Getty Images

South Carolina only had two wins in the SEC this year, and one of those wins was against Alabama.
Don't expect that to happen again.
Alabama may have lost its last game against Ole Miss, but before that, the Crimson Tide were on a four-game winning streak.
The Tide have a great chance at dancing this year, and they must beat South Carolina if they want to ensure this.
JaMychal Green is back, and he is poised to lead Alabama on a deep run in the SEC tournament.
The Gamecocks have just one win in their past 11 games.
Prediction: Alabama wins
Andy Lyons/Getty Images

Ole Miss and Auburn played each other two times this year.
One was an overtime thriller with Auburn winning, and the other was another close game with Ole Miss coming out on top.
The rubber match between these two teams should be a good game as well.
However, Ole Miss has been great as of late, knocking off LSU, Arkansas and Alabama in its last three games.
Auburn did win its last game of the regular season against LSU, but the trend for the Tigers this year have been losing—at least against SEC teams.
Prediction: Ole Miss wins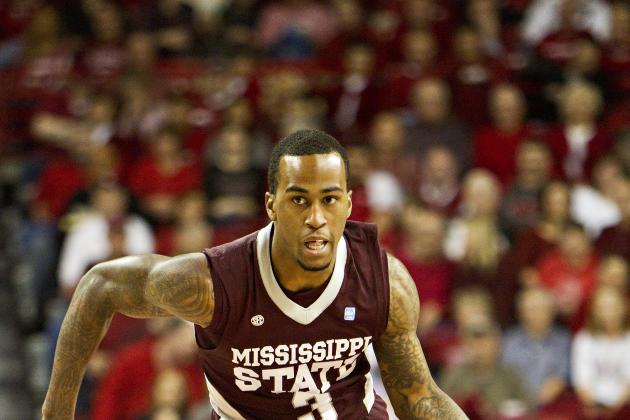 Wesley Hitt/Getty Images

Georgia started Mississippi State's downfall back in February.
Luckily for Mississippi State, it has gotten back on track with two straight victories.
Georgia will be the underdog in this game, but 16 losses on the season will do that to you.
Mississippi State absolutely needs to win this game if they plan on making the NCAA tournament.
Arnett Moultrie and Dee Bost are going to be way more than Georgia can handle in this one.
Prediction: Mississippi State wins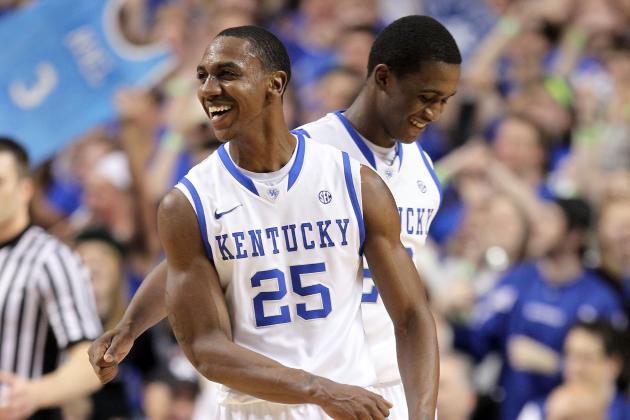 Andy Lyons/Getty Images

There is no one in the country that would want to play the Kentucky Wildcats right now.
Kentucky just beat the Florida Gators to cap off a perfect 16-0 record in the SEC this year.
The last time the Razorbacks and Wildcats took the court together, Kentucky blew them out by the score of 86-63.
It may be March Madness and all, but Arkansas has no chance of winning this game.
Prediction: Kentucky wins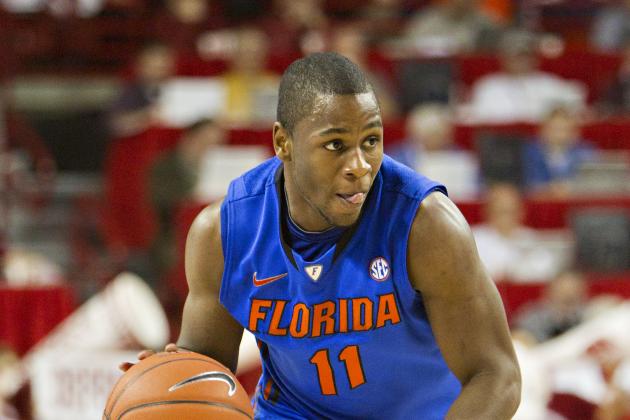 Wesley Hitt/Getty Images

Florida may have played Vanderbilt and Kentucky in its last two games, but a three-game losing streak is a three-game losing streak.
Before losses to both of those teams, the Gators got upset by Georgia.
The Gators showed signs of being an elite team against the Wildcats on Sunday, but they still couldn't put everything together.
For Florida to win games, they have to make the three-ball.
Look for them to do this against Alabama. Florida is clearly the better team, it just needs to get back on track.
Prediction: Florida wins
Joe Robbins/Getty Images

Besides Kentucky, Tennessee is probably the hottest team in the SEC.
In its last nine games, the Volunteers have only lost once.
It's a long shot, but if Tennessee can make it to the championship game, there is a small chance that they will get an at-large bid.
Ole Miss and Tennessee met up just a couple of weeks ago, and the Volunteers came up on top by 13 points.
Tennessee is hot, and it will stay this way against the Rebels.
Prediction: Tennessee wins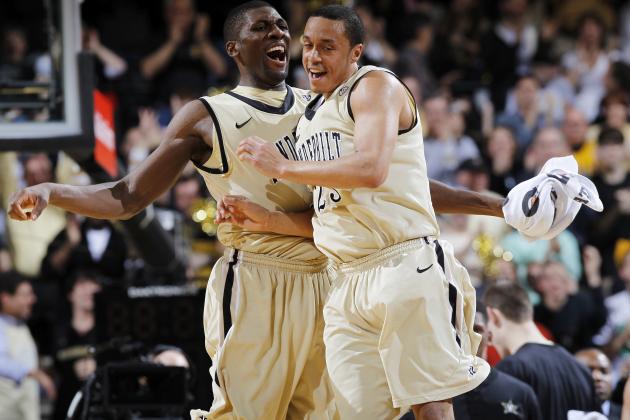 Joe Robbins/Getty Images

Vanderbilt had so much hype coming into this season.
Well, that hype is slowly coming back.
John Jenkins and Jeffrey Taylor are way too good to not lead this team on a deep run in the SEC tourney.
The first time these two teams played this season, it was an overtime thriller.
Expect that to be the same, the only difference this time being the outcome, with Vanderbilt winning.
Prediction: Vanderbilt wins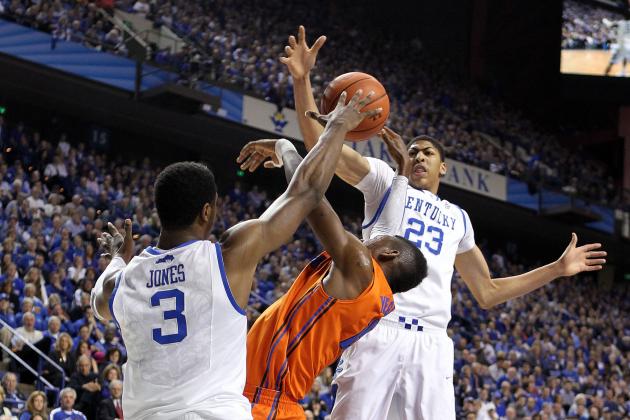 Andy Lyons/Getty Images

The Gators pretty much screwed themselves by losing their last three games.
Florida went all the way from the No. 2 seed to the No. 4 seed in the SEC.
So instead of playing Kentucky in the SEC championship, the Gators will have to play them a game sooner.
Kentucky dominated Florida in both games this year.
If Florida can knock down three-point shots like they know how to, this game could be really interesting.
The Gators are a great team and are very capable of beating the Wildcats, but that doesn't mean that it will happen.
Prediction: Kentucky wins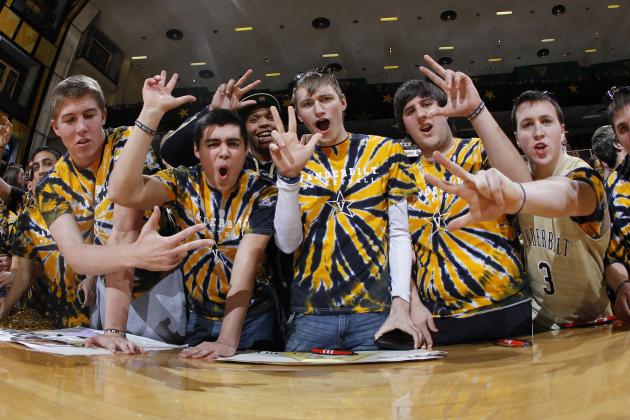 Joe Robbins/Getty Images

The Volunteers have been on a roll, but that is going to be put to a stop against Vanderbilt.
The Commodores are good enough to be a Final Four team, or that is at least what people thought before the year began.
Everyone has been waiting for Vanderbilt to step up its game. Well, the time is now.
The rubber match for these two teams will probably be a close one, but only one team can win.
Prediction: Vanderbilt wins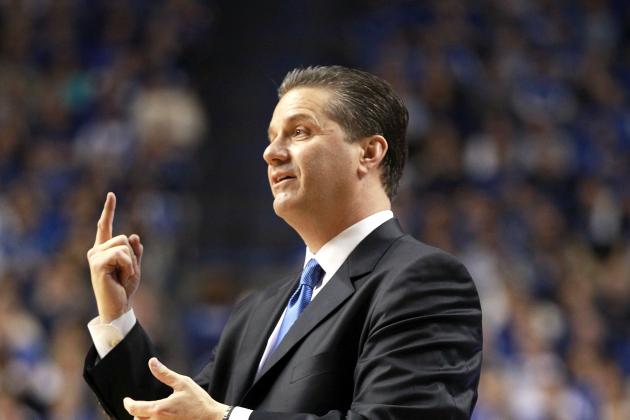 Andy Lyons/Getty Images

It takes a lot of talent to beat the Florida Gators and the Vanderbilt Commodores in consecutive games.
Kentucky has that kind of talent.
Anthony Davis and Terrence Jones are two of the best players in the country. Both on the Wildcats.
Vanderbilt will have to play flawlessly to beat the No. 1 team in the nation.
However, Kentucky just has too many playmakers and way too good of a defense for this to happen.
The best team in the nation will win the SEC tournament and will receive the No. 1 seed overall in the NCAA tournament.
Prediction: Kentucky wins
If you're a Tweeter, feel free to follow me @Trevbot77.