Big East Tournament 2012: Which Teams Will Make It to March Madness?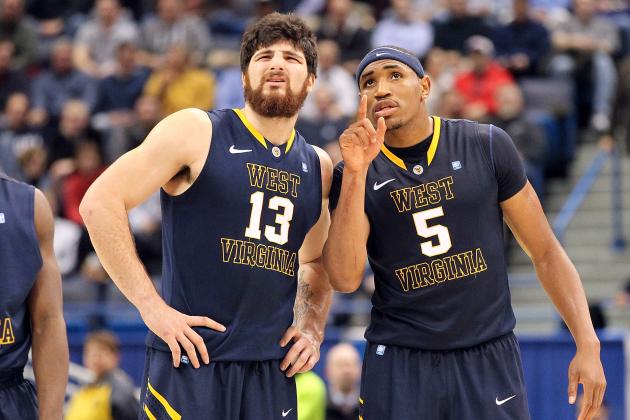 Jim Rogash/Getty Images

Word on the street is that the Big East is having a down year.
Last year, the Big East placed an astonishing 11 teams in the NCAA tournament with its ninth-place team, Connecticut, cutting down the nets for Coach Jim Calhoun's third championship.
While this season's edition of the Big East doesn't have the amount of marquee teams of last year, it still boasts a very deep conference with the possibility of getting 10 out of its 16 teams suited up for a run towards New Orleans.
With the Big East regular season over and its champion, Syracuse, looking for the top overall seed in the NCAA Tournament, the rest of the Big East teams will attempt to posture themselves and convince the selection committee that their résumés have earned them the right to move on in March.
Which teams are in and which teams need help?
I believe the answers are fairly simple. Using overall and in-conference win/loss records along with strength of schedule, quality wins, RPI and how a team finished the season, a clear picture has been developed as to who's in, who's out and who's praying.
Let's take a look.
Begin Slideshow

»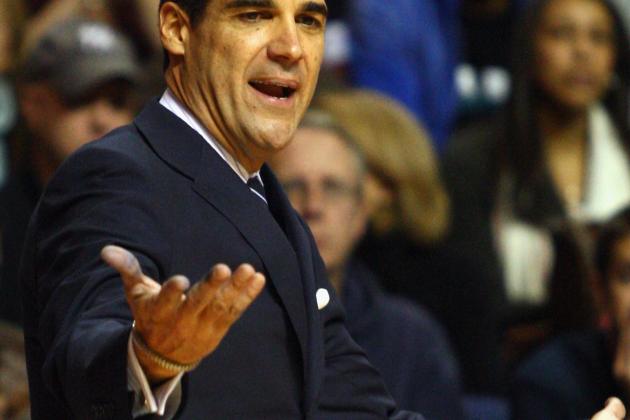 Chris Chambers/Getty Images
Villanova's Jay Wright
Only two of these six teams have amassed even six wins in conference, neither of which is Pittsburgh, which was the only team of the six with an overall winning record for the season, at 16-15.
Villanova, Pitt and St. John's all made last year's tournament, but each regressed in their own particular fashion.
Pitt started the season 12-1, but began its Big East schedule by losing its first eight in a row. The Panthers did not earn their first conference win until January 25, against Providence.
All of a sudden, Pitt looked like its old self again and ripped off three more consecutive games against No. 10 Georgetown, West Virginia and Villanova. South Florida would end the dream there and started a slide of Pitt losing six of its next seven to close out the season on a terrible downslide.
Of note as far as Villanova is concerned—this is the first year I can remember that when analysts are reviewing each team's good wins and bad losses, Villanova is universally considered a bad loss this season. This is a pretty far fall for a team that made the Final Four as recently as 2009.
None of these six teams have a chance of making the NCAA tournament without winning the Big East Tournament.
The Big East Tournament does not usually lend itself to Cinderella stories, so barring a repeat of last year's miracle run of five wins in five days by Connecticut or the Gerry McNamara-fueled Syracuse run of 2006, count them all out.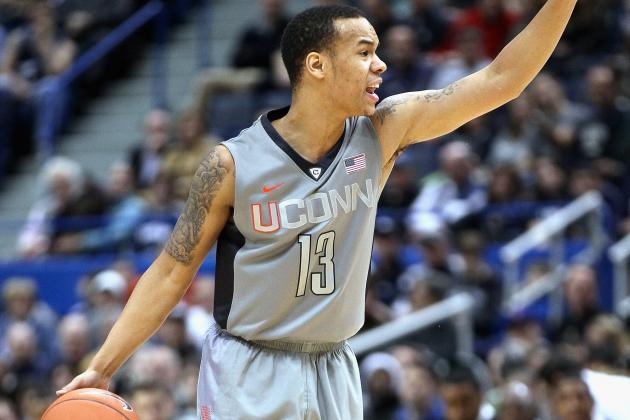 Elsa/Getty Images
Shabazz Napier
Connecticut (18-12, 8-10 Big East)
RPI: 34
Strength of Schedule: 3
Quality Wins: Florida State, Harvard
UConn was the preseason favorite, along with Syracuse, to win the Big East according to a poll of the Big East's coaches.
UConn started the season as the highest-ranked team in the Big East at No. 4 in the nation in both polls and even received two first-place votes in the AP poll. It won 12 of its first 13 games with the only slip up coming against the Marcus Jordan-led UCF Knights in the semifinals of the Battle 4 Atlantis in the Bahamas.
The Huskies began the Big East regular season with a narrow victory at USF followed by a 14-point win at home against St. John's, but then the wheels came off.
A stretch to start the New Year where UConn would go 0-for-New Jersey, with losses at Seton Hall and Rutgers, indicated that something may be rotten in Denmark. The Huskies bounced back and took down West Virginia and Notre Dame, but ended up losing nine of its next 13 games to close the season, including a head-scratcher against Providence.
Seton Hall (19-11, 8-10)
RPI: 60
Strength of Schedule: 48
Quality Wins: Virginia Commonwealth, Georgetown
Seton Hall, like UConn, started the season hot, going 15-2, with its only losses coming to Northwestern in the finals of the Charleston Classic and to No. 1 Syracuse.
Also like UConn, the Pirates lost nine of its last 13 games. After blowing out No. 8 Georgetown on February 21, Seton Hall looked as if it could salvage its season with only Rutgers and DePaul remaining on the schedule. Two losses later, Seton Hall is singing the blues.
Both teams, which split their season series, have a few major strikes against them. First, they are both below .500 in conference at 8-10, which is a huge red flag.
Second, the selection committee often rewards momentum when a team's record does not reflect the fruits of its work. Both Seton Hall and UConn lost nine of their last 13 games, eliminating any chance of sympathy.
Connecticut's RPI and strength of schedule give it a small upper hand over Seton Hall. Even if a majority of the mid-major conference tournaments are won by the top seeds, both teams probably still need to win at least two games in the Big East Tournament if they want to dance into March.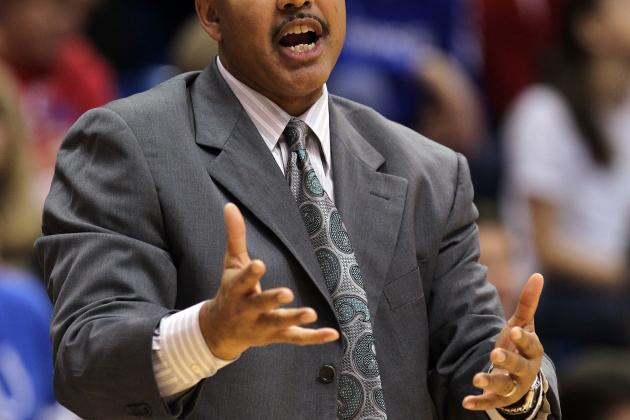 Jamie Squire/Getty Images
South Florida's Stan Heath
South Florida (19-12, 12-6)
RPI: 45
Strength of Schedule: 23
Quality Wins: Louisville, Cincinnati
South Florida did not do itself any favors by losing its final game, at home to West Virginia. After going to Louisville and ruining senior night for the Cardinals, USF seemed like a good bet for the tournament, finally getting that marquee win it had been searching for all season.
South Florida's 12 wins in conference far exceeded the dreams of even the staunchest of USF fans. But its home record was even more impressive.
The Bulls' normal on-campus home, the Sun Dome, was closed for renovations and forced the team to play its home games in the Tampa Bay Times Forum, off-campus in downtown Tampa. USF had a hard enough time drawing fans when it played on campus.
At times the cavernous Tampa Bay Times Forum had so few fans it made games look like shootarounds. That's what makes its 14-2 record at home so special, with its only losses coming to No. 9 Connecticut and the aforementioned Mountaineers.
USF has allowed the fewest amount of points of any team in the Big East and gave Syracuse a run for its money at the Carrier Dome, only allowing 56 points to the high-powered Orange.
In its last four games against Syracuse, Cincinnati, Louisville and West Virginia, USF has allowed 56, 45, 51 and 50 points respectively. USF's defensive prowess shows it can play with the big boys.
West Virginia (19-12, 9-9)
RPI: 49
Strength of Schedule: 13
Quality Wins: Georgetown, Cincinnati
West Virginia has spent the entire season trying to find its identity. It started the season 10-3, with its losses coming to a respectable Kent State, a very good Mississippi State and an excellent Baylor, by only two points in overtime. It also found ways to beat Kansas State and Miami along the way.
Then the Big East schedule started. First West Virginia beat Villanova by 14, then it lost Seton Hall by 19, then it beat Rutgers and No. 9 Georgetown by 19 and 12 respectively and then it was beaten by seven against UConn.
WVU won its next three games, but that would mark the only time the rest of the season it would be able to win more than two in a row. The three wins were followed by three losses, then one win, then two losses, then one win, then two losses.
With a 7-9 record in conference, West Virginia absolutely had to win its last two games against DePaul and USF. West Virginia stepped up to the challenge and evened its conference record to 9-9.
On USF's side, the Bulls finished the season strong, winning 6-of-8 and getting that road win at Louisville. No team has ever won 12 games in the Big East and not made the tournament, so USF should be safe, although a win in the Big East Tournament certainly won't hurt.
West Virginia had trouble staying focused this season but has been battle tested. The Mountaineers took five teams to overtime this year and amassed a 4-1 record doing so, with the only loss coming against Baylor, by two, in the finals of the Las Vegas Classic. But they beat the likes of Kansas State and Cincinnati.
Just like USF, West Virginia should be in, but a win in the Big East Tournament should cement its NCAA tournament chances.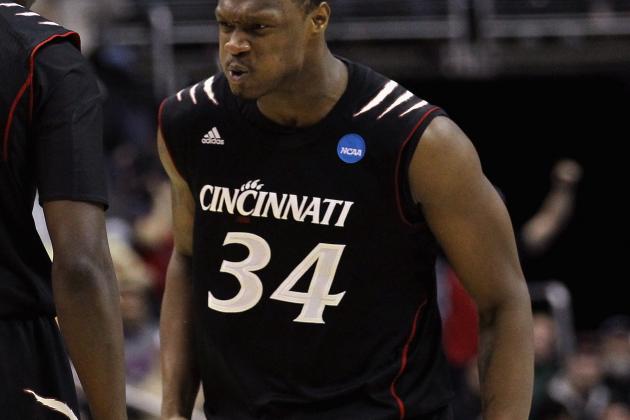 Nick Laham/Getty Images
Yancy Gates gets swole.
Cincinnati (22-9, 12-6)
RPI: 67
Strength of Schedule: 102
Quality Wins: Georgetown, Louisville, Marquette
Cincinnati's RPI and SOS are not typos. With games against Alabama State, Jacksonville State, Presbyterian College, Northwestern State, Radford and Chicago State, among others, the Bearcats seem to be the most generous team in the Big East for giving some no-name programs the opportunity to play a big-time school.
Cincinnati was even gracious enough to lose its game against the Presbyterian Blue Hose, giving the South Carolina school its biggest win since joining Division I, five years ago.
Then there was the big fight in the blowout loss to No. 8 Xavier on December 10. Cincinnati could have gone the way of Xavier, which lost five of its next six, but the Bearcats regrouped and won seven in a row.
Cincinnati finished the season winning five of its last six, including wins over Louisville and Marquette. The only loss came from USF, which won a heartbreaker by sinking two free throws in the closing seconds to seal a one-point victory.
Cincinnati is looking like an eight- or nine-seed at the moment and will attempt to improve that status by winning a few games in the Big East Tournament.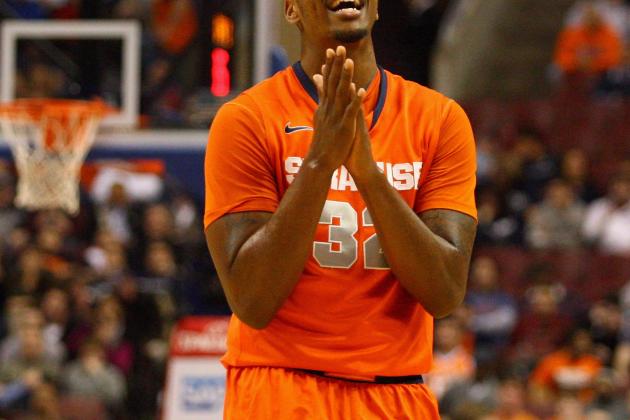 Chris Chambers/Getty Images
Kris Joseph would like a No. 1 seed
Syracuse (30-1, 17-1)
RPI: 1
Strength of Schedule: 25
Quality Wins: Florida, Georgetown, Louisville, Marquette
Marquette (25-6, 14-4)
RPI: 7
Strength of Schedule: 18
Quality Wins: Wisconsin, Georgetown, Louisville
Notre Dame (21-10, 13-5)
RPI: 40
Strength of Schedule: 44
Quality Wins: Syracuse, Louisville, Marquette
Georgetown (22-7, 12-6)
RPI: 10
Strength of Schedule: 11
Quality Wins: Memphis, Alabama, Louisville, Marquette
Louisville (22-9, 10-8)
RPI: 29
Strength of Schedule: 17
Quality Wins: Vanderbilt, Long Beach State, Memphis
Syracuse, by beating Louisville on Saturday, earned win No. 30 for the fifth time in school history. It capped off its second undefeated season in the Carrier Dome, the other coming during its championship season of 2003.
Only two possibilities remain for Syracuse: Joy or pain.
Anything less than a national championship for this team will be considered a great disappointment in the eyes of the Orange players and their fans.
While the Orange is not concerned with the Big East Tournament as much as it is the NCAA Tournament, look for the Orange to fine tune areas Jim Boeheim would like to address going into the Big Dance. This could include playing a little man-to-man defense, using the press and aggressively crashing the boards.
Marquette, Notre Dame, Georgetown and Louisville will look to do the same. Each is guaranteed a spot in the tournament with Louisville probably needing the most work, having lost four of its last six.