Boston Celtics Led by Rondo and Pierce Outlast Lin, New York Knicks in Overtime
March 4, 2012

Elsa/Getty Images
The New York Knicks fought all day but fell short in the final five minutes against the Boston Celtics on Sunday afternoon.
New York lost their halftime lead in the third quarter when they were outscored 29-16. It seemed like all was lost after the Celtics took an 80-65 lead with 1:31 remaining in the third quarter.
New York took an 8-0 run into the fourth quarter that included another big three-pointer by Steve Novak. Novak would hit another three to make it an 82-76 game. 
The Knicks found themselves down by six with under three minutes remaining. 
Jeremy Lin made his appearance at this point. He followed a layup with a three-point shot to make it a 96-95 game with two minutes remaining.
Carmelo Anthony would score the next four points for the Knicks, which gave them the lead.
After Novak hit a couple free throws, the Celtics took the ball to look for a tie. They got it when Paul Pierce hit a difficult three with 4.9 seconds remaining, making it a 103-103 game.
The Knicks took the ball and looked to attempt to win the game in regulation. Anthony took the last-second shot with Pierce in his face and missed it, sending the game to overtime.
New York was never able to establish any momentum in overtime. A missed dunk for the Knicks resulted in a layup by Rajon Rondo on the other end, which seemed to deflate the Knicks.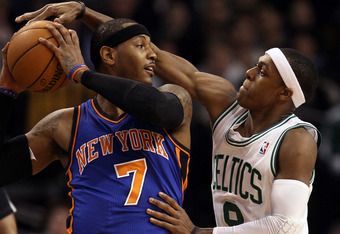 Elsa/Getty Images
They fought hard to get back in the game, but at the end of overtime it was the Celtics who came out on top, 115-111.
Paul Pierce led the Celtics with 34 points. Rondo had a day for the ages with 18 points, 17 rebounds and 20 assists.
The Knicks were led by Anthony, who scored 25 points. Lin finished with 14 points and five assists. Tyson Chandler fought hard to keep the Knicks close by grabbing 14 rebounds but it wasn't enough for New York.
The Knicks, 18-19, face the Dallas Mavericks on the road Tuesday night.
The Celtics, 19-17, welcome the Houston Rockets to Boston on Tuesday.