5 Conclusions from English Premier League Gameweek 27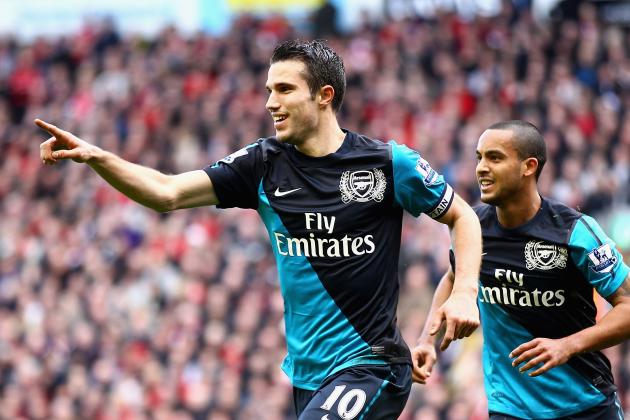 Clive Mason/Getty Images

It's time to reflect on another week of action in the English Premier League.
The battle for third and fourth place has become tighter than ever.
With both Manchester clubs winning, it increasingly looks like the title won't be leaving the northwest of England.
Another Chelsea manager bit the dust.
The Tyne-Wear derby provided some great last-minute drama.
And one team is again making good progress towards Premier League survival.
Find out my five conclusions from this week's games after the jump.
Begin Slideshow

»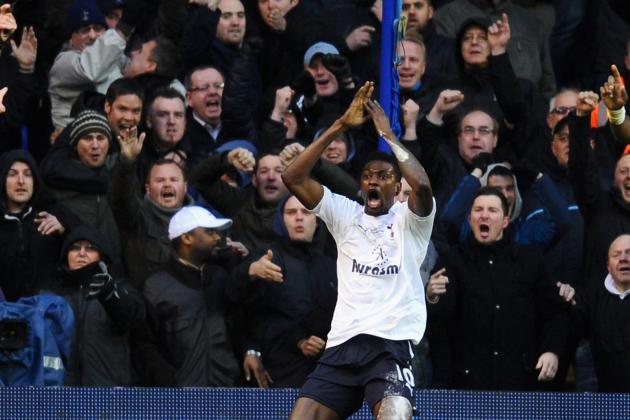 Mike Hewitt/Getty Images

Even as late as last weekend's North London Derby, Tottenham sat 10 points ahead of Arsenal in the Premier League.
Yet just one week later, the gap has been reduced to four points.
Arsenal have now won their last four league matches, scoring 16 goals in the process.
And the wins have been impressive.
Seven goals past Blackburn, five past Spurs and two come-from-behind away wins at Liverpool and Sunderland.
As long as the best striker in the Premier League, Robin van Persie, is fit, Arsenal always have a chance. And now they have momentum.
Spurs, by contrast, are faltering. Nothing seems to have gone right for them since Emmanuel Adebayor struck home a penalty last Sunday.
Since that penalty went in, they've conceded eight goals and lost two games.
Their hammering at the hands of their bitter rivals must have stung last Sunday, and today's 3-1 defeat to Manchester United would have felt no better.
Spurs need to regroup, and quickly. Because they face a tough away trip to Everton next weekend, while Arsenal have a home match versus Newcastle.
If the momentum keeps swinging Arsenal's way, a 10-point lead might have been reduced to one in barely a fortnight, and Spurs will officially be in free fall.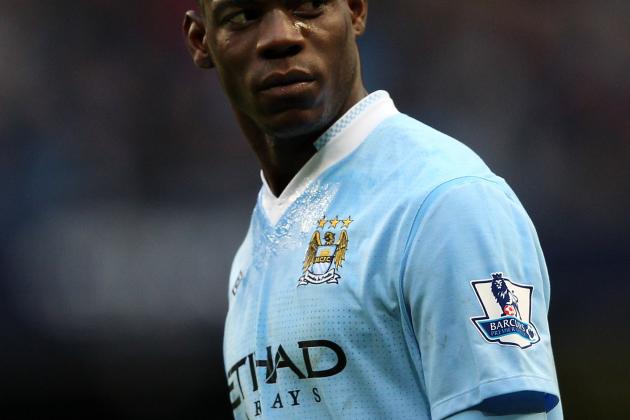 Alex Livesey/Getty Images

The chase for the Premier League trophy has officially become a two-horse race.
And both horses are based in Manchester.
Manchester United regrouped after a difficult first half in North London to eventually defeat Spurs 3-1.
As I noted in my preview on Friday, United have an incredible record against Spurs; they are now unbeaten against Tottenham in the last 26 meetings in all competitions.
Had Louis Saha's goal not been (rightly) chalked off early in the first half, things might have been different. But that was the only blip in an otherwise relatively comfortable afternoon's work for United.
City's victory over Bolton may rival last week's win over Blackburn as one of the most one-sided, easiest victories that any Premier League team will enjoy this season.
From the first whistle, City were dominant. The final score of 2-0 masked the utter dominance that City enjoyed during the game.
Indeed, the game was so one-sided that the atmosphere at Eastlands was notably muted. As I've said before, sport is only interesting when it's competitive, and this was far from a real contest.
United continue to trail City by only two points, but both teams are over 10 points clear of third-place Tottenham.
The title is staying in Manchester—but it's still not clear what part of that city will be celebrating come May.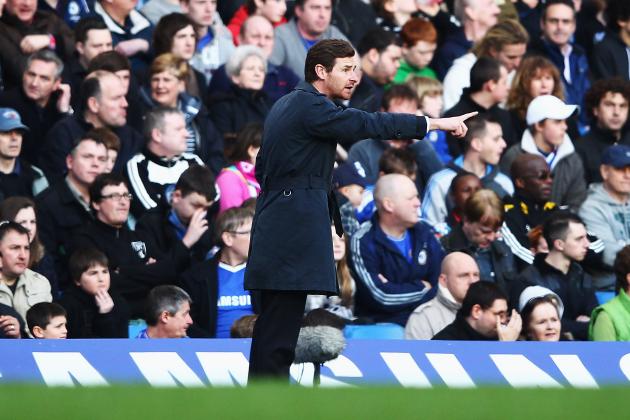 Clive Mason/Getty Images

I genuinely didn't think that Abramovich would have it in him to do it again, but he's sacked another Chelsea coach prematurely.
Andre Villas-Boas is out of a job with Chelsea only three points from the top four, still in the Champions League, and still in the FA Cup.
There is every chance that Villas-Boas could have turned things around—both in the short term and long term.
Yes, he had lost control of the Chelsea old guard, but he could have got rid of them during the summer, and someone will have to cut them loose eventually.
He might well have got the two goals required for Chelsea's progression in the Champions League.
And it's certainly not beyond the realm of possibility that Spurs and/or Arsenal will lose their way before the end of the season, and that he could have guided Chelsea to a top four finish.
But dressing-room dissent, as much as results, has ended his time at Chelsea too soon.
Maybe, as much as anything else, players like Drogba and Lampard simply couldn't respect a coach as young as Villas-Boas.
As it now stands, Chelsea are rudderless. And it's hard to think of anyone currently available that could come in and turn things around before the end of the season. To not even give the manager a full season in charge seems excessively impatient by the Chelsea boardroom.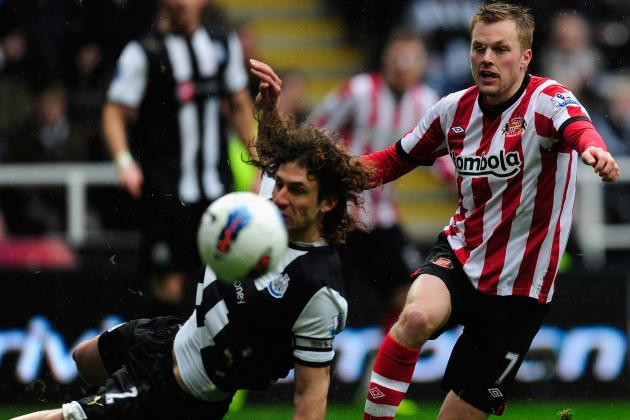 Stu Forster/Getty Images

The red cards will grab the attention, but this derby also showed how little there is between the two sides at the moment.
Newcastle had a brilliant start to the season, but now they seem to be losing a little steam.
Sunderland, despite their 4-0 defeat last weekend, have been rejuvenated under Martin O'Neill.
I thought Newcastle might edge this one, but it was Sunderland who came closer to winning the game.
The match was marred by the type of excessive physicality that both draws people to the Premier League as well as show its technical limitations.
That a player like Lee Cattermole can flourish in the Premier League shows that too many league games are still decided by strength and not skill.
Sunderland will be ruing Shola Ameobi's late equalizer, but it could have been even worse for the Black Cats had Demba Ba not missed his penalty.
Newcastle will be unhappy that they did not manage to win the game, given that Sunderland played with only 10 men for around 30 minutes. The Magpies will be especially unhappy, as they have a tough away game at Arsenal next Monday.
As it stands, Newcastle should still finish above Sunderland, especially because one of the latter's best players this season, Stephane Sessegnon, will now be suspended.
But Newcastle's inability to win this game, and their overall form in recent weeks, is troubling.
Could Sunderland still finish above them? Probably not. But on today's showing, it's certainly not an impossibility.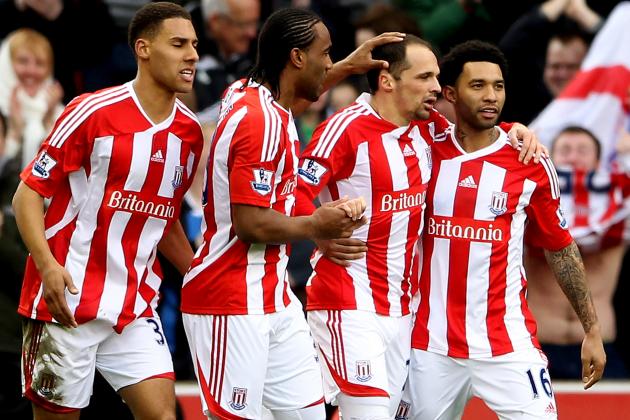 Scott Heavey/Getty Images

Stoke are a hard team to love.
They don't play attractive football, and their team seems to be largely comprised of seasoned pros and journeymen with very little flair.
But they just seem to keep on getting the job done.
Prior to last weekend's win against Swansea, they had lost four in a row. They've now won two on the bounce, including this weekend's narrow victory over Norwich.
Indeed, as things stand, they seem poised to improve on last year's 13th-place finish.
With 36 points already in the bag, Stoke will easily get the additional wins and draws necessary for Premier League survival.
For better or worse, it's safe to say that we'll be seeing Tony Pulis and his baseball cap in the Premier League for some years to come.