Green Bay Packers: Way-Too-Early Predictions for the Offense's 2012 Stats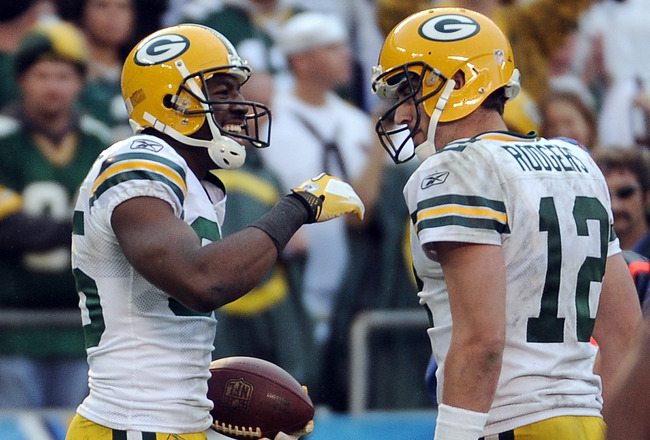 Harry How/Getty Images
In many ways, 2011 was truly the year of the statistic for the Green Bay Packers.
Throughout the entire regular season, the Packers offense recorded yards and scores at a record-setting pace. This Green Bay unit, led by Aaron Rodgers' outstanding play, was able to crack the all-time franchise marks in wins, points per game, total passing touchdowns and several other notable records.
This illustrious regular season was even capped off by a remarkable performance from backup quarterback Matt Flynn in Week 17 against the Lions, where he threw for 480 yards and six touchdowns. It was one of the best performances from the position in Packers history, and if I'm remembering correctly, this Cheesehead team has had some pretty good signal-callers over the years.
Even though the season ended on horrible note when the Packers laid an egg against the Giants at home in the Divisional Round of the playoffs, it was still a memorable season filled with team and individual achievements.
Now, with the Packers offense coming back looking stronger than ever, how will Green Bay's offensive skill position players follow up their outstanding showing from 2011?
Here are the way-to-early predictions for the Packers' 2012 offensive stats.
Aaron Rodgers, QB
Last year when I wrote this slideshow, I called Aaron Rodgers the face of the next generation of quarterbacks. This year, Rodgers has transformed himself into one of the best, if not the best, players in the entire NFL.
The league's reigning MVP was an absolute monster last season, turning in one of the most efficient seasons in the history of the league from the quarterback position.
Rodgers was named first team All-Pro and the starter in the Pro Bowl after dominating his competition to the tune of 4,643 yards and 45 touchdowns while playing in only 15 games.
Not to mention Rodgers was among the league leaders in both completion percentage and yards per attempt, showing he consistently connected on deep balls throughout the season.
Despite playing on a completely different level than his competition in 2011, would it even be possible for a player to keep up the consistency and efficiency Rodgers showed last year?
To some extent, I think he can continue his exceedingly high level of play, but not to the degree of last year's production. I expect a slight dip in his stats, and even though he will once again have an All-Pro-caliber season, it won't be at the record-breaking clip we all witnessed a year ago.
Predicted Stats: 4,853 yards (87 yard longest), 38 TDs, 9 INTs, 66.5 completion percentage; 245 rushing yards, 4 rushing TDs, sacked 28 times
James Starks, RB
Over the past two seasons, James Starks has shown he has the ability to be a good, solid NFL running back. He has good explosion through the hole, runs with a lot of power and became a better pass-protector and catcher last season.
The physical tools to be a starting running back are there for Starks, and he would add another dimension to the offense if he could smoothly transition into that role this year.
However, the question with him is whether or not he can consistently stay healthy and on the field.
Last season, Starks started the season off strong against New Orleans and Carolina, and he looked like the better back than former starter Ryan Grant. As the season wore on, though, ankle and knee issues hindered Starks' progress, and he could never consistently stay in games at the end of the season.
Injuries bothered him in college and in both of his first two years in the NFL, so staying on the field and in the flow of games will be crucial for the young Packer.
This kid has a lot of talent, so expect better production from him this year if he can stay out of the trainer's room.
Predicted Stats: 843 yards (57 yards longest), 191 attempts, 4.4 YPC, 3 TDs; 10 catches, 91 yards, 2 fumbles
Alex Green, RB
The big back from Hawaii showed a lot of promise in the preseason last year, and with Ryan Grant likely headed out of Green Bay, Green will get a chance to prove he was worthy of the third-round pick the Packers spent on him last season.
This kid has good size and explosiveness as a runner, but what will allow Green to emerge into a contributor on this offense is his ability to make plays in the passing game.
With his great size (225 pounds) and 4.4 speed, Green's a load to bring down in the open field. He's also shifty for his size, and showed the ability to catch passes in college and last season.
Green has the potential to be a good, multi-dimensional back for the Packers in the future, but coming off a torn ACL that he suffered in Week 7 last season, I don't see him hitting his ceiling this year.
Anticipate Green to have decent numbers and show flashes of great play, but he won't become the dynamic player he has the ability to be in 2012.
Predicted Stats: 287 yards (44 yards longest), 70 attempts, 4.1 YPC, 1 TD; 18 catches, 157 yards, 1 TD, 0 fumbles

Brandon Saine, RB
This third running back spot could very well be undrafted free agent Marc Tyler's by the end of the preseason, but as the incumbent, Saine will get the benefit of the doubt here.
Saine's a guy who's solid on both third down and special teams, so if he does beat out Tyler, that will be the main reason the Packers keep him around.
After coming off the practice squad last year, Saine provided Green Bay with some depth at the position and some ability to make plays as a receiver.
Aaron Rodgers was quoted saying that Saine had the best hands on the entire team, perhaps meaning that he thinks the young back can catch better than Greg Jennings, Jordy Nelson and Jermichael Finley—well, I guess Nelson and Jennings are pretty impressive.
Saine is not only a threat catching passes, he can pick up the blitz in pass protection as well. That was one of the main reasons why he got so much time on passing downs last year—the coaching staff could count on him to pick up linebackers and keep Rodgers on his feet.
Saine may not be a game-breaking runner, but he's a decent player who can play special teams and make an impact on third downs for the offense.
Predicted Stats: 84 yards, 22 attempts, 3.8 YPC, 0 TDs; 5 catches, 43 yards, 0 TDs, 0 fumbles
John Kuhn, FB
Everybody loves a blue-collar, hardnosed player like John Kuhn. He may not be an explosive runner or a devastating blocker, but this undrafted player from Shippensburg University comes to work every day, and he will take up any role the Packers ask of him.
Kuhn has contributed on special teams, as a blocker, a goal-line runner and even took up the job of feature back for a while when Ryan Grant went down with an injury in 2010. Kuhn can do it all when he steps on the field, which makes him an extremely valuable commodity for Green Bay. He can block pretty well and is one of the better pass-catching fullbacks in the entire NFL.
Kuhn is a model of consistency for the Packers today, and unless he is forced into an unexpected role due to injury, he will go out and do what he does every year for the Packers: get first downs and score touchdowns.
Predicted Stats: 77 yards (14 yards longest), 24 attempts, 3 rushing TDs; 14 catches, 82 yards, 2 receiving TDs, 1 fumble
Greg Jennings, WR
Over the past two seasons, Greg Jennings vaulted himself into elite status among NFL receivers. He isn't the biggest guy, but Jennings is silky smooth in and out of cuts, and he has some of the best hands in the league, to go along with his ability to separate.
Making the Pro Bowl while playing in only 13 games last season, Jennings has become Aaron Rodger's most reliable and talented target. In his contract year, Jennings will continue to put up elite numbers. His rapport with Rodgers will continue to grow even stronger, which will help carry them both to Hawaii once again.
Playing for a new contract, look for Jennings to emerge as Rodgers' top target as more attention will be put on the Packers' other dangerous receivers.
Jennings will show up in a big way this season, which will ensure his future in Green Bay.
Predicted Stats: 84 catches, 1,287 yards (71 yards longest), 11 TDs, 16.1 YPC, 4 drops, 0 fumbles
Jordy Nelson, WR
Jordy Nelson exploded onto the NFL scene last year, becoming one of the most dangerous deep threats in the league down the stretch.
With a rare combination of size and speed, Nelson has the ability to get on top of the defense, and then win jump balls downfield. Time and time again, he and Rodgers connected on deep, play-action passes to burn defenses, resulting in a league-leading 18.6 yards per catch.
While Nelson undoubtedly had an outstanding season last year and was snubbed of a Pro Bowl berth, I have some doubts he will be able to put up those kind of ridiculous numbers again next year.
Oftentimes last season, Nelson was the beneficiary of opposing teams focusing their attention on stopping Jermichael Finley over the middle and Greg Jennings on the opposite side. Nelson usually faced teams' second or third corners in one-on-one situations, leading to an obvious advantage for a talented receiver like him.
Teams will put more attention on Nelson after such a great campaign in 2011, and while seeing more elite coverage and double-teams over the top, Nelson's numbers will naturally drop off a bit. He will still have a nice season and be a valuable weapon for the Packers, but in terms of pure production, you might see a dip for Nelson in 2012.
Predicted Stats: 1,061 yards (87 yards longest), 63 catches, 16.9 YPC, 9 TDs, 3 drops, 1 fumble
James Jones, WR
After being ridiculed by fans in 2010 for a surplus of drops throughout their title run, James Jones came out in 2011 and silently had himself a fine season.
While balls were hard to come by in the Packers' loaded offense, when Jones got one thrown his way, he made the most of it. On only 38 catches, he was able to tally a respectable 635 yards and seven touchdowns. He was efficient all season, converting big plays for the Packers when they needed one (see: the Lions and Falcons games).
Jones has become a solid weapon for Green Bay, and even though he would probably be starting on a lot of teams in the league today, there are too many top-notch receivers on the roster for him to break through with a huge season.
Jones will provide the Packers with an outstanding fourth weapon once again in 2012, but unless there's an injury within the receiving corps, it's unlikely Jones gains anything more than 700 yards.
Predicted Stats: 602 yards (73 yards longest), 40 catches, 15.6 YPC, 4 TDs, 4 drops, 1 fumble
Randall Cobb, WR
Cobb showed flashes of being a dynamic playmaker last season during returns and on the offense. He's a shifty runner who has breakaway speed, and he has a ton of potential as a slot receiver for Green Bay.
At times last season, Cobb looked lost as a rookie. Without an offseason to prepare, you could tell he needed more time to understand the playbook (he even admitted that; on the one receiving touchdown he scored last season, he ran the wrong route, but still managed to get open) and establish timing with Aaron Rodgers.
Combine that with all of the great receivers who were in front of him on the depth chart, and it's easy to see why Cobb's opportunities were limited as a rookie.
However, this kid has outstanding talent, and he could develop into the same role with the Packers that Percy Harvin has with the Vikings.
I see Cobb emerging in his second year in the league as a triple-threat return man, receiver and situational runner, just like Harvin has become. Mike McCarthy has even said that he wants to get more creative with his running plays, so adding Cobb into the mix might be what McCarthy was referring to.
No matter what role he's in, Cobb will make things happen for the Packers on both offense and special teams.
Predicted Stats: 36 catches, 487 yards (52 yards longest), 13.9 YPC, 2 TDs, 2 drops, 1 fumble; 78 rushing yards, 4.8 YPC, 1 rushing TD, 3 return TDs
Donald Driver, WR
Time catches up to everyone eventually in this young man's game, and while Driver has seemed to be ageless in his wonderful career, 2012 will be his last hoorah in Green Bay.
After seven years of more than 1,000 yards receiving, old Double-D has seen his production steadily decrease over the last two campaigns. If Driver fends off youngster Tori Gurley and stays with the team for one more season, his productivity in the offense will continue to slip.
The guys once behind Driver on the depth chart have simply become more explosive than the Packer great. Driver's not the same deadly weapon he once was, as his speed and playmaking ability have both recently diminished.
Now, Driver still brings a veteran leader to the clubhouse, and his experience and model attitude would do wonders for the younger players on the team.
However, even though Driver still has solid hands and some receiving ability, the youth on Green Bay's receiving corps will push Driver back into a limited role this season.
Predicted Stats: 21 catches, 226 yards (28 yards longest), 1 TD, 10.7 YPC, 1 drop, 0 fumbles
Jermichael Finley, TE
It truly was hard to watch Jermichael Finley last season. After setting the bar sky-high for himself (self-proclaiming it the "Year of the Takeover"), Finley struggled with drops all season and had trouble separating from coverage.
While tight ends like Rob Gronkowski and Jimmy Graham were executing Finley's takeover plan, Finley himself failed to live up to the ridiculous hype, as he finished with 760 yards and eight touchdowns.
With that being said, I see J-Mike taking a step forward this season. He's two years removed from a season-ending knee injury, and with expectations lower this year, I see Finley playing with more confidence than during his drop streak last year.
Finley will commit himself to fixing his drop problems in the offseason to prove to the world that he's an elite tight end and not just an elite athlete.
It will be a much more efficient season for the Packers tight end, as he will increase his yards and drop only three balls. However, Finley won't leap into the elite conversation just yet, as Green Bay has too many other weapons for him to put up numbers like that of Graham.
Predicted Stats: 63 catches, 838 yards (57 yards longest), 13.3 YPC, 8 TDs, 3 drops, 1 fumble
D.J. Williams, TE
With Andrew Quarless likely out for the start of the 2012 season, D.J. Williams will get his chance to become the second receiving option at tight end behind Jermichael Finley.
While Williams' size is less than desirable at only 6'2'', he has outstanding speed and soft hands that could make him a weapon in Green Bay.
This kid was an outstanding receiver in college, and even though he made no impact during his rookie year, I see the Packers finding a role for him this year. Williams has a lot of ability as a receiver, and I think Mike McCarthy and his staff will try and maximize that this season.
Williams will be a minor contributor in 2012, but his ceiling will still be far away from his production.
Predicted Stats: 11 catches, 108 yards (22 yards longest), 9.8 YPC, 0 TDs, 0 drops, 0 fumbles
Keep Reading

Green Bay Packers: Like this team?