MLB 2012: 5 Players Who Will Have a Breakout Year for the Detroit Tigers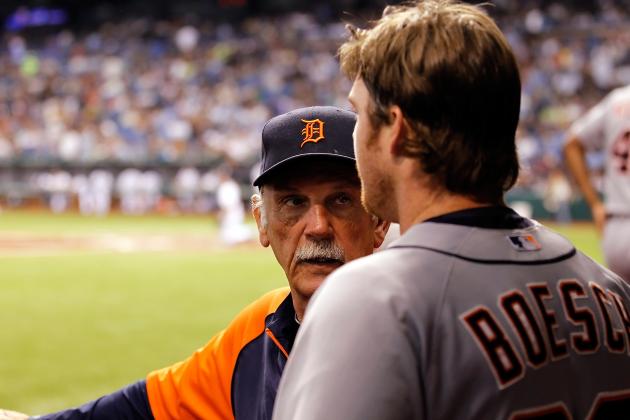 J. Meric/Getty Images

In the 2010-2011 MLB season the Detroit Tigers reached the ALCS behind a mix of veteran leadership and youthful energy. With big years from Justin Verlander, Miguel Cabrera, Victor Martinez, Jhonny Peralta and surprisingly, Alex Avila, the Tigers pulled away in the AL Central and beat the New York Yankees before losing to the Texas Rangers.
2011-2012 looks to be the beginning of a youth movement in the Motor City, however. Ridding themselves of the oft-injured Magglio Ordonez and Carlos Guillen and fielding a lineup with seven players under 30 years of age the Tigers, often considered a "win-now" team, look poised to be dominant for years. Furthermore, the Tigers are looking at five starting pitchers who also are under 30.
For many Tigers fans, with the addition of Prince Fielder, this is the year for Detroit to win it all. To make that dream come to fruition though, the Tigers will need the same blend of youth and leadership that made them a force in the American League last year. In every facet of the game the Tigers are looking at a youth infusion that will certainly help push their title run.
These are the five players most likely to have a breakout year in their young careers and propel the Tigers to yet another lengthy playoff run.
Begin Slideshow

»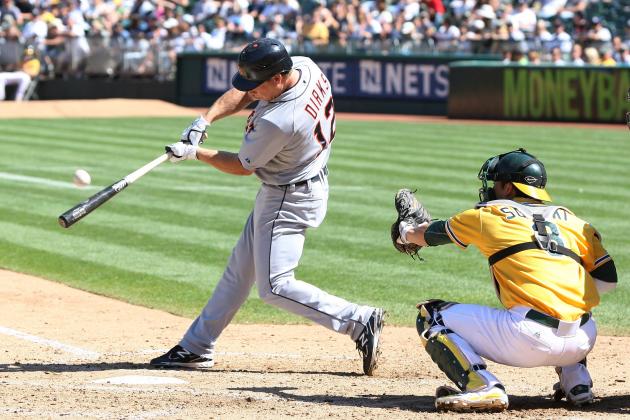 Tony Medina/Getty Images

Heading into the 2010-2011 season Clete Thomas was considered the favorite as the fourth outfielder for the Tigers. However, after an impressive stint in Spring Training that caught Jim Leyland's eye, and a season ending injury to Thomas, Dirks worked his way up to the professional club.
In 2011-2012, Dirks will almost certainly contribute to the team as just a role player. Despite a limited role though, Dirks has the potential to mean a lot to this team. Dirks is a natural center-fielder but can play all three outfield positions. On days where Austin Jackson or Delmon Young need a break Dirks provides a solid alternative and brings a good glove, surprising power and speed.
Speed is perhaps the biggest impact Dirks provides the team. With Austin Jackson posing the only true base-running threat in the Tigers' starting lineup Dirks may be called upon to run a little more than last year.
Furthermore, after spending all Winter in the Dominican League, where he emerged as a star, Dirks brings a lot of confidence to the field. After hitting .251 with 7 HR and 28 RBIs in 2010-2011 expect Dirks to get more playing time and be a bigger producer in several facets of the game for the Tigers in 2012.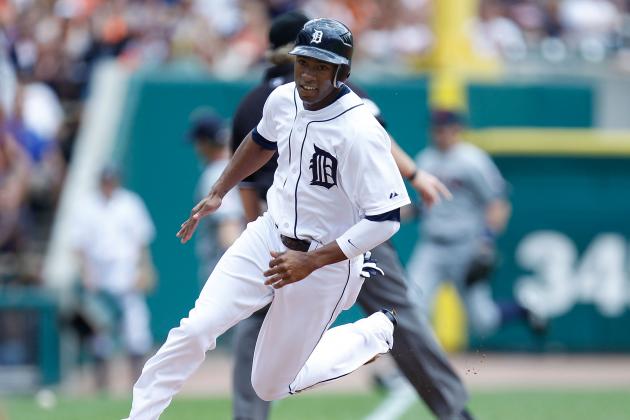 Gregory Shamus/Getty Images

With a season where he hit .293 with 27 steals under his belt, many people would be hesitant to call a good year in 2012 for Austin Jackson a breakout campaign. However, with the Tigers emerging as a team poised for a title run without any other real table-setters, Jackson needs to have the best year of his young tenure in the majors.
After a great rookie year, Jackson really suffered with the "Sophomore Slump." Jackson's HR total increased from four to 10, but that was essentially the only offensive bright spot for the Tigers' lead off hitter last year. In 2011, Jackson scored less runs, had less hits, more strikeouts, and less stolen bases than the year prior.
This year, however, Jackson has every possibility to return to form, or even better. According to ESPN's Tim Kurkijan Jackson has changed his swing in an effort to cut down his strikeouts. On Twitter Kurkijan stated that Jackson now has a smaller leg kick, a flatter bat, and has his hands farther back in his stance.
Jackson needs to, and is capable of, succeeding for the Tigers in 2012. Without his production they could struggle to get runs without the long-ball. Don't be surprised if Jackson takes home a Golden Glove award as well.
Dave Reginek/Getty Images

Turner has been the big prospect in the Detroit farm system for a couple years now and it seems like this is the year that he makes his big splash in the MLB. After turning down many deals for established Major League pitchers, it seems Dombrowski is ready to show everyone else what he was keeping for himself.
While Turner is not guaranteed the fifth starter's spot he seems like the front-runner, and the most qualified. Although Andy Oliver, another young pitching prospect for the Tigers, has had slightly more experience in the Majors, Turner appears to be the most talented young pitcher they've got. And, while the Tigers said they were looking for a veteran starter to fill their fifth spot they have had trouble doing so. According to several sources Roy Oswalt turned down a one year deal from Detroit.
Turner wasn't especially impressive in his few starts last year for the Tigers but he has unquestioned potential and has a variety of tools to help him succeed. Look for Turner to earn the fifth spot in the rotation and succeed with a good defensive, catcher, quality pitchers around him, a good offense and a big stadium.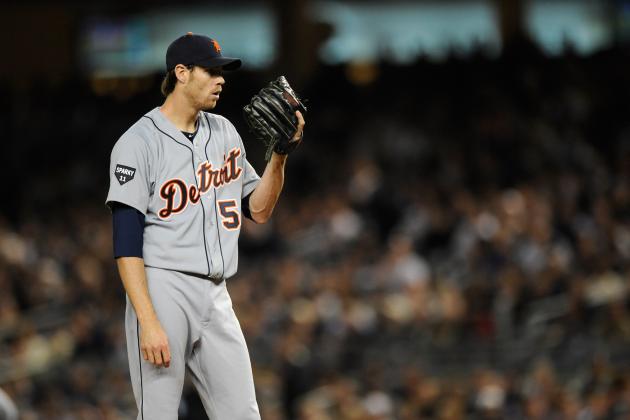 Patrick McDermott/Getty Images

In 2011 Tigers fans were begging for a big move from Dombrowski. Many of them, in particular, wanted Ubaldo Jimenez. Dombrowski, unwilling to give up Turner though, went with Fister.
Often viewed as a solid fourth or fifth starter, Fister surpassed all expectations and flourished in the expansive Comerica Park. In 2012, Fister could find himself in the number two spot in the rotation and in a position to be one of the best pitchers in the American League. Before coming to Detroit, Fister was 3-12 with a 3.33 ERA. Not only did he finish 11-13 but his ERA shrunk to 2.83 by the end of the year and it was Fister, not Verlander on the mound to eliminate the Yankees.
Fister struggled through 2011 with the Mariners but in 2012 has an entire year with the Tigers. A year in which he has a huge opportunity to prove himself. If Fister puts up the same kind of numbers he did for the Tigers in the second half of 2011 Detroit will be dominant throughout the year.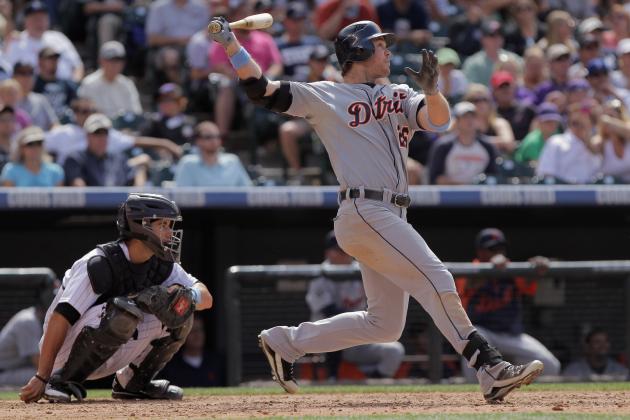 Doug Pensinger/Getty Images

Before a thumb injury sidelined Boesch for the end of the 2011 season, and all of the playoffs, he was making strides to make 2011 his breakout season. Hitting .283 with 16 HR and 54 RBIs Boesch was becoming a force in the Tigers' lineup.
This year Boesch will find himself in the second spot in the lineup, providing protection for Austin Jackson and getting his own protection, perhaps the best in the league, from Miguel Cabrera and Prince Fielder. With those two superstars behind Boesch can take his game to a whole new level.
If Boesch returns to form he will help make up one of the best, if not the best, 3-4-5 combination in all of baseball.