2012 NFL Mock Draft: Grading the Potential of Every First Round Pick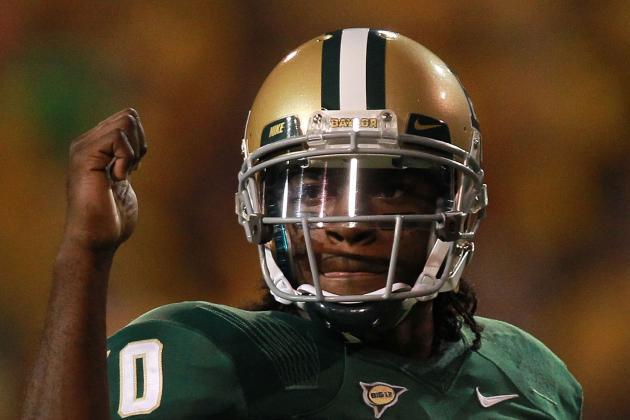 Ronald Martinez/Getty Images

The 2012 NFL Draft is going to take place next month in New York City. Dozens of prospect will fill Radio City Music Hall in New York City hoping to be among the first few picks.
In reality, there are going to be some disappointed players. Every year we see one or two individuals drop much lower than anyone thought as the first round progresses.
Today, I am going to provide you with a full first-round mock draft and give each player grades based on how I think they are going to perform in the NFL.
Remember, this is based on what I think teams are going to do, not what I would do.
Begin Slideshow

»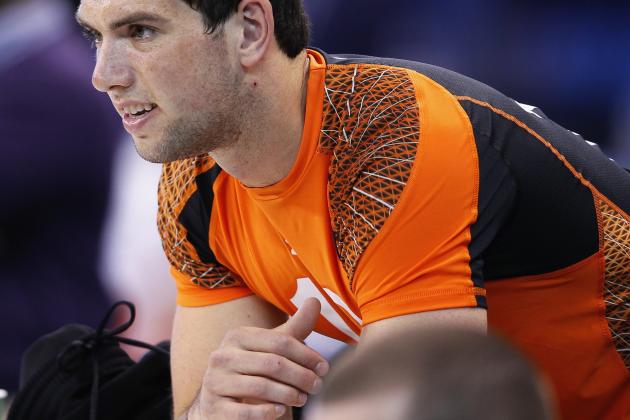 Joe Robbins/Getty Images

Andrew Luck, Quarterback, Stanford
You have to be shocked with this pick. Seriously, I am definitely going out on a limb by saying that Andrew Luck will be the first overall pick in next month's NFL Draft.
There is a reason why the Indianapolis Colts seemed to have dictated how Luck's offseason activities are going. Bob Kravitz of The Indianapolis Star indicated that the Colts told the former Stanford signal-caller to not throw at the combine, though Colts GM Ryan Grigson denied the rumor.
That is a sign if I have ever seen one.
Luck will come in and be a top-10 quarterback immediately, progressing to near elite status in short order. He is the best quarterback prospect since these very same Colts took Peyton Manning No. 1 overall in 1998.
Grade: A+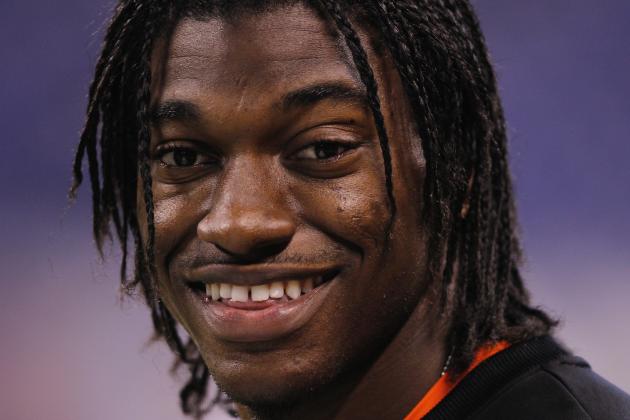 Joe Robbins/Getty Images

Robert Griffin III, Quarterback, Baylor
Pick projected to be acquired from the St. Louis Rams for 4th overall pick, 22nd overall pick as well as either a 2012 2nd round pick or 2013 1st round pick.
There is no doubt in my mind that Robert Griffith III would be the top prospect available in most drafts. His dazzling combine performance solidified the Baylor product as the second best player in the 2012 NFL Draft.
He has the field awareness, pocket presence, arm strength and accuracy that you look for in a franchise guy. This is going to be a quarterback that we will hear a lot about early in his career, a skill set that reminds me of a combination of Cam Newton and Philip Rivers.
With all this said, I don't think the Cleveland Browns should make this trade. They have Colt McCoy as well as a myriad of different needs on offense.
Grade: A+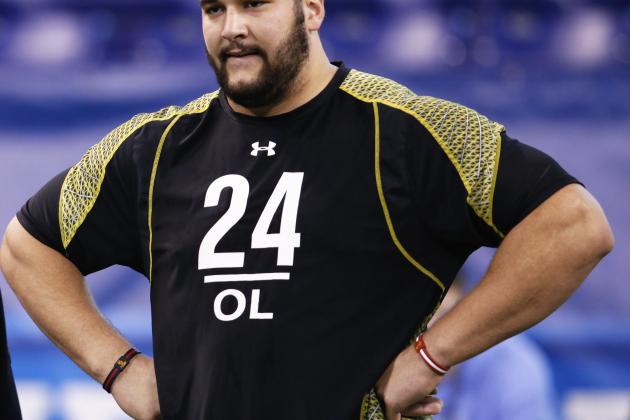 Joe Robbins/Getty Images

Matt Kalil, Offensive Tackle, Southern California
The USC product showed himself to be the consensus top tackle prospect in the draft. Kalil dominated the generic skills at the combine and looked awesome in the skill-specific drills as well.
I envision him being a franchise book end for the next decade, if not longer. He has a great combination of athleticism and strength for someone that will be barely over 300 pounds when all is said and done.
The Minnesota Vikings get their franchise tackle to protect Christian Ponder and open up holes for Adrian Peterson.
Grade: A+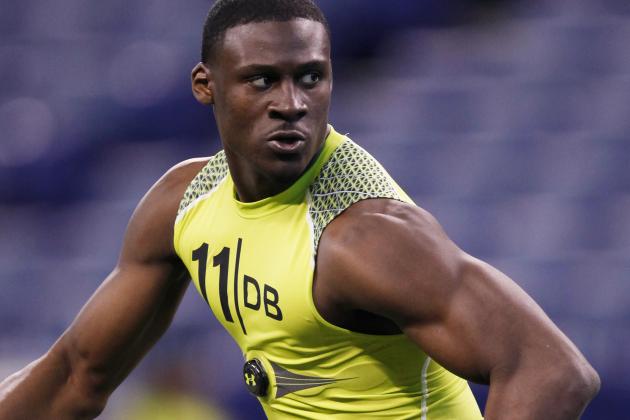 Joe Robbins/Getty Images

Morris Claiborne, Cornerback, Louisiana State
It really is hard to see a flaw in Claiborne's game. This is an individual that has every single skill you look for in a shutdown corner. He has the capability to lock on to receiver down the field, possesses fluid technique on the outside and has great on-ball coverage skills.
With the St. Louis Rams attempting to install a new defense under Jeff Fisher, it makes sense for them to go in this direction and look to the offensive side of the ball later in the draft.
The situation as it relates to Gregg Williams really doesn't matter. Whoever the Rams defensive coordinator is going to be will need a true shutdown corner. Otherwise, you are looking at a bunch of nickel guys at this position on their roster.
Grade: A+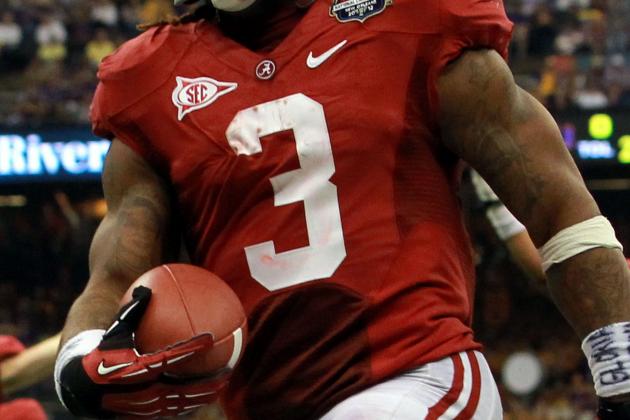 Ronald Martinez/Getty Images

Trent Richardson, Running Back, Alabama
It am entirely against drafting a running back in the Top Five, especially with the deep draft class at that position this season. With that said, Richardson gives the Tampa Bay Buccaneers a tremendous amount of value. I view him as the best running back prospect since Adrian Peterson.
With that being the case, it will be extremely hard for the Buccaneers to pass up on this possibility.
There are five elite prospects in the draft, Richardson the last of them. After that there is a dramatic drop off in terms of talent.
Grade: A+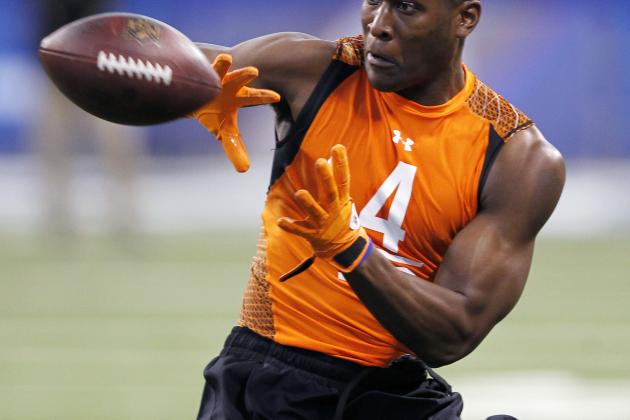 Joe Robbins/Getty Images

Justin Blackmon, Wide Receiver, Oklahoma State
The former Oklahoma State star is no longer the No. 1 receiver on my board—that distinction goes to Michael Floyd.
However, this mock is a projection of what I think teams will do, not what I would do.
Blackmon will give the Redskins quarterback, whoever he is, a major threat that they don't currently have on the outside. Despite having a couple young receivers, Washington needs dramatic upgrades on the outside to go with the talent they have in the running game and tight end.
Grade: B-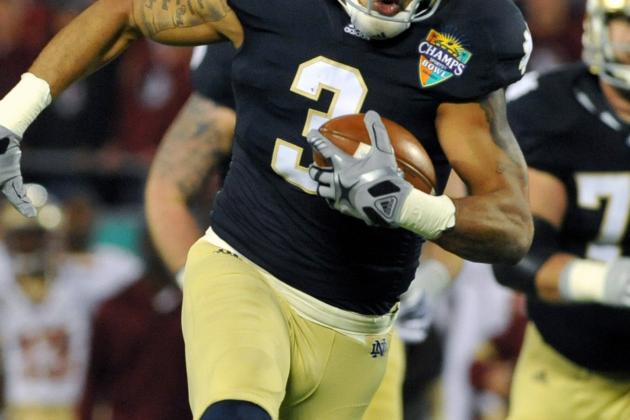 Al Messerschmidt/Getty Images

Michael Floyd, Wide Receiver, Notre Dame
Most of my readers thought I was insane for having Michael Floyd as a top ten prospect a couple months ago. In fact, it was suggested on more than one occasion that I had absolutely no idea what I was talking about.
How do I look now?
Even Matt Miller, who had previously said he doesn't view Floyd as a top ten prospect, currently has him ranked there.
This is a player that gains a tremendous amount of separation down field and uses his frame to fend off defensive backs at the point of contact. He is going to be a true No. 1 receiver in the NFL.
The Jacksonville Jaguars need to give Blaine Gabbert more weapons on the outside. Mike Thomas is nothing better than a complementary guy and after that they have absolutely nothing.
Grade: A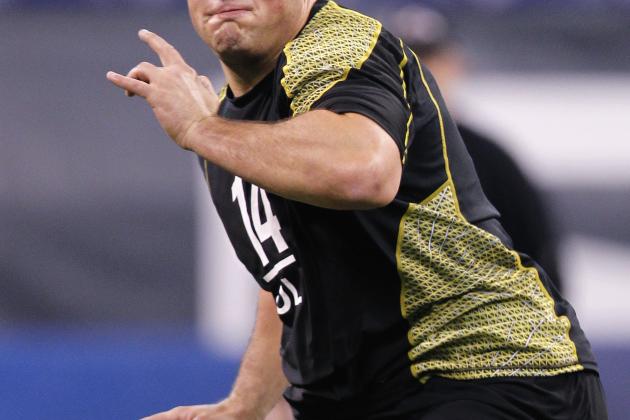 Joe Robbins/Getty Images

David DeCastro, Guard, Stanford
DeCastro is the best guard prospect to enter the NFL in over 20 years. This is how good I project the former All-American to be.
He dominates in the trenches, has surprising athleticism and amazing upper-body strength.
What impresses me the most about DeCastro is how good he is in regards to technique, already looking like a grizzled veteran in that aspect.
Imagine Jake Long and DeCastro lining up next to one another. That has the makings of a truly dominating offensive line.
Grade: A+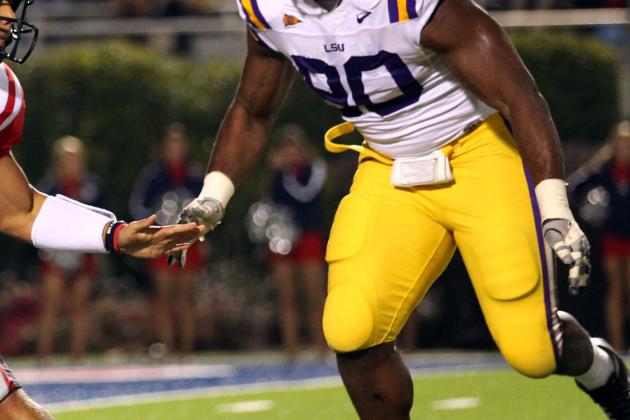 Joe Murphy/Getty Images

Michael Brockers, Defensive Tackle, Louisiana State
Despite a pedestrian performance at the combine, Brockers is going to be a Top Ten pick. He has a tremendous amount of upside, probably more than any defensive player in the entire NFL Draft.
What is concerning about the LSU product is that fact that he is going to have to build on his raw athletic ability in order to become a difference maker at that next level. This means that he might not be able to contribute on a consistent basis early in his career.
With that said, the Carolina Panthers need to build that talent level along their front four. They have couple nice young pieces, but nobody ready to be that standout player.
They get that in Brockers.
Grade: B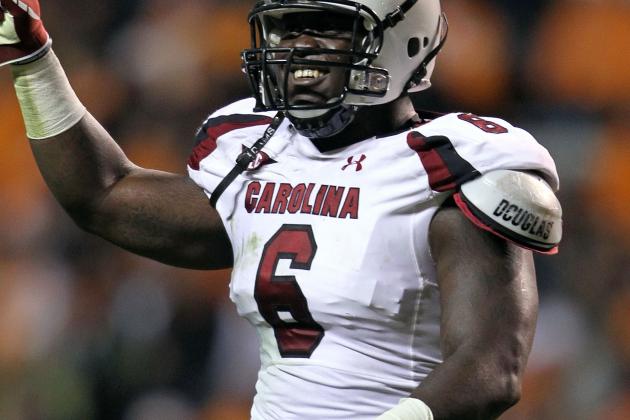 Andy Lyons/Getty Images

Melvin Ingram, Defensive End/Outside Linebacker, South Carolina
There is no doubt in my mind that the Buffalo Bills are going to go defense with the No. 10 overall pick in the draft. With that said, there are a number of different options for them here. They could decide to go linebacker or look for help in the secondary.
Melvin Ingram would fill both the defensive line and linebacker need for the Bills. He can line up with hands down at the line and has the athleticism to play outside linebacker as part of a standard defensive set.
You just cannot teach that type of versatility and talent. This would be a coup for Buffalo with the final pick in the Top Ten.
Grade: A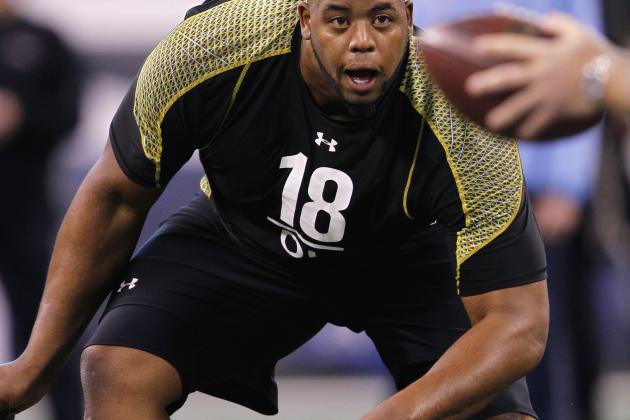 Joe Robbins/Getty Images

Cordy Glenn, Offensive Line, Georgia
A few weeks ago this pick would have seemed like a major stretch, but that just isn't the case anymore. Cordy Glenn helped his draft stock a great deal at the combine.
Despite that awkward looking frame, Glenn showed himself to be surprisingly athletic for someone that weighed in at over 340 pounds.
He also showed great technique and lateral movement in the skill-specific drills.
Prior to watching Glenn's workout in Indianapolis, I had him solely playing guard in the NFL. While that does seem to be his natural position, there are indications that he can play outside.
With that said, the Chiefs make this pick with the purpose of replacing Ryan Lilja at guard in 2012. They get a player in Glenn that will dominate for the next decade. Great value at a position of need.
Grade: A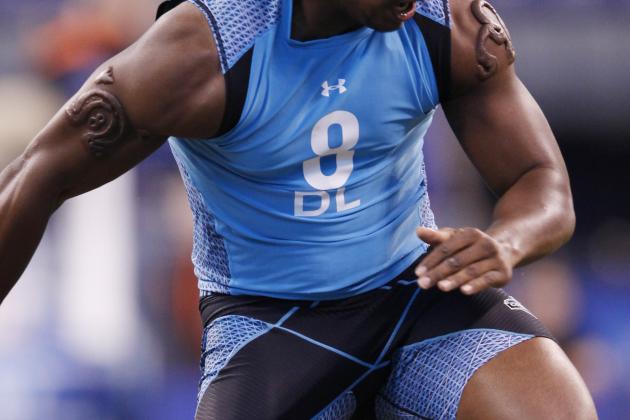 Joe Robbins/Getty Images

Quinton Coples, Defensive End, North Carolina
A pass-rushing defensive end is the Seahawks biggest defensive need at this point. With no difference-maker available on offense, they go with value on the other side of the ball.
While Quinton Coples is a little bit of a question mark at this point, he has as much upside as any pass-rusher in the NFL. I do see him struggling with NFL-ready pass-rushing moves early on, but that can be coached up.
Coples will also add another dimension to the Seahawks defensive line: an end that can stop the run.
This is a high-risk, high-reward pick.
Grade: C+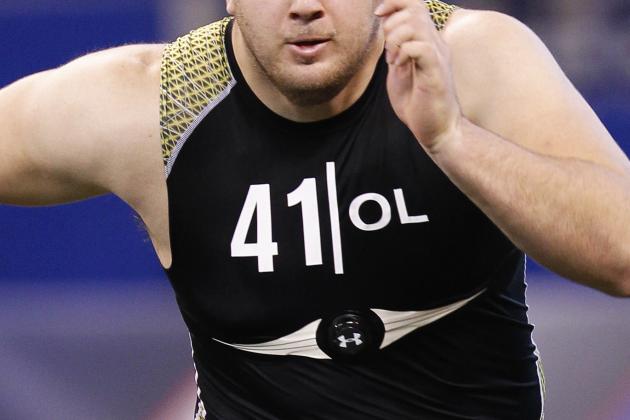 Joe Robbins/Getty Images

Riley Reiff, Offensive Tackle, Iowa
Sure, the Arizona Cardinals would liked to have seen either David DeCastro or Cordy Glenn fall to them here. But drafting a player like Riley Reiff is not a bad back-up plan.
He might not have the upside as most of the offensive tackles in the 2012 NFL Draft. That isn't a big deal considering that the form Iowa standout is already a damn good pass protector right now.
This is also something that Arizona need desperately after giving up a league-high 52 sacks in 2011.
Grade: B+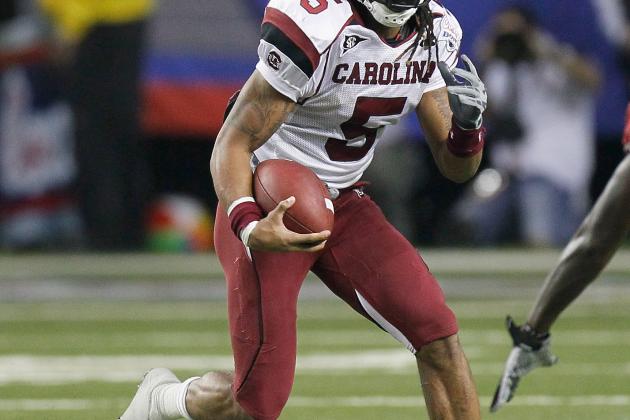 Kevin C. Cox/Getty Images

Stephon Gilmore, Cornerback, South Carolina
The South Carolina product has jumped all the way to No. 2 in my ranking at cornerback. Stephon Gilmore has a ton of upside, both on defense and on special teams.
He tracks the ball well on the outside, is able to jam the receiver at the line and shows really good hip movement in staying with the receiver.
The Dallas Cowboys need to upgrade at the corner position. Terence Newman is as good as gone, while Mike Jenkins continues to be hampered with injury issues.
This is a need pick, but also gives the Cowboys some value. Gilmore is also a solid return man, something they also need.
Grade: B+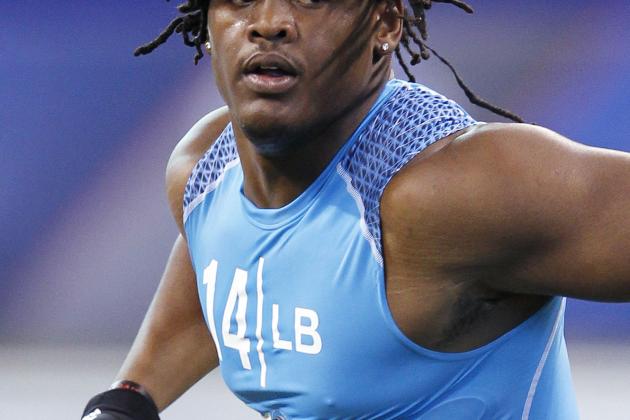 Joe Robbins/Getty Images

Dont'a Hightower, Inside Linebacker, Alabama
The Philadelphia Eagles had the worst tackling defense in the NFL last season. Most of this had to do with the fact that their linebacker group was pedestrian at best.
Enter into the equation Dont'a Hightower, who is as sure of a tackler that you will get.
He might not give the Eagles a tremendous amount of value (No. 28 on my big board), but he fills an area of tremendous need for Philadelphia.
Grade: B-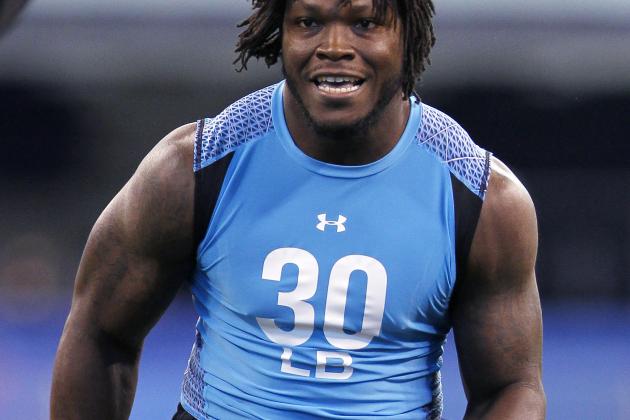 Joe Robbins/Getty Images

Courtney Upshaw, Outside Linebacker, Alabama
The New York Jets really need to get younger and more athletic in the front seven. At this point, they just look slow and old.
Courtney Upshaw would change that in a heartbeat. He can play with his hands down as well as drop back into coverage on the outside. The former Alabama star already has multiple pro-ready pass-rush moves and shows a tremendous initial burst post-snap.
This is a great value as I have Upshaw ranked No. 11 on by big board.
Grade: A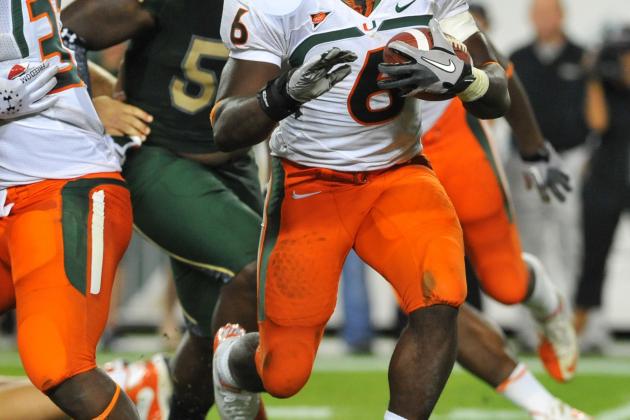 Al Messerschmidt/Getty Images

Lamar Miller, Running Back, Miami (F)
Players like Lamar Miller and Doug Martin are quickly closing the gap between Trent Richardson and the rest of the running back class in the 2012 NFL Draft.
This means that multiple backs are probably going to see their names called in the first round, a draft oddity in recent seasons.
Lamar Miller has the field vision, cutback ability and speed to be a difference maker in the ground game. He has a tremendous initial burst, is barely brought down after initial contact and is already nuanced in terms of following blocks—something that young backs usually struggle with.
Cedric Benson is not going to be on the Cincinnati Bengals next season and they have no heir apparent. It goes without saying that they need to find that young back to go along with their studs in the passing game. Miller is that guy.
Grade: A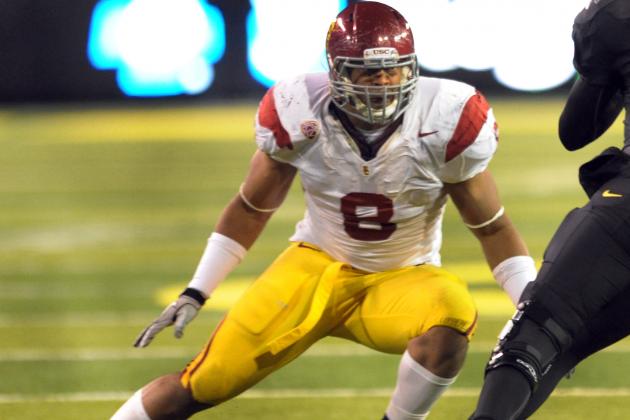 Steve Dykes/Getty Images

Nick Perry, Outside Linebacker, Southern California
Outside of Antwan Barnes, not one single San Diego Chargers defensive player accumulated more than four sacks. In fact, their No. 2 sack man was a defensive tackle, Cam Thomas.
This just isn't sustainable in a 3-4 defense. In short, they need to get more athleticism at the linebacker position.
Nick Perry brings that and more. He is still extremely raw, but has the pass-rush moves and athleticism to be a double-digit sack man moving forward.
Grade: B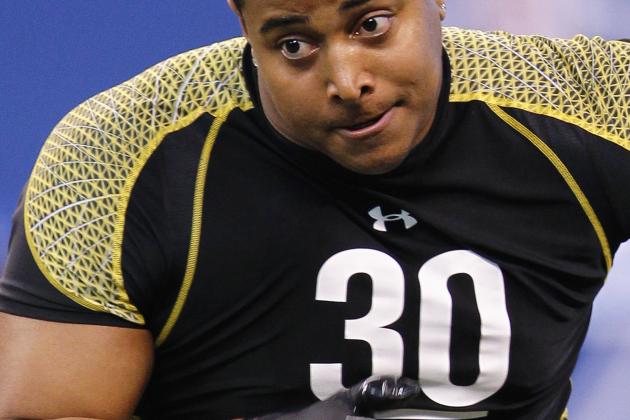 Joe Robbins/Getty Images

Jonathan Martin, Offensive Tackle, Stanford
I just couldn't see the value of reaching for a wide receiver here. The Chicago Bears would get much better value going in that direction in the second round.
Their next area of concern is along the offensive line. However, there aren't any guards worth the 19th selection here. So, the Bears go with a tackle in the first round for the second consecutive season.
They get Jonathan Martin, a player I had in the top ten for most of the postseason prior to a pedestrian combine performance.
He still have the ability to be a franchise guy, giving the Bears two young bookends along the offensive line. They need to keep Jay Cutler upright, this picks furthers the idea that they will be able to do that.
Grade: A-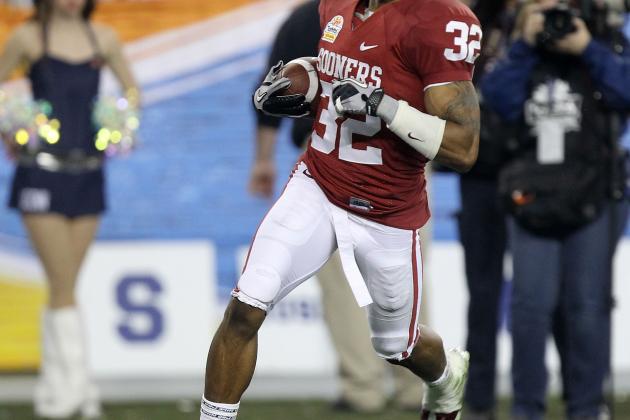 Ronald Martinez/Getty Images

Jamell Fleming, Cornerback, Oklahoma
One of the fastest risers in the draft following a dazzling Senior Bowl performance, Jamell Fleming did nothing to hurt his stock at the combine.
He showed tremendous natural ability in the position-specific drills in Indianapolis, while impressing a great deal in the generic drills.
Fleming has the looks of a true No. 1 corner, something that the Titans are going to need no matter the future of Cortland Finnegan.
Grade: A-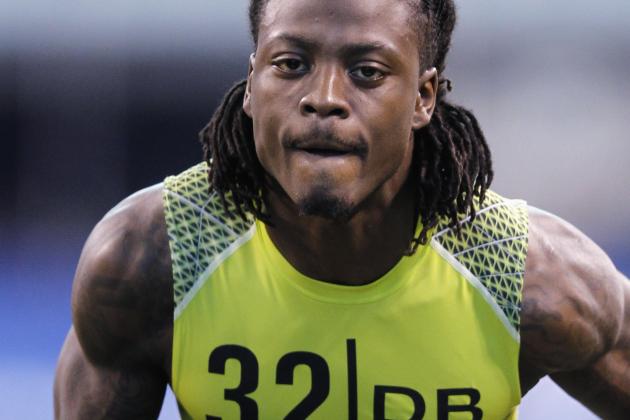 Joe Robbins/Getty Images

Dre' Kirkpatrick, Cornerback, Alabama
The Alabama product jumped a little bit on my big board following a solid performance in the generic drills at the combine. However, he still tends to struggle with stiff hips and doesn't track the ball well on the outside.
I am still working under the assumption that Kirkpatrick fits better at the free safety position, but most NFL front office don't see it that way.
Expect the Cincinnati Bengals to look for a long-term replacement for Nate Clements. At the very least, Kirkpatrick will be able to match the marginal veteran in terms of cover skills.
Grade: C+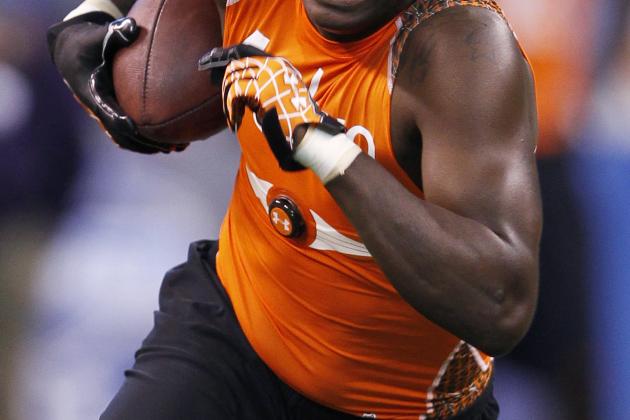 Joe Robbins/Getty Images

Kendall Wright, Wide Receiver, Baylor
Pick projected to be acquired from the Cleveland Browns in a trade.

I really don't care that Kendall Wright struggled in the 40-yard dash at the combine. His game-speed is much better than what we saw in that overrated drill.
I am pretty sure that scouts are going to go off of game tape more than they are going to go off of the combine when drawing a conclusion about Wright.
At this point, he still remains as my No. 3 wide receiver in the draft.
The St. Louis Rams need to get that go-to guy on the outside for Sam Bradford. While Wright isn't a prototypical No. 1 receiver, he will be a major upgrade from what they currently have.
Grade: B-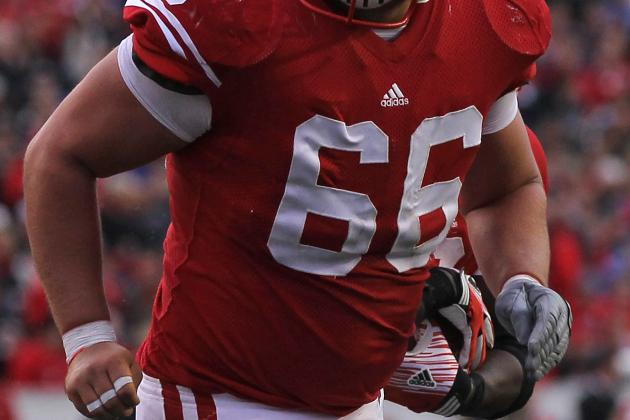 Jonathan Daniel/Getty Images

Peter Konz, Center, Wisconsin
This is just the smart pick for the Detroit Lions. They need to get players that can contribute immediately if they plan on competing with the Green Bay Packers in the near future.
None of the corners available here will be upgrades in 2012 from what they currently have.
The same cannot be said for Peter Konz, who could come in an immediately become a Pro Bowl player.
Grade: A+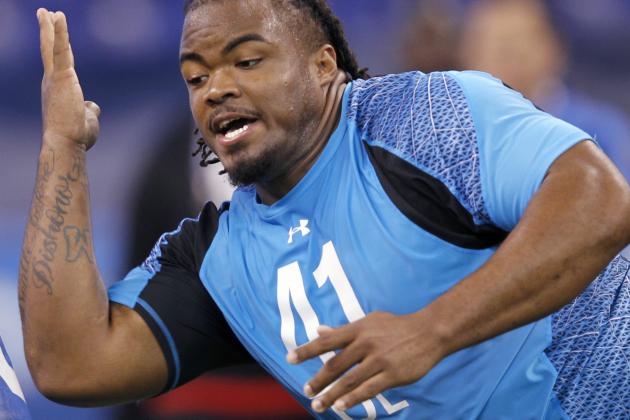 Joe Robbins/Getty Images

Dontari Poe, Nose Tackle, Memphis
Talk about a perfect fit—Dontari Poe has everything that the Pittsburgh Steelers look for in their 3-4 defense. He is freakishly strong up the middle, shows a tremendous amount of athleticism and fits perfect in their scheme.
The addition of Poe will also enable Pittsburgh to free up some cap room by releasing Casey Hampton. It also enables them to get younger along a defensive front that is growing a little long in the tooth.
Grade: A+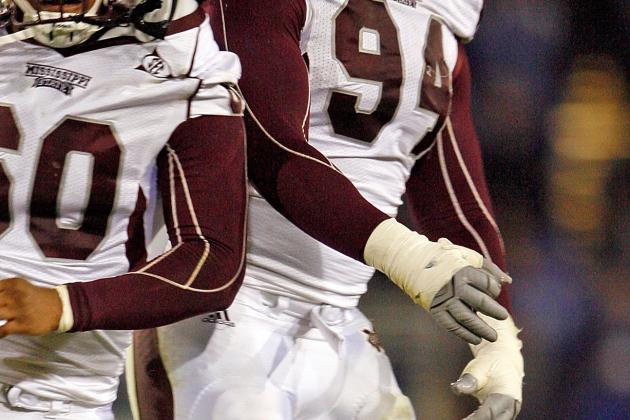 Andy Lyons/Getty Images

Fletcher Cox, Defensive Line, Mississippi State
Versatility is a key component of what the Broncos have attempted to build on defense. Von Miller can play with his hands down and on the outside as linebacker; the same can be said for Elvis Dumervil as well.
It is now time for them to start building that same feature along the defensive line. Fletcher Cox can line up inside or outside, depending on the specific situation. He has the strength and speed to be a flexible member of the Broncos rotation.
More than that, Cox has the ability to stop the run and push the pocket back into the quarterback. The more film I watch on the former Mississippi State player, the more impressed I am.
Grade: A-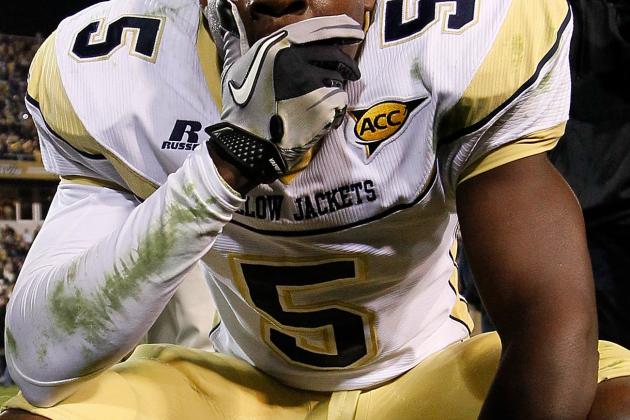 Kevin C. Cox/Getty Images

Stephen Hill, Wide Receiver, Georgia Tech
This is a pick of pure projection. Stephen Hill really didn't do much in college, but that had to do more with the scheme that Georgia Tech employed under Paul Johnson.
Hill had an amazing combine performance and looks absolutely amazing on tape. This is a guy that can stretch the field, runs tight routes and has some really good hands. While he might struggle against press coverage early, Hill is an extremely high ceiling.
With Houston seeking an upgrade opposite Andre Johnson at wide receiver, Hill would provide that and more.
Grade: A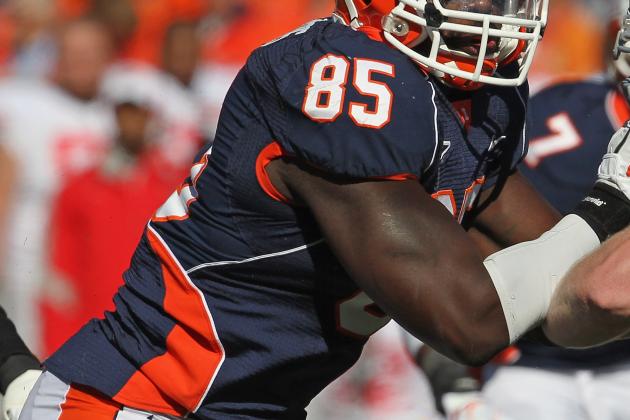 Jonathan Daniel/Getty Images

Whitney Mercilus, Defensive End/Outside Linebacker, Illinois
The New England Patriots love to take chances in the draft and usually come out looking pretty after doing so. Don't expect that to change next month. I fully believe that the Patriots are going to go defense with their first four picks, but will take a chance that a corner will fall to their next pick.
With Green Bay, Baltimore and San Francisco selecting between the Patriots two picks, they are going to have to make the decision to go pass rush here.
Whitney Mercilus might not look great on tape, but he was an extremely productive player against elite competition in the Big Ten. There is no reason to believe that this success will not translate to the NFL.
New England gets a player that fits their hybrid 3-4 and 4-3 defense to a tee. Mercilus can line up with his hands down and drop back into coverage depending on scheme.
Grade: B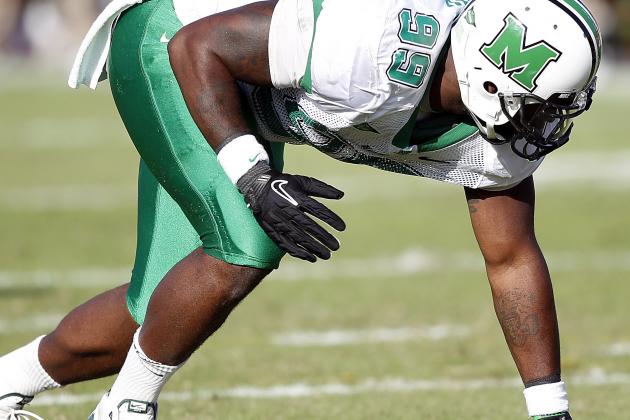 Bob Levey/Getty Images

Vinny Curry, Outside Linebacker, Marshall
There is an idea around the football world that your secondary is only as good as your pass rush. While the Green Bay Packers couldn't stop anyone through the air last season, I think that had a lot more to do with their inability to put pressure on the quarterback.
They need a true pass-rushing outside linebacker opposite Clay Matthews.
Vinny Curry will provide that added dimension for Green Bay. He has an electrifying pass rush move, dominates in one on one situation and usually requires teams to transfer double teams in his direction.
There is no reason to believe that this wont translate to the NFL, where Curry will be lined up opposite one of the best 3-4 outside linebackers in the game.
Grade: B+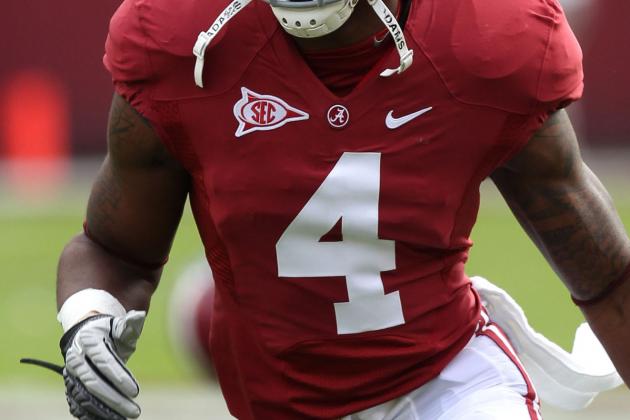 Mike Zarrilli/Getty Images

Mark Barron, Safety, Alabama
This was a difficult pick. The Baltimore Ravens are sure to find an eventual replacement for either Ed Reed or Ray Lewis with this pick. After Vontaze Burfict fell flat on his face at the combine, something that I had predicted would happen, there is no reason to believe that Baltimore will reach for him in the first round.
This leaves two options. Going with the tremendous upside of Bobby Wagner (Utah State) to eventually replace Ray Lewis or going after the "surer" bet in Mark Barron.
The Alabama product is the consensus best safety in a relatively weak draft at that position. He is good in coverage, can press in the box and has signal calling experience in the defensive secondary. Barron will also be able to learn a great deal from Reed.
Grade: C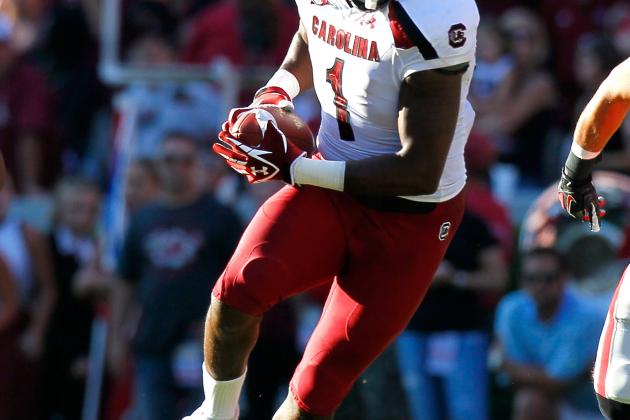 Kevin C. Cox/Getty Images

Alshon Jeffery, Wide Receiver, South Carolina
The talented receiver from South Carolina continues his dramatic drop down my big board. After initially having him entrenched in as a top 15 player, I now have Jeffery outside of the top 25.
This doesn't mean that he doesn't have what it takes to be a great player at the next level. It just means that he is nowhere near the prospect that many of us thought he would be just two months ago.
With that said, the San Francisco 49ers are going to get multiple upgrades at the wide receiver position this offseason. In fact, you can expect them to draft multiple receivers in April.
For them, it starts here in the first round.
Grade: B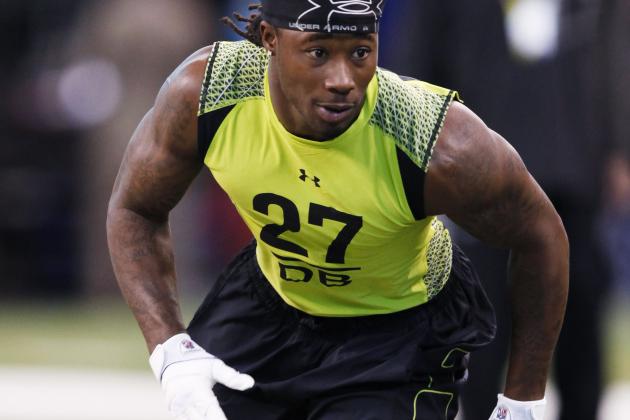 Joe Robbins/Getty Images

Janoris Jenkins, Cornerback, North Alabama
The risk-taking paid off as both Green Bay and San Francisco passed up on the talented, but troubled corner.
This would be somewhat of a coup for the New England Patriots. They get a player with shutdown corner abilities due to the fact that he has major character concerns. They also have the foundation in place with veteran leadership to help him through these tough times.
It also doesn't hurt that this is the biggest area of concern for the defending AFC Champions.
Grade: A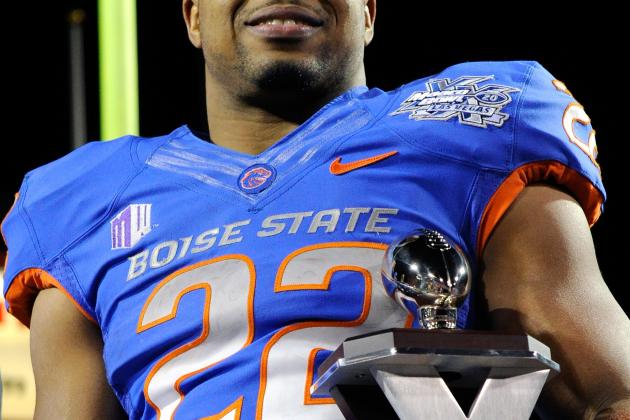 Ethan Miller/Getty Images

Doug Martin, Running Back, Boise State
A few weeks ago I indicated that Doug Martin was the second best running back in the draft. While this drew some harsh criticism, I continued to stand by that statement.
Martin's performance at the combine only proved this point further.
Many would indicate that the Giants need to go tight end with this pick. That could be true, but one of the top three at that position is surely going to be available to them in the second round.
Why not get value at a need position?
Brandon Jacobs has stated that he wants to return, but I am not sure the feeling is mutual. Look for the Giants to upgrade that position in a deep draft class at running back.
Grade: A+