US Soccer: Predicting the Starting XI for USMNT's World Cup Qualifying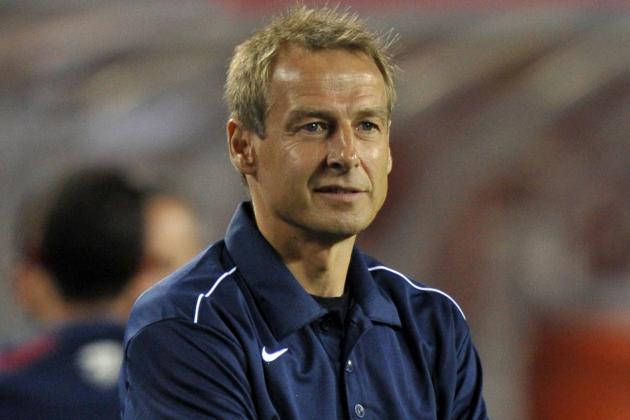 Drew Hallowell/Getty Images

World Cup qualifying is just around the corner for Jurgen Klinsmann's U.S. National Team. The United States has qualified for each of the last six competitions and Klinsmann hopes to ensure a seventh with just the right mix of players.
There are the stars, who (barring injury) are virtual locks to be on the field when qualifying begins. There are guys who a pretty good consensus is building around. And then there are the 10 or so players on the bubble. And that's where the fun is.
Here are the 11 that I'll be looking for on the field when the USA kicks off qualifying on June 8th.
Begin Slideshow

»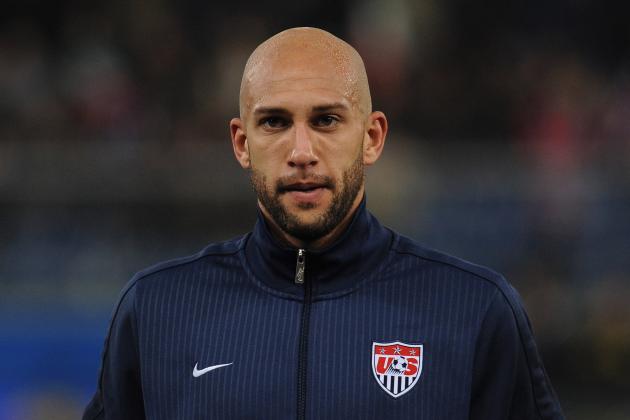 Valerio Pennicino/Getty Images

Tim Howard is about as certain as a player gets in the Nats starting line-up. He is quite simply the most world-class player in the American stable.
There's no one else at Jurgen Klinsmann's disposal who rates as highly at their position compared to the rest of world football. Not Landon Donovan, not Clint Dempsey, not anyone.
And it never hurts when your keeper will chip in with the occasional goal.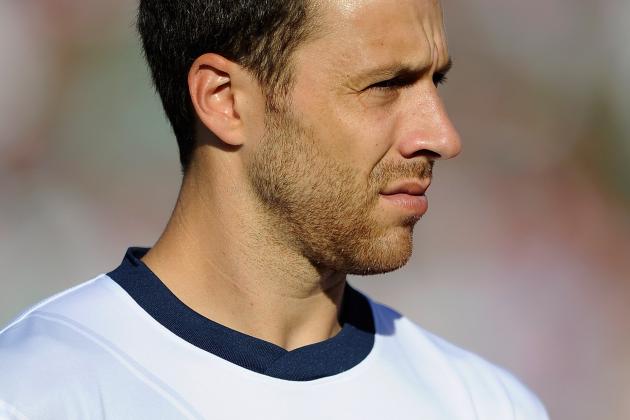 Kevork Djansezian/Getty Images

With over 300 appearances for German side Hannover 96 and two World Cups with the United States, Steve Cherundolo has done plenty to establish his position on the right side of defense.
He has weaknesses, most notably a clear lack of pace, but Cherundolo was the best U.S. defender at the 2010 World Cup and has continued his superiority into Klinsmann's reign.
Eric Lichaj, Jonathan Spector, and Timothy Chandler pose his most immediate challenges, but none are as consistently solid as Cherundolo. Chandler is probably the long-term successor on the right side, but expect Cherundolo's experience to keep him in place for the qualifying run.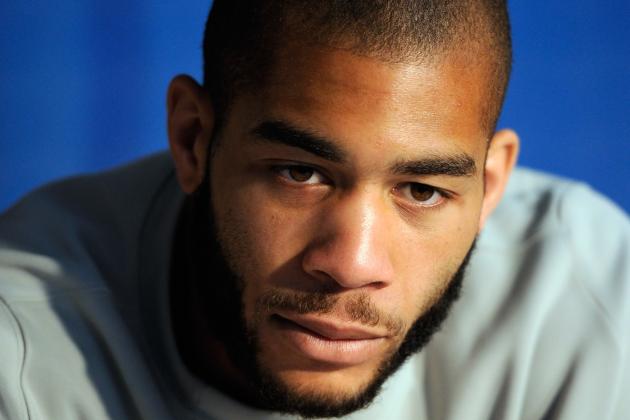 Kevork Djansezian/Getty Images

Coming back from injury in 2010, Oguchi Onyewu was horrid in South Africa. The announcement that knee surgery will sideline him for two months means that the big center back will be facing a similar predicament going into World Cup qualifying.
Italy showed just how vulnerable the center of the U.S. defense can be without him. So despite Onyewu's track record returning from injury, Klinsmann lacks a solid alternative.
Clarence Goodson has now been too often exposed in his appearances to be trusted in games that matter. Norwich City's Zak Whitbread is an interesting possibility, but completely unproven at international level. And a strong start to the MLS season could see Geoff Cameron getting serious consideration.
But until someone else really distinguishes themselves, this position appears to default to a healthy Onyewu.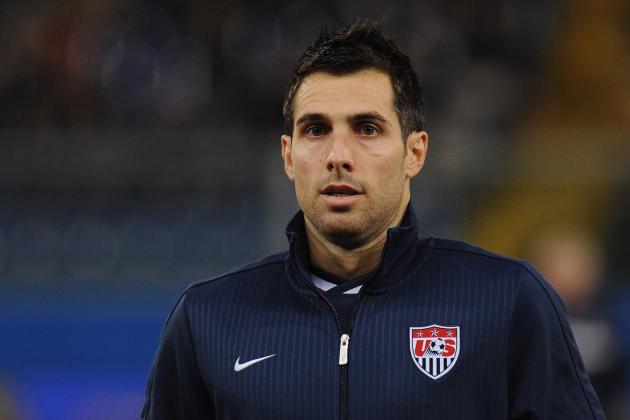 Valerio Pennicino/Getty Images

The Nats' captain was part of the soft center against Italy, but most of his trouble came from trying to cover for the floundering Clarence Goodson. Captain America to Rangers fans, Bocanegra will partner someone in the center of defense come June.
Jurgen Klinsmann could push him out to the left if none of the experiments (Chandler, Johnson, etc.) work out to his satisfaction. But Bocanegra is significantly better in the center and at the moment there doesn't appear to be anyone capable of pushing him for that spot.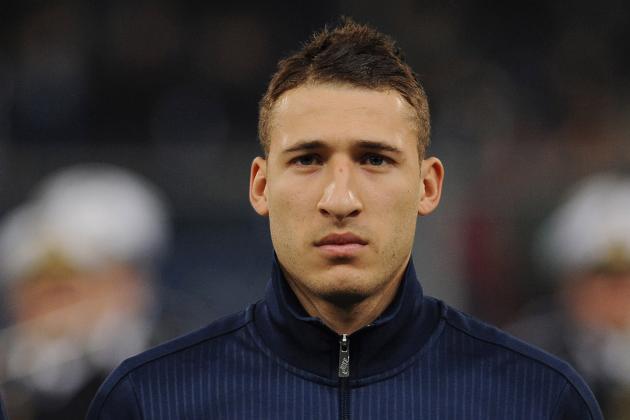 Valerio Pennicino/Getty Images

This is where things get interesting. Anyone following U.S. soccer over the years knows about the persistent problem at left back. But now, possibilities are starting to bubble up out of America's traditional black hole.
With apologies to Jonathan Spector, the argument really comes down to Timothy Chandler or Fabian Johnson.
An argument can be made for FC Nurnberg's Timothy Chandler. He made a fast start to his international career and has looked good when called upon on both sides of defense.
But of all the U.S. options at left back, only Johnson is getting regular minutes with his club (1899 Hoffenheim) in that position. As the German season continues, expect to see the converted midfielder's performance on the left improve by leaps and bounds.
Johnson will be helped if Klinsmann continues to deploy two holding midfielders as he did against Italy. It will free the budding left back to bomb forward without worrying that his absence will leave the defense fatally exposed.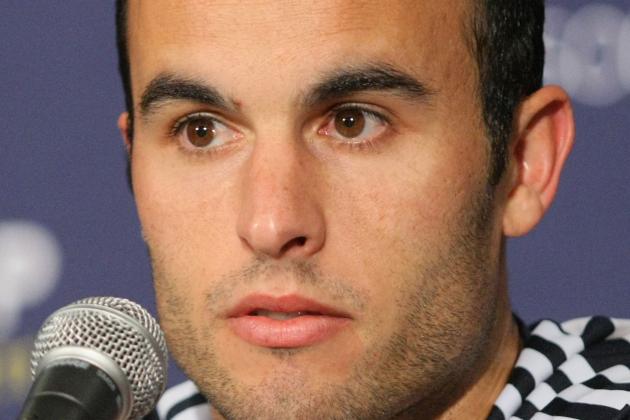 Victor Decolongon/Getty Images

The United States' all-time leading scorer and likely eventual caps leader (currently second behind Cobi Jones), nothing except injury will keep Landon Donovan out of the starting line-up.
His two loan spells at Everton have shown just how effective he can be operating on the right side of midfield. Combine that with the growth of Clint Dempsey playing just behind the striker, and Donovan's positioning out right looks ideal.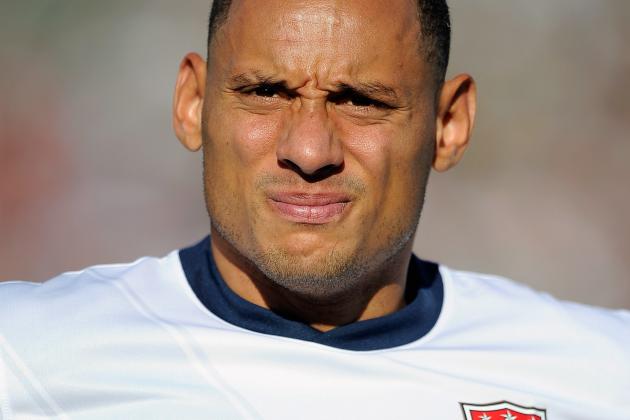 Kevork Djansezian/Getty Images

Jermaine Jones in the center of midfield provides the United States with the best of both worlds. You want two holding midfielders, because Dempsey's interest in defending ebbs and wanes significantly. But at the same time, you need someone in that position with vision and a taste for playing the killer pass.
That's Jermaine Jones. He combines physicality and vision like no one else the United States can position in the center. As a mixture of attack and defense, he is the best player Klinsmann can deploy in the middle of the field.
Jose Francisco Torres and Benny Feilhauber are playmakers, but don't offer the defensive presence. Maurice Edu is a stopper, but lacks attacking presence. No one knows when or to what degree Stuart Holden will return. Michael Bradley and Kyle Beckerman are the next best options, but they are competing to partner Jones in the middle rather than replace him.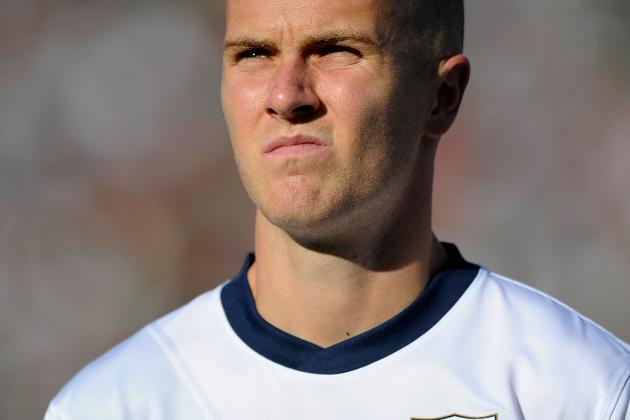 Kevork Djansezian/Getty Images

Michael Bradley has once and forever killed off the "daddy's boy" tag that dogged him during his father's tenure as national team coach.
His move to Italian side Chievo Verona has been revelatory. U.S. fans will have watched him lead the defensive effort against Italy in Genoa, but Serie A fans saw him outplay Andrea Pirlo a few days later when Chievo stole a point at Juventus.
Bradley is a ball winner in midfield. However, the thing that sets him apart from players like Maurice Edu and Ricardo Clark is that once he's won it he has an uncanny ability to pick the pass that will maintain possession. He might not split open the defense, but he won't give the ball away either. That's valuable.
A good start in MLS could make Kyle Beckerman more attractive in this conversation, but facing better opposition each week at club level will keep Bradley more thoroughly prepared for international level.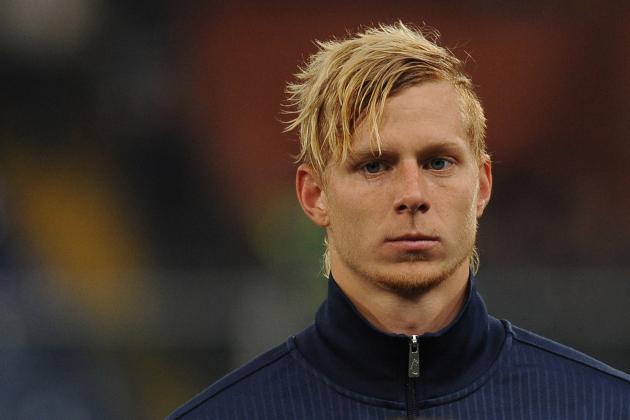 Valerio Pennicino/Getty Images

Brek Shea is 6' 3" with speed to burn and a bag of fancy tricks. He has only rarely flashed those considerable gifts to indicate his true potential on the international stage. But he will.
Unlike many of his teammates, Shea did not have a good match in the U.S. win against Italy. He sort of wandered around on the left side trying not to get in the way. But he has more ability than any other player the U.S. could stick out left and it is only a matter of time and experience before he brings it to bear on the national team.
Beyond his sheer raw ability, Shea clearly has the confidence of Jurgen Klinsmann. With the backing of his coach and a couple months of MLS action to get him warmed up, Shea will be ready for the starting spot when qualifying begins.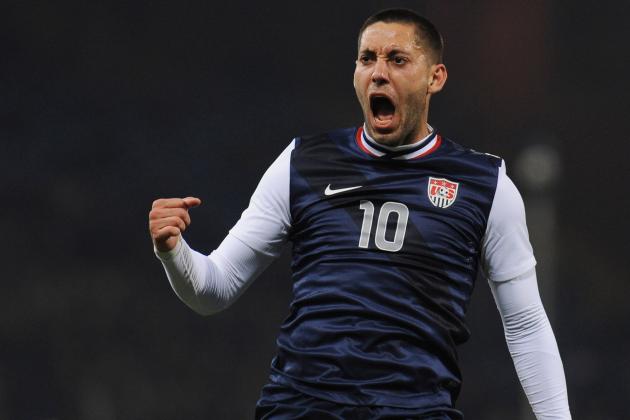 Valerio Pennicino/Getty Images

Along with Tim Howard and Landon Donovan, Clint Dempsey fills out the American soccer trinity. Call this position a withdrawn forward or an attacking central midfielder, but Dempsey will fill the space behind the striker.
Not only is he the United States' best player, he is also the United States' most in-form player. What do you do when you've scored a historic goal for your country? Dempsey goes out and scores two more for Fulham at the weekend.
There's no doubt Dempsey will be in the starting line-up for qualifying. What has U.S. fans holding their breath is whether he'll still be in the midst of his current hot streak.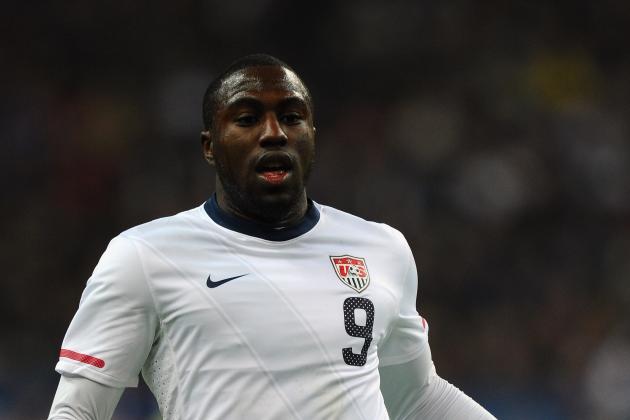 Mike Hewitt/Getty Images

Jozy Altidore is the starting striker for the United States. It's not because he is a dominant forward who will score bags of goals. It's not because he has blistering pace that will worry and stretch defenses. It's because he's the best of what we've got.
There are lots of guys (Buddle, Gomez, etc.) who will give you a burst from the bench or a game here and there. Someone in the younger group of Juan Agudelo, Teal Bunbury, and Terrence Boyd could be the future. Charlie Davies... oh, Charlie Davis. After an up-and-down season with DC United, he's starting to see a little time back at Sochaux. But dare we hold our breath?
At the moment, Jozy Altidore is the best we've got. He's scoring goals at club level for AZ Alkmaar. Against Italy, he seemed to finally discover that he's big and strong enough to hold off top defenders. If he can put those things together, it could be a very very good thing for the United States.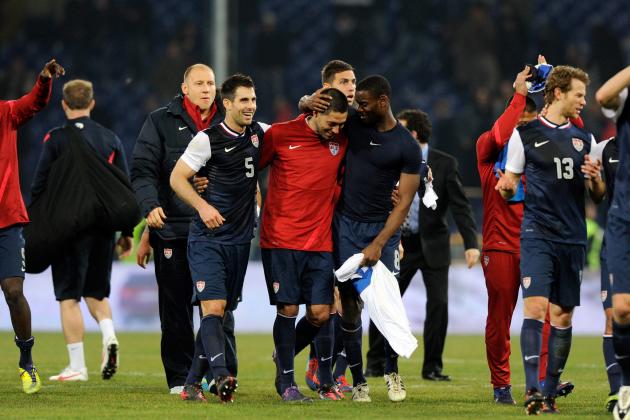 Claudio Villa/Getty Images

Did I get it exactly right? Am I insane for leaving out ______________ ? Do you have an entire different 11?
Get your comments in. Let's have a discussion. Hell, let's have a fight. It will be fun.
Either way, we'll get the answers on June 8th when Jurgen Klinsmann's starting 11 take the field in Tampa to start qualifying against Antigua and Barbuda. I promise not to say "I told you so."