March Madness 2012: Predicting the All-Big Ten Teams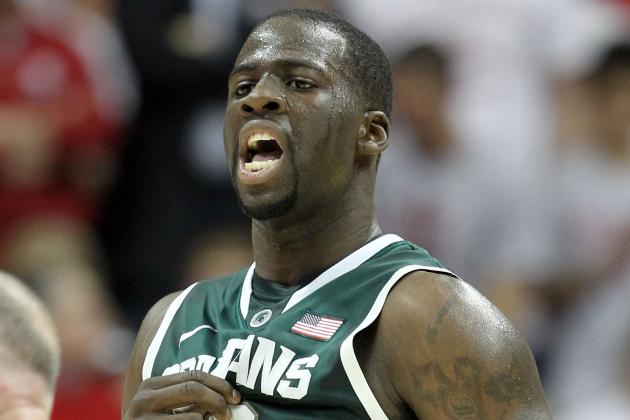 Andy Lyons/Getty Images

The Big Ten has established itself as the top conference in America during the 2011-12 season, topping RPI rankings as well as respected computer metrics like Jeff Sagarin's.
Five Big Ten schools are projected to receive top-four seeds in the NCAA Tournament according to Joe Lunardi's March 2 edition of Bracketology.
In another sign of respect, NCAA Tournament talk continued to swirl around teams like Minnesota and Illinois, silencing only when those schools slumped to conference winning percentages approaching Jose Reyes' batting average.
These groups of the top players in America's best conference represent the greatest aspects of college basketball. For starters, there are only two freshmen in the bunch. Even though the glamorous one-and-done talents don't flock to East Lansing or Madison, the players who do will stay a while and become part of the fabric of their school's history, as well as the conference's.
These 20 players may not dominate the SportsCenter highlights, but they play the game well. There's still something to be said for that.
Begin Slideshow

»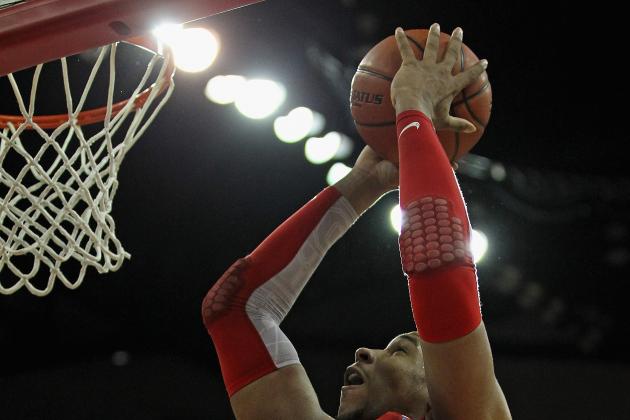 Jonathan Daniel/Getty Images

F Jared Sullinger, Ohio State (6'9", 265, Sophomore)
F Draymond Green, Michigan State (6'7", 230, Senior)
F John Shurna, Northwestern (6'9", 215, Senior)
G Tim Frazier, Penn State (6'1", 160, Junior)
G Trey Burke, Michigan (5'11", 180, Freshman)
Coming into the season, Jared Sullinger was among the favorites for National Player of the Year. A surprising return to Columbus, spurning NBA lottery-pick riches, had college analysts drooling over how he could dominate the game in 2012.
His stock cooled slightly when back spasms caused him to miss a December game against Kansas—one that would have put him face-to-face with another POY challenger, Thomas Robinson.
Sullinger's 17 points and nine rebounds per game still have him as a firm favorite for All-American honors, but he may have been pipped for Big Ten Player of the Year by Michigan State's Draymond Green.
Green's cumulative stats (16.1 ppg, 10.2 rpg, 3.6 assists per game and 1.5 steals per game) compare very favorably with Sullinger. Green is the only player in the Big Ten who ranks in the league's top 10 in all five of the major stat categories. Still, Green's true value has been revealed in the conference stretch run.
During Michigan State's 7-1 February run that spurred Sparty to the top of the Big Ten standings, Green pulled his team onto his back, averaging 19.4 points and 10 rebounds while drilling 18-of-40 three-point shots (45 percent).
John Shurna has had a bit more help this season than past Northwestern stars like Walker Lambiotte, Shon Morris or Evan Eschmeyer had in their careers. Despite that, the Wildcats have still had issues winning the games that would be signature victories in their quest for their first NCAA Tournament berth.
In January, Northwestern lost by one point to Illinois, two to Michigan and two to Purdue. In back-to-back February games, Purdue and Indiana survived a combined 59 points from Shurna, accounting for more than 41 percent of the Cats' scoring on those two nights.
Shurna leads the Big Ten in scoring and three-pointers made, ranking second in three-point percentage and third in blocks. He's also in the top 20 in all the other major categories, including field goal and free throw percentage.
Another player demonstrating staggering versatility this season has been Penn State's Tim Frazier. Stepping out from the enormous shadow of PSU's all-time scoring leader Talor Battle, Frazier has begun carving his own legacy in 2012.
Frazier sits second in the conference in scoring, first in assists and second in steals. While the Nittany Lions have not been in the bubble conversation this season, struggling to a 4-13 Big Ten record, it's been through no lack of effort out of Frazier.
Frazier scored more than half of the Lions' points in a January loss to Nebraska. Northwestern survived 23 points, eight assists and only one turnover by Frazier in a one-point squeaker on February 25. On Leap Day, Frazier shot 10-of-16 for 24 points, but Purdue still cruised away with a 24-point win.
Freshman Trey Burke has already etched his name into the Michigan record books, breaking Gary Grant's 1985 record for most assists by a rookie. He's rarely left the floor for the Wolverines, playing 35.9 minutes per game, third in the Big Ten behind Shurna and Frazier.
Burke has not only made his backcourt running mate Tim Hardaway Jr. a more dangerous player, but he's also helped bring out the best in unheralded supporting players like Evan Smotrycz, Zach Novak and Stu Douglass.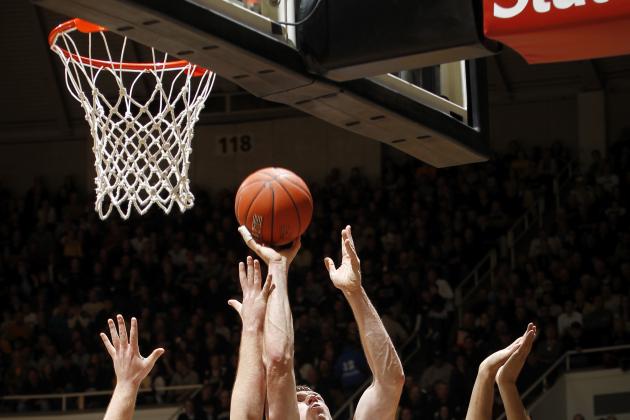 Joe Robbins/Getty Images

F Robbie Hummel, Purdue (6'8", 215, Senior)
F Deshaun Thomas, Ohio State (6'7", 225, Sophomore)
C Cody Zeller, Indiana (6'11", 230, Freshman)
G Jordan Taylor, Wisconsin (6'1", 195, Senior)
G Drew Crawford, Northwestern (6'5", 210, Junior)
There are very few stories in college basketball this season more inspirational than Robbie Hummel's. After watching two fellow members of arguably Purdue's most successful recruiting class ever ride off to the Boston Celtics, Hummel contended with a team that was his alone and the nagging concern that his string of injuries would continue. The senior has passed both tests with flying colors.
After the Boilermakers lost four of five in late January and early February, their NCAA Tournament hopes were beginning to flag. Since then, Purdue has gone 5-1, losing only to Michigan State in their first game without dismissed forward Kelsey Barlow and guard D.J. Byrd, who was suspended for that game.
Hummel has averaged almost 24 points and 10 rebounds during the run. For the season, he ranks fourth in the Big Ten in scoring, fifth in rebounding and sixth in blocked shots.
Deshaun Thomas has accomplished the odd feat of doubling his minutes and reducing his shot percentage in his sophomore season. Thomas took the shot on more than 30 percent of the possessions he was involved in last season, despite playing only 14 minutes a night. This season, primarily playing alongside Jared Sullinger and William Buford, Thomas has been more explosive and a lot more efficient.
Thomas's 15.2 points per game place him second on the team, behind Sullinger, and ninth in the conference. Unfortunately for him, he has only three 20-point games in Big Ten play, and all three have been Buckeye losses. Still, he's been a reliable third option behind Sullinger and Buford.
Cody Zeller has given Indiana the kind of inside presence that it has lacked thus far in Tom Crean's tenure, and the ensuing improvement has Crean pushing hard for Big Ten Coach of the Year honors.
The Hoosiers ranked No. 165 in America last season in three-point FG percentage. This year, they're No. 2, and all those open shots can be written up to defenses' need to respect Zeller in the paint. He's among the Big Ten's top 10 in points, rebounds and blocks while leading the league at 63.4 percent from the floor.
Jordan Taylor entered the season as an All-American favorite, but there were signs early on that his shot was slipping. Nights like 5-for-16 against Bradley, 6-for-20 against North Carolina and 0-for-10 against UNLV were difficult for Badger fans to watch.
Taylor's shot has improved a bit during conference play, and it's a good thing. He's accounted for more than 27 percent of the Badgers' points during Big Ten games. On a Wisconsin team shooting only 42 percent on the season, 11th in the Big Ten, support is hard to come by, making it even more impressive that Taylor ranks sixth in the league in assists and has one of the conference's top three assist-to-turnover ratios.
Drew Crawford has been an occasionally spectacular caddy for John Shurna as Northwestern keeps fighting for that elusive NCAA Tournament spot. Unfortunately, he has not kept his play as consistently efficient as Shurna has done.
Crawford's 3-for-12 shooting was a factor in the one-point loss to Illinois in January, one that keeps looking worse as Illinois lurches to the finish line. He shot 6-for-16 against Purdue in February and was held to five attempts by Michigan's smothering defense.
For every off night, though, there's a strong game to remind Cats fans of Crawford's importance. He scored 20 in a January upset of Michigan State, 23 in a two-point home loss to Purdue and 23 in a late February heartbreaker against Ohio State. He shot a combined 26-of-41 (63.4 percent) in those three games, demonstrating a serious flair for the dramatic.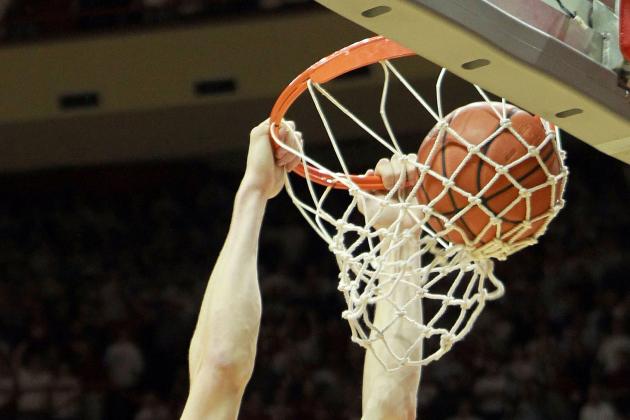 Andy Lyons/Getty Images

C Meyers Leonard, Illinois (7'1", 245, Sophomore)
G Lewis Jackson, Purdue (5'9", 165, Senior)
G Brandon Paul, Illinois (6'4", 200, Junior)
G Matt Gatens, Iowa (6'5", 212, Senior)
G William Buford, Ohio State (6'6", 220, Senior)
Meyers Leonard has sometimes been a forgotten man in the Illinois offense, taking only 21 percent of the available shots during his minutes. While the Illini try to rain away from three-point range, making only 27 percent of their deep shots during their 2-10 swoon, Leonard has stayed relatively steady.
The big sophomore has averaged 14.5 points and 8.6 rebounds during the Illinois slide, shooting 56 percent from the floor. Considering the rest of the team has shot less than 39 percent during the same period, Leonard's effort becomes that much more commendable. He still ranks third in the league in both rebounds and field goal percentage and also leads the Big Ten in blocks.
Purdue needed Robbie Hummel's scoring and rebounding to contend this season, and it also needed Lewis Jackson to contribute steady play at the point guard position. Steady is an understatement, as Jackson has mustered a league-leading 2.6 assist-to-turnover ratio and quarterbacked an offense that has committed fewer turnovers per game than any other in the country.
As an added bonus, the senior, who is generously listed at 5'9", has scored in double figures 16 times this season after doing so only 20 times in his first three seasons. Jackson dropped in 43 points in wins over Iona and Temple in the Puerto Rico Tip-Off tournament, victories that have formed cornerstones of Purdue's NCAA Tournament resume.
Brandon Paul is nothing if not a volume shooter. The junior has yet to finish a season over 40 percent from the floor, but he's proven that he's extremely capable of spectacular games. His 43-point explosion against Ohio State was a nationwide story, but Paul also went for 19 points and 10 rebounds against Missouri and averaged 24.5 points and eight boards in his two meetings with Minnesota.
Paul has shot 40.6 percent from the floor during Illinois' 2-10 slump, which coincidentally started after his big night against the Buckeyes. He was shooting 36 percent before that game, so at least he's improved.
The Iowa Hawkeyes were expected to sit near the bottom of the Big Ten standings, but Matt Gatens has led them to some highly unexpected victories en route to an 8-10 conference record. Iowa even managed to sneak into the bubble chatter for a day or two.
Iowa's February 19 win over Indiana was spurred by Gatens' 30 points, and he followed that up four days later with 33 in another upset win over Wisconsin. He stands seventh in the conference at 15.7 points per game, and only Drew Crawford and Jared Sullinger have outscored Gatens while also shooting a better percentage than his 48.2 from the floor.
William Buford entered the season with a chance to break Dennis Hopson's all-time Ohio State scoring record. That chance is now entirely dependent on deep runs in both the Big Ten and NCAA Tournaments, as Buford now needs 231 points to catch Hopson. Still, he's given it a great try.
Buford has nine games this season with 20 points or more, equaling Jared Sullinger's total. He scored 20 in a November drubbing of Duke. His 29 points helped the Buckeyes defend their turf against a hungry Purdue squad on February 7. Perhaps saving the best for last, Buford scored 25 to lead Ohio State back from a huge first half deficit to defeat Michigan State in the season finale, securing the top seed in the Big Ten Tournament and a share of the Buckeyes' third straight regular season title.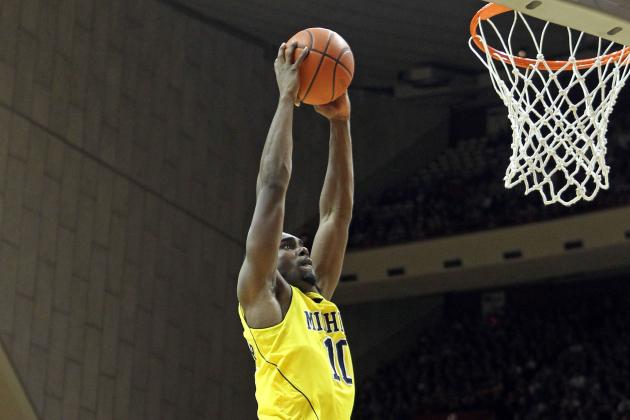 Andy Lyons/Getty Images

F Ryan Evans, Wisconsin (6'6", 210, Junior)
F Christian Watford, Indiana (6'9", 225, Junior)
F Rodney Williams, Minnesota (6'7", 200, Junior)
G Tim Hardaway Jr., Michigan (6'6", 200, Sophomore)
G Aaron Craft, Ohio State (6'2", 190, Sophomore)
In Ryan Evans' first season as a starter he's averaged 10.7 points per game along with seven rebounds a night, a figure which places him in the conference's top five.
Christian Watford is another of the league's top 10 rebounders, and sounded the first major alarm of the Hoosiers' resurgence when he drilled the buzzer-beating three-pointer to give Kentucky their only loss. Three of his four 20-point games this season have been against Kentucky, Michigan State and Michigan.
Rodney Williams is among the Big Ten's top 10 in rebounds, steals, blocks and field goal percentage.
Tim Hardaway has shot less than 30 percent from three-point range this season, but he hit 7-of-10 in the Wolverines' last two games, wins over Illinois and Penn State, that pulled Michigan into a three-way tie for the regular season crown.
Aaron Craft led the league in steals for the second straight season, finished third in assists and even found time to shoot over 50 percent from the field. His next trick might be world peace, if he wasn't so busy irritating opposing fan bases.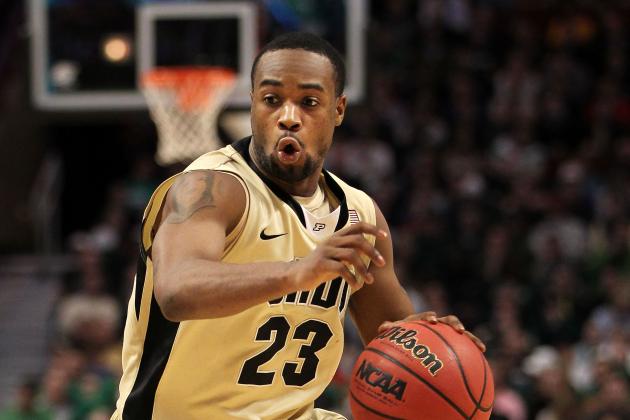 Jamie Squire/Getty Images

To read more of Scott Henry's insights on college basketball, check out The Back Iron.
For reads on sports in general, plus podcasts of Scott's nationally recognized talk radio show 4 Quarters, click over to Starr*Rated.
Like 4 Quarters on Facebook, follow on Twitter, and also search "4 Quarters Radio" on iTunes.